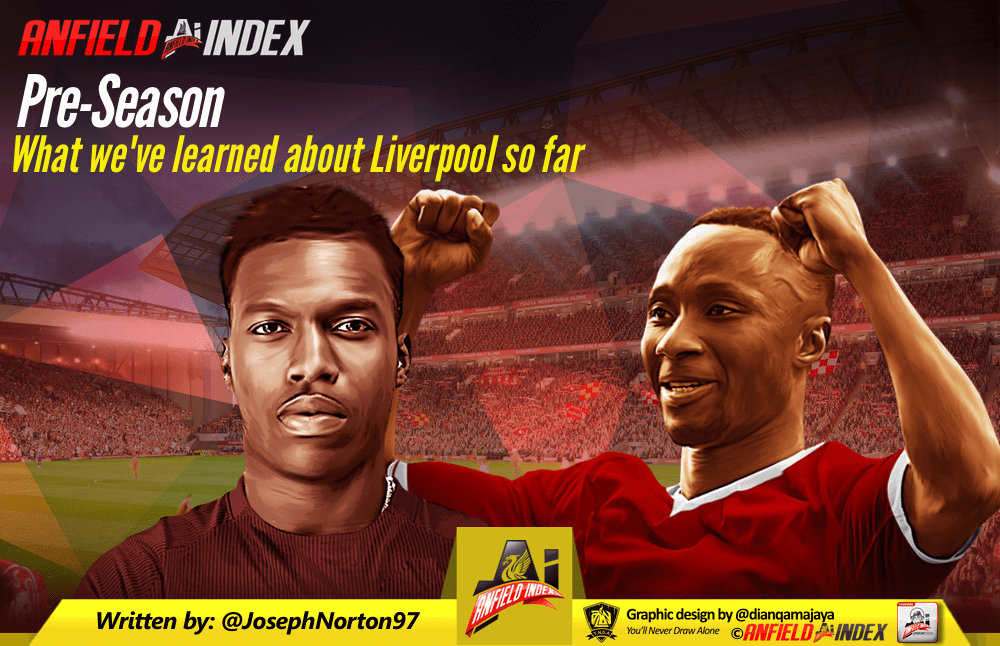 Pre-Season - What we've learned about Liverpool so far
With Liverpool's early group of pre-season matches drawing to a close, now is a good time to assess what we've seen from Jurgen Klopp's men so far. Although it's still early days, the first couple of weeks can go a long way to setting the tone for the forthcoming season.
Uncertainty Remains Regarding the Number One Spot 
In spite of the inevitable speculation linking the Reds to several goalkeepers, Loris Karius will have been hoping to make a smooth start to pre-season. Unfortunately for the German, this was always going to be unlikely and an error when dealing with a routine shot against Tranmere has only heightened scrutiny on Liverpool's number 1. Karius has done little to convince Reds fans that he will be able to return to the levels he performed at for the majority of last season. Therefore, it seems clearer than ever that Liverpool need a new first-choice goalkeeper even if the signing only proves to be a slight upgrade on Karius. Jurgen Klopp's men are in a great position with the majority of the squad performing at an elite level, as a result, taking a huge chance on one of the most important positions in any team would be completely unnecessary. One way or another this situation needs resolving sooner rather than later but it's up to Karius to start delivering on the pitch, taking control of what he can. If reports are to be believed Liverpool are in pole position to sign goalkeeper Alisson Becker from Roma for what would be a world record fee for a goalkeeper which would be a brilliant signing.
Naby Keita – A Level Above the Rest 
Although it may have only been against sides from lower league's the level Naby Keita has been performing at compared to the opposition and more importantly, his teammates, has been extraordinary. Everything we wanted to see from the all-action Guinea international he has shown us and more. It looks as though he's always two or three steps ahead of everyone on the pitch – anticipating opportunities to win the ball back and being that driving force in the Reds midfield. He has repeatedly demonstrated his ability to break through the lines with his pin-point passing and direct dribbling. All that has been missing is his first goal in a Liverpool shirt which will no doubt come in the near future. The first 45 minutes against Tranmere gave us a glimpse of how the Keita and Fabinho duo could work and the signs were extremely positive. Although the Brazilian's appearances have been overshadowed by Keita's dynamic style, Fabinho's performances have all oozed class as he glides around the pitch recognising danger and instigating attacks. Come the start of the season Klopp's midfield is going to be a serious force to be reckoned with.

Sturridge's New Role
The quality that Daniel Sturridge possesses has never been in doubt, however, numerous injuries have taken their toll on his body and he doesn't have the physical attributes required to be a number 9 in Klopp's system. However, with the German appearing to be adapting his system or certainly being more flexible with it, could we see Sturridge used as a number 10? When the Reds struggled to break down low blocks last season their midfield three seemed to lack that bit of creativity needed to unlock stubborn and well-organised defences. Klopp has recognised this and seems to have identified a number 10 as being crucial to aiding the way in which Liverpool go about breaking down certain teams. If this is the case then bringing in a specialist in this position has to be a priority but of equal importance is having at least one other player who can operate in this role. Daniel Sturridge and Xherdan Shaqiri both possess the technical attributes required to be effective in this position with the former already showing glimpses of this when deployed in a deeper role. Of course, Klopp shouldn't rely on Sturridge being his only option in this position because of his fitness issues but if he continues to flourish in this role then keeping him as an alternative to whoever we might get as a first choice number 10 would make a lot of sense.
Curtis Jones – The Standout Youngster
Pre-season has always provided players from the club's academy with an opportunity to impress – especially when Jurgen Klopp is your manager. Because of the desperate need for cover in wide areas many thought it would be one of Harry Wilson, Sheyi Ojo or Ryan Kent who caught the headlines this summer. Although Wilson has been very impressive so far, it has been midfielder Curtis Jones who has caught the eye. The 17-year old possesses brilliant physical attributes which have complemented his great technical skills seeing Jones shine in pre-season up until now. In all the games he has tried to be positive and provide creativity in midfield but this hasn't come at a cost to his ball retention which has been brilliant also. Young players that are creative in midfield but also recognise the importance of keeping the ball in certain situations are few are far between and in Curtis Jones the Reds may have themselves a complete midfielder should he continue to learn and develop under Klopp. Youngsters such as Ben Woodburn and Ovie Ejaria have impressed in summer's gone by but haven't been able to force their way into the first team on a regular basis. All the signs suggest Jones has the physical and technical attributes to make it to the highest level.