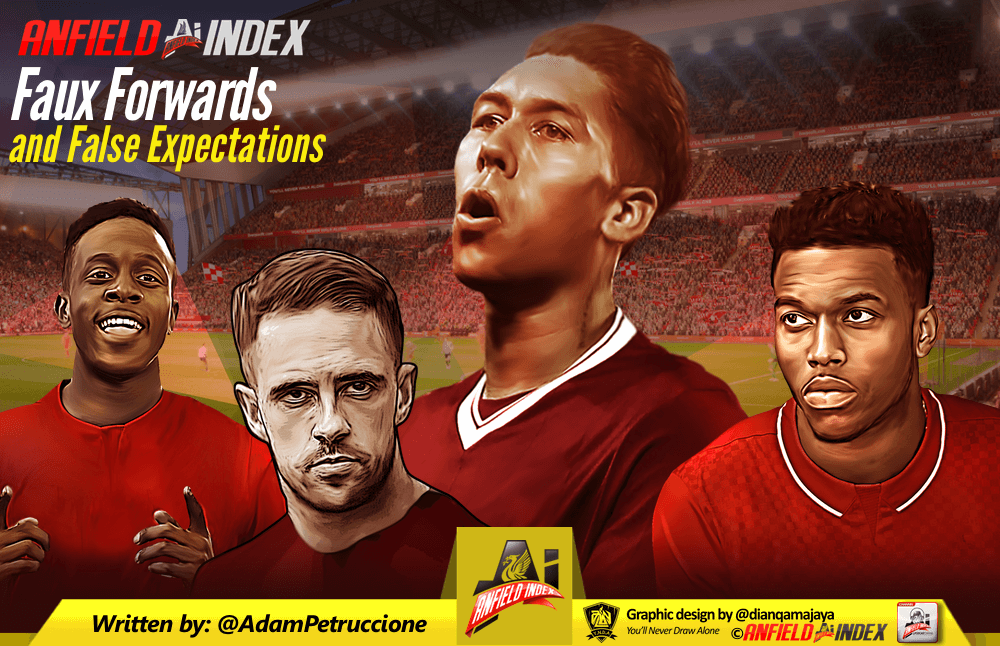 Faux Forwards and False Expectations
Aside from the strange machinations of Adenor Leonardo Bacchi, otherwise known as Tite, we are all generally aware of the value of Roberto Firmino at this point. Brazil was boring with Jesus, boisterous with Bobby, and ultimately the exclusion of the Reds' frontman would prove to be their undoing.
Back on Merseyside, Bobby Firmino has been lauded for his incredible all-around game in the middle of Liverpool's attack. He finishes his campaign with 30 goals and 14 assists in all competitions and will return to the Reds with a fresh new contract and bright white hair to match those gleaming chompers.
On a club with the most expensive defender in history and the top scorer in the Premier League, you can still say Firmino is the most indispensable part of Liverpool's squad without causing double-takes or gasps from anyone possessing a cursory knowledge of the game.
With Bobby's value in mind, it should go without saying that Liverpool would do well to fortify the false-nine position with a like-for-like player as far as that is possible. That player will surely have to come from the transfer market. The existing options within the squad all come with various shortcomings.
Divock Origi, for anyone who has observed his preseason performances, just is not the player we remember from the Europa League run just like Adam Lallana is not the player we saw for half a season, Alberto Moreno isn't the player we see in flashes, and Daniel Sturridge isn't the player we saw four seasons ago.
Speaking of Daniel Sturridge and the preseason. The oft-injured one has undergone a transformation of sorts if you can believe what we've seen against Chester, Tranmere and Bury. The forward has one season left on his Liverpool deal and appears to be playing a deep attacking role that doesn't require him to run behind. In a perfect world, Jurgen Klopp could pencil Sturridge in as an "advanced 8" reserve, but we've been fooled before. In all likelihood, this will be a nice story for the duration of the preseason and then there will be a missed training session, a niggle here, an achy muscle there and we'll all be back to square one.
Jurgen Klopp and Michael Edwards have witnessed Sturridge's decline up close for years. 150 silky minutes against lower league competition isn't going to cause them to scrap their recruitment plans.
The preseason development that might move them is Dom Solanke still doing his best Shane Long impression, pressing and creating for others while seemingly unable to find clear chances for himself. Solanke went from deep reserve striker to Firmino's immediate backup last season because of his work-rate as well as the inability of those in front of him to step up or stay healthy. The former Chelsea man does it all, except for the scoring part and going into a fresh season the aim has to be higher if a title is the target.
Rangers target Solanke intimates he wants Liverpool stay #Liverpool https://t.co/tW4hFyZtL4 pic.twitter.com/BFXSV8kG6l

— LFC Report (@LFC_Fanly) July 14, 2018
The final wild card is Rhian Brewster. An unknown quantity; he will remain as such through most of the preseason as he continues to work his way back from a knee injury.  One uncertainty has happily been resolved with his long anticipated contract being signed yesterday.  What can he be expected to contribute?  Solanke is a fine finisher at youth levels so any speculation on Brewster would be irresponsible until we see him perform in the first team.
https://twitter.com/lfc/status/1019319210474921986
Liverpool's signing of Xherdan Shaqiri, the rumoured deal for Nabil Fekir, the surprising development of Sheyi Ojo, these all would potentially improve the depth of the overall forward line. For a match or three, Jurgen Klopp could find an attacking combination that would work. However, any long-term absence from Firmino, a player who has racked up 64 appearances in the past year, and Liverpool would face large-scale restructuring.
Whether the target is Celta Vigo's Maxi Gomez, Watford's Richarlison or Spurs' Son Heung-Min, work has to be done to fit Firmino insurance into the budget. Any of the above would be able to slot in at other positions as well, easily patching together the amount of appearances they would be happy with.
8- Heung Son Min (#KOR) a #MEX pic.twitter.com/NDOOLM28Yg

— Nicolás Ceres (@NiicoCeres) July 8, 2018
Much of the offseason transfer tittle-tattle surrounds the debate over how much risk is inherent in leaving the goalkeeper or the centre-back positions as is. At some point, supporters should be asking if the middle of our attack shouldn't attract the same concern as the centre of the defense.