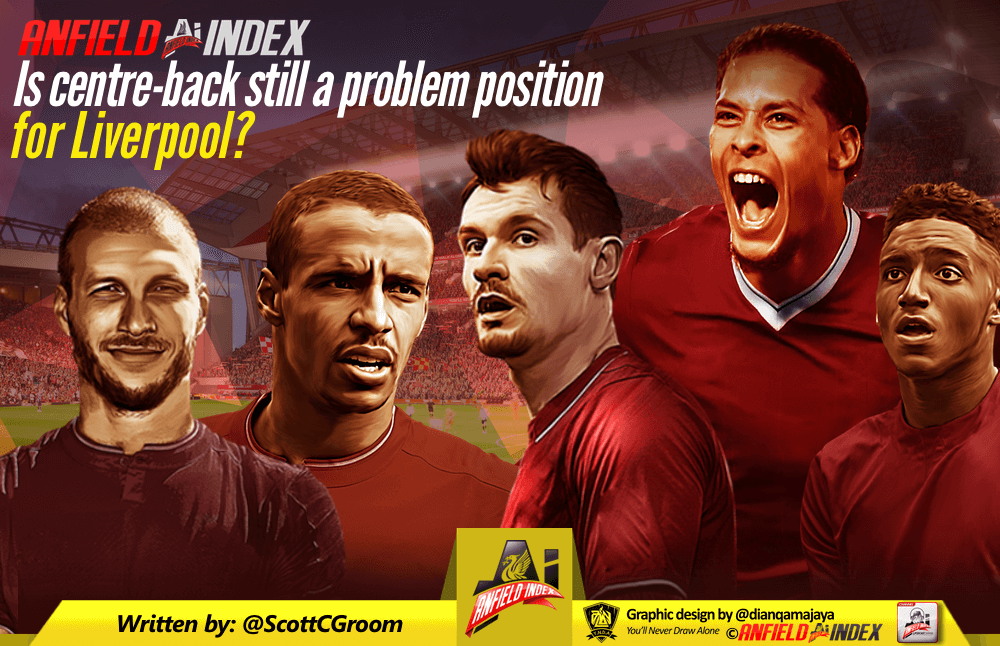 Is centre-back still a problem position for Liverpool?
Over the last few transfer windows, Jürgen Klopp and Liverpool have significantly strengthened in a number of positions: the front line, the midfield and the defence.
The costly addition of Virgil van Dijk in January was a much-needed remedy for the Reds' leaky defence, and the big Dutchman has undoubtedly improved things at the back for Liverpool with performances looking almost instantly improved since his arrival.
Whether the sudden improvement is totally down to Van Dijk's arrival is up for discussion, and it may well be that someone of his expertise has simply helped to coax the best out of those around him, like Dejan Lovren who has enjoyed a brilliant World Cup campaign with Croatia off the back of a solid second half to the season under Klopp at Anfield.

As we head into the new season, it looks as those these two will be Klopp's top centre back pairing, and one that the vast majority of the fanbase will not have a problem with.
This leaves the likes of Joel Matip, Ragnar Klavan and Joe Gomez waiting in the wings for their chance at centre back, and gives Liverpool five options for centre backs going into what will surely be another packed campaign as they compete in four competitions once more.
So do these options in behind Lovren and Virgil mean that the once problematic issue of the heart of Liverpool's defence is a thing of the past? Almost, I think is the correct answer.
The reason it's an almost and not a definite yes is that, out of the three players vying for a spot behind Lovren and Virgil, young Joe Gomez is in pole position for more game time in the middle of the defence than both Matip and Klavan.
The 21-year-old has made no secret of the fact that he prefers this position over right back, where he has been utilised to good effect by both Klopp and Rodgers during his time on Merseyside. However, impressive displays at youth level and for England at centre back have underlined his potential as a future defensive lynch-pin for Liverpool.
He's young, strong, good in the air, fast, anticipates play well and isn't afraid to bring the ball out from the back; making him an ideal Jürgen Klopp defender.
As for Klavan, well, he's a utility squad player at best with all due respect to him. He may well get cup game run outs and be used now and then as part of the rotation system that is all too familiar to us now.
Joel Matip is another issue altogether. Touted as a shrewd piece of business when he joined Liverpool on a free transfer from Schalke 04 in 2016, the Cameroonian initially looked the business. Yet as time has gone on, he has looked awkward at times, too easily turned, and in all honesty, a tad shambolic in periods.
Both Klavan and Matip may well be ideal to bring in for one or two games for rotational periods, or for short-term injuries, but in the pair of them, I don't see the same longevity as I do in Joe Gomez.
They both seem a step below both Virgil van Dijk and Dejan Lovren – which speaks volumes of the impact that Van Dijk has had since his signing and the leaps and bounds that Lovren has come on since that terrible afternoon he endured at Wembley as Liverpool lost 4-1 at the hands of Spurs.
While those two can hold the fort with Gomez and co. waiting in the wings, I think the time for Klopp to go big on defenders again may well be this time next year.
If rumours are correct that the Reds have lodged a world record bid for Roma's Alisson Becker, it would further send a signal of intent from Klopp that Liverpool mean business, as well as adding further mettle to his defence.
However, for us to be truly assured and not have too many more sleepless nights about defensive horror shows, we may well have to splash yet more cash on a respected, tried and tested centre back.
Having said that, why not test Spurs' resolve this summer with a bid for Toby Alderweireld? The Belgian international seems disenchanted with his position under Pochettino, Levy and Spurs' strict wage structure.
He'd give me fewer nightmares, that's for sure. But our time to recruit at the back (well, minus a goalkeeper) may not be until the end of the season that hasn't even begun.