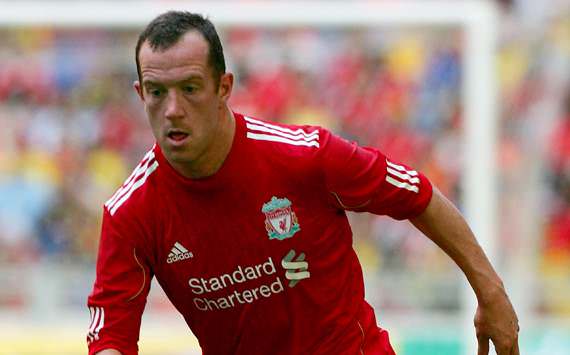 Charlie Adam | The story so far
There was no doubt this summer that Liverpool wanted Charlie Adam. They had tried desperately throughout January to prise him from Karl Oyston's grasp at Blackpool, and had almost lost him to Spurs in the dying embers of the window. There seemed never a doubt that they would return with another bid as they sought to introduce some passing flair into their midfield.
Adam was praised throughout his breakthrough season at Blackpool for his passing range, his ability to turn defence into attack in a split second and for leading a side given no chance of survival to the brink of the impossible. There always remained doubts over his ability to step up, however, his time at Rangers perhaps giving a clouded view of his ability at a 'big' club, and so even though the Reds had to fork out just £7M to finally get their man, eyebrows were definitely raised at the move.

Given the interest in the move, Adam was always going to be under the spotlight as his Liverpool career began. That pressure was possibly even amplified by the fact that Steven Gerrard missed the start of the season and Adam was therefore seen as the de facto focal point of Liverpool's midfield. Much of the talk surrounding the former Rangers man was of his set piece delivery, and an assist from a free kick on his debut did little to harm that reputation.
A bare look at the statistical story of his season, however, suggests that Adam may not have had the best of starts to his Liverpool career. An average pass completion rate of 78% does not speak particularly well and nor does a figure of just 9 chances created in 7 games, only 2 of which have come from his fabled set pieces. He was won only slightly more possession duels than he has lost (40 to 35) and has conceded 17 fouls whilst only winning 11.
It would be fairly easy to draw a one-sided conclusion that Adam has not proved himself to be anything other than a Blackpool player out of his depth, but to look at stats without nuance is, of course, always deceiving.
There have been both good and bad performances from Adam since his summer move. Against Arsenal, for instance, he gave a very strong performance, his pass completion rising to 81% (his season high came in the recent Merseyside derby at 85%) while he created three chances in open play and won 75% of his possession duels. Alongside Lucas Leiva and Jordan Henderson in a midfield three, there was a domination of the central area at the Emirates and an  indication as to what may be in store for the Reds.
The bad, however, was exemplified against Stoke. In a game on which Liverpool struggled to assert themselves, their passing was particularly poor, with Adam one of the main culprits for conceding possession. His pass completion dropped to 76% and he completed only 38 of 62 attempted passes in the Stoke half of the field. When put under pressure to open up a defence which sat deep against him, Adam was found wanting.
And when one's eyes drift towards one of the best players in his position in the Premier League, it shows just how far his story has yet to go. Luka Modrić was well acknowledged as one of the better creative midfielders in England's top flight last season, so much so that Chelsea made a hard chase for the Croatian this summer, eventually put off by the £40M valuation.
Such attention may have caused Modrić's head to be turned, but judging by his overall performance so far this campaign, one would not know it. With an average pass completion of 87%, Modrić is far more assured in possession than his Scottish counterpart, though it is in the attacking half of the field where the real difference can be seen.
Both players keep hold of possession very well in their own half, Adam boasts a 90.98% pass completion rate in the defensive half of the field, only just shy of Modrić's 93.75%. In the attacking half, however, Modrić has completed 186 of 230 attempted passes (80.87%) whilst Adam has attempted a very similar number, 229, but completed only 146, which shakes out at just 62.45%. The figures point to just how often Adam has given away the ball in the opposition's half of the pitch, though a certain leeway should be given for the fact that Adam is Liverpool's regular corner taker.
And perhaps rather than immediately judging Adam against one of the best in the league as he looks to settle into a new club and style, we should look to how he stacks up against the performances that earned him a move to Liverpool. In the 2010/11 season Adam's pass completion rate was just 72% and fell even further to just 58.43% when looking simply at attacking half passes.
He may have scored more goals and created more chances than he is on course to do this season, but he was both Blackpool's penalty taker and given far more license to get forward under Ian Holloway. With a move up the ladder comes added defensive responsibility – he is no longer the luxury player in a team built around him – and this is something he is coming to terms with as his percentage of possession duels won is higher than at Blackpool.
Looking at a rounded picture of Charlie Adam's story so far then, it becomes clear that, while he still has a long way to go if he is to match the best in the league, he has already shown signs of improvement among better players. If he can continue his improvement, and in particular become more accurate in the attacking half of the field, then there is every chance that he can become the player to make the chase worthwhile.