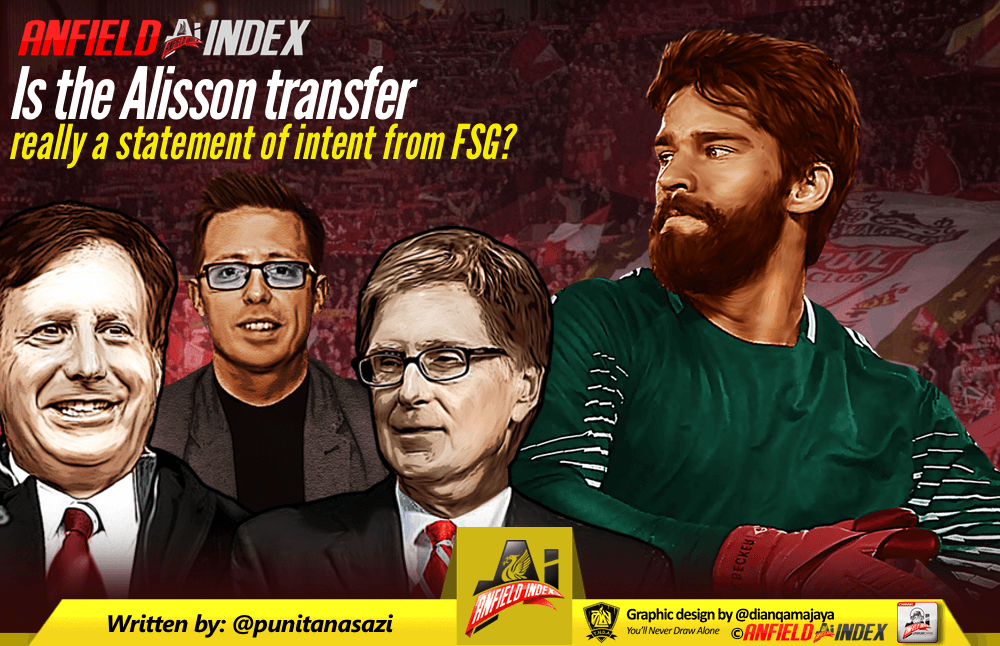 Is the Alisson transfer really a statement of intent from FSG?
NOPE. Simple. It's not. I am done here. You can move on now
But wait, you say, how come? A world record fee bid for a keeper. Potentially getting in one of the best keepers in the Serie A and current Brazil #1. If there ever was a statement of intent, surely this is it?
Well, what exactly is a statement of intent? It's when you dramatically change the way you behave in order to achieve a certain objective. The objective being Trophies, plain and simple, and the League Title being foremost among them. The objective has always been the same with FSG. From day one, they made it very clear that they are here to win things. But has their method, the way they behave changed all that much?

FSG really had no idea about the sport when they bought our club so they did the smart thing and appointed a DoF to look after things. Then they proceeded to back him by splurging big in the transfer market. Remember the once-club-record deal for Big Andy? And don't forget, Suarez came in during the same window. Things didn't work out. Big Andy, was Big Andy and we had to get rid eventually. But the intention was made clear. If FSG believes in the manager/DoF they would not shy away from backing him to the hilt.
This was followed by the infamous Transfer Committee, where FSG tried to find a better way of doing things rather than just following the word of a single person. The Transfer Committee was a mixed bag no doubt, but even during these uncertain times, we got in some gems. Let us not forget that people at that time thought that 8.5 million for a kid whose career at Inter had stalled and 12 million for a disciplinarily problematic ST was too much. The Committee also gave us Firmino for 28 million. There was a notable dip in transfer values during this period but when a player was identified by the committee, FSG backed them up with the funds, whatever they may be.
And right now, we have the Klopp-Edwards partnership, and boy has it produced some brilliant business for us. We have broken the World Record fee for a defender, bought in some brilliant attackers for what seem like bargains now and are looking likely to make the biggest transfer for a GK soon enough.
The point being, if FSG has people in place at the club in whom they trust, when asked to, they will cough up and will not shy away from making the BIG deals. Just like they backed Comolli. Just like they backed the Committee and just like they are backing Klopp.
So no Statement of Intent here, just business as usual.