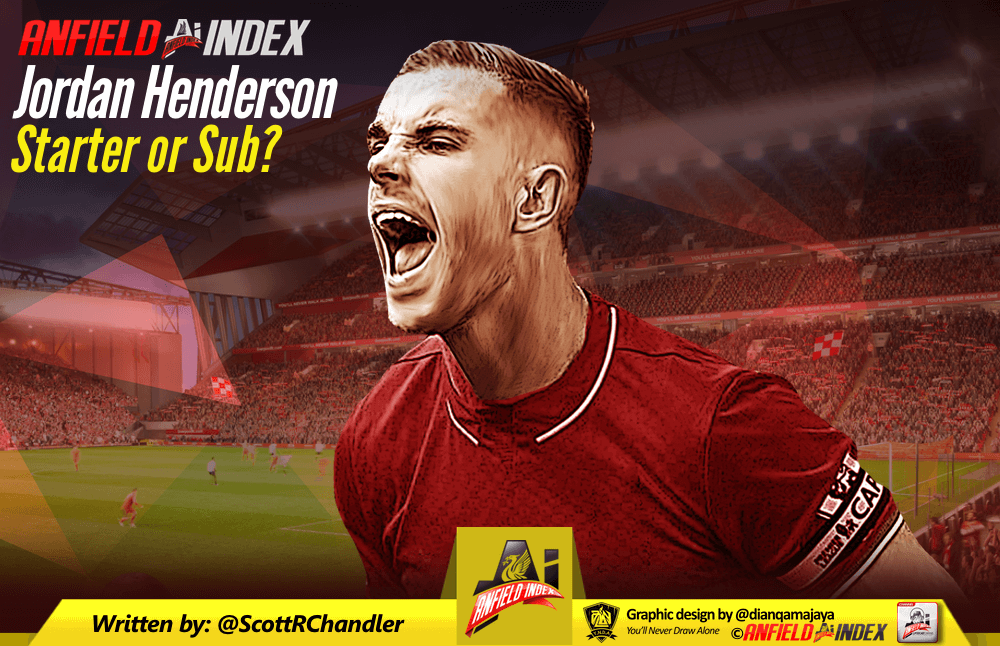 Jordan Henderson: Starter or Sub?
In the age of hot takes and constant critics, any player or team can divide opinion. So, when a player comes along who is given a central role at a big club but does not fit neatly into preconceived notions of what a star should do, then controversy instantly follows. Enter Jordan Henderson, Liverpool captain and England vice-captain. For experienced observers, Hendo's game and quality aren't that big of a mystery. For Liverpool fans, we know what he is at this point. What we don't know is where does Henderson fit in the squad now that Klopp and FSG's transfer business has included two new midfielders.
For a long time, Liverpool have been a better team with Henderson in the lineup than without him. This has mostly been because Liverpool have lacked elite options that would improve the lineup over Hendo, but Jordan's absence in the run-in to the 2013/14 season due to a red card in the famous 3-2 win against City arguably cost Liverpool the league title. In that season, Hendo played the box-to-box role on the right side of the midfield diamond and constantly made dangerous runs into the penalty area to help facilitate the offence. He also added a bit of composure and organization to a midfield that desperately needed it with Stevie G being employed in a defensive midfield role. Liverpool's failures against Chelsea and Crystal Palace in the final matches that season spoke volumes about how important Hendo was to that team. Since then, injuries have sapped his athleticism and forced him to play as more of a 6 than an 8, but Hendo's worldie against Chelsea in September 2016 and composed performances in both the Premier League and Champions League this season showed that he still made Liverpool better by being out on the pitch. It was only in matches like the final against Real Madrid where his shortcomings showed that with Henderson, Liverpool could get close to a trophy but might never reach the top of the mountain if he was playing a starring role.
The same held true for England in the World Cup where the best outing for the Three Lions was against Sweden. Henderson was a rock that game making key interceptions and clearances in addition to a delightful ball over the top to Raheem Sterling, who managed to squander the golden chance because well, he's Raheem Sterling. Hendo's strengths were on display in the World Cup: good diagonal passes out to the flanks, retaining the ball, keeping the side organized. Yet, Jordan's weaknesses were exposed yet again by a Luka Modric team when England's midfield was overrun against Croatia, and Hendo crumbled under constant pressure. Jordan also was poor against Columbia and failed in big moments when he lost Yerry Mina on the equalizer and looked like he would rather be anywhere in the world than taking one of the penalties in the shootout.

At his best, Jordan brings leadership and stability to the team with a dash of quality. He has worked as a 6 in Klopp's system because he's had an incredible group of forwards in front of him to finish off chances, as well as other midfielders around him to do the forward running and create from the centre of the pitch. Yet, the Fabinho signing likely means that Henderson's run as a locked-in starter for Liverpool is likely coming to an end. Not only has Fabinho had a much better injury history in recent seasons, but he looks to be even better than Jordan at making interceptions and tackles and then initiating the offence with probing passes. Playing Fabinho and Henderson both in a midfield three with Keita would leave Liverpool without a real pass-master to break defensive lines and create offence from the midfield. Henderson and Fabinho bring similar qualities to the midfield, and Fabinho appears to have the much bigger upside. Frankly, if Liverpool persist with a 4-3-3 midfield and do not bring in an attacking midfielder like Fekir to play the no. 10 role, then Liverpool would probably be better off with Milner next to Fabinho and Keita as he brings similar leadership to the side and links up better with the attack.
Even if Liverpool were to play a midfield two, Jordan would still be second-choice to Fabinho and Keita. A 4-2-3-1 with Henderson and Fabinho at the base would be solid defensively but would lack attacking thrust. Putting Henderson into a two-over Fabinho runs into the same aforementioned where Henderson and Fabinho are rather redundant, but Henderson lacks the ability to make the passes that Fabinho can make. If Liverpool are to make a genuine title challenge, they will likely need to break down opposing teams that resort to parking the bus or playing a low block in hopes of avoiding getting overrun by Liverpool's attack (see: Swansea at the Liberty Stadium last season). If Liverpool want to play a midfield two, they would likely be better off using the 4-2-2-2 system that Jurgen broke out at West Ham last season where Mane and Ox played behind Salah and Bobby. Fabinho and Keita sitting behind Mane, Shaqiri, Mo, and Firmino would wreak absolute havoc upon Premier League defences and would put up video game numbers against the right opposition.
So, what to do about Henderson? Ultimately, it seems like he's destined to be phased out as a starter and put into more of a super sub role. Liverpool have other leaders in the starting XI, and Big Virgil should be the captain sooner rather than later. Jordan's energy would be effective off the bench late in games where Liverpool seem to tire out and lose focus. He could start cup games and give Fabinho a break where needed against lesser competition. If Fabinho fails to hit the ground running, well then Jordan could go back to holding down the fort at the DM slot until the Brazilian is ready to take over as a full-time starter. Liverpool expect to be winning in a lot of matches, so Jordan could thrive in a role where his strengths are used to comfortably see out matches, something Liverpool have not consistently done for quite a while. By the time Jordan returns from his World Cup holiday, he likely will find himself in a much different situation than he's been used to since taking Gerrard's spot as the midfield anchor at Anfield. Yet, if Jordan can help Liverpool fans avoid late-match let-downs and heart attacks, he might carve out a vital role on a title-challenging side.