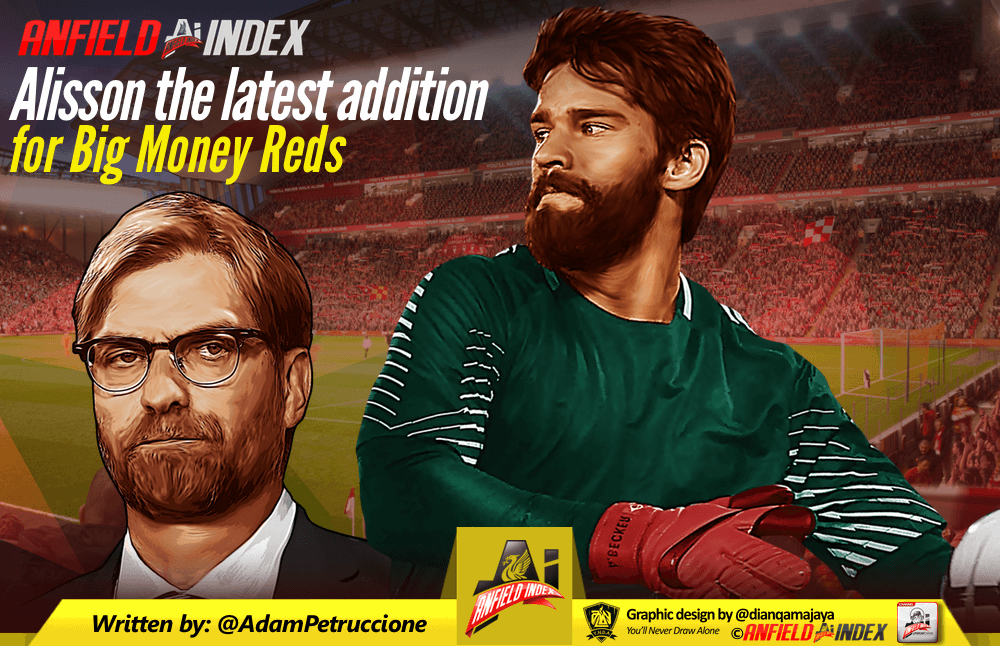 Alisson the latest addition for Big Money Reds
You awake on a secluded Sardinian beach to a warm Mediterranean breeze and gentle waves lapping at your feet. Your gorgeous wife flashes you a smile as she updates her Instagram. You glance out at your sailboat and notice a bottle has washed up on the shore. Shaking out the rolled up paper, you rub your eyes and squint at the handwriting…
Get the ale in lad, and get yer bird ready. You're a Red now!
We assume such a scene must have played out in southern Sardinia this morning as Alisson Becker received the news that Liverpool Football Club had made him the world record goalkeeper signing. The fee, £66.8million, is nearly double the record fee that Manchester City laid out for Ederson only a year ago.

The world's most expensive 'keeper will now play behind the world's most expensive centre-back. In turn, they will be screened by two of the best additions to the Premier League this summer in Naby Keita and Fabinho. More than £200 million in additions from the past 8 months will be lining up in Liverpool's back half.
With the star-studded front three, these are certainly not your older brother's Reds, but they're looking like your da's. Already a competitive club last season, surely a title contender on paper, what else could possibly be added before the start of the season?
You can retire those memes of the Ferrari with the Toyota middle the Datsun back end. Liverpool were already the stingiest defence in the English top flight once Van Dijk, Robertson and Karius were brought into the side. With Karius upgraded to Alisson, and Liverpool's young fullbacks maturing, the sky is the limit for what this group can achieve.
How much better does Alisson make Liverpool? In terms of expected goal save percentage, Liverpool were fourth worst in the Premier League last season at 36.5%. Alisson's was more than 10% better at 47.3% (Andrew Beasley).
Liverpool allowed 38 goals in the league last season, 2.25 more than their xGA, meaning the Reds let in 2 goals more than they should have. Roma in contrast, only allowed 28, a 10 goal improvement from their xGA. A similar performance for the Reds last season would have had their goal's allowed numbers even with Manchester City and United. (Understat) If that sounds a bit like De Gea's numbers, he was actually even better in 2017/18.
…then consider that David De Gea's EPL career non-penalty Save% at Man United is 76.1% (648/852)
And Alisson Becker saved 105/134 non-penalty shots in Serie A this season (78.4%)

— Dan Kennett (@DanKennett) June 15, 2018
Alisson will also be one of the tallest GK's in the Premier League at 1.91m and he uses all of that length with a 99.2% claim percentage (Karius 97.6%). Combined with the aerial prowess of Van Dijk, Lovren and Fabinho, Liverpool will look forward to opposition corners in the coming years. They'll simply be opportunities to counter.  (AIPro Under Pressure)
This was the data perspective for the GK shortlist on the AI Committee podcast #Karius #LFC pic.twitter.com/nzD7esYFwL

— AIUnderPressure (@AIUnderPressure) July 10, 2018
More than the statistics, this move on the heels of Keita, Van Dijk and Fabinho shows incredible ambition from the club. A loaded word for Liverpool supporters, the aim of the owners cannot be questioned at this point. This is a dominant player that Liverpool are bringing to Merseyside, filling their biggest remaining area of need. The only yacht Reds have to worry about now is not John Henry's but the one that will bring Alisson back to mainland Europe.
Liverpool Football Club have their 'number one' for the next decade and he's one of the world's best.
Up the Big Money Reds!