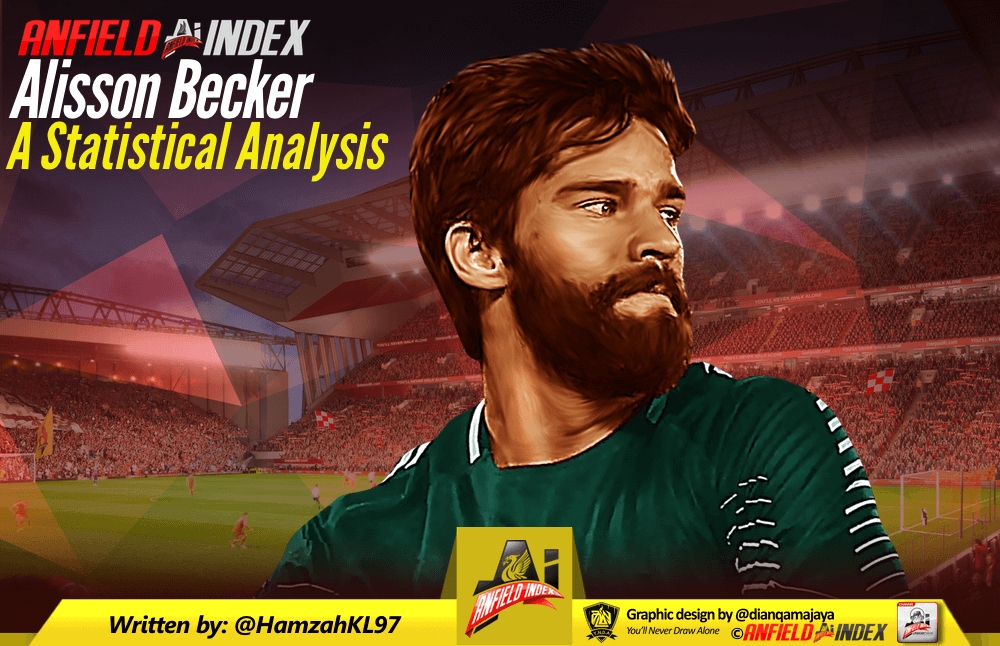 Alisson Becker: A Statistical Analysis
Alisson is one of the most coveted goalkeepers in the world, but Liverpool's new number 1 is a relative newcomer to top-tier club football. What has set him apart from other top goalkeepers across the world?
In AI's Transfer Committee podcast, @DanKennett collected and analysed a selection of goalkeeping statistics, illustrated in the graphic below. Whilst in AEyeScouted, Dave Hendrick, with Gags Tandon, discussed potential goalkeepers. Jan Oblak seemed Dave's first choice, although an upfront payment of £89m made this particular transfer one in which Liverpool would be understandably hesitant to act on (as normal release clauses allow for structured payments over time, rather than a single lump-sum payment). What these podcasts highlighted though were the strengths of Alisson and those strengths as considerable improvements upon Karius and Mignolet. What the analysis below provides though is a detailed look at Alisson, and attributes we can expect from him, but also justification as to why Liverpool paid a record-fee for their man.


Of the goalkeepers on the shortlist above, Alisson is by far the best choice. As the full graphic below shows, the only concern is the low number of recorded shots faced, however, his international experience and time in the Champions League, World Cup and a high-pressure league campaign should, in some respect, offset some of those concerns.
This was the data perspective for the GK shortlist on the AI Committee podcast #Karius #LFC pic.twitter.com/nzD7esYFwL

— AIUnderPressure (@AIUnderPressure) July 10, 2018
In terms of positioning, Alisson is superb. He moves across the goal quickly and is rarely caught flat-footed. He's very strong aerially, with him Claiming and Punching 3.2 balls per 90, with a Claim success rate of 99.2pc across his career (via @AIUnderPressure).
A keeper that can claim successfully is essential in high-pressure moments, usually when closing out tight games. We've seen in recent seasons Mignolet and Karius fumble on crosses or throw-ins, and clubs, such as Watford, target them. A keeper that can relieve pressure from the defence by claiming a cross can be the difference between caving in, to a last-minute equaliser at home, or a draw and a loss when on the back foot away from home. However, as the tweet below highlights back in the second-half of the 2016-17 campaign, Simon Mignolet went through a particularly impressive patch of form, where he excelled with regard to punching and claiming aerial balls. Even with that run of good form, and subsequent statistical improvement, Alisson, over his career still fares higher with respect to Claims and Punches per 90 and his success rate at claiming aerial balls.
Quick follow-up for context. The season where we praised Migs for command of his box and dealing well with crosses (2016/17) he was 3.1 Claims+Punches p90 @ 98.5%.
Alisson in his career 3.2 @ 99.2%
Trapp 2.8 @ 98.7%
Sommer 3.1 @ 98.8%
Donnarumma 3.4 @ 98.7%

— AIUnderPressure (@AIUnderPressure) July 11, 2018
Shot-stopping is not just Alisson's forte, it's a category in which he competes with the world's best. At the end of December 2017, Alisson was not just outperforming his PostShot xG, he was doing so at a rate comparable to the best goalkeepers in Europe: Alisson's PSxG save efficiency at this point was 151.5pc; only Marc-Andre Ter Stegen (176.3pc), Jan Oblak (177.3pc) and David De Gea (180.3pc) exceeded it at this point (via @Colintrainor). Come the end of the season, Alisson's xGA was 36, whilst he had only conceded 28 goals – an xG save efficiency of 128.6pc (via @OptaJoe).
https://twitter.com/WhoScored/status/1004286776049987584?ref_src=twsrc%5Etfw%7Ctwcamp%5Etweetembed%7Ctwterm%5E1004286776049987584&ref_url=https%3A%2F%2Fwww.sportskeeda.com%2Ffootball%2F3-stats-that-show-the-brilliance-of-liverpool-target-alisson-becker-ss
Listen to our content on Alisson on AnfieldIndexPro – subscribe now and listen for FREE for 7 Days!
https://twitter.com/AnfieldIndex/status/1020190371912077312
Furthermore, of the 5 penalties Alisson faced this season, at Roma, he saved 2. The sample size is an issue here, but undoubtedly, one of Simon Mignolet's strengths was his penalty-saving ability. Whether there's a noticeable discrepancy between their penalty-saving ability we're yet to know, but in positive news for Liverpool fans, Alisson does not currently have a glaring weakness against penalties, as other top goalkeepers we've seen in the Premier League do (notably Petr Cech over recent seasons).
Ashwin Raman (@thefutebolist) analysed goalkeepers across Europe's top five leagues, and their save success rate from shots on target inside the "Danger Zone", i.e. shots between the area of the six-yard box extending out to the edge of the 18-yard box. Alisson featured in 12th spot in that analysis, with a DZ SoT Save rate of 67pc (one per cent higher than David De Gea's rate, and 4pc more than both Lloris and Oblak, but considerably less than Courtois' 74pc and Marc-Andre ter Stegen's 81pc).
In the same analysis, Ashwin Raman also calculated a pass rating amongst top goalkeepers, which incorporated volume, variety and accuracy. Alisson featured as the best, with a rating 4.4pc higher than Marc-Andre ter Stegen and 16.8pc higher than Reina and Ederson.
To conclude his analysis, claim success percentages were incorporated, and a shortlist was whittled down, with the eliminating factors being age (above 27, and price, which excluded players such as Ter Stegen, Courtois, etc.), and the shortlist was composed of Strakosha, Sportiello, Leno, Perin and Gulacsi. Alisson topped them all.
.#Alisson #ASRoma #LFC here's his #xG 2 timeline from last season. Most of the big chances he faced went in, but he was almost flawless when dealing with chances with an xG2 of 0.2 or below. Just a 2.5% chance an average keeper concedes fewer NP goals than he did. @InfoGolApp pic.twitter.com/zg0kbflnH0

— mark taylor (@MarkTaylor0) July 17, 2018
This leads us onto errors. On average, a normal goalkeeper makes an error every 800 minutes or a tad under every 9 games. As @TomHolmes19 pointed out in his article
"Since joining the club, [in the Premier League] Karius has made four errors, two of which led to a goal and two were penalties conceded. This is over 2610 minutes, so an error every 653 minutes, making Karius the 11th worst keeper over that period.
"Simon Mignolet, who over the period covered – since the start of the 14/15 season, has played 10514 minutes. Mignolet has made 15 errors over that period, including eight leading to goals and one penalty conceded. That's a ratio of one every 701 minutes."
Alisson, in comparison, in his 8205 documented minutes has recorded 5 errors, so 1641 mins per error, or one every 18.2 games. Mind you, "errors" need not necessarily lead to a goal, but nonetheless, this is approximately half the error rate of an average goalkeeper.
The average GK commits just over 4 errors per season with over 60% leading to goals for the opposition
The average CB commits just over 3 errors per season with 35% leading to goals. Once we factor in penalties conceded, then it rises to 65% for GK's and 44% for CB's

— Dan Kennett (@DanKennett) July 16, 2018
In the 2017/18 league season, Alisson had a 45.9pc clean sheet success rate too (17 CS from 37 games), having faced 109 Shots on Target, saving 74.3pc of those and conceding at a rate of 0.76 Goals Against per 90 (via fbref.com). Crucially, he concedes fewer goals than games played, and for a club, which until 2016/17 was regularly conceding over 50 goals in a league season, in which the maximum to challenge for the title is usually well below 40, this is an important step.
First of all goalkeepers.
60% of all GK errors result in a goal
The average frequency of error for a GK is every 800 minutes
The 15 GK with the worst error rates are in the table pic.twitter.com/aBUu41DDDw

— Dan Kennett (@DanKennett) July 12, 2018
To end, some classic bread and butter stats.
Across all competitions in 2017-18:
| | | | | | |
| --- | --- | --- | --- | --- | --- |
| | Minutes | Mins per goal conceded | Save percentage | Errors leading to goals | Mins per error |
| Alisson | 4410 | 93.8 | 76.5 | 0 | N/A |
| Karius | 2970 | 95.8 | 65.2 | 3 | 990 |
| Mignolet | 1980 | 66.0 | 57.1 | 2 | 990 |
Alisson is a versatile, rounded goalkeeper, which an incredible shot-stopping ability. His shot-stopping ability alone will be an improvement upon both Mignolet's and Karius', however, once we incorporate his aerial ability, the confidence he'll add to Liverpool's backline, and his ability not just as a sweeper, but as someone who can instigate attacks with his distribution, and how he can contribute to possession build-up, it's plainly obvious that Liverpool have a keeper to rival those at the best clubs in Europe. Unlike Mignolet, whose net points impact was likely negative over his time at Liverpool or Karius who seemed solid but unspectacular, Alisson appears a goalkeeper that will not just save points and games but actively win some too – as all the best players do.
If you're interested in further reading, or the sources used for this analysis take a look at the links below:
https://chanceanalytics.com/2017/12/31/finding-liverpool-a-good-keeper/

.#Alisson #ASRoma #LFC here's his #xG 2 timeline from last season. Most of the big chances he faced went in, but he was almost flawless when dealing with chances with an xG2 of 0.2 or below. Just a 2.5% chance an average keeper concedes fewer NP goals than he did. @InfoGolApp pic.twitter.com/zg0kbflnH0

— mark taylor (@MarkTaylor0) July 17, 2018
This was the data perspective for the GK shortlist on the AI Committee podcast #Karius #LFC pic.twitter.com/nzD7esYFwL

— AIUnderPressure (@AIUnderPressure) July 10, 2018

https://fbref.com/en/players/7a2e46a8/Alisson

Quick follow-up for context. The season where we praised Migs for command of his box and dealing well with crosses (2016/17) he was 3.1 Claims+Punches p90 @ 98.5%.
Alisson in his career 3.2 @ 99.2%
Trapp 2.8 @ 98.7%
Sommer 3.1 @ 98.8%
Donnarumma 3.4 @ 98.7%

— AIUnderPressure (@AIUnderPressure) July 11, 2018
Alisson.
Roma picked up a GK with two great seasons under his belt. But he's gone even better this season with only conceding 11 goals out of the almost 17 post shot xG. No matter how good he is that rate is not sustainable to the end of the season. But he's obviously great. pic.twitter.com/mvv9b9xCEx

— Colin Trainor (@colintrainor) December 30, 2017
Thread looking at defensive errors and penalties conceded in the #EPL 2014/15 to 2017/18

— Dan Kennett (@DanKennett) July 12, 2018

https://twitter.com/neiljonesgoal/status/1019601940781715456