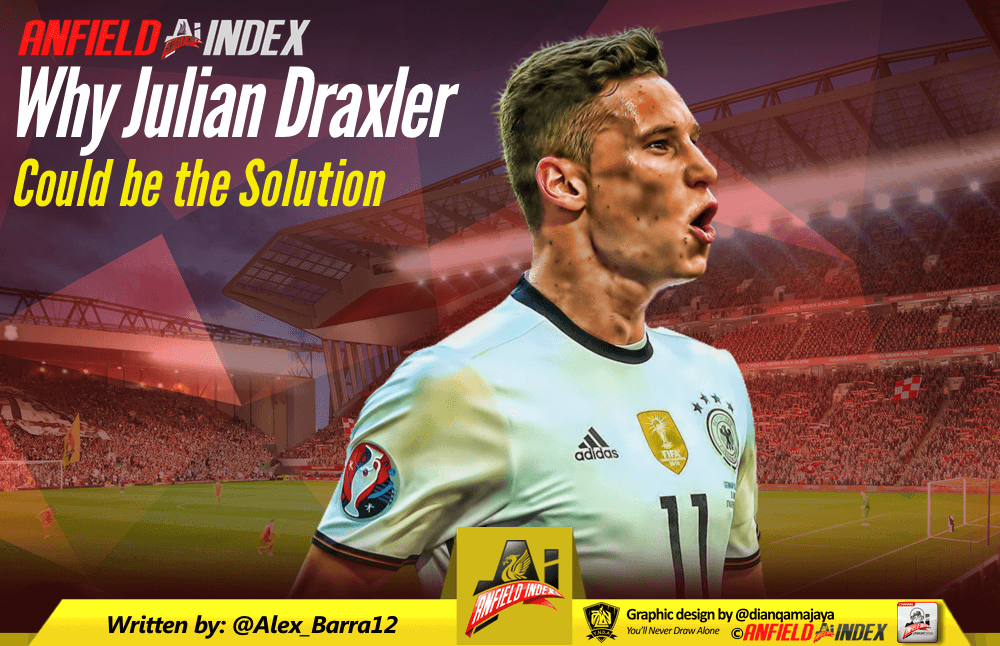 Why Julian Draxler Could be the Solution
Liverpool are back in action, and the transfer window's closure is eerily inching closer by the day.
Of course, there is still a month to conduct business, and it isn't merely Liverpool – with a vacuum in the squad in the shape of Nabil Fekir still looming large – who are troubled by a lack of activity so far this summer.
Paris St. Germain are currently being investigated by UEFA regarding a potential breach of Financial Fair Play regulations – an investigation that isn't due to the colossal sums they forked out for Neymar and Kylian Mbappe, but rather "overstating" the value of sponsorship contracts relating to the Qatari ownership. There has been much conjecture regarding just how much money PSG will need to raise in sales to comply with the investigation, but it could well present a promising opportunity for Liverpool to return for a former prized target.
Style
With Liverpool seeking an attacking midfielder in the true essence of the name: the razor-edged sword of Klopp's midfield triumvirate, a role that Adam Lallana and Alex Oxlade-Chamberlain played last season, and one that Nabil Fekir was touted to fill.
Julian Draxler was fashioned from a dynamic, dribble-heavy winger who suddenly had the most expensive player in the world to compete against into the most attacking part of a midfield three, tasked with carrying the ball and supplying PSG's explosive front three, all while doing enough running to snuff out the sparks of counter-attacks before they could ignite. Indeed, the role is similar enough to the one Klopp uses at Liverpool, though the defensive work is significantly greater under the German than it was under the Spaniard.
Capable of fitting into a front three, playing in the #10 or (most pressingly) acting as the sword of Klopp's midfield combatants, Draxler fits the bill for Liverpool's needs.
Strengths
The German is crafty and has a deft turn of pace when he gets the ball but is limited by a lack of genuine top speed. It's something that Draxler makes up for with guile and trickery: the dipping of the shoulder, immaculate close control and an ability to beat defenders within two or three touches saw him become a fan favourite at Schalke – a club that he joined as a nine-year-old – and then saw him become the pivotal figure at Wolfsburg. When given responsibility, Draxler performs. At 24 years of age, however, the mantle of "promising" is slowly disappearing: Draxler needs first team football, and the chance to show that he is the superstar so many touted him to be, not simply an understudy to PSG's expensive dynamos.
One of the more intangible traits he possesses in spades is his confidence. It's a kind of swagger, not simply a desire to take risks but a swagger ingrained into the way he plays football. Off the pitch, things are different, the confidence gives way to a more reserved side, a sentimental side, seen in this piece for The Player's Tribune.
When he does get the ball, however, his mindset is always to make something happen. Whether it's with his left foot or right, taking a shot from outside the box or creating a chance, Draxler is one of the more gifted of Germany's talent factory when it comes to on-ball prowess.
Despite playing in a more reserved role for Paris St. Germain, he still possessed the desire to dribble and drive at players: he made more successful dribbles (1.5) per game than Alex Oxlade-Chamberlain, who was arguably offered more space in Liverpool's counter-attacking system, playing in a similar position. Counteracting that is a pass success rate of 92.8% – that's far superior to both Oxlade-Chamberlain and Nabil Fekir, and perhaps belies the ease with which PSG are able to control most games. In fact, the rate is almost identical to that of Manchester City's Ilkay Gundogan: a player whose role Draxler somewhat replicates at PSG, driving from deep, confident on the ball and looking to play the ball to a fiery front line.
The power and poise, usually restricted to one of the flanks, would be stupefying when combined with the brutality of the players ahead of him, should Draxler find himself as the solution in Klopp's midfield three.
Considering he's never put together a season of unbelievable form, there are some impressive numbers in his disjointed club career: his first six months at Wolfsburg saw him manage 15 goals involvement in just over 2100; averaging a goal or assist every 145 minutes.
Weaknesses
Nabil Fekir is unique, there can be no bones about it. His goalscoring and chance creation is at an elite level for a player of his calibre, and Draxler doesn't match that (very few are able to.) He's only ever scored more than ten goals in a single season on one occasion: for Schalke, yet his career has largely been unfulfilled.
Once again, the magic touch of Liverpool's boss will be mentioned: given what he's been able to do with other German players, there's a distinct possibility Klopp could turn Draxler into the weapon that Fekir already is.
So long as he brings the running he displayed at Schalke; the gritty, determined shy boy who was relishing playing with his boyhood hero Raul, then Klopp would have few problems. Paris caters for egos; something Draxler will quickly have to abandon should he embark on a private plane ride to Merseyside.
Where would he fit?
Quite evidently, he'd be the solution to a difficult problem Liverpool face: how do you replace Phil Coutinho? Someone who can play effectively both out wide and, more importantly, in a midfield role, who can score and create in equal measure and not be a liability when it comes to pressing.
Draxler, with a few tweaks, fits that bill.
The issue, as it has been previously, is whether Draxler will accept what is presumably a pay cut from Paris St. Germain. He was offered the chance to join Klopp's incumbents before a Champions League final provided proof to the project being built at Liverpool. If offered the chance again, he'd be wise to jump at it.