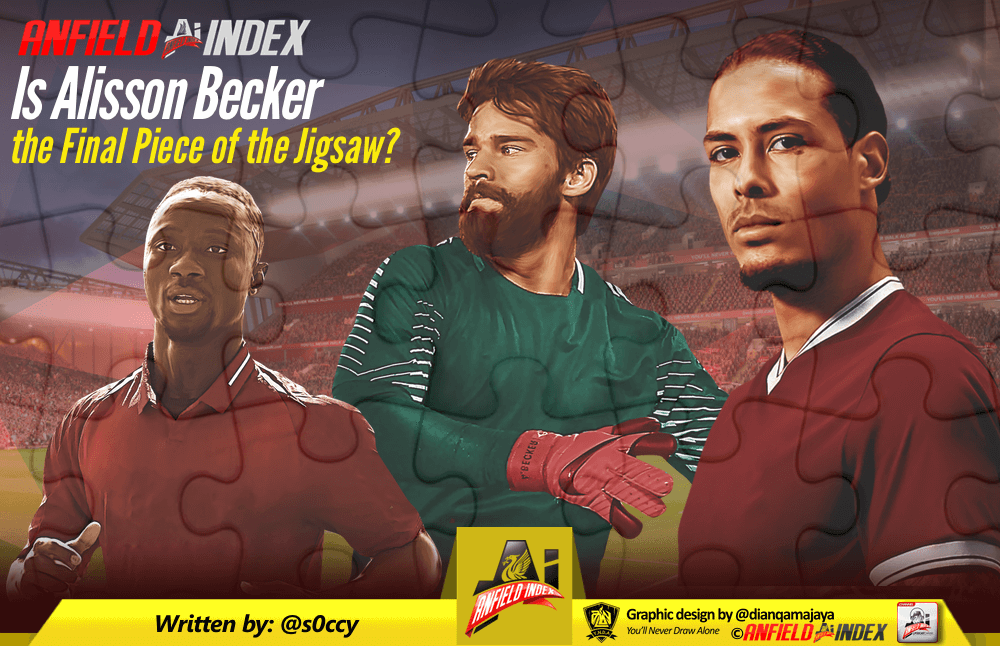 Is Alisson Becker the Final Piece of the Jigsaw?
The signing of Alisson Becker is a massive statement of intent by Liverpool Football Club. The goalkeeping position has long since been a weakness at Liverpool since Pepe Reina pre-2010. The club has, up until now, failed to replace who I believe was one of the best goalkeepers that Anfield has ever seen.
The club has spent money normally reserved for attacking players on the world's most expensive defender and the world's most expensive goalkeeper.
Thankfully with the signing of Alisson, we have another good looking player who can take the place of Emre Can in the Nivea adverts. When we talk about the extensive scouting of players that they fit the system, this is surely the first priority that had to be addressed.
All poor attempts at humour aside, Alisson appears to be a massive upgrade on Loris Karius, a promising young German player who had been voted one of the best keepers in the Bundesliga. Karius had played for one of the smaller clubs in Germany but had not been tested at a big club at a top level. Liverpool bought him for 5 million pounds as they were able to trigger his release clause. He was a low risk, low cost buy, but when it came to stepping up to the highest level, Karius came up a little short. It is exactly the type of buy that the club should be making. Whilst there is no guarantee that any player will succeed, you can narrow down the chance of failure by doing your research beforehand.
I have always gone by the old adage, if you are going to replace someone, replace them with someone better or someone potentially better than what you have. Far too often the club has been guilty of replacing a manager or player with someone inferior. Now obviously we have the benefit of hindsight and history, but who honestly believed that Roy Hodgson was an upgrade on Rafa Benitez? (Apart from Hicks and Gillett and Christian Purslow and Martin Broughton.)
The only reasonable excuse that should ever be accepted for having replaced someone good with a worst player or manager can only be due to cost. I give Rafa some slack due to the financial pressures he was under, even though replacing Alonso with Aquilani does try my patience.
In the space of a year, Liverpool have bought Naby Keita, potentially the best box to box midfielder in the world; Virgil Van Dijk, one of the top defenders in the world; and Alisson Becker, one of the world's top keepers. We have done so beating off other clubs on the way to do this. Liverpool football club are building something, we are making clear progress. The Europa League run captured imaginations and excited the viewer, and the Champions League run has done the same. On each occasion Liverpool came so painfully close, to be the second best in the final. Players can see that we are building something, players can see the sense of family and belong around the club. Players can see how the team plays for Jurgen Klopp and how he supports and backs them up.
In the past when we have bought players, I have asked myself how many other top four clubs, or big Champions League clubs would have wanted the same players, and for the price that we paid for them.
Let us look at the last time Liverpool bought a Brazilian goalkeeper, two midfielders and a wide attacker. Kenny Dalglish had just replaced charisma vacuum Roy Hodgson and purchased Charlie Adam, Doni, Stewart Downing, Jordan Henderson. Top money was paid for the three outfield players giving the team a new British base. They were supposedly also Premier League proven. Two phrases dear reader that should always ring alarm bells. Players should be bought based on their ability and how they will fit into the side, not based on their passport.  Which top sides were also in for Adam, Downing or Henderson? I would say none. Once Alex Ferguson heard of Liverpool's interest in Charlie Adam, he commented on how great his corners were, conveniently missing out the fact that Charlie Adam couldn't run a bath, let alone five yards. All that Ferguson's praise did was allow Blackpool to use it as a bargaining chip to bump up Charlie Adam's price which unbelievably was 7.5 million pounds.  Downing, a man with no pace or crossing ability and who had played on the right of Aston Villa's attack was bought to play on the left of Liverpool's midfield. An amazing 20 million pounds was paid for him. Jordan Henderson was a promising young English player with good stamina who showed a lot of promise, 16 million pounds was paid for him.
With all three of these expensive signings, I would state that no big clubs were beating the door down to sign any of them. What that tells me and told me at the time, that they were the wrong calibre of players that we needed to be targeting.
Compare this situation to now, Naby Keita was wanted by Barcelona and most of the top clubs around Europe, Virgil Van Dijk was coveted by the Premier League elite, Fabinho had been chased by Man United amongst other big clubs, whilst Alisson has been linked with Real Madrid and Chelsea.
I have been enjoying the fume from opposing fans on Twitter, whether it be saying that Alisson is rubbish, or that he will sign for another club, or calling Jurgen Klopp a hypocrite for spending big on players after previously saying that he would never do that. Bring it on! It's music to my ears because it means that opposing fans see Liverpool Football Club as a threat and are worried about the direction that we are heading in as a club. Long may it continue. Hopefully, at the end of the season we will have some silverware in the cabinet and the fume can continue all the more!