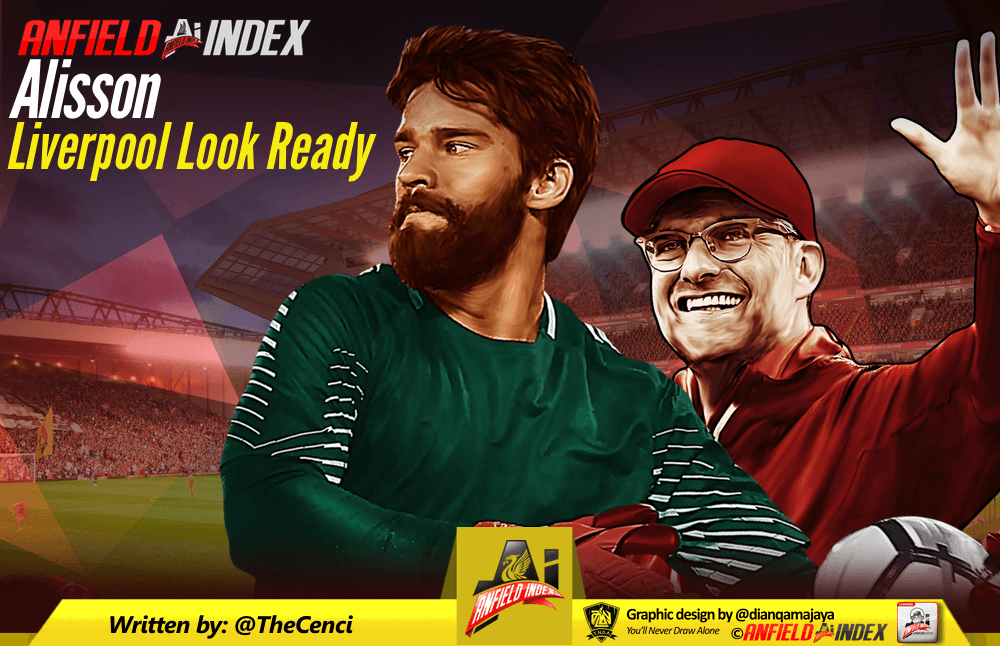 Alisson: Liverpool Look Ready
Rafael Benitez once claimed that managing a small club was akin to owning a short blanket. In a chat following a match, he told the former West Brom manager Tony Mowbray, that a small blanket is of no use to anyone. You can cover your head to keep out the cold, but it will leave your feet sticking out, or, you cover them up and leave your head exposed to the elements. Ultimately, a short blanket will always be cold.
In a footballing sense, a lower league manager can spend his budget on a solid defence only to go weeks without a goal due to a paucity of striking options. Similarly, a weekly goal-fest, though enjoyable, means sod all if you're drawing 5-5 every week.
Actually, this idea isn't just limited to the smaller teams. In 1997, Liverpool were in dire need of a tough guy in the middle of the park. The Roy Evans' sides were beautiful to watch. Hundreds of completed passes making up stats that would send today's analysts into paroxysms of pleasure. However, when confronted with, shall we say, more committed (football shorthand for 'a bit dirty') teams, Liverpool were outfought. Redknapp and Barnes were the preferred central pairs ahead of the criminally underrated Michael Thomas.
In the summer of 1997 a decision was made and Paul Ince, the tough-tackling bastard from Inter Milan, was drafted in. The Red world went mad. Ince was the missing piece of the jigsaw. He was exactly what we needed. The steel in the centre. John Barnes ended his ten-year Anfield career and a new age began.
Now we had a proper midfield, a fairly decent defence and the newly arrived Michael Owen up front with World Cup winner Karl-Heinz Riedle. Before the opening game at Selhurst Park against Wimbledon, fans could purchase prophetic made-up T-shirts of our new captain holding the Premiership trophy aloft. This was to be our year. That pesky blanket was finally big enough to cover us. The title would be a foregone conclusion.
Liverpool finished third, some thirteen points behind double winners Arsenal, with 65 points — three fewer than the previous season. How? Well, the defence was constantly exposed and wasn't exactly the quickest in our history. The self-termed 'Guvnor,' was referred to as 'The Governess' in some corners of Anfield. That blanket had shrunk again.
Jurgen Klopp faced a similar situation last season. He had the perfect front three in Mane, Firmino and Salah, but with defensive issues which always threatened to undo their good work. This needed addressing if Liverpool were to build on last season's campaign.
Key to this was the goalkeeping situation.
It's no coincidence that the more successful teams have long-term goalkeepers. Peter Schmeichel, arguably the best in the modern age, played 292 times for Manchester United across eight seasons, practically as an ever-present. Likewise, David Seaman of Arsenal put in 13 years for the North London club and came out of it with an armful of trophies. Petr Cech? Eleven years with Chelsea. These were all League championship winners.
Going back even further, to the most celebrated period of our history, Liverpool had just two regular first choice goalkeepers from 1967 to 1994 in Ray Clemence and Bruce Grobbelaar. Being the backup keeper at Anfield must have been the most boring job on the planet.
It's advisable to buy a brilliant keeper and have them play for years on end. It just works.
And this has been denied to Jurgen Klopp. At first, Simon Mignolet was his first choice despite some famous calamities and an inability to come off his line when needed. Then Klopp returned to his home country and brought in Loris Karius. The 25-year-old proved inconsistent way before the Champions League and, though he had improved and was responsible for some incredible saves on the road to Ukraine, he never looked like a long-term option.
For all the talk of giving Karius a chance and showing our support to him, Liverpool should always look after itself first and, when a first-class keeper comes available, we should bite. Many Reds wanted that to be the key signing of the summer. Sentiment is one thing, but you can't mess about with your goalkeeper.
With the acquisition of Alisson Becker from AS Roma, Liverpool finally have the potential of a durable goalkeeper and, providing he can settle quickly, he may just be joining a title-chasing team. The front three are the envy of Europe, the midfield has been bolstered with Fabinho and Naby Keita and now we have a goalkeeper. A real one. A keeper who won't set nerves on edge when a shot comes in.
Hell, even our supposedly worst defender (he isn't) has just reached and played in a World Cup final.
The transfer sees the end of Danny Ward's stay with the club and he could be forgiven for frowning at his ill-fortune. It can't be every job where you move on simply because a man two rungs above you in your department has been ousted.
As for Karius, there may not be a way back for him now. There were extenuating circumstances for his Champions League performance, but the Tranmere howler showed that not all of his shortcomings are due to injury.
Incidentally, was that the first goal where the scorer was furious with the keeper for not saving his shot? Odd.
Anyway, welcome Alisson. Stay for a long time, save everything that comes your way, shout a lot and learn as much Scouse as you can before Christmas. We'll sing your name once the Kop we think of something.
Liverpool look ready to me.
Sound.