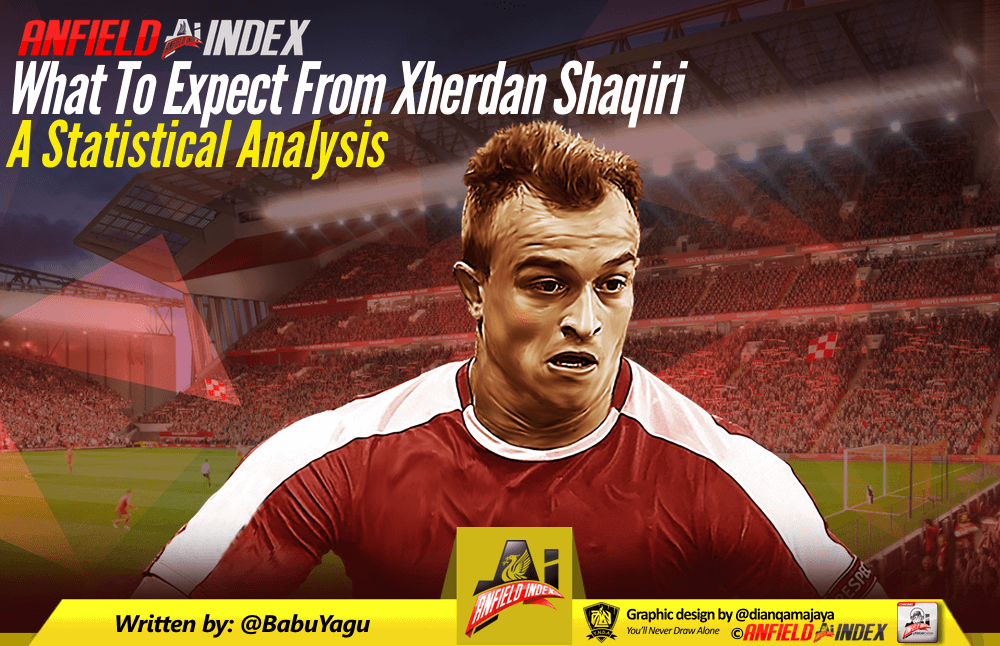 What to Expect From Xherdan Shaqiri - A Statistical Analysis
The dust is starting to settle again following Liverpool's signing of Shaqiri. The transfer came as somewhat of a surprise for many and thus it is not surprising that many questions still remain unanswered. What position will he play? What does he do? How will that work at Liverpool? What is so magical about this dwarf?
Well before we can answer any of those, we first need to ascertain exactly what he is. Looking at the per 90 numbers for all midfielders & attackers in the top four European Leagues, the three metrics where he excels above all else are:-

top 4% for completing passes into the box
top 7% for chances created
top 7% for through balls
This may surprise many of you as he has been somewhat pigeonholed as an inside right forward who likes to cut inside and unleash hell at goal with his left foot. Whilst this is true, and it is indeed hell, it seems there is much more to his game than his fifty-calibre left foot. So perhaps before doing anything else, we should look at a statistical breakdown of his entire game compared to averages to make sure any other surprises, good or bad, are out in the open.
Pretty, but what does it all mean?
Defensive Phase – So in the defensive (and transition to defence) phases, it doesn't look like he is too involved at the moment. That could be as he is the player who is staying quite high up the pitch similar to Salah for us. In fact, comparing them both (which I did in the tweet embedded below), he does seem to be around league average and superior to Salah in terms of his involvement off the ball. It may also be that he is not getting behind the ball with the rest of the team to act as their out ball when they win it back. Or it could be he is a lazy, good for nothing fu… actually no, it probably isn't that. I just doubt Klopp & our analysts go out and sign that guy. Regardless though – that probably isn't where we should focus for now. I think he is being signed to help up ruin those low block sides and help us be more of a flat track bully to start bridging that gap between City's points total and our own. So let's look at the attacking phase.
Messing with something for a Shaqiri article I am working on. This is looking at where he seems to be picking up second/loose balls. He averages 4,63 combined per 90. Comparatively, Salah has 3,85 per 90. pic.twitter.com/PUoCzZYhGn

— BabuYagu ✍️⚽ (@babuyagu) July 19, 2018
The Attacking Phase
In these early build-up play phases, Shaqiri's impact looks quite minimal. His involvement in the buildup (xG Buildup/90) and occasions he advances play into the final 3rd are both well below average forward. Again, this would suggest that he is more of a receiving target high up the pitch (e.g Salah's xG Buildup/90 is 0,18) than someone who drops off the line to play or carry the ball into the final 3rd (e.g. Firmino's xG Buildup/90 is 0,40).
In the penetration phase is the first area where Shaqiri begins to shine. As mentioned at the start, he is someone who scores very highly in passes into the box, creating chances and through-ball. But to get a clearer idea of exactly how well, I thought we should look at a graph of every midfielder and forward in the top 4 leagues to see where exactly he falls.
That is a lot of information there to take in at once. This is somewhat intentional on my part. Think of it as the cream rising to the top and ignore the cluster in the bottom left and instead focus on the top right. You see all the names you typically associate with players who can pick a pass through a defence in the final third. Now scan around looking for other familiar names to you in comparison to the elites at the top. When you find Rodriguez and follow that line south, soon enough you will find Shaqiri.
So this frames him as a player who has good penetration and creativity: useful skillsets when you want to unpick a stubborn defence and want to break through their lines. In fact, Klopp said last September after the 2-2 draw against Sevilla that "the most important thing in football is creating chances". Whereas penetration is the buzzword most associated with Guardiola's play at Manchester City. Guardiola sides typically dispatch with the weakest 75% of a league better than anyone which usually sees them amass points at a rate that most clubs simply cannot compete with.
Dribbling is another crucial part of penetration play in terms of trying to commit defenders, back them up into the box and pull additional players out of the positions to deal with the problem creating overloads elsewhere.
As you have seen in many of the compilations, he is a skilled dribbler with many tricks in his locker too, yet he doesn't seem to attempt dribbles that often. This would suggest to me a very Dutch-based coaching where dribbling is used only in situations where you feel a goal scoring chance can result from it. Therefore it is used sparingly and generally after passing has been used to isolate a defender to be attacked. Compare and contrast this to someone like Adama Traore or Zaha for whom dribbling seems like the first, second and third thing they will try when they get the ball before remembering that passing it is an option too, usually the preferred one.
As you can see, this time I have filtered out a lot of the background noise and have just focused on the players from the Premier League last season who are averaging 1+ shots from outside the box for every 90 minutes they play – the high volume shot takers. So think of this as a magnified version of the 'cream' from the above chart but relating to long-range shooting this time.
This is where Shaqiri stands out with the most goals from outside the box (5), and only marginally losing out to Mahrez both in terms of his conversion rate of long shots and his all-round shot accuracy. I also believe the amount of shots he actually takes is somewhat overstated. Indeed, once you strip out shots resulting from direct set pieces, Shaqiri is taking less than one shot from outside the box per 90 minutes played which is some way behind the likes of Pedro, De Bruyne and in particular Coutinho. He isn't a wasteful shooter whose first instinct seems to be to work shooting positions for himself.
He is clearly an elite long-range shot taker when he does decide to pull the trigger. But it's not only that he can bypass the need to penetrate the opponent's defence and skip straight to the finishing phase with a swing of that left foot, the actual threat of this alone is a problem. Think for a second of all the long-range goals we conceded this season from Xhaka, Wanyama, Nainggolan, Bale etc. Ignoring who was at fault for them for a moment in your eyes, how many of them could have been prevented by simply closing down the ball? Pretty much all of them. Sure, the Xhaka and Bale ones look pretty saveable – but shot prevention is the cornerstone of our system and why we give up fewer shots than any side in the second half of the season. So you can be sure every coach worth their salt (e.g. not Hodgson) drills into his side the importance of closing down in these key areas. And when you are lining up against someone like Shaqiri, that message is doubly loud and emphasised through gritted teeth and with the demonstration of the damage the back of your hand can do. At least that is how I hear Mr Ferguson handled things.
So when Shaqiri simply gets on the ball in those spaces, you will see defenders bomb bursting out of their nice little formation in double time to stop him shooting. This creates movement in their shape, movement = space, and space can be attacked. This can cause something of a chain reaction effect. A player closing someone down leaves space for a Bobby to attack, this drags a centre back out of position for a 2nd runner to attack from deep and before you know it you have a man running into space in their box just needing to be found with a pass.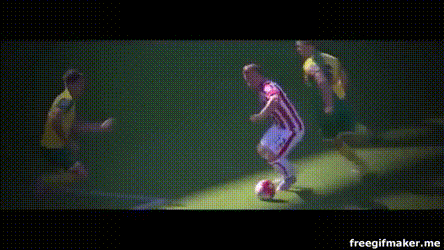 As you can see here, the two men closing Shaqiri down to prevent him from shooting creates space behind them for someone to move into and receive an easy pass in the box.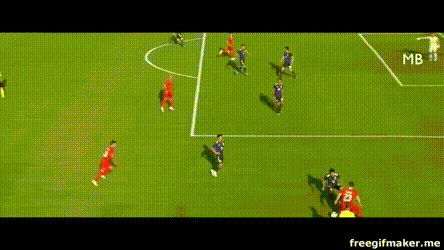 Here, the second marker positions himself to prevent Shaqiri moving out and across the box onto his left foot. He isn't paying attention to a possible runner from deep as he should be and this creates a big space behind the two markers which a runner attacks. In turn, you then see a centre-half starting to move out to match meet this runner creating further movement, and thus space, in the box.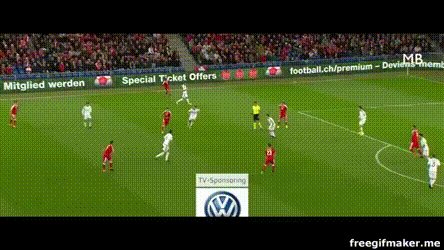 Finally, here the defence is so distracted in worrying about Shaqiri shooting, they completely forget about the forward they were marking in an even more dangerous position.
He is also putting up elite numbers in terms of completing passes into the box – the most difficult location on the pitch to complete a pass with roughly only 35% succeeding on average.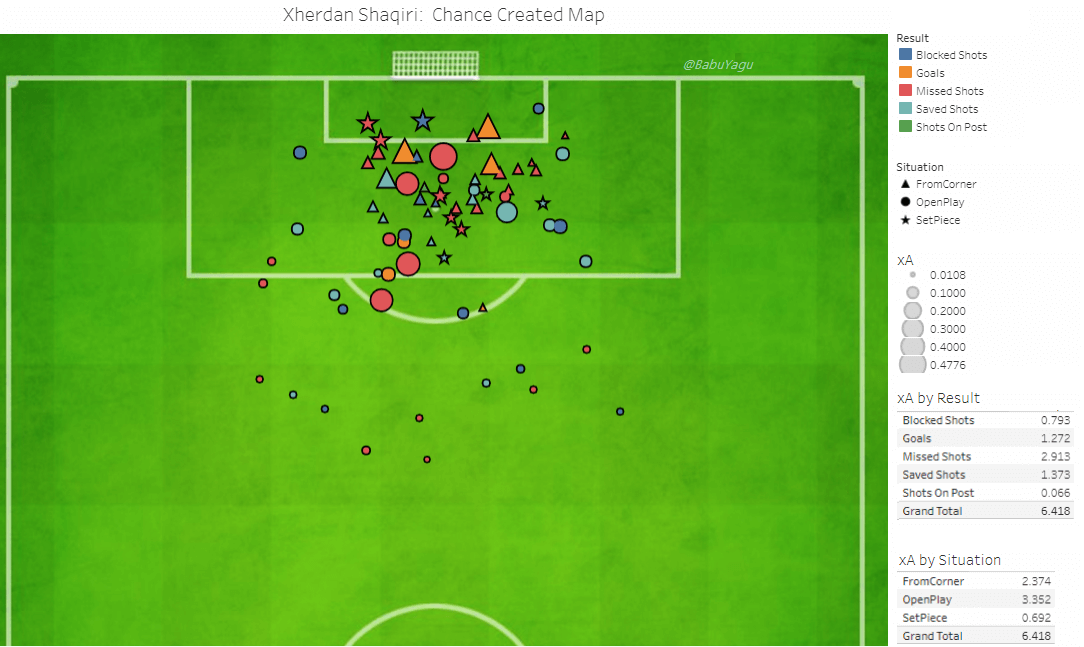 Now we are in the final part of the attacking phase – finishing. This includes both the creating and scoring of chances. As you can see above, none of the big chances he created in open play were put away by Stoke last season – something that you hope changes with some deadly finishers around him now. His delivery from dead balls, particularly in-swinging corners, produced a lot of chances for Stoke last season. Hopefully, this will help boost the output of VVD & Lovren who are both at the very top in terms of aerial duels for centre-halves in Europe. Fabinho isn't too shabby here either.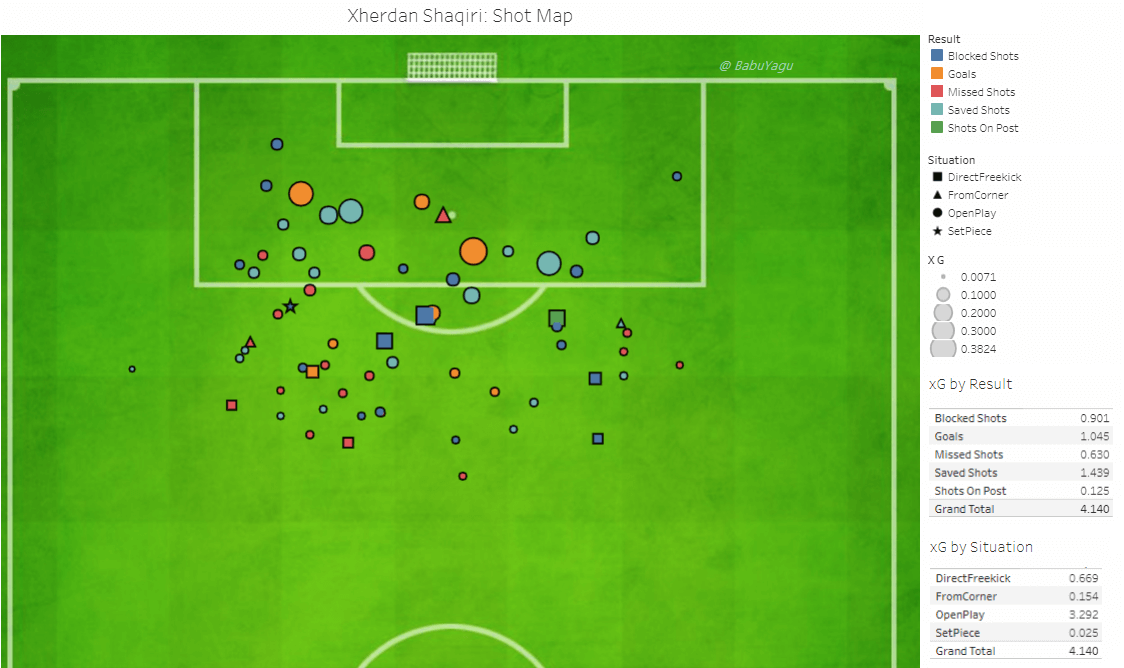 I would say Shaqiri isn't really a goal scorer, more a scorer of goals. He isn't attacking the posts and getting in the prime goal scoring positions. This could largely be due to a more static idea of players' roles at Stoke than anything else though. But even when looking at Dzeko & Salah last season, you could see plenty of instances of Salah attacking the posts and following up on shots.
In conclusion, I don't think it is necessarily a problem if he tends to remain outside the penalty area. Ultimately, as long as we have two players attacking the posts and a third attacking the box from deeper also, having a player like Shaqiri lurking outside ready to either hammer rebounds at the goal, or thread them back into the area will complement our existing tactical framework. In this sense, I envision Shaqiri's approach to his role at Liverpool will stylistically look quite similar to a mirrored Phil Coutinho. A wide creative hub offering high numbers in penetration, whilst launching occasional bombs off his left foot.
All data relates to 2017/18 season, Premier League games only.
Visuals are the work of myself & JCB. Rather than further elongate this article trying to explain it, I am available on Twitter to answer any questions on any of the visuals we use. @BabuYagu