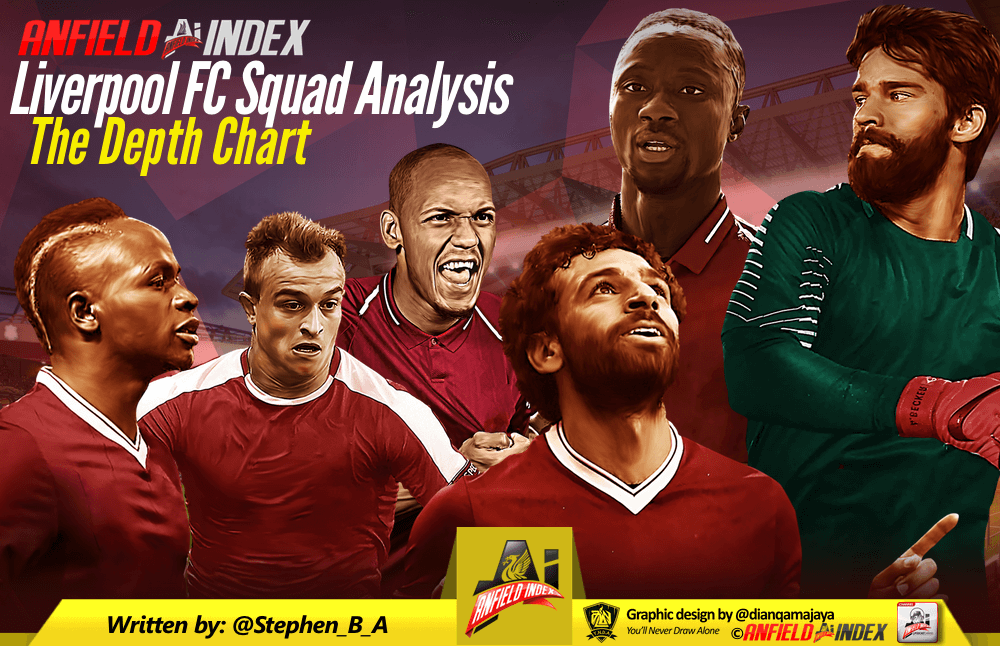 Liverpool FC Squad Analysis: The Depth Chart
There are two weeks to go until the summer transfer window slams shut, locks and closes its shutters. Jurgen Klopp has apparently announced there will be no more signings with his comments last week – "We have everything we need for the next season because I don't think we will do anything more, I'm pretty sure of that."
Having written this piece for AI for the past two summers, this year I'm excited to bring you the Depth chart for the 2018/19 season! Yes, there are still rumours circling a few players and positions, but based on the squad today here's a look at how Klopp's squad looks as the first game of the season approaches.
Goal Keeper:
Key Player: Alisson Becker

Liverpool's new shot-stopper, Alisson Becker, is now the world's most expensive 'keeper. Statistically, he's one of the top players in the world right now, with only Jan Oblak and David de Gea boasting higher save percentages last season. Alisson, as most fans are referring to him, also boasted the best performance in xG conceded last season, conceding eight fewer goals then the model predicted — in comparison, Karius matched his xG performance and what was the best half season from a Liverpool 'keeper in eight years. Looking at these stats alone, let alone his distribution (he excels here two with Ederson only just performing better in short passes) this is the most excited I've been about a Liverpool 'keeper in the 24 years I've supported the team!
Future Prospect: Kamil Grabara
Those who follow the under 18s and under 23s will be familiar with Kamil Grabara. He's excelled over the last couple of seasons and is projected to be a good player. Could he be among the next batch of youngsters to train with the first team and play for the under 23s? I can see him slotting in as the 3rd choice this year, and being technically one of the club's home-grown players for the Champions League should mean he's part of the squad, even if we do only see him in training shots and sat with the travelling players, not on the bench.
The backup: Loris Karius & Simon Mignolet
Behind Alisson is a mixed bag of options, with surely at least of these players leaving by the end of August.
Loris Karius looks like he'll be sticking around as the number 2 to Alisson. Though he's struggled in pre-season, which is no surprise given the vitriol of abuse he's received from fans this summer, he still has the potential to recover from his performance in the Champions League final. As mentioned above, his performance from January until that final was the best seen by a Liverpool goalkeeper in eight years (don't believe me, check with @DanKennett). With some time out of the limelight and maybe not even playing this side of Christmas, Karius should offer a stylistically suitable backup.
Simon Mignolet is currently the forgotten man at Liverpool and at most third choice. As an international coming back from the World Cup, he will surely be looking for a new club following Alisson's world record fee. I would imagine he'll be shipped out once all the players return to training.
Centre Back:
Key Player: Virgil van Dijk
Whether following statistics or relying on the eye test, Virgil van Dijk's performances easily pass both! Potentially in the top ten centre-backs in world football right now the Dutchman is not only the centrepiece of the defence but the foundations that the spine of the team is being built upon. A monster in attacking the ball in the air, a calm and collected defender when the ball in on the floor and with the vision and ability to both hit quick balls into the forwards or patiently bring the ball out from the back. If Edwards and Klopp can find him a truly world-class partner he could go on to be as big for Liverpool as the likes of Baresi or Maldini were for AC Milan.
Future Prospect: Joe Gomez
Joe Gomez spent last season in rotation with Trent Alexander-Arnold at right back for Liverpool. But, with Clyne returning from injury and his preferred position being centre-back, could this be the year he finally moves into the centre of defence full time? He's tall, quick and has bags of natural ability. At right-back, his concentration and lack of experience sometimes saw him caught out against diagonal balls played in behind him, but in his natural role and alongside the commanding Virgil van Dijk the youngster may be ready to take his first steps toward becoming a first-team centre-half. With Matip picking up a knock, Klavan a left-sided centre-back and Lovren not yet back from his post World Cup break Gomez has an opportunity to at least start the season playing alongside the Dutchman. Having Virgil talk him through games and with Fabinho acting as a true defensive midfielder, Joe needs to make the most of the few games of the season and push to start over Lovren or Matip. If he does well Klopp has proved he'll play the youngsters.
The Backup: Ragnar Klavan, Dejan Lovren & Joel Matip
Ragnar Klavan knows his role in the team, playing left-sided centre-back — the same position as our key man — means limited playing time for the Estonian. Seemingly happy with his role in the squad don't expect to see him start more than 10-15 games in the domestic cups or when Van Dijk is in need of a rest. Klavan is nothing more than a solid backup, but with a better 'keeper behind him and a strong midfield unit ahead of him he should more than suffice in his role as a fourth or fifth choice.
Dejan Lovren has recently declared himself and world-class defender, echoing similar sentiments shared by Klopp toward the end of last season. Alongside Virgil, the Croatian has certainly looked much more assured and more often then not he looks a solid, commanding centre-back for 80 minutes a game who is achingly close to being a consistent 7/10 player. But there's the issues, consistency, for all of his Braveheart-esque moments — think back to his goal vs Dortmund — he has an uncanny ability to switch off at the wrong moment leading to a goal. Fans continue to debate his position in the team, and maybe behind Fabinho, he will win the battle as the starting right-sided centre back.
Joel Matip on paper should be Klopp's first choice centre-back to partner van Dijk. He's rangy, deceptively quick for his size and known as a ball playing defender. However, a mixture of injuries and playing in an ever-changing defensive lineup has meant he's yet to live up to his billing. With Joe Gomez primed to take another developmental leap and the battle with Lovren already in place, the pressure is on Matip to ensure he's Klopp's preferred choice at right centre-back, as he could easily find himself falling well down the pecking order this season.
Right Full Back:
Key Player: Trent Alexander-Arnold
Trent Alexander-Arnold is both a future prospect and a key player at right-back for Liverpool. He's already the best attacking option we have a right back, but he has the potential go to on to become the club's ever had. Though his defending still needs to improve, with his positioning and concentration sometimes letting him down, his attacking talent is already something to behold — remember his assist from the halfway line for Salah against Bournemouth.
Backup: Nathaniel Clyne
18 months ago, Nathaniel Clyne was the best right back we'd seen since Steve Finnan. Solid defensively, consistently 7/10 and willing to get forward. But after a serious back injury, his 18-year-old understudy came in and made the position his own. Though Clyne is likely to regain the backup right back birth from Joe Gomez, he's likely to be rotated to help manage Trent's minutes after a massive upturn last season and being part of England's World Cup squad. Though he's pencilled in to start the season as the first choice right-back, don't expect this to remain the case. Isn't is great seeing someone good enough to start for most of the Premier League as our backup option!
Left Full Back:
Key Player: Andrew Robertson
Andy Robertson started last season playing second fiddle to a resurgent Alberto Moreno, but following a run in the team covering injury, he quickly became the first choice. Robbo's epic press, relentless work rate and ever-improving crossing have seen his stock rise quickly. He's potentially locked down the first choice spot for years to come and it would take the signing of a world class player to knock him off his perch.
Backup: Alberto Moreno
Alberto Moreno started last season in the best form we'd seen from him in a couple of years, following a year as a backup to James Milner. He seems to have matured and though his last-ditch tackling has its own unique style, he no longer feels a liability to our team. With VvD at left centre back too he knows there is a world class player on his inside. Like Clyne, Albie could easily start for a lot of Premier League teams so having him as our second choice offers decent depth and a good attacking option.
Centre Midfield:
Key Players: Fabinho & Naby Keita
Fabinho might just be the difference maker for Liverpool is the big games this season. The pressure from the fans will be on the attacking talent at Klopp's disposal, but in Fabinho LFC have their first defensive midfielder since Javier Mascherano left the club. A converted fullback with pace, physicality and an eye for a pass, the defence first midfielder will be key in allowing both or the fullbacks and Naby Keita to push on when needing to chase a goal. At 6′ 2″ he offers projects as both a defensive presence and attacking threat in the box during set pieces. I for one am excited to see what Fabinho brings to the team once he settles into Klopp's system,.
Naby Keita could be the most anticipated signing to Liverpool's midfield since Steven Gerrard broke through. Whether watching him in preseason (where's he seems to be settling with incredible ease) or for RB Leipzig, Keita brings a real edge to Liverpool's midfield. He can drive at the opposition with the ball at his feet like a top winger, he has the range of passing of a deep-lying playmaker and the tenacity & engine of a box-to-box midfielder. With Fabinho behind him, and the likes of Wijnaldum and Ox next to him Naby Keita is going the be the driving force behind a dynamic, powerful and creative midfield for years to come.
Backup: Jordan Henderson, Adam Lallana, James Milner, Alex Oxlade-Chamberlain, Gini Wijnaldum
Jordan Henderson is in for a challenging season at Liverpool this year. The captain has been playing as the deepest lying midfielder for the past couple of seasons, and though he's likely to fill in on occasion he's likely to have lost that position to Fabinho. Saying that, Henderson's most productive seasons at Liverpool have been as a box-to-box midfielder, if he can get his fitness into a position to reprise this role then he could still have a place in the team. If not, then we'll likely see him replaced in the next 12 months. But like Clyne and Moreno, he'd be a great squad player.
Adam Lallana must be looking at the signing of Keita, the performances of Curtis Jones in pre-season and the links to Nabil Fekir and wonder if his days are numbered. Klopp clearly likes Lallana as a player, but two years of injuries and the evolution of the team (and quality of players coming in) leaves him well down the pecking order this season. Lallana most likely will form a backup midfield option alongside Milner and Henderson or Wijnaldum this season. A player who still divides popular opinion may have to consider leaving the club for first team football in reality.
James Milner may move at the speed of a tugboat, but once again he's returned to pre-season as one of the fittest players. If used sparingly and appropriately Milner could continue to delver for Liverpool this coming season. Though he seemed to run out of steam at the end of last season, his performances as a whole after the New Year go to show he's still got a few more miles left on the clock. As a consummate professional and someone who appears well liked by his team mates I expect to see him see out his contract with the club filling in at all three midfield positions and at his usual 7/10 week in/out level if his minutes are managed. Expect to see him captain our domestic cup competitions, where he can help bring on the next generation of youngsters.
Alex Oxlade-Chamberlain gets a mention here, but more from the view that he'll become an important player next season. Due to spending most of this season on the sidelines he'll likely replace James Milner next summer as a key rotation piece due to his pace, power and versatility. His purposeful and direct running style in a midfield of Fabinho and Keita could be an important piece of a midfield three primed to overrun weaker opposition. While it's sad he's set to miss out most of the season, he should come back ready to really impact the team in summer 2019.
Gini Wijnaldum looks to be competing with Jordan Henderson for the third starter role with Fabinho and Keita this season. Great in transition, good energy and wonderful at home he should remain an important team member. But with his woeful away performances, he'll have to battle to keep his place this season with the quality of players coming in. Should the Fekir deal happen, expect to see him drop to the bench alongside Henderson.
Future Prospect: Curtis Jones
Curtis Jones has been part of Klopp's preseason team and has demonstrated ability and confidence beyond what was expected from a 17 years old. Another dynamic midfielder happy driving at the opposition and a number 10 at heart, if he can develop into a combo 8 & 10 style attacking midfielder over the next 2-3 years Curtis could the successor to Gerrard's throne. However, in Klopp's career, he's handed little over 50 first team minutes to 17 year olds. Expect to see Curtis on the bench for the domestic cups and travelling as part of the Champions League squads, but in terms of first team football fans will have to remain patient — not something the Anfield crowd is currently known for!
Wide Forward:
Key Players: Sadio Mane & Mo Salah
Sadio Mane has proven the doubters wrong in style. In his first season his direct running, pace and power combination was just what Klopp's team had needed, but once paired with Salah and helped by Firmino's evolution as a centre forward, Mane reached another level last season. Goals, assists and with a skillset that leaves defenders dreading what to do, if Mane continues his trajectory this season then something special will happen at Anfield in the coming months.
Mo Salah was a Champions League winning medal away from the Balon d'Or this year — and in all seriousness could still go on to win it. If Salah can even match 80% of last season's performance, let alone go onto another level we could well be watching the most defining moment at the club for 27 years. Goals, goals and more goals, creating space for those around him and an almost telepathic relationship with Trent Alexander-Arnold he's the most exciting player in the Premier League right now.
Backup: Xherdan Shaqiri & Ben Woodburn
Xherdan Shaqiri is an astute signing from the Edwards and Klopp dream team. In a relegated team that was devoid of excitement last season, Shaqiri still managed to pick up eight goals and seven assists. A player who has been linked to the cliub on and off for around five years now, it's great to see him finally join the club. Shaqiri offers a genuine option as Salah's backup on the right of the front three. He can score goals from distance, he's acceleration and strength are phenomenal and he offers something Liverpool have sorely missed… a specialist set piece taker. Expect to see Shaqiri play enough minutes to allow Mane and Salah the rest they will need while also being on the pitch enough to build up his own rhythm. If Shaqiri can match the work rate and pressing Klopp demands he could go on to prove to be exactly what was missing from the front three.
Ben Woodburn has been around the first team squad for a couple of seasons now, and it still feels we're yet to see what he can really offer the team. Stuck in the limbo of either being protected by Klopp, or not trusted by him, this needs to be his breakout season. Though Shaqiri will take the majority of backup minutes this coming season, if Woodburn can offer something in the domestic cups and put in some positive performances from the bench we may not need to see another wide player join the club for a good few years. Liverpool fans need to air on the side of cautious optimism here.
Key Player: Roberto Firmino
Roberto "Bobby" Firmino has stepped from cult to club hero in the past 12 months. Adding real production in both goals and assists to his tireless play Firmino was a joy to watch next season — though he still needs to curb some of his no look goal attempts! Fans and pundits alike were clambering for a 25-30 goal a season striker last summer and Firmino when on to be that player. Alongside Salah's magic and Sadio's power, Firmino is the lynchpin of Liverpool's attack. Not a true centre forward or a false 9, but somewhere in between his goal against City in the Champions League last season epitomised what he's become. A relentless work horse with wonderful flair and now the goals to boot. And if Liverpool can win the league just imagine the party this lad would throw!
Future Prospect: Rhian Brewster
Rhian Brewster is a little bit off an enigma at the moment for Liverpool. Last summer there was much hype and hope he would be part of the first team squad before his injury. Now a year older and with a new contract, Rhian is nicely placed to finally make that move. An exciting youngster who could be the closest player out there most suited to backup Fimino, Brewster projects to be a top player. If he can come back from injury with the mentality Joe Gomez showed last season, and continue on his path we'll hopefully see the teenage leading the line in cup games and coming on to pick up sub minutes this season. But as with Jones and Woodburn, Liverpool fans need to be patient — Brewster could go on to wow Klopp this year TAA did last year, or fall into the background not to be seen until preseason 2019.
Backup: Divock Origi, Danny Ings, Dominic Solanke, Daniel Sturridge
Divock Origi isn't doing himself too many favours this preseason. Following a loan at Wolfsburg where he picked up seven goals in over 30 appearances it will be no great surprise should Origi be shown the door this summer. As things stand I don't see him being part of Klopp's squad much longer.
Danny Ings already looks like he has one foot out of the door. He's missed the US Tour (though that was cited to be due to injury) and the links away from the club aren't going away. Southampton seem to be interested and he would be a good signing for a mid table team. However, his days on Merseyside look numbered.
Dominic Solanke is an interesting player in Klopp's squad. Last season he couldn't hit the back of a barn door, but the rest of his play was positive and in run ours for England's youth squads he's also shown himself to be a canny operator in the number 10 role. Without wanting to set expectations too high, something about his pay reminds me of Harry Kane back when he was at Millwall. Built like an old school centre forward but with a good touch and intelligent play this boy has lots of potential, but it feels like he needs to follow in Harry Wilson's footsteps and go out on loan where he can be a starter week in, week out.
Daniel Sturridge has fallen back in love with the club and the fans have fallen for him once again too bye the look of things during pre-season. We all know what he can offer us when fit, firing and happy. Yes, fitness is a worry, but is his minutes are managed appropriately I can't see why he can't fill in as back up to Bobby in the goal scoring false 9 role this season. He has the natural ability and skill for sure, and not relying on an explosive burst of pace off the defenders shoulder may suit him too. But the biggest thing this summer seems to be how happy he is, there's a budding bromance on and off the pitch brewing with Naby, so let's hope Klopp can harness this once again. Something tells me we're going to see some game changing performances and 15+ goals from Sturridge this season.
Conclusion
All in all, Liverpool have the strongest looking team I can remember since seeing Gerrard, Hyypia, Mascherano, Torres and Xabi Alonso lined up in red. But to add to this, with the likes of Henderson, Milner, Shaqiri, Sturridge and Wijnaldum on the bench this could be the strongest squad since the '80s. There's a real balance of quality, youth and experience in this seasons squad. Though one final sprinkling of start dust and centre back on attacking midfield wouldn't go amiss, the transfer committee have assembled a truly exciting and potentially title wining squad for the coming season.
Potential 25 man squad
Alisson Becker
Loris Karius
Kamil Grabara (home grown)
Virgil van Dijk
Joe Gomez (home grown)
Ragnar Klavan
Dejan Lovren
Joel Matip
Trent Alexander-Arnold (home grown)
Nathaniel Clyne
Andrew Robertson
Alberto Moreno
Fabinho
Jordan Henderson
Naby Keita
Alex Oxlande-Chamberlain (might not be registered until January)
Adam Lallana
James Milner
Gini Wijnaldum
Sadio Mane
Mo Salah
Xherdan Shaqiri
Ben Woodbrun (home grown)
Robert Frimino
Daniel Sturrdige
Potential under 21s (registration not required)
Curtis Jones
Rhian Brewster
Dominic Solanke
Likely Depatrures
Simon Mignolet
Danny Ings
Divock Origi