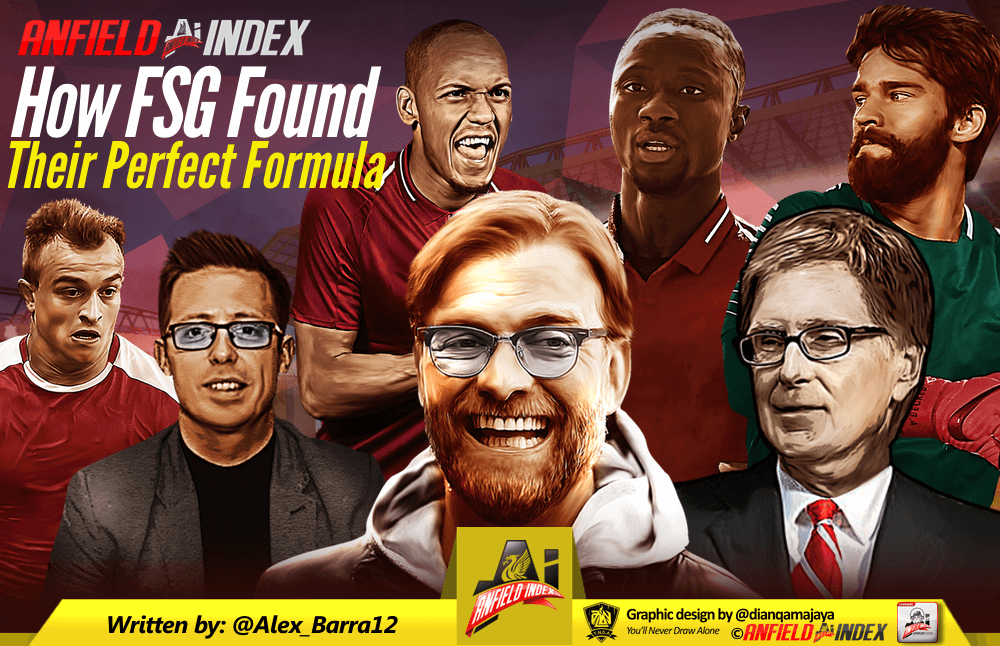 How FSG Found Their Perfect Formula
May 2010: The Royal Bank of Scotland takes Hicks and Gillett to court in order to force the sale of Liverpool Football Club.
October 2010, Fenway Sports Group purchase Liverpool Football Club for £300 million, after the club was perilously teetering above the jaws of administration.
Nearly eight years later, mistakes have been made, Liverpool did not progress the way they perhaps ought to have, and yet all it took was a couple of extremely clever appointments to execute the clever vision of a clever ownership: and that cleverness has paid dividends.
Now, as Liverpool look to finalise what may well be their most impressive transfer window in recent memory, having fully recovered from the mistakes of yesteryear, their fans can finally sit back and revel in supporting a competent club, a club that is travelling in a singular, successful direction. A club that is no longer subjected to the mockery, instead subjected to envy.
It's what happens when a good strategy pays off.
Brendan Rodgers was not the right man. Kenny Dalglish, despite his legendary status, was not the right man. Roy Hodgson was really, really, really not the right man. The evidence is plain to see in the remnants of their actions: Hodgson's folly was Joe Cole, Paul Konchesky and Christian Poulsen. Dalglish made shrewd moves, following the loss of Fernando Torres, but he and his Sporting Director Damien Comolli were always only halfway there: for every Suarez, there was an Andy Carroll. Brendan Rodgers' ego cost him in the end, and the man he was often butting heads with is now flourishing beside Jurgen Klopp: Michael Edwards and his fellow committee members survived while the resonating aura of Rodgers' tenure will be the money he forked out on Christian Benteke. It was a stark departure from the superfluous style of Sturridge and Suarez that saw Rodgers earn his plaudits.
Indeed, the Belgian, who only managed nine goals in his 19 Premier League appearances for Liverpool in 2015/16, represents the last disastrous transfer Liverpool Football Club made.
Clarity in playing style, in improving players who have the right traits, in buying at a younger age and developing and, most importantly, in proving that nobody is irreplaceable, has seen Liverpool prosper.
Indeed, Liverpool fans wanted Klopp for what his Dortmund team became, yet they didn't seem to fathom just how that Dortmund team was created. Waiting for Virgil van Dijk, for Naby Keita, and ensuring Phil Coutinho was only sold for an exorbitant fee were all frustrating moves, and yet the owners trusted their manager, trusted their Director of Football, and the club is now reaping the rewards of that trust.
Meanwhile, Dortmund's record signing, Andre Schurrle, is being linked to Crystal Palace; the same club as Christian Benteke.
Under former managers, Liverpool sought to buy from a tier below them; the perceived cream of the lower quality crop and elevate them to the status of a "big club." Now, Liverpool are shopping in the echelons of the Champions League, building stars who are predestined for something special.
Compare the signings of Naby Keita and Virgil van Dijk to those of Adam Lallana and Christian Benteke. Addressing weaknesses in theory; the latter two represented risks. The idea was, of course, Liverpool would make them better, so long as the system worked. But the system didn't work. The former two embody a different idea: that the system is there, and the players will improve it even further. Van Dijk has become Liverpool's most important upgrade in the last twenty years, and Naby Keita will arrive as one of the best young midfielders in the world, still yet to hit his true top gear. The risk has been eliminated: Klopp has made sure of that.
And Liverpool are able to spend that money because of the clever signings that came before. Because the last two summer transfer windows has seen them make a profit.
For further comparison, look across at Liverpool's rivals: Chelsea spent £50 million on two centre midfielders in Danny Drinkwater and Ross Barkley, when Ruben Loftus-Cheek has yet to see the light of day. They've spent a record fee on Alvaro Morata after spending €33 million on Michy Batshuayi and may well spend a further chunk on Gonzalo Higuain. Manchester United are currently at odds with their own manager: differing strategies that could see prize prospects like Anthony Martial depart the club.
Spurs have done similar to Liverpool: installing an excellent strategy alongside a generational manager and impressive spine, yet the timing of a new stadium will see their already tight wage structure suffocated, even more, leading to the departures of key players. Arsenal's refusal to part ways with their manager: deified yet vilified in equal measure, means they are only now installing a coherent strategy built for the long-term.
Of course, Manchester City remain streaks ahead, and that was due to Pep Guardiola spending money on the right players, those he can morph into a team; a Guardiola team. That is Manchester City's success: the strategy they put in place.
For the first time in a long time, Liverpool are doing things the right way. The right manager, the right appointments, and the right money spent on the right players.
It's about time they reap the benefits of that.