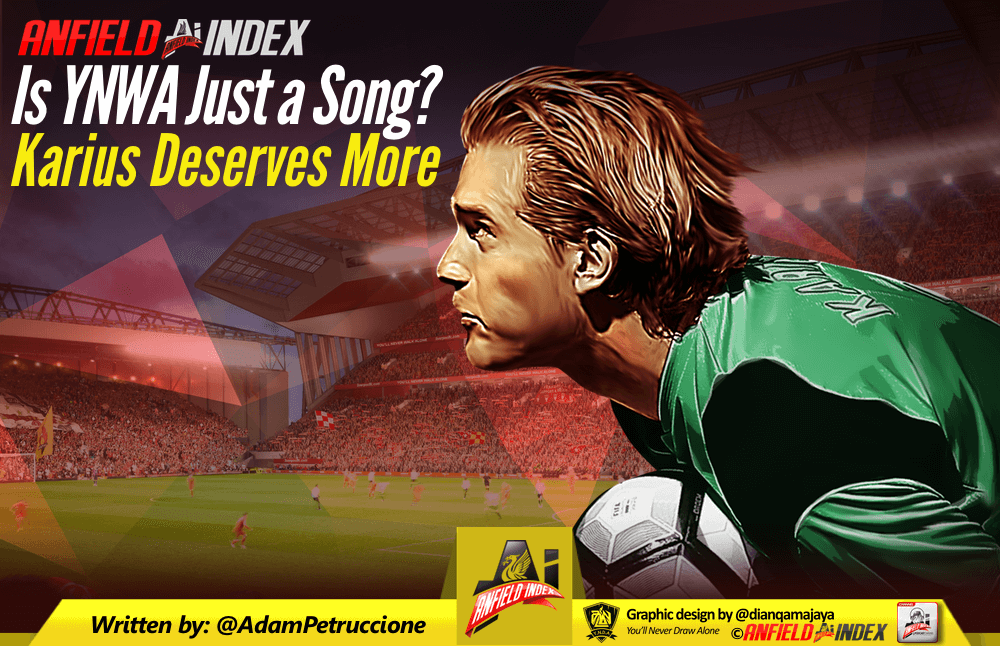 Is YNWA Just a Song? Karius Deserves More
Every fanbase is made up of a majority of good people, and a noisy few that should be sacrificed to the volcano god in order to ensure a bountiful harvest.  Liverpool are supposed to be different.  We have a slogan, "this means more," part of a campaign meant to show that we operate on a plane apart from the rest.   "It's not just football, it's a way of life."
When things are rolling for Liverpool, or there's an obvious bogeyman, we rally together like no other.  But when there is an internal problem, a segment of the fanbase reacts, not in an atypical way, but in a disappointingly normal way.  For so long now, ownership was the whipping boy. Fenway Sports Group were on the receiving end, absorbing abuse from the most incensed Reds. But, after bringing in record signings, a top manager, and redeveloping Anfield, and overseeing a Reds revival the owners aren't an easy target anymore.
WHEN YOU WALK THROUGH A STORM
Enter Loris Karius.  FSG-Out brigade have redirected their angst, unsatisfied until they stalk and shame a man to the point where he either they chase him from Merseyside or the manager moves the player on to save him from his own "supporters."  They're not satisfied that Karius has been relegated to bench duty with the record-breaking addition of Alisson, they want him banished from the island altogether.

Now, I'll put on my tin hat and my flat-earth pin for a second and pretend that Karius made his mistakes in the Champions League purely because of nerves.  I don't really believe that, but even if it were true he certainly wouldn't be the first athlete to succumb to the pressure of the bright lights.  And that doesn't mean he needs to be given a full pardon by everyone, but what does have to happen is that supporters need to respect the work that the man did to get us there in the first place or we're not really supporters at all, are we?  You can say that you support the club, not the player, but abusing Karius isn't helping Liverpool FC.  Even if Jurgen Klopp decided to sell Karius, having the fans chase him out of town is not helping his negotiating position.
Iker Casillas is fed up with the hate directed towards Loris Karius. pic.twitter.com/uqwAcjA5Cw

— ESPN FC (@ESPNFC) July 23, 2018
HOLD YOUR HEAD UP HIGH
Karius' unique abilities allowed Liverpool to play in a high-pressing style that allowed the fewest goals in the Premier League and produced the most clean-sheets in the Premier League.  Was he the ultimate shot stopper, no, but he didn't need to be.  He was decisive, aggressive, and snuffed out a lot of dangerous situations before the opposition could even get off a chance.  Why try to make a save if you can play 15 yards higher than Mignolet would have and disrupt a pass before it gets to the intended target?
Alisson is of course, a serious upgrade.  He can do the positive things that Karius did as well as all of the other nuances of goalkeeping.  And that's what makes the continued abuse thrown towards Karius even more strange.  Here is a man we really should have been cheering on from the beginning if we really believe our YNWA slogan.  We instead, picked out a "mistake" in the background of the first training video of the pre-season.  With the surprise addition of the most expensive GK ever, Reds had a second opportunity to be decent human beings.
It is now highly likely that Karius will never play another meaningful match for Liverpool.  And yet, we still rail against him as if he's a core part of our collective future.  The third goal from Dortmund's 3-1 victory in Charlotte has been, well dissected is a word, but not the correct one because the commentary is anything but surgical.  Karius is faced with a point blank save as Moreno escorts Pulisic to the edge of the 6 yard box.  Klavan doesn't intervene because he's calculating how many step-overs he can showcase before the whistle blows.  Karius makes the save, parrying the ball away, but Joe Gomez has also switched off, allowing an easy toe-poke from Jacob Larsen to put the match out of reach in the 93rd minute.
Yes, Karius makes a massive mistake here but the defending from Moreno and Gomez is equally as poor. #LFCpic.twitter.com/5XfLalXMys

— Jack Gill (@jacklfcgill) July 23, 2018
DON'T BE AFRAID OF THE DARK
Is this the first time that we've seen defensive errors that lead to goals from Mignolet, Gomez or Klavan?  No it certainly wasn't, but why let that get in the way of our new favourite past-time, Karius bashing?
So what are Liverpool fans afraid of?  Is Karius going to lose Liverpool the U23 championship?  Are his errors going to be contagious as he works his way back into form?  Is his Instagram so good that it makes you feel uncomfortable about yourself?
Unless some terrible ill befell the Brazilian behemoth, we're not going to see Loris Karius impact Liverpool's season.  The best thing for Liverpool would be to rehab Karius back into form behind the scenes because 'keepers who can play an extremely high line like him are not growing on trees.  Otherwise, Michael Edwards and company would have snagged one instead of paying a record fee for Alisson.
AT THE END OF THE STORM THERE'S A GOLDEN SKY
This is the time we've all been waiting for for so many years.  The club are now bringing in top talent from around the world, breaking records and doing it with a style and personality that is the envy of football.  We haven't started stacking silverware again, but we've made it to the last three finals ahead of schedule.  This team, this season, is assembled to win things.  Finally.  Focus on that.
Because at the end of the day, Joe Gomez' ability to stay goal-side of his man is going to have a much greater impact on Liverpool Football Club than Karius' ability to parry a point-blank shot away from danger.
Trying to impress your Twitter friends with a clever dig at Karius does nothing to help the club you say that you love.  And worse, it makes us all look like hypocrites.  You'll never walk alone is supposed to be our anthem.  It's supposed to mean something, supposed to mean more.
If it does mean more, then we should be united in our support for a player that was vital in the successes we all enjoyed last season and we should all wish him well, be it as Jurgen Klopp's reserve 'keeper or at another club.
Walk on Loris Karius. Walk on with hope in your heart and you'll never walk alone.
#StandWithKarius #LFC #LFCPreSeason #lfcdk #YNWA #pldk pic.twitter.com/pVG5OPFTAp

— Jan Rye Hansen (@janrye72) July 23, 2018