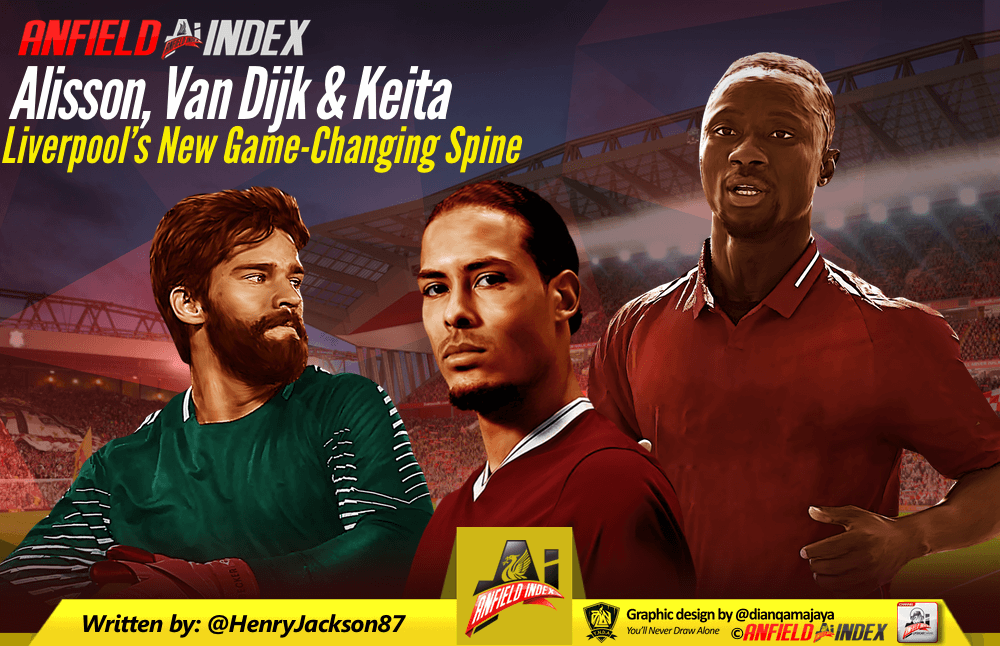 Alisson, Van Dijk & Keita: Liverpool's New Game-Changing Spine
This time just over a year ago, imagine being told Liverpool would sign Alisson, Virgil van Dijk and Naby Keita in the 12 months that followed.
It would have felt like the most beautiful of pipe dreams, even if Alisson wasn't the world-renowned goalkeeper he speedily blossomed into at Roma.
Great teams have great spines and Liverpool have lacked one for a rather harrowing amount of time.

For too long we have had to watch the likes of Simon Mignolet, Martin Skrtel, Charlie Adam and (many) others occupy vital areas of the pitch, before scratching our heads and wondering why the Reds continually win nothing.
Mo Salah, Sadio Mane and Roberto Firmino may have helped make Liverpool a force again but it was still clear that major upgrades were required in other central areas – upgrades that would turn Jurgen Klopp's side from title hopefuls to genuine challengers.
Klopp has been magnificent in the transfer market ever since becoming the manager – can you think of one poor signing he has made, excluding the sad current plight of Loris Karius? – but in the last year, he has been particularly impressive.
Bringing in Salah may not have felt too significant at the time, but the 'Egyptian King' is now one of world football's most famous and destructive attacking players.
Then there's that new spine. Just look at it. World-class.
Alisson is only inferior to a handful of goalkeepers in world football at the moment, and although he will make errors from time to time, just like any player in such a pressurised role, he will make a huge difference.
Whatever your stance on Karius, whether it be hopeful that he can still be an Anfield success story or thinking he is the worst 'keeper since Massimo Taibi, he has never fully convinced at any point.
His run of form in the spring was promising, but could you ever fully sit back and watch him safe in the knowledge that a mistake wouldn't occur?
The same can be said of Mignolet, who has spent five seasons producing moments of good form but has thrown in too many errors and insipid showings at the same time. He has never been good enough.
Van Dijk strutted into Anfield a little later than we all hoped in January, looking every bit like someone who knew he was a colossus of a centre-back.
Without the giant Dutchman's influence, Liverpool would never have reached the Champions League final and he has the ability to usurp Sami Hyypia as the Reds' best-ever foreign defender one day.
Some may shake their heads at that statement and dismiss it as hyperbole, but Van Dijk is that good. He has everything.
If Liverpool's goalkeeping issues and defensive shortcomings have been addressed this year, the problems in the middle of the park were solved before last season even got underway.
We have had to wait an eternity to actually see Keita in a Reds shirt, which felt irritating in an increasingly impatient world, but his capture was one of seismic proportions.
Liverpool have lots of good midfielders but they have too often looked one-dimensional and lacking in guile as a collective, barring the stricken Alex Oxlade-Chamberlain during the second half of 2017/18.
In Keita, Klopp has signed arguably the biggest game-changer of the lot during his tenure – someone who can mature into one of the best players in Europe and be the defining player of this era at Anfield.
Big words I know, considering Salah's impact, but the sky really is the limit with Keita.
You only have to watch the Guinean superstar during pre-season to see what a special talent he is, with the silky footwork of Philippe Coutinho combined with the endless running and tactical awareness of N'Golo Kante.
The thought of Keita feeding Salah, Mane and Firmino is one that should fill us with unlimited excitement, and rivals with sheer dread.
Not since Rafa Benitez's best days has such a genuinely world-class spine been assembled by Liverpool.
Back then, it was Pepe Reina, Jamie Carragher, Javier Mascherano, Xabi Alonso, Steven Gerrard and Fernando Torres making the Reds one of Europe's most formidable outfits and there is no reason why the current crop shouldn't become just as fearsome.
When you throw Fabinho into the mix as well, with the Brazilian already looking a highly astute buy in defensive midfield, you realise this is Liverpool's best chance of reaching the summit of English football in years.
As a fanbase, we are guilty of churning out that bold statement every year because we love our club and sometimes over-hype the team, but Klopp has turned the Reds legitimate title contenders.
Alisson (25), Van Dijk (27) and Keita (23) are all at perfect ages to spearhead Liverpool's charge for years, as well as the many outstanding players around them.
It's all about building a world-class spine and Klopp has nailed that.