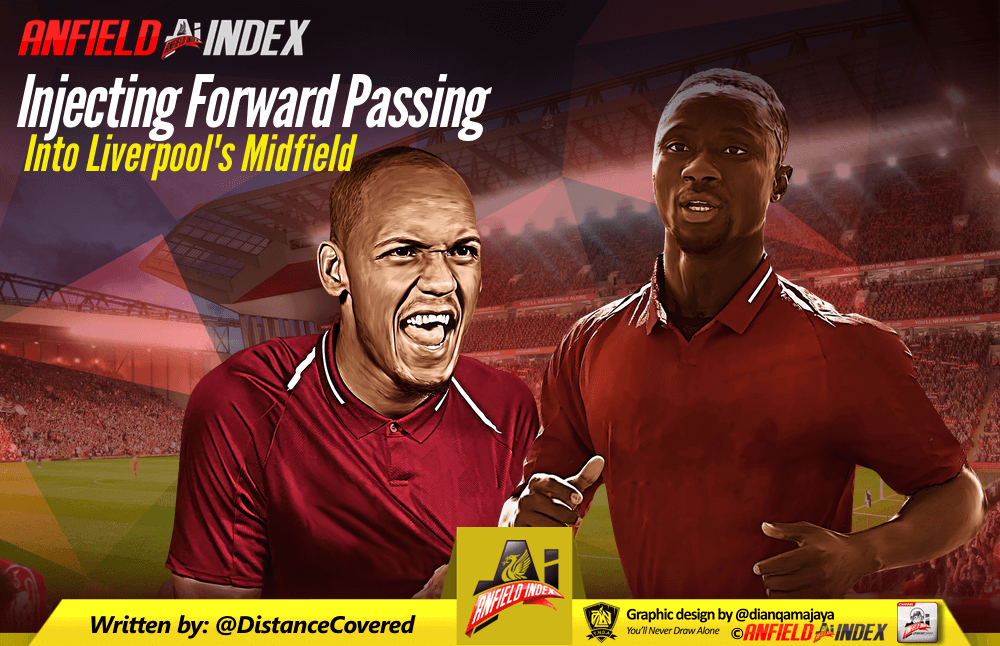 Injecting Forward Passing Into Liverpool's Midfield
In his first ever press conference as Liverpool manager, Jurgen Klopp was asked about the style of play we should expect to see the team play during his tenure, 'Umschaltspiel', he replied. This is a German footballing term but it roughly translates to 'shift game', which essentially means 'transition game' in England. Two full seasons later, it's safe to say that Liverpool is now a side that thrives on exploiting moments in transition using speed, energy and the ability to generate mayhem that they seem to be able to somehow control. These instances occur most frequently when the opposing team are moving to form their attacking shape having just won the ball. An attacking shape is obviously more expansive than a defensive one, so there are more gaps and space for Liverpool's attackers to quickly utilise if the ball is won.
However, to make use of these moments, the players that are responsible for feeding the attackers have to be comfortable with passing forwards. This sounds simple, but skill and courage are required for a player to receive the ball, control it and then be composed and confident enough to pass forwards accurately with the ball travelling along the floor at the right pace. As I said earlier, these chances to pass forwards regularly occur in moments of chaos, so a certain level of coolness is required to play vertically after winning the ball and making a quick decision under pressure.
Now I don't intend to bash our crop of midfielders here, but Henderson, Wijnaldum and Emre before leaving, are all players that have been prone sometimes to negatively influencing opportunities to progress up the field quickly for different reasons. As much as there are things I admire about Jordan Henderson, his natural tendency isn't to pass forwards, and he often struggles to remain assured when chaotic situations require him to do so. I don't think he's anywhere near as bad at passing forwards as many people suggest, but it's certainly not in his nature to play that way. Gini Wijnaldum is another Liverpool midfielder that isn't overly comfortable breaking through lines with passes, and although he's more composed under pressure than Henderson, he's still prone to harming Klopp's advancing attack by playing slowly or safely rather than boldly. Regarding Emre, he always had a tendency to take an unnecessary amount of touches in situations that could've progressed differently had he released the ball earlier, and that's a trait you certainly don't want if you're trying to impose a direct, vertical style. To be clear, these players obviously contribute in different ways to our midfield, but in terms of how a Klopp side uses the ball in opportunities and moments, they're definitely upgradable.

Now, I've watched enough of Liverpool's pre-season so far to recognise that the aforementioned upgrade appears to have been made, at least in enough capacity for it to be noticeable. Fabinho and particularly Naby Keita have thus far operated impressively in Liverpool's midfield, albeit against low-level opposition. The quality of the opponent is irrelevant here though, because the focus is on how the player uses the ball, and both have operated calmly and confidently. Fabinho has largely played simply but has demonstrated the ability to play cute forward passes on numerous occasions already. I'm talking about smoothly passing forwards 10-20 yards despite being closed down or crowded, and doing so with the required technique so that the receiver of the pass can control the ball and use it easily whilst being on the move, as is often the case when counter-attacking.
Naby Keita has really impressed, and his intentions are clear to see whenever he's on the ball as he naturally progresses forwards. The majority of Keita's footballing education has been shaped by the coaches at RB Leipzig and RB Salzburg, two clubs operating under the Red Bull brand and thus two clubs with a very clearly defined identity on the pitch. Both Leipzig and Salzburg play a transition-focused game, with an added emphasis on directness and vertical or diagonal passing. Keita's nurturing in this environment means he's perfectly prepared for Klopp's style, which is equally as dynamic and aggressive, and he's showcased this in his early displays by instinctively making use of the opportunities that a player in the mould of Jordan Henderson would have to think twice about. If a player has to think twice about making use of an opportunity to pass forwards, it's probably already too late.
So far, these marginal improvements in midfield passing have largely gone unnoticed because of the lack of quality in the current XI, as most of Liverpool's star attackers are still yet to feature due to the World Cup. A lot of the transitional moments in the friendlies that have taken place so far have gone unpunished, and that's mostly because the players trying to take advantage of those chances are Solanke, Origi or Sturridge, not Salah, Firmino or Mane. Interestingly, I think this also highlights why Klopp prioritised top attacking talent in his early windows at the club because the goal-scoring chances that are generated through high pressing aren't as rewarding if the players making use of them haven't got the quality to score.
It's early days, but Liverpool's two new midfielders already appear to be demonstrating an upgrade on the ball that will add a new element to the progressive attacks that we saw last season, as well as further enforcing Klopp's tactical utopia that I think we're still yet to fully experience. The recent evidence has largely gone under the radar, but the signs are positive and will become much more noticeable as the season progresses.