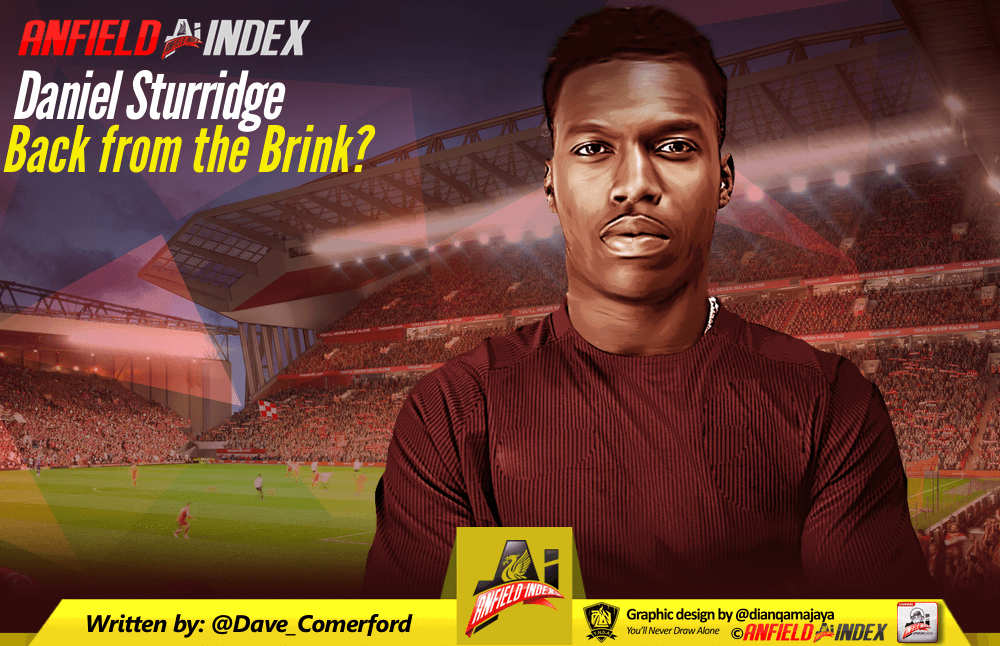 Daniel Sturridge: Back from the Brink?
At the end of the 2017/18 season, Daniel Sturridge's departure seemed an inevitability. The club had considered selling him the summer before and during the first half of the campaign, they lost faith in his abilities, resulting in a January loan to West Bromwich Albion which sounded the death knell for his Liverpool career.
The club had set a fairly modest price tag, in this wacky market at least, of £15million, and but for Sturridge's lofty wage demands, he might have sealed a move in the early part of the window.
Yet five games into pre-season, the picture has changed dramatically. Sturridge, whose talent has been cruelly disguised by a truly horrendous succession of injuries, has hit form at a crucial time, forced his way back into Jurgen Klopp's plans and, potentially, resurrected his Liverpool career.

Sturridge has hit three goals, and provided one assist, in the club's five games so far, but those decent statistics are of secondary importance. What truly matters is that he looks sharp and revitalised, he is dropping deeper to showcase his creativity, versatility and attacking intelligence and that he has formed what could be a venomous partnership with new signing Naby Keita.
When he did feature last season, he cut a disgruntled figure, but now a sense of contentment and self-belief has returned. He feels, he told the club website in a recent interview, at home again. 'He loves the lads and he loves the banter'.
Sturridge has returned to Melwood with a fresh mentality, and that renewed motivation might well translate to more yardage on the pitch.
Crucially, he is offering something new. This is not the Sturridge of old; he may have lost a yard of pace after prolonged spells on the treatment table but he also seems much more well-rounded.
Sturridge's capacity to drop into an attacking midfield position and create is adding, in his own words, 'more strings to bow'. We will need some more representative tests before we can say with certainty that he can be an effective option in this position, but for the moment this new-found versatility is giving him the edge over Dominic Solanke and the up-for-sale Divock Origi, often one-dimensional forwards who struggle when deployed in an unfamiliar role.
Liverpool's supposed transfer priority was to bring in a multifaceted attacking midfielder this summer. It is not inconceivable that, in a stunning turn of events, Sturridge could prove the answer.
Often players grumble when played out-of-position, but Sturridge has expressed his willingness to transition to this deeper role if required. "It doesn't matter where I play or which role I'm in," he says, "as long as I'm out there pushing myself to my limits."
Now though, we come to the elephant in the proverbial room. The present wave of optimism is undermined by Sturridge's persistent fitness struggles, and rightfully so. Even the Englishman's most ardent supporters can find little to effectively refute the argument that, as one Twitter user put it, 'when push comes to shove he breaks down'.
Ultimately, we just have to hope that a motivated Sturridge is a stronger Sturridge and that he has come to understand what 'real pain' is, to paraphrase the manager. He has already racked up two, maybe three, careers' worth of injuries, and a certain point you think the footballing gods must take pity on him. Evidently, it is a more a case of hope than expectation, hence the proliferation of 'if' in this article.
The key point is, though, that it is not a gamble to keep hold of Sturridge. The club's apparent decision actually makes a great deal of sense. If first-choice frontman Roberto Firmino were to be injured, it is likely that the prolific Mohamed Salah would be moved through the middle (often this was the de facto arrangement last season) and Xherdan Shaqiri would slot in on the wing.
That makes Sturridge a third-choice striker, so even if he does pick up his customary injuries, it may not matter all that much.
If that is indeed what Klopp is planning, we can expect to see Sturridge starting in the cup competitions (an on-form Sturridge would probably be the best 'cup striker' out there) and occasionally being drafted in when renowned workhorse Firmino needs a rest. If his early sharpness is anything to go by, he will be a good option.
He has not excelled as a substitute in the past, but he doubtless represents a more inspiring option than what we had in reserve last season. If he is in a good condition, he can be an injection of life and can torment weary defenders.
The fact remains that it is only pre-season. Sturridge's early form has been termed a 'mirage' and that may be accurate given that, at the time of writing, we have only faced one top-level opponent. The sense of anxiety and of an impending blow remains.
But Sturridge has convinced Klopp, who is raving about his talents not long after he was ready to effectively pack his bags and significantly trim his wage bill. The German seemed to consider him a player who could not cope with the demands of his unique style of play but now appears to understand that he is a unique weapon.
Moreover, a fit Sturridge is worth getting excited about. Fans can be excused for getting carried away. Some may be imagining him scoring a massive goal at some point next season, completing what would be a magnificent story.
Liverpool will not be buying another centre-forward in this window so they have to work with what they have. And in terms of striking deputies, Sturridge is the best we have at our disposal, at least while the senior careers of Dominic Solanke and Rhian Brewster remain in their infancy.
The bottom line is this – the risk of yet another injury is substantial but fans should not be too concerned about that. The decision to keep Sturridge, who looks set to play an auxiliary role or function as an attacking midfield wildcard, will not seriously damage Liverpool's season. But it could, if Sturridge's flying start proves a sizzling precursor rather than a depressing mirage, significantly benefit it.