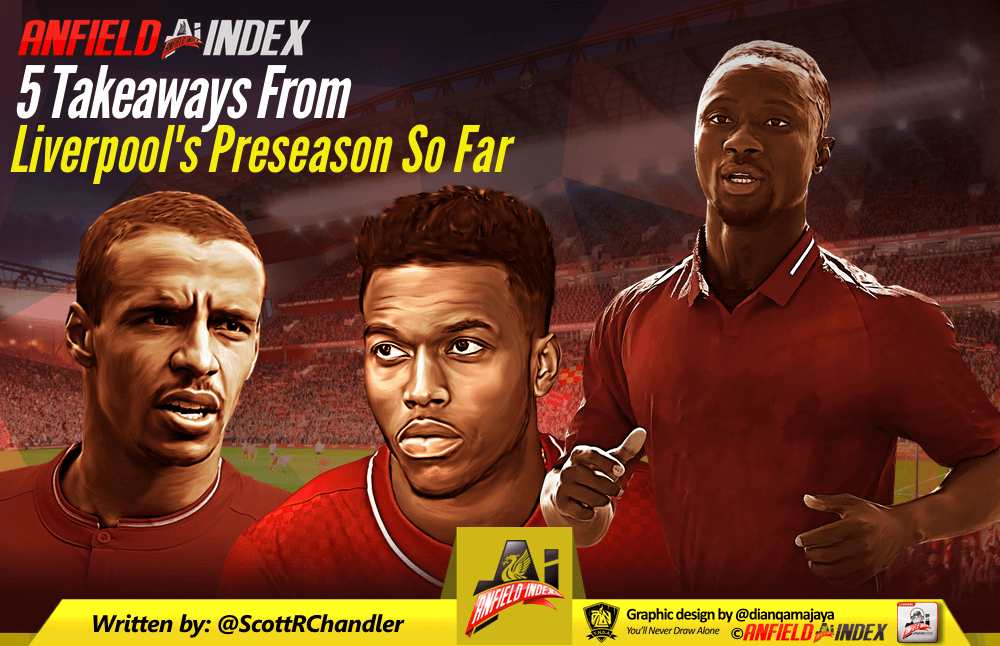 5 Takeaways From Liverpool's Preseason So Far

Preseason is at the same time very exciting and mind-numbingly boring. Everyone is eager to see the players back in the shirt and on the pitch. No matter how the last season ended, there's always the promise that THIS season will be EVEN better. And then the latest preseason match starts with 22 guys running around some trying hard, some not, and you remember, oh yeah, these games are just exhibitions with a few moments of entertainment sprinkled around some light jogging. The Liverpool-City match was like that for the most part. The first half was rather disjointed with few moments of actual excitement, and it was hard to stay interested, let alone awake for some, depending what time zone you're in. But then Sane, Bernardo Silva, Mane, and Mo Salah came on the second half, and it was like someone dropped some Mentos in a Coke bottle. By the end of the second half, most Liverpool fans were drooling over the thought of what Mane and Salah will do to opposing teams this season if they're already in this form, in their first match back, in JULY. So, with the preseason already over halfway gone, it seems like a good time to take stock of what's happened so far:
The Premier League Isn't Ready For Naby Keita
He didn't play yesterday due to what was reported as a sore neck, but it's the rest of the Premier League that's going to be feeling sore this season if Naby keeps up at the level he's shown already. A lot of us have seen the Naby highlight videos – usually set to some terrible techno music – where Keita puts on a world-class display of key interceptions and defensive play followed up by spurring the attack with incisive runs and passes in the final third. However, it's different when you get a chance to see him suit up week in, week out for your own team. Even from the limited time this preseason, Keita's incredible skill level is apparent. It's not just his play in the middle. Against Dortmund, he even had time to throw down some step-overs and take on a Dortmund defender at the edge of the box. His speed, control, and vision are going to be a nightmare for EPL defences having to choose between stopping Liverpool's front 3 versus preventing Naby from cutting them open. I actually pity some of the teams that have no idea what's coming for them. By the end of the year, I think Naby not only makes the team of the season but is in the running for player of the season. He's going to have that kind of impact.
Daniel Sturridge: Mirage or Miracle?
If preseason is the time of perpetual hope, then Daniel Sturridge is the epitome of that. So far, he's been rather sharp leading the line or dropping deep in more of a 10 role. He seems genuinely happy being a Liverpool player both on and off the pitch. He's also shown an immediate chemistry with Naby Keita, which can only help give him a better chance of featuring in the lineup this season IF he can stay healthy. And the "if" in that sentence does all the heavy lifting. Sturridge's class and ability is without question. The goals he scored in 2013/14 and the audacious outside-of-the-boot goal in the 2016 Europa League Final against Sevilla are proof of that. The whole problem with him is that he too rarely gets to display it. Since scoring 21 goals in 29 EPL matches in 2013/14, Sturridge has scored 17 goals over 61 EPL matches in the last 4 seasons combined. It seems virtually impossible to count on any production from a player that's missed 91 matches over the past 4 seasons, but Sturridge's talent is worth trying to find out if he can stay out of the physio's room more often than that. Perhaps Sturridge will only be a mirage destined to trick any Liverpool fan hoping that he is more than Mr Glass, but if by some miracle Sturridge gets the opportunity to make an impact in a contract season, he could be exactly what Liverpool needs to provide backup to the fantastic front 3 and make a genuine title challenge.
Centre-back Issues
Speaking of Mr Glass, no one should have been shocked when Joel Matip walked off injured in Charlotte and then got sent home with another hamstring issue. After a solid, if unspectacular debut season, Matip spent most of last season either injured or looking shaky at the back. He's definitely the best passing option Liverpool have at CB, but his recent injury record and lack of positioning and composure leave him trailing Lovren and maybe even Gomez in the race to line up next to VVD. However, with Lovren a doubt to feature early in the season due to recovering from a long World Cup run, it leaves a giant question mark at one of Liverpool's biggest frailty positions. Joe Gomez has had his own injury issues and has been better at RB than CB when healthy and in the lineup. Joe's lapses in focus and positioning have reared their ugly head again this preseason, so VVD might have to do a lot of heavy lifting to keep things solid at the back when the bullets are live come August. City was able to win a title last year with some iffy centre-backs, but Liverpool can't expect to do the same when they lack the depth that City do at other positions. So, while it's hard to consider this transfer window anything but a roaring success, but most Liverpool fans are going to be keeping their fingers crossed that a top quality partner for VVD comes through Melwood before the window closes.
The Kids Are Alright, Sort Of
Preseason is the time of the season when youth players get the biggest chance to feature with the rest of the first team, and unsurprisingly, Liverpool's prospects have been a mixed bag. On the positive side, Curtis Jones and Rafael Camacho have looked far more polished than their ages of 17 and 18, respectively (man do I feel old), would suggest. Jones was an absolute livewire against City and looked like either the only player bothered to run hard on an awful pitch or that he had just downed a pack of Red Bull before the match. He's featured both in the midfield trio and front 3 while looked comfortable in either spot. That versatility could give him a great chance to feature in cup games and maybe even the matchday squad in the Premier League if an injury bug hit. Similarly, Camacho has put in some brilliant crosses in from the wing and could be valuable depth at a place Liverpool have been thin in recent years. However, it would have been nice to see more from players such as Woodburn and Solanke, who have seen more time with the first team but haven't shown much growth. Dominic had some nice passes into the box against Dortmund and City and should have had an assist last night with his silky through ball to Mane, but he's going to have to be far more industrious and creative if he's to be one of the primary backup options to Solanke. As for Woodburn, City was the best outing for him so far this preseason, but he looks like a player who is not mature enough to play in the midfield but also a touch too slow to feature on the wing. The flashes he's shown for Liverpool and Wales might be enough to get him some more playing time this season, but a team competing for a title likely doesn't have the time to let Woodburn develop when every point matters. A loan move would probably be the best thing for him at this point as it's unclear if he's ever going to break through at Anfield.
The System Is Still Strong
While preseason would be a good time to experiment with different formations, Klopp has largely stuck with the 4-3-3 system. Liverpool have not looked as threatening largely due to the front three being absent, the second half against City showed what Liverpool can do when they are able to put the stars on the pitch and really press an opposing team up high. The quality of the opposition has to be factored in as it was not really fair for City's academy kids to face Mane and Salah, but Liverpool looked impressive all the same. Mane and Salah tormented the City defence while Woodburn and Grujic were vital in winning the ball back and then linking up with the attack. Solanke has been an odd fit this preseason when put on the wing, but overall, it seems like Liverpool's projected starting XI will neatly fit into the 4-3-3 formation again with Fabinho manning the 6, Keita getting a free roaming role to patrol as the 8, and another midfielder filling in to bring some stability in the middle of the park. Sturridge could also have a strong season in the middle of the front 3 giving Bobby a breather some matches or coming in off the bench. But it does not look like Klopp is ready to feature other formations except in cases of an injury crisis or isolated matches, such as when he put Gini and Emre in a back three against Brighton last season. Hey, if it's not broke, don't fix it.