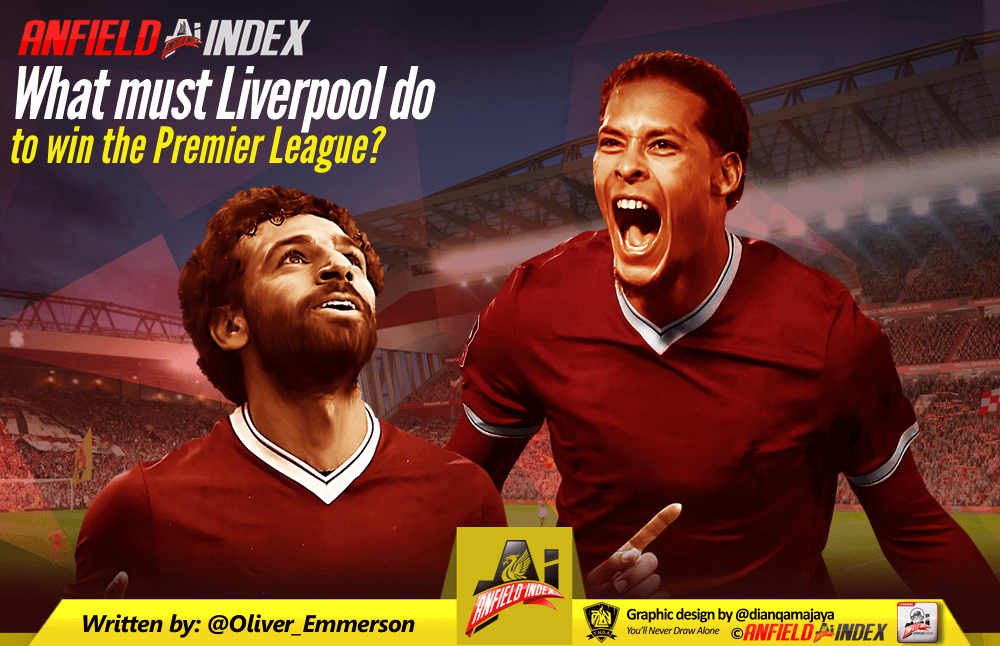 What must Liverpool do to win the Premier League?
If you've read past the title, you might be expecting an article on transfers. They're the flavour of the month and many, myself included, would argue that Liverpool need to do a couple more deals to really push Manchester City this season.
However, I'm not going to look at that today, I'm going to look at what Liverpool really need to do to win the league. How many do we need to score? Should we be pushing in Europe? Can we concede as many goals as we did last season and win the league?
Let's take a look, referencing the Premier League winners from the turn of the decade for comparison.
Keep scoring goals, Reds!
Not really a shock this one, is it? Liverpool's attack is and has been, their strength for over five years now and the Reds haven't been too far off a title-winning attack for a while. Liverpool scored 84 league goals last season, way off Manchester City's 106 but just a couple off the average of 86.3 over the last eight seasons.
The Reds scored more last season than the title-winning Manchester United, Leicester and Chelsea teams of 10/11, 14/15 and 15/16 respectively, so with the additions of Xherdan Shaqiri and Naby Keita you're safe to say that goalscoring shouldn't be an issue if Liverpool want to win the league.
Concede less, but perhaps not loads less?
Liverpool's defence has been (rightly) criticised for years, with many setting a target of 30 goals conceded or below to be considered a title winning side. However, that's only happened twice in eight years.
Liverpool conceded 38 last season, less than the United side that triumphed in 2011, and just one more than Manchester City's 2013/14 side.
Still, the average goals conceded recently has been 34.25, so there's still a little bit of work to do – although not as much as initially thought.
More points (Duh!)
Yeah, not ground-breaking news that if Liverpool want to come first they need to get more points than all those times they didn't come first. The Reds totted up 75 last season, a respectable total when you consider their European exploits, without that Champions League run I'd suggest we would have seen a tally in the low 80's.
The average points total of 88.13 is a scary looking one, but of course, it does largely depend on how good second place is. Leicester's 81 points won them the title a few years back, but in that season 75 would have done the trick. However, with Manchester City as good as they are, Liverpool will likely be looking at a 90 point benchmark to win the league.
Get out of the traps quickly
It's a cliché that you need to start amazingly to win the Premier League, but the proof is in the pudding that a good start is needed – with 19 points (City 13/14, Leicester 15/16) from 10 games being the minimum any title-winning side has picked up in the last eight years.
There is the odd rip-roaring start, with Manchester City winning nine and drawing one of their opening ten in 11/12 and 17/18, but an average of 23.25 allows room for one early defeat. Liverpool's slow start last season, 16 points from 10 games, won't cut the mustard this time around.
Ease off in Europe?
This is one that you can't really do intentionally, but it's something that Jurgen Klopp might want to look at – rotation in Europe at least. Two of the last eight title winners haven't even had European football at all, and you'll remember that the Reds had no European football when they came close in 13-14.
Only two of the last eight title winners have progressed further than the last 16 stage of the Champions League, Manchester United reached the final in 2011 and City made it to the last eight last season.
The Champions League run of last season was memorable and fans will surely want a repeat, but it might actually be best for Liverpool if we ease off a little, at least rotate some more, in Europe this season.
A League Cup win?
You'd think that if Champions League football should be written off, so should the domestic competitions. However, three of the last eight league winners scooped a double by winning the League Cup earlier in the season – providing a springboard for success.
The less said about the FA Cup, the better. Only one of the last eight league winners got to the cup final in the same season, Chelsea losing to Arsenal in 2016/17. With Liverpool's recent record in the FA Cup, there's little to suggest it'll be a problem.
Some luck!
Of course, there's one title-winning metric we can't factor, and it's luck. From Joey Barton's red card on the final day in 2012-13 to all of the 'big six' flopping when Leicester won the title, the title winners always seem to have something go their way. An injury free season for Liverpool with Manchester City's points total falling off a cliff would probably do!
Summarising
86 goals scored
34 conceded
88 points
23 points from opening 10 games
No deep European run
League Cup success, FA Cup binned
| | | | | | | | |
| --- | --- | --- | --- | --- | --- | --- | --- |
| Season | Winners | Scored | Conceded | 38 game pts | 10 game pts | European run | Domestic run |
| 2010/11 | Man Utd | 78 | 37 | 80 | 20 | CL final | FA Cup semi |
| 2011/12 | Man City | 93 | 29 | 89 | 28 | CL Group Stage | LC Semi's |
| 2012/13 | Man Utd | 86 | 43 | 89 | 24 | Cl Round 16 | FA Cup 1/4 |
| 2013/14 | Man City | 102 | 37 | 86 | 19 | CL Round 16 | LC winners |
| 2014/15 | Chelsea | 73 | 32 | 87 | 26 | CL Round 16 | LC winners |
| 2015/16 | Leicester | 68 | 36 | 81 | 19 | N/A | LC fourth round |
| 2016/17 | Chelsea | 85 | 33 | 93 | 22 | N/A | FA Cup final |
| 2017/18 | Man City | 106 | 27 | 100 | 28 | CL quarters | LC winners |
| Average | – | 86.3 | 34.25 | 88.13 | 23.25 | – | – |