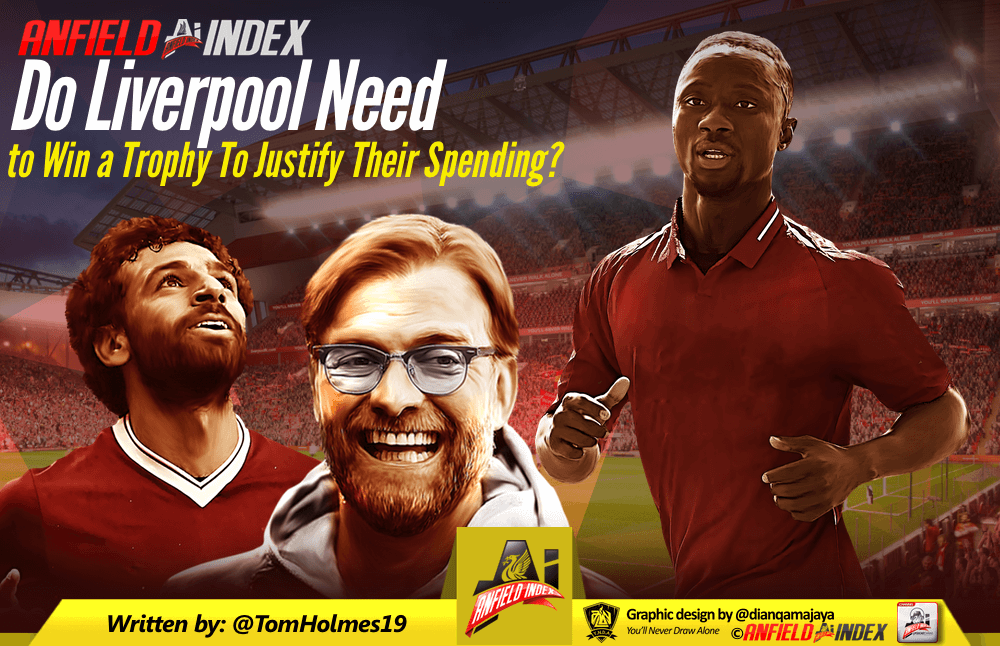 Do Liverpool Need to Win a Trophy To Justify Their Spending?

Do Liverpool and Jurgen Klopp need to win a trophy this season? No.
Do Liverpool need to justify their spending this summer by winning a trophy? No.
I could honestly end the article there. To be blunt, even a cursory look at transfer spending over the last three to five years will tell you that the spending of the two Manchester clubs is vastly in excess of Liverpool's. To even compare the amount spent on accumulating Liverpool's squad with the amount the two Manchester clubs have spent is laughable, and that's before you factor in net spend – Liverpool's net spend was £200m less than over the course of the 17-18 season for the love of God – or transfer inflation. And that's before you even factor in the amounts of money both Manchester clubs are likely to spend in what's left of this window.
Others have made far better arguments than me about how to contextualise our spending (check out The Tomkins Times in particular), but I have absolutely no time for such a discussion because even doing the bare minimum of research should make it obvious to anyone that we're not spending in City's league. Expecting us to finish ahead of them or United based on the amount we've spent alone is beyond stupid.
The truth is, the only people trying to frame this as "Liverpool need to win a trophy" are journos trying to sell stories and fans of the two Manchester clubs and Chelsea who don't like it that Liverpool are spending money – because Liverpool actually buying good players scares them.
Some might justifiably argue that Liverpool need to win something this season, not just the Premier League. For example the Champions League, where the number of clubs with more money and deeper squads than Liverpool is more than in the Premier League. Or a domestic cup, because the domestic cups Arsenal and Man United have won over the last few years have done wonders for their respective managers and their reputations.
All flippancy aside for a moment, I don't like transfer windows. I don't like the constant speculation, the demand we spend more, the constant putting down of the lads that we have because they aren't the sparkly new player we want. It also doesn't help that it's the off-season, so rather than writing about how much I've enjoyed watching the lads, I'm writing about how much I'm not enjoying not watching the lads.
I also find negativity, particularly at this stage of the season relentlessly dreary. Liverpool have spent really big and really intelligently this summer compared to their means. We've brought in three potentially world class players in three areas that we most needed world class players. Yes, we still need a CB and an AM or whatever, but no squad is perfect. Every set of fans spends the summer whining that their team isn't good enough. Barcelona fans are in a consistent state of fume because apparently losing one league game and not winning the Champions League is a sackable offence and their squad is garbage aside from Messi. Christ.
None of this, of course, makes me any less committed to seeing the Reds do well. I just don't think we can demand it. I think this Liverpool side is really, really exciting, full to the brim with extremely talented, brilliantly managed players. I think we've got eight starters who would walk into almost every other PL team, with at most two players better in the league than each of them. I think people are quick to dismiss some of our decent squad players, the likes of Lallana, Hendo and Sturridge because they're not world class, as if Liverpool have had rafts of quality to choose from over the last few years.
As I've argued again and again, I think that this Liverpool side and Jürgen Klopp are capable of bringing home the bacon, getting a title or a UCL, because I believe in the manager, the project, and the players. That doesn't mean that we can't improve, but that also doesn't mean that we absolutely have to justify having a good team by winning trophies.
Truthfully, I just want to get back to watching and enjoying football, and that's why I'm getting so cranky about the Klopp conversation, about the trophy conversation and truthfully about most things football related right now. It's pre-season. If we can't be positive now, if we can't talk about how Naby Keita is going to hit this PL like a freight train, how Mo Salah is going to score 40 league goals, about how Alisson is going to out De Gea De Gea now, then what's the point?
I saw a post on Liverpool Reddit saying Lovren has been at the club for four years, and wishing the mad bastard another four years, and I winced, because I was expecting the comments to be nasty and hate-filled, given that Lovren is only a good, well above average CB who has had a bit of a rocky career at Liverpool, and not Virgil Van Dijk, the best CB to ever play the game. I was pleasantly surprised, but what does it say about the state of our fanbase that it was ever a question that we would support one of our most committed players?
To get back to the original point, Klopp doesn't need to win anything. Liverpool don't need to win anything. I want us to win the league more than anyone but suggesting we simply have to just because we've bought players who are unbelievably good for market value prices is ludicrous.
It makes it more likely of course though, and for me, that is the bottom line. Liverpool are being talked about as contenders again. The hatred is rising, the opposition is running worried. Just look at Guardiola's reaction to a simple pre-season friendly.
Liverpool are back in the big time. And expectations haven't been this high in a long time. I just hope we can all take a step back and enjoy it. YNWA.