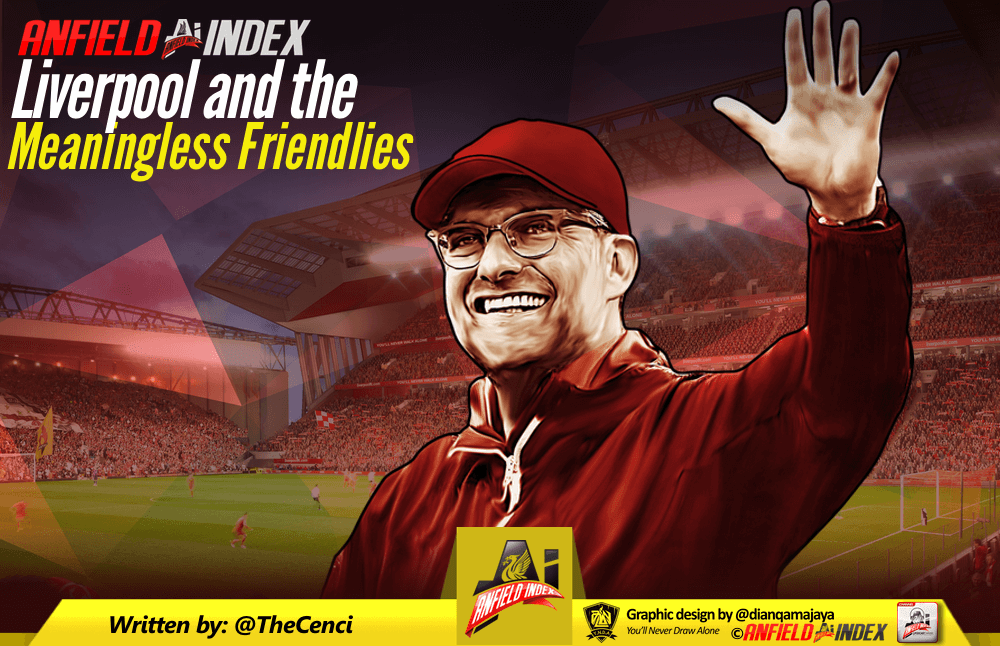 Liverpool and the Meaningless Friendlies
Many years ago in the days when he was a footballer rather than a TV host and the online taunter of phone hackers, Gary Lineker belittled the idea of a glorious pre-season goal.
His view was that, given a finite number of goals in any striker's career, you want your thirty yard volley to be in a vital match – maybe a semi-final or in injury time in a final. You don't want it against Alfreton Town's youth team in the closing days of July in front of ten people and a whippet.
Actually, it's not just wasted worldies Gary's against. Don't get him started on pre-season games at all. In 2014, he tweeted:

"For all you fans affected by your club's pre-season friendly results … they mean nothing, absolutely nothing."
His point being that the games themselves have no bearing on the season to come. Some hope for Everton then.
He's right, of course. Roy Evans' Liverpool would smash all and sundry in pursuit of the Whichever Sponsor's Turn It Is This Time Cup or whatever, only to draw with the likes of Wimbledon and Middlesbrough on the opening day of the season. You want your side to be at the best in the big games. You want your strikers to have their greatest goals in May, not during the summer break.
And yet …
No one of the Red persuasion frowned when Xherdan Shaqiri threw his arse into the Michigan air and stuck it past the United keeper. Of course, lovely goals are great, lovely goals on debuts are great too, but lovely goals on debut against Man Utd are something else. Particularly if it's Liverpool's fourth of the day. Sorry, Gary, but it means a little.
He set up another too – steering a loose ball into the path of a grateful and properly coiffured (for once) Daniel Sturridge. Not a bad day's work for the Swiss international.
Okay, Gary. The wins over the two Manchester clubs means the square root of sod all and we'd gladly swap them for a stuffing of West Ham when the real stuff starts, but it would be churlish to deny a warm glow on this occasion.
After the game, Klopp referenced the Dortmund game where the Reds seemed in control, only to throw the game away in the final minutes. That's a good thing. Nothing is ever perfect and, on the rare occasions when you get close to it, it doesn't last for long. You have to ride the wave as, at some point, the undertow will always pull you down. That's football. And life, for that matter.
More importantly, the squad are firing well, or at least they look sharp. Fabinho likes to sneak up on an opposing midfielder before they've turned – a trait he shares with Javier Mascherano, which is no bad thing. Salah and Mane are already scoring and Daniel Sturridge is once again the Pre-Season Player of the Month for July. Here's hoping he stays fit this time as he can be a real asset.
We're still yet to see Jordan Henderson, Roberto Firmino and the greatest defender in the world, but presumably they'll only be rusty rather than completely out of shape when they return to Melwood. Elsewhere, only Naby, Joel and Gini are in the treatment room along with the incredibly unfortunate Alex Oxlade-Chamberlain.
There's Napoli and Torino to come in Ireland, but then we begin in earnest.
There's a huge advantage this time too. No Champions League qualifier.
Liverpool only play three League games in August and no longer have to go off on a jaunt around the continent to secure a place in the Big Cup. For the first time in ages we can plan for one game per week without fretting over player fitness and upcoming crucial cup games. Furthermore, two of those matches are at home — West Ham and Brighton — with only a trip to the capital to play Palace sandwiched between. There's every chance of maximum points before we meet England/Tottenham in mid-September. It's the perfect opportunity to set down a marker much as City did last year.
But that's all to come. We've just beaten Man Utd in a meaningless game and made Mr. Happy slate his players. He's a weird fish, isn't he? It's a pre-season game, nothing more, and he's already made it 'Team Jose and Alexis' against the rest of the squad.
Anyway, that's to them. You can never write them off as Fate is often their friend. Let's just concentrate on us and the 12th August when Manuel Pellegrini returns to the Premier League with his tired eyes and hangdog expression. I like him.
Gary Lineker is right. Pre-season games mean nothing, but confidence does. I don't want Liverpool going into those three games thinking about heavy defeats and a turgid sense of 'Christ, here we go again.' I want Jurgen Klopp's Reds to be champing at the bit.
I remember a young Steven Gerrard, when he was shaven-headed and a bit reckless, telling a reporter at the end of a long summer that he was 'steaming for a game of football.' That's where I want us to be now. Absolutely steaming to meet the East End's finest.
I'm counting the days now. Counting the days.