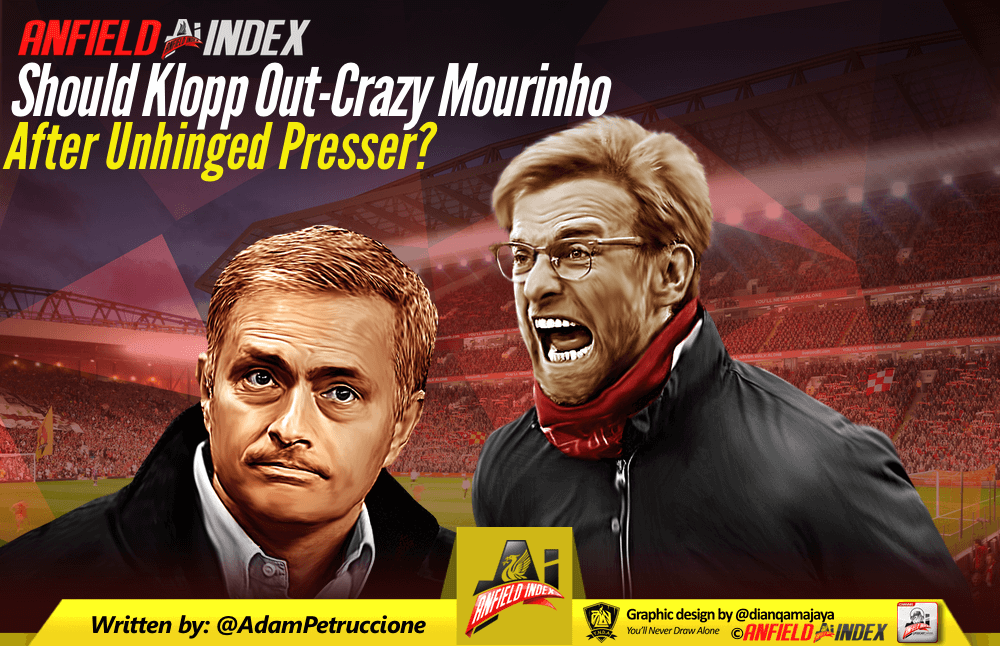 Should Klopp Out-Crazy Mourinho After Unhinged Presser?
Jose Mourinho's comments immediately after Liverpool's 4-1 victory against United in Ann Arbor were an absolute disgrace to his club and were he any other manager he would have been left to walk home from Michigan. But aside from signalling his classic third-year implosion and clearing a path for Liverpool to take a run at City, do we really care what is said from the United manager?
The disheveled one is a plaid shirt away from being confused for grunge-era odd-ball, Beck, and now he's following a similar career path. This week marks 22 years since Odelay was released. Back then Mourinho was the genius behind Van Gaal at Barcelona, but these press conferences are like Beck's Mutations where you listened once and wondered, is this guy supposed to be good? Was he ever good? Where am I?
Mourinho is now joint-favourite at 6/1 to be the first Premier League manager dismissed this season. He has pushed the edge so much that he's now flirting with irrelevance if this goes all mammaries inverted here. Was "Mammaries Inverted" the name of a Beck album? No, but you can bet it will be before that hipster hangs up the … whatever he uses for a musical instrument these days.

https://twitter.com/_transferman/status/1023707453253459969
United has for all intents and purposes an unlimited amount of money, and yet with those resources, Jose is still out there whining about his lack of success in the transfer market. Thus far, the only major signing willing to make the switch to Jose's United came from a club based in a war zone. That should tell Mourinho something about how incredibly unattractive a destination he has managed to turn United into. Bless him.
https://twitter.com/_amrxi/status/1023638168405528577
Liverpool Football Club and its supporters are likely content to just grab some popcorn and watch the thing go down like a good ol' Las Vegas casino detonation. But, what if Edwards and Klopp threw the switch themselves to start the coordinated detonation? The dynamite is clearly already set in place. The only question is: do the Reds want United to go down slow or in spectacular fashion?
Jurgen Klopp has said that our transfer business is all but done. Does Michael Edwards have one more move in him? It wouldn't take a pile of cash. It wouldn't even have to be real.
On the back of Mourinho repositioning his talented youngsters players from the familiar confines of a parked bus and planting them firmly underneath it, what if Liverpool broke with tradition and went after one or two of their Academy stars. The English media, hell the world football media would write miles of columns about that. Jose slates the club's prodigious young talents, Klopp swoops in with a hug and an encouraging word and unsettles an Axel Tuanzebe or their beloved Chong. Chong angles for an exit to their bitter rivals … that would be sweet. On a quiet day, you'd be able to hear the heads exploding at Old Trafford.
Mark Goldbridge would go on a hunger strike, broadcasting live on YouTube until Mourinho was dismissed. With Jose's fresh extension, it would be near impossible for United to let him go at this juncture, but they'd have to find a way and it would be glorious to watch.
Jurgen Klopp and Michael Edwards appear far too classy to approach a move to raid United's Academy for its best and brightest. However, Liverpool have just signed Bobby Duncan from Manchester City, with the youth product going on strike to get the move. Dom Solanke was nabbed from Chelsea the season prior. Rhian Brewster is a former Chelsea player. So, in truth, the Reds are familiar with academy heists.
Mourinho first in for his press conference.

"We started the game with a lot of players who will not be in our squad on August 9. This is not my squad, not even half, not even 30% of my squad. So don't look to this." #LFC #MUFC pic.twitter.com/8EQlUwEXfO

— Neil Jones (@neiljonesgoal) July 28, 2018
Regardless of what Liverpool does here, other clubs are going to pounce on the United manager's comments and grab every player worth the effort from Manchester's youth set-up. It doesn't have to be us that pulls the straw that makes it all come crashing down. But wouldn't it be sweet if it was?
Up the Academy Poaching Reds!