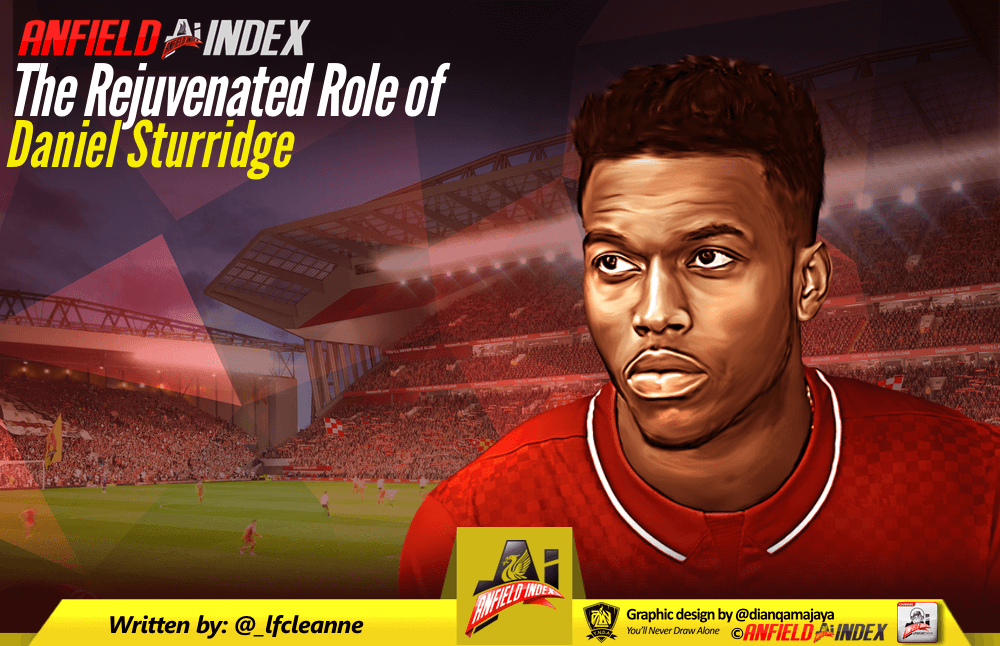 The Rejuvenated Role of Daniel Sturridge
'It's only pre-season. It's only pre-season.'
That's what the two Manchester City and Manchester United were left clamouring about, desperately trying to save face after Liverpool brushed them aside with 2-1 and 4-1 wins respectively.
Indeed, the US tour has been a success, with one of the keys to the promising form being a player perceived by many to be surplus to requirements at Anfield.

Daniel Sturridge's departure from the club appeared to have been in the works some time ago. Suffering ten different injuries since 2012/13 spanning 567 days and 99 games, his sheer ability has been plagued by lengthy spells on the treatment table thus inhibiting him from truly establishing himself under Klopp.
Everyone knows he's a huge talent; setting the record for the quickest Reds players to score 10 league goals, he towered above Robbie Fowler (18 games in 93/94), Fernando Torres (18 games in 07/08), Stan Collymore (23 games in 95/96), Heskey (24 in 2000/01), Michael Owen (26 games in 97/98) and Ian Rush (27 games in 92/93).
Yet, January 2018 almost spelt the end of his tenure at the club. Struggling for regular minutes at the age of 28, the player wanted to be a regular feature to revive any chances of featuring in England's World Cup squad while finishing the latter stages of his career on a high, moving to West Brom on loan.
Much to everyone's surprise, Sturridge's pre-season form has produced the opposite result with performances hardly wreaking of a player surplus to requirements, nor one who believes his time at Liverpool is drawing to a close.
A bright second-half performance against Chester was reminiscent of the class we've come to expect from the No.15. Fitter, sharper, brighter, Sturridge looked like his old self as he hammered home from 25-yards for his second of the afternoon.
Tranmere didn't produce the same sparks in a goal-scoring sense, but Sturridge showed incisive movement and strong touches yet again. Then came the goalless draw with Bury where he was tipped as Liverpool's most dangerous before scoring and assisting in the 2-0 win over Blackburn.
https://twitter.com/DanielSturridge/status/1020272700474970114
While Divock Origi and Dominic Solanke haven't taken their chances to stake a claim to be Firmino's understudy for the 2018/19 campaign, Sturridge has continued to impress throughout pre-season.
A bright spark against United, he's now taken his tally to four goals while generally representing a real threat to the opposition defence. Most importantly though, he looks like a rejuvenated figure, operating in a deeper role to play a bigger part in creating chances as well as converting them.
In previous years, Sturridge's blistering pace was paramount to his success. The incisive movement that only the top bracket of strikers possess alongside an ability in possession to wriggle through defences and test the goalkeeper. Such traits saw him form one of the most formidable attacking partnerships in Premier League history back in 2013/14.
It's wholly evident the player no longer trusts his own body to make short bursts behind the defence and a reduction in the dynamism of his movement has stripped away the very thing that made him one of the best strikers in the Premier League. Yet, this new style to his game has offered a lifeline in his Anfield career.
In terms of where he could feature for Liverpool, Sturridge is capable of playing in many positions, therefore providing Klopp with useful flexibility to tailor to specific opposition. For example, the Englishman could operate as the No.10, capable of dribbling forward with the ball and picking the right moment to lay passes on to his teammates. Although injuries have taken their toll, he still retains the ability to make those bursting runs himself, pulling defenders out of position to provide space for Firmino, Mane or Salah.
One of the highlights of pre-season has been the striker's developing partnership with summer arrival Naby Keita, dropping into the midfield slot before making darting runs to latch onto through balls. Likewise, Sturridge's in-game intelligence and reading of the game could see roles reversed to similar effect.
Whether it's short or long, Sturridge to Keita or Keita to Sturridge, the Englishman has the talent to cause real issues.
A No.9 role is the most obvious – a position he was previously regarded as being unable to play due to the physical and defensive demands of the role in Klopp's system. Roberto Firmino provides the first line of defence for Liverpool, snapping into tackles while personifying the manager's gegenpressing style. His movement and ability to create space has also been paramount for both club and country as shown by Brazil's struggles in his absence. Sturridge contains similar traits and pre-season has shown a more energetic, hard-working side to his game perhaps suggesting he is now capable of stepping into the role in Firmino's absence.
Sturridge is most likely to gain his minutes in months of congested fixtures where Champions League and Premier League fixtures follow in quick succession. An unparalleled ruthlessness in front of goal sees him as a far more suitable understudy to Bobby Firmino than Origi and Solanke – one of whom will surely depart on a loan or permanent deal.
A solid run in the domestic cup competitions would also grant Sturridge further first-team appearances while his current form gives Jurgen Klopp more attacking options than he might have expected, heading into the season.
The player has cut a confident figure in recent weeks, backing himself to force his way back into Klopp's plans. In his own words, he sees himself "staying at Liverpool, hopefully being part of the team week in, week out." That confidence and cockiness returning to his game will only mean good things from the team's perspective – everyone knows the power of self-assurance.
Of course, all this is meaningless if Sturridge sustains another long-term injury that rules him out of selection for Klopp's key games. Given his previous record, you wouldn't bet against that happening, but there's plenty of positivity surrounding the player to suggest he can be a viable and important option for the Reds.
There will always be that element of what might've been if, or when, Sturridge leaves Liverpool given just how electric he was during his first two seasons at the club to then suffer the injuries he did, but there's now a real sense that an exit isn't imminently upon us.
A suitable understudy to Roberto Firmino, the forward's new and rejuvenated role has breathed new life into his game.
From a nostalgic point of view, I'd love to see Sturridge doing his wriggly arm dance in front of the Kop a few more times. Long may his revival continue.