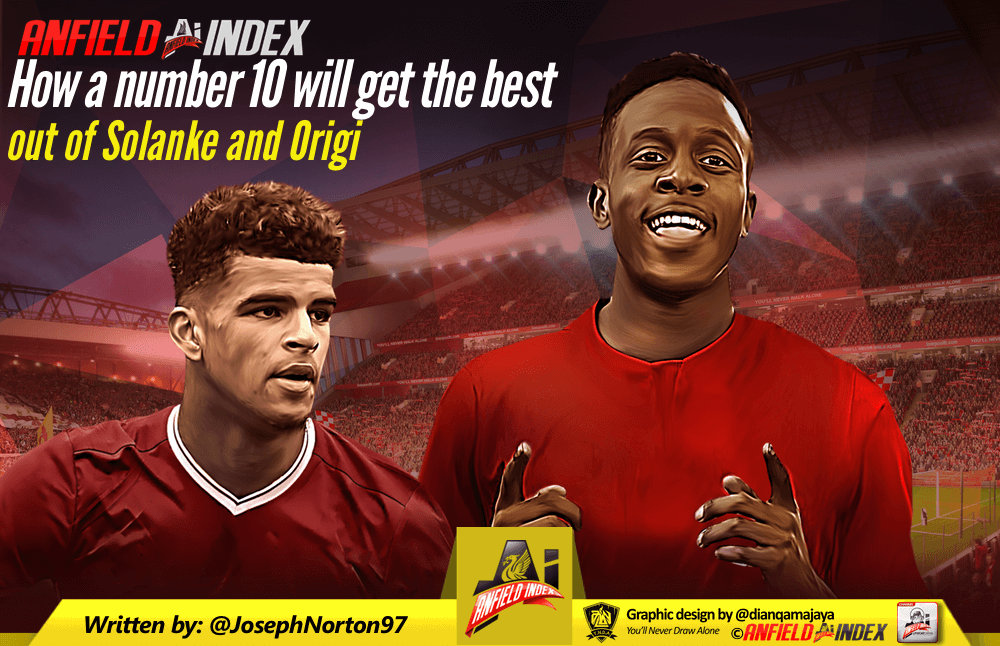 How a number 10 will get the best out of Solanke and Origi

One of the major talking points for some while has been Liverpool's lack of depth across their forward line. Following the sale of Philippe Coutinho, the Reds haven't had suitable backups to either of their wide forwards and Solanke and Ings failed to impress when filling in for Roberto Firmino last season. With Bobby having evolved into the complete striker in Klopp's system – capable of holding the ball up and linking the play, running in behind and stretching defences as well as scoring goals at a respectable rate for a forward. Trying to find a player who comes close to possessing all of these attributes is extremely difficult, would cost the club a lot of money and such a player would demand regular first team football. With strengthening in other positions being of greater importance, Klopp needs to find a way to get the best out of Solanke, Sturridge and Origi – I haven't include Ings in this as I expect him to be sold.
From past performances, we've seen that not one of these three is a good enough alternative to Bobby when operating as a lone striker. Solanke showed glimpses of possessing similar traits to Firmino such as with his movement and work ethic, however, his first touch, goalscoring prowess and ability to link the play still needs a lot of work. Although Origi has a good goalscoring return when playing for Liverpool, his movement and ability to link the play leaves a lot to be desired and Sturridge's body simply doesn't allow him to operate at the level of Firmino when playing up front on his own. Having said this, being able to play up top on your own in Klopp's system shouldn't have to be an essential quality for a back up as after all you have to be the complete striker like Bobby is. It's time Klopp found an alternative way to bring the best out of Firmino's deputies. It's been pretty apparent this summer that the Reds are keen to sign a number 10 and I believe much of this could be down to the German believing this is the best way of finding Liverpool a way of playing without Firmino – the Brazilian will need resting at times again this season  – and I'm in total agreement.
Let's take Sturridge first, technically he's world-class making the most difficult of skills look effortless. Unfortunately, his body doesn't allow him to move in a way he once could, therefore, running in behind and stretching defences is extremely difficult for him. In pre-season, I think we've seen Klopp evolve Sturridge's position even when operating as a lone striker. The Englishman is now dropping a lot deeper than he ever used to – linking the play and looking to be more of a provider. We've also seen him deployed in the number 10 on a handful of occasions where he has looked extremely dangerous. Although Sturridge's availability throughout the season has to be viewed as a bonus, we should now be looking at him as a number 10 rather than a striker, simply because he isn't effective as a lone forward in Klopp's 4-3-3 system. It must be said playing as a number 10 in pre-season is completely different to doing it in competitive league games but if anyone has the technical quality to adapt into this role in such a high pressured environment it's definitely Daniel Sturridge.
Dominic Solanke's an interesting one, many of the coaches he has worked with in the past say he was always the player that stood out and was ahead of his peers in terms of footballing ability. As mentioned he showed glimpses of quality last season but these were far too infrequent. In many of the games, he started such as against Everton both home and away he cut an isolated figure, unable to pose a goal threat or bring others into play. However, in games against Stoke (away from home) and Brighton on the last day of the season when he had a strike partner he looked a lot more dangerous, capable of developing combinations with the players around him and being much more of a goal threat culminating in him scoring his first competitive goal for the Reds. Although the sample size is small and far from conclusive, looking at Solanke's attributes and past performances everything points to him being a much-improved player when he has another striker partner or player (a number 10) close by to him as it takes the pressure off. He then finds it much easier to link the play and make runs away from the defenders who are being occupied by another man. This is the Dom Solanke we'd hoped to see.
I've been banging this drum for a while but Divock Origi is exactly the same in many ways. The Belgian international has been much more prolific when playing for Liverpool than Solanke, however, his all-round game has similar limitations when playing as a lone forward. But, when he has been playing alongside a partner such as in a diamond formation he has looked much more of a threat. Games against Southampton in the cup and West Ham the season before last only provide fuel to this fire (if you have a good memory). When Origi has someone playing close to him he can focus on stretching defences and getting in goal scoring positions rather than having to hold the ball up and bring his teammates into play – something he often struggles with. The signs from pre-season would suggest Divock hasn't developed that much in the past year, therefore, it would be unrealistic to suggest he can be the striker in Klopp's 4-3-3 formation that provides a suitable alternative to Firmino.
Whether we still need to recruit a number 10 is another question, personally, I believe we either need another winger or a creative midfielder as this would provide further options as to who could operate in this role. At the minute, Sturridge, Shaqiri and Firmino are the only really effective and feasible options with Mane and Salah needed in the wide positions, however, adding an additional wide forward would free up one of these to play as a second forward if needed.
I think it is clear that the Reds won't be signing a back up to Firmino and that Solanke, Origi and Sturridge aren't good enough alternatives to play as lone forwards. However, if they are playing alongside a second striker (in the case of Solanke and Origi) or as a number 10 for Sturridge then they have the quality to provide serious cover for our dazzling Brazilian. It's time for Klopp to think outside the box, evolving and adapting his 4-3-3 to ensure we have real strength in depth in our squad.