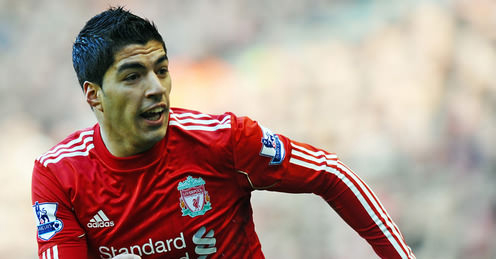 Reds Need To Be More Clinical
After a defeat or a draw managers try to focus on general team performance and how well their side have played but it is positive results that they most covet, with the difference between a draw and a win often coming down to the smallest details. Obviously there are a number of things that go towards creating a winning team and while many say that you should build a team from the back, it is often the strikers that decide where a team will finish at the end of the season.
Goals win games and a striker that scores 20-goals a season can be the difference between a team getting relegated and finishing mid-table. While it is ok for a team with small ambitions to rely on one player to hit the back of the net, teams hoping to challenge for honours are realising that they now require 3-4 of their squad to be close to the top scorers list if they are to win silverware (Manchester United had Berbatov (20) Rooney (11) and Hernandez (13) last season whilst Messi, Villa and Pedro all score 20+ goals a season for Barcelona).
For a long time Liverpool were accused of relying on two players (Steven Gerrard and Fernando Torres) to score their goals and win their games, with the phrase 'two-man team' permanently attached to the side until Torres' eventual departure. Nowadays it seems that Kenny Dalglish possesses a side that is packed with players who can score goals, from the strikers all the way back to the defenders. But while Liverpool's team are capable of scoring goals, there has been a feeling that their finishing has been average at best this season.
It seems strange to criticise a player that has made such a phenomenal impact since his arrival in January but the biggest culprit of wastefulness so far this season has to be Luis Suarez. Maybe his missed chances are highlighted more because he creates so many openings and goal-scoring opportunities for himself, but the fact that he has scored just 4 goals from 23 shots so far this season is disappointing. Those stats also don't include the several times in which Suarez has been put through on goal only to hesitate and fail to get a shot away. For all his good qualities (movement, trickery, work-rate, vision) he does not appear to be clinical in front of goal.
That revelation will come as a shock to anyone who saw Suarez at Ajax, where he broke all goal-scoring records and averaged better than a goal a game in 2009/10 when he scored 35 goals in 34 league games. That is a truly impressive record, although it has to be said that Eredivisie goal-scoring stats can be deceiving (though there is no doubt over Suarez's class), with many strikers failing to recreate the success they had in Holland when they move to a superior league. Luckily for Liverpool Suarez is a complete player and not one who needs to score goals to make an impact, but that does mean that other players will have to step up to help carry the goal-scoring burden because Suarez cannot be expected to score 34 goals in the Premier League.
The player to do that was expected to be £35m man Andy Carroll, Liverpool's other January signing and a striker of who so much is expected. Carroll showed in the Championship and the first half of last season that he is capable of scoring goals, but he is still only young and it is too early to say whether he will ever be a 20-goals a season man. Like Suarez though he is always going to be a player that provides us with something a bit different even if he isn't scoring.
Carroll has been in and out the team this season, so it may seem harsh to judge his shooting stats, but since this piece is all about clinical finishing it is relevant. So far this season Carroll has unleashed 14 shots with just 5 of those hitting the target and just one finding the back of the net (against Everton). A poor conversion rate so far then, but he seems to have regained fitness and is starting to settle into the team's style of play, so it may not be long before Andy starts firing in the goals and taking some of the pressure off Suarez.
Compare Suarez and Carroll to Rooney and Agüero for instance and it is no contest, with the two Manchester strikers firing on all cylinders for their respective clubs. So far this season Rooney has had 37 shots with 17 of those on target and 9 of those resulting in goals. Agüero meanwhile has struck 25 shots with 11 on target and an astonishing 9 of those finding the back of the net, an amazing achievement for a player who has only been at the club a month or two. The reason United and City are out in front is because of the clinical finishing of not only these two but the likes of Dzeko, Hernandez, Welbeck and others. If Liverpool are to push for 3rd or 4th then we need both Suarez and Carroll to try and aim for the heights of Rooney and Agüero.
But it is not just the strikers that need to be more clinical, this is something that applies to the whole team, with a few of the team's midfielders guilty of glaring misses of their own and it seems strange that in a season where Liverpool seem to be creating more chances than ever before they also seem to be missing more chances than ever before. It is surely only a mental problem, since the club have several players with good shooting technique (Carroll, Suarez, Bellamy, Kuyt, Gerrard, Adam, Downing, Henderson) who should be able to put away simple chances when they fall their way.
Last season's home game against Manchester United was a masterclass in clinical finishing as Dirk Kuyt grabbed a hattrick with three close range finishes (he only had four shots throughout the 90 minutes) and what better time for Liverpool to rediscover their killer instinct than against the old enemy this weekend? With United playing some of their best football in years Liverpool will need to take their chances, though the Champions' defence seems a tad suspect so the team may get more bites at the cherry than they are used to. With that said, we'd all be happy for the team to miss 10 chances if we still win 1-0 wouldn't we?
You can follow me on Twitter @MattKenny89