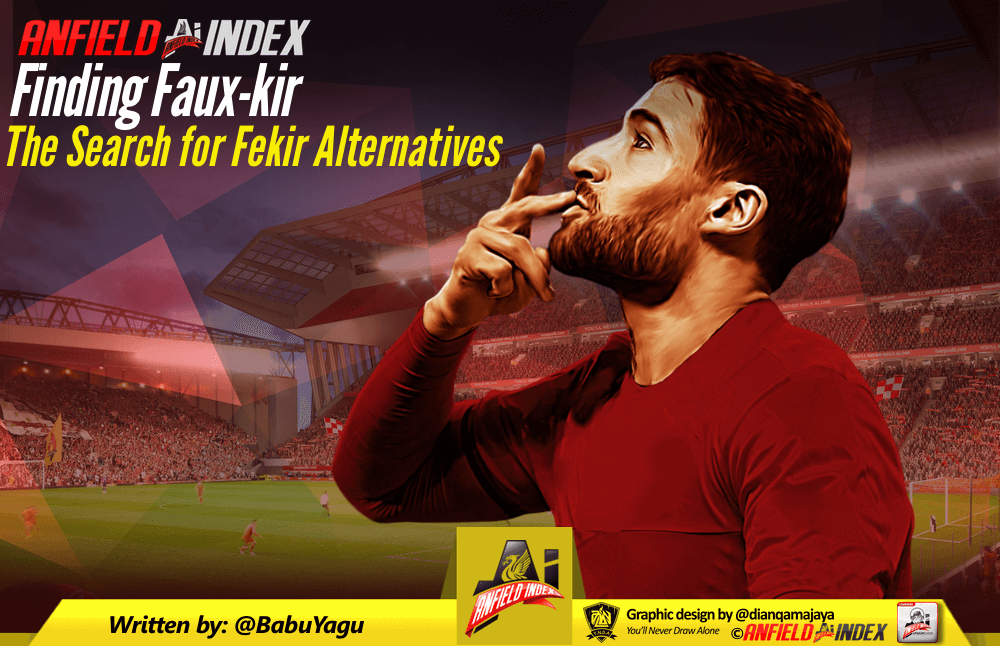 Finding Faux-kir | The Search for Fekir Alternatives
It was either him or us. Someone was going to get hurt here. Fekir or us Liverpool fans. Either his knee would collapse, or the deal to sign him would. He had already been interviewed for the site, done the photo shoot, sold his house in France, told his ex-colleagues what he really thought of them and cancelled his milk order. Then Liverpool pulled the plug. At least that is how I believe it played out based on some reactions I have read.
In truth, we still have no real information about the deal that we can verify. Except, of course, from Aulas' bi-hourly press briefing to confirm that Fekir isn't for sale. It's information I probably would take at face value from any other owner, but unfortunately, Aulas has a history of lying more than a North Korean propaganda machine set to "lie your nuts off!"
It is quite possible the above is exactly what happened. The deal is dead and Aulas just randomly mentions Fekir isn't for sale and will definitely, I mean 92% certainly, be at Lyon next season. It is equally possible the deal is simply on hold. That we have silence from both the Liverpool and Fekir camp as there is a proposal in front of Aulas and we are waiting on him to blink. Who knows?
Let us assume for a moment that the deal isn't going ahead. Let us also assume that we had a specific need for his set of skills in our system.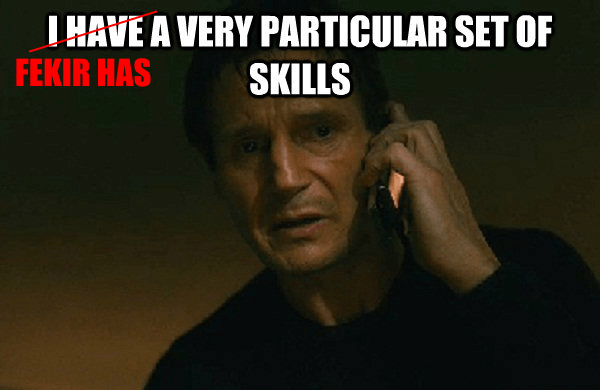 So now we have a Fekir shaped hole in our squad and around 2 weeks remaining to fill it. "Who are the alternatives?" I hear you ask. Well first, we need to understand exactly what Fekir would bring to the system. Then we can try to understand who else may be available with much the same skillset but whose knees aren't made of polystyrene. Therefore, what follows here is my attempt to statistically reduce the pool of players in the top 5 leagues to come up with a suitable short list of potential players for our Fekir alternative. A Faux-kir, if you will. [Reviewer's note:- As well as being an awful attempt at a pun, this is a reference to a poorly watched sci-fi series called Fringe that I doubt anybody else will get. Consider changing it for literally anything else].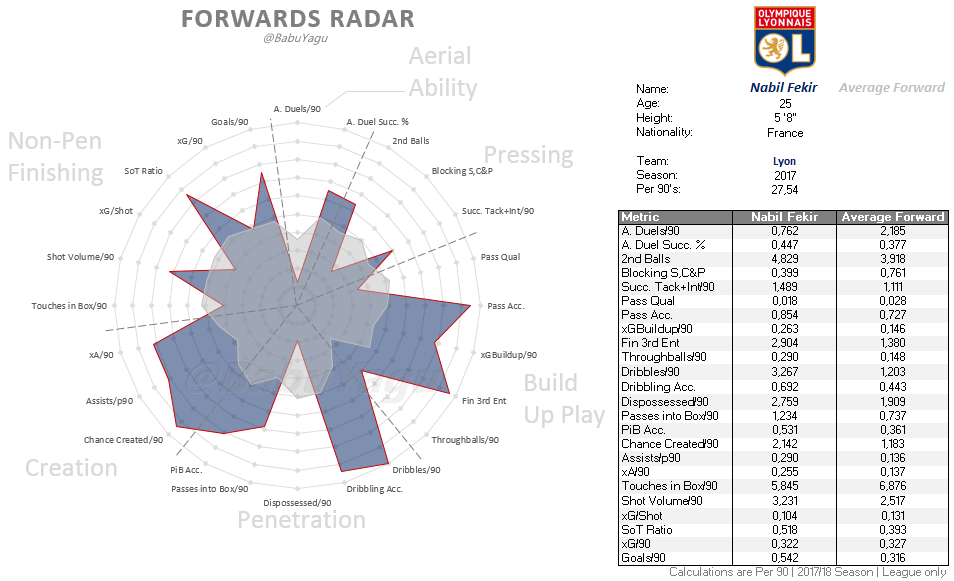 As you can see, Fekir is heavily involved in all four phases of the possession phase (build up, consolidation, penetration, finishing) and puts up good numbers for a forward in the defensive phase as well. In addition, the work Statsbomb are doing on pressing numbers for Fekir suggest he would also be perfect for Klopp's system built upon transition management.
Penetration
One metric that Fekir truly excels in, however, is dribbling. Out of all outfield players who played 900+ minutes (plus Sturridge despite playing just 547 minutes for comparison sake) in the top 5 European leagues in the 2017/18 season, Fekir ranks 30th out of 1518 for the number of dribbles completed per 90.
Given that dribbling (or 1-v-1 skills) is one of the most crucial skillsets for the penetration phase, I will assume this is a crucial skill set that we wish to acquire for our system, especially considering Fekir ranks in the top 2% of the dataset in terms of successful dribbles. Therefore, I will filter out all the players who have less than 1,96 completed dribbles per 90 (60% of Fekir's 3,27). I will also filter out all the players marked as defenders.
After crunching the numbers this leaves us with just 164 from our starting number of 1518. By plotting these players, we can gain a better idea of how they rank and compare with respect to each other.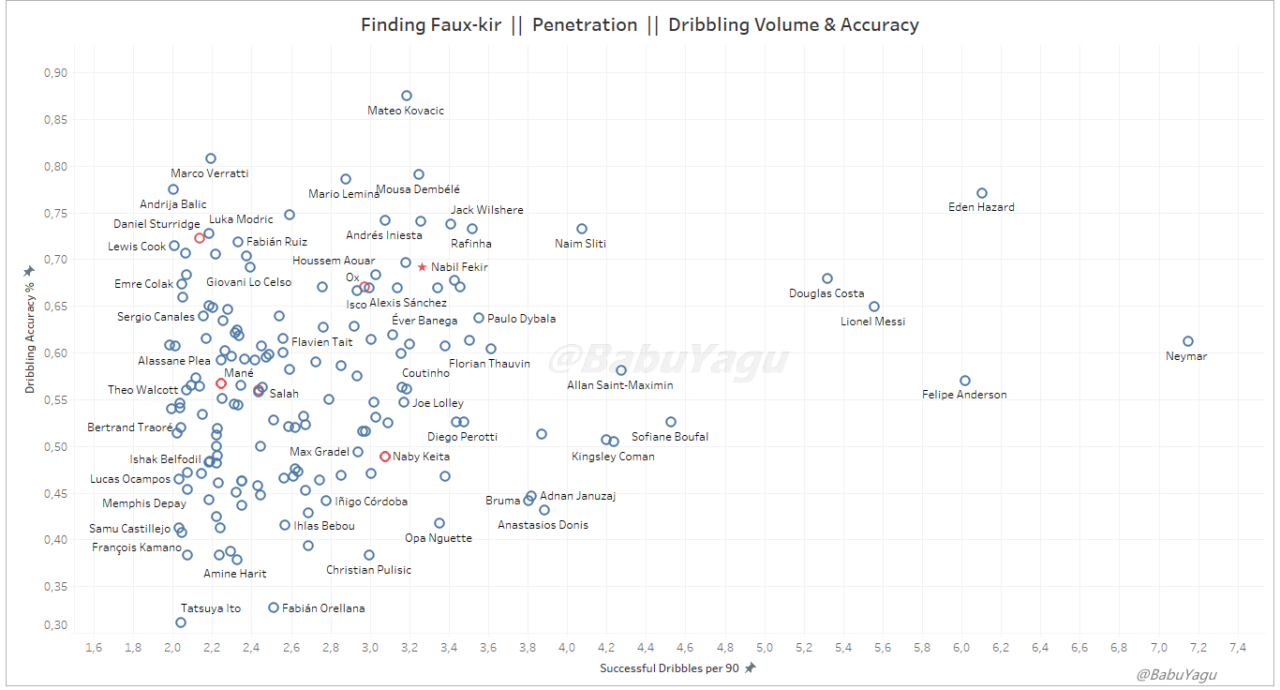 As you can see with Mané, Salah, Oxlade-Chamberlain, Keita and Sturridge, Liverpool already have 5 out of the top 164 dribblers in Europe's top leagues in terms of volume. They are also all precision dribblers with around 50% accuracy or above.
We can see that Fekir is one of the most precise dribblers in this subset with nearly 70% accuracy. This raises questions over the likes of Pulisic (39,31% accuracy). However, further research shows this figure is at odds with those recorded the previous season (53,92%) and his numbers in Europe in 2017/18 (58,49%). Therefore, it may well be that the figure listed is the exception and not the rule and it could be due to the sample size involved and thus I won't be filtering people out based on this.
Moving on, the second element of the penetration phase is advancing play into the finishing phase by moving the ball into positions where goals can be created and scored. To assess this, I decided to look at the volume and accuracy of passes into the box (PiB) that Fekir makes. Again, precision seems to be where he shines most of all here and he ranks 26th out of our remaining 164 players. This is hinting that Klopp wants a scalpel rather than a machete to cut through opposition defences next season. Someone who will protect the ball, help maintain control of it and pounce at the first opportunity when space opens up rather than forcing things before our movement has created the space to do so.
So let's look at the chart to see where our remaining shortlist of players fall in terms of PiB.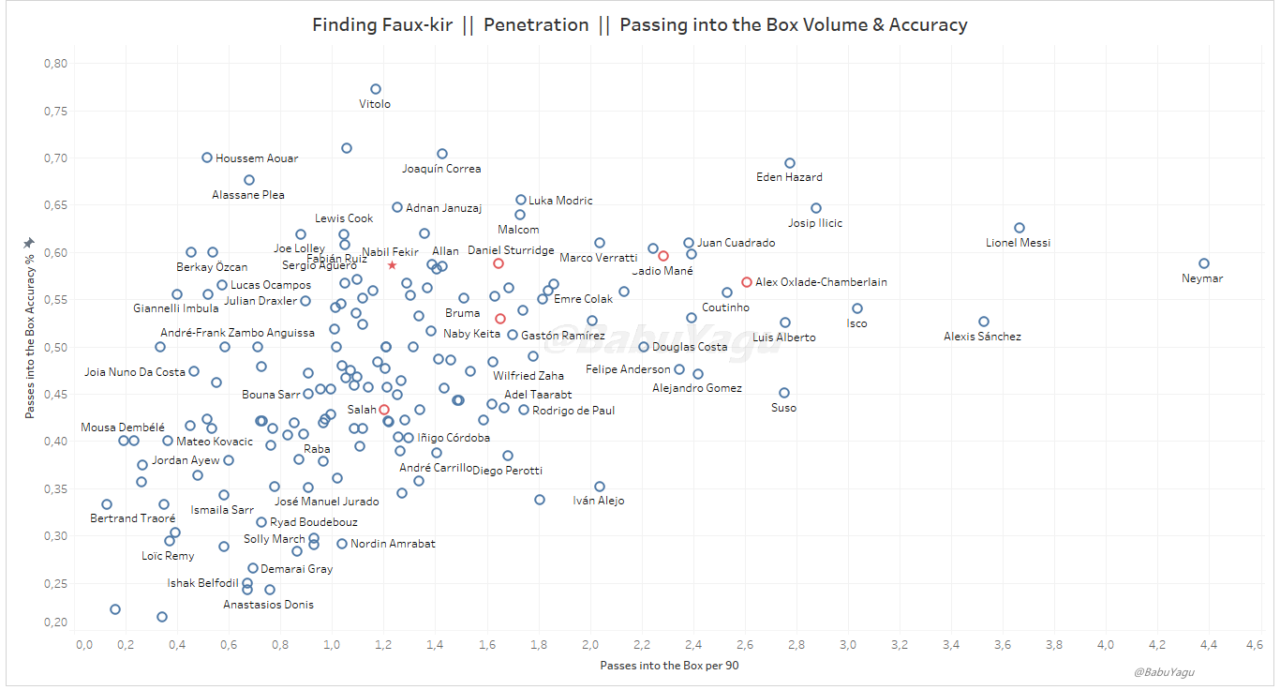 Once again, you can see how surgical the Liverpool players in the group are with the ball, as well as Fekir himself, which continues to suggest that precision is the order of the day. Again, I won't be filtering out those below the 40% accuracy line here but it would highlight why perhaps a player like Demarai Gray might not be on our radar.
Filtered Out: – All players who have less than 0,74 PiB per 90 (60% of Fekir's 1,23). Anything less than that and the ball isn't being moved into the finishing phase often enough to be considered as our Faux-kir.
Notable Players cut: – D.Gray, Plea, Arnautovic, NDombele, Aouer, Lemina & Mousa Dembélé.
Kovacic actually falls below the threshold but as he is being strongly linked with Liverpool at the moment, I am loathe to see him cut from the list so early. Therefore, while I intend to respect the data-driven process of eliminating players who won't offer enough in crucial skill sets, I will include him and any others who have been similarly linked with Liverpool throughout this process fit the bill purely out of curiosity to see how the rest of their numbers compare. So let's move onto the next category now with our list of 128 players.
Vision
In the simplest of terms – attacking is about making space then using that space to create chances and score goals. With a forward line of Firmino, Mane & Salah, we probably have the most movement and fluidity in attack in Europe. However, using space in the final third is often where we fall down. Whilst patience, timing and decision making are all crucial in terms of assessing the situation and making the right choice, at the right time, vision is perhaps the easiest to assess. The ability to see that the pass is on, coupled with the speed of thought required to assess, make the decision and deliver the ball, coupled with the technical ability to do so as efficiently as possible is what we need here.
Therefore in assessing this, we will look at the volume of chances being created, the quality of those chances being created (xA) and how many result in actual assists in the end.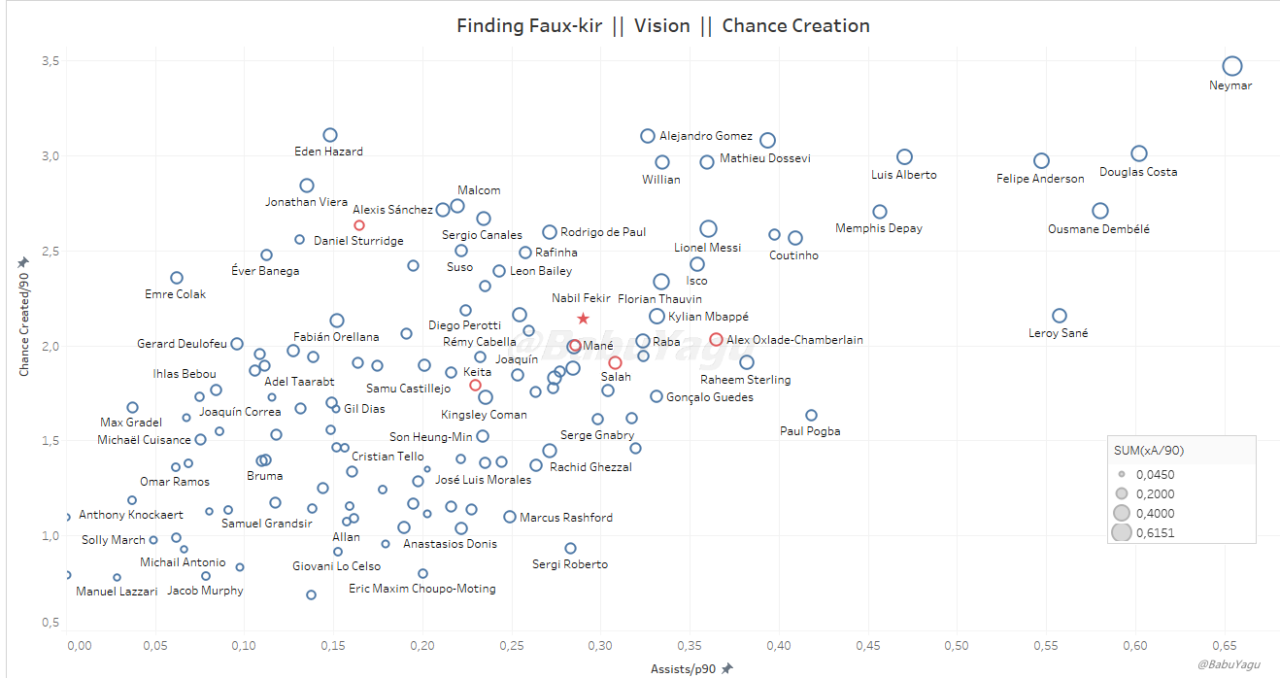 As you can see here, out of the top 128 most penetrative players in Europe, the Liverpool quintet is doing very well and is well clear of that bottom left sector.
Filtered Out:- All players who fall below the 60% threshold of Fekir's numbers and therefore those with less than 1,29 Chances Created per 90 (60% of Fekir's 2,14). Anything less than that and the players probably aren't creating chances often enough to be considered a suitable Faux-kir. I also filtered those who fell below the 60% threshold in terms of both xA & assists per 90. Therefore, we lose Forsberg, Boufal, & Sarr amongst others.
Exceptions:- Sturridge, Loftus-Cheek, Pulisic, Kovacic, Ángel Correa & Lewis Cook.
This takes our list down to just ninety-one names now. Of which five are being given some leniency to be included and five already play for the club.
Finishing
Fekir is a legitimate goal threat with twenty-three goals in just thirty-nine appearances last season – an outrageous amount for a player who doesn't play on the highest line of his teams' system. Whilst I doubt many players on our list will be able to match those numbers, I suspect whatever player we do maintain some interest in as our Faux-kir will carry some goal threat from a deeper position.
Typically, players who score a lot of goals consistently are also players who take a lot of shots. This, coupled with Fekir's outrageous precision in the final third, however (he is 4th in our list now for his shots on target ratio) is what makes him a legitimate threat in the final third. Let's have a look how the rest compare.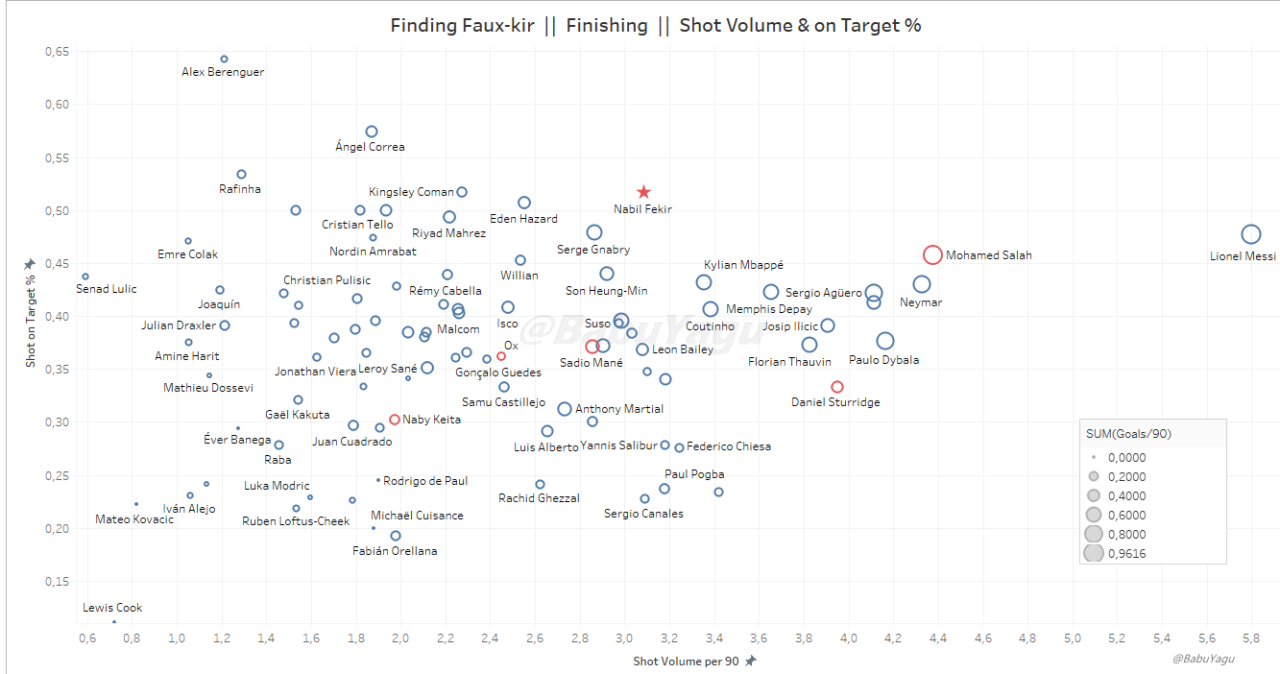 Now we are starting to see the difference between those who attack the spaces themselves and get amongst the goals, and those who tend to remain outside and focus on supplying the ammunition. Perhaps more traditional central midfielders like Modric, Kovacic & Banega rather than a goalscoring midfielder, or supporting forward, that Fekir would profile as.
Filtered Out:- all players with less than 1,85 shots per 90 (50% of Fekir's 3,09). Below this, they probably aren't attacking the box and instead tend to mostly remain outside the box.
Exceptions:- Loftus-Cheek, Lewis Cook, Pulisic, Kovacic, Draxler & Douglas Costa.
We have now narrowed down the list to sixty-seven players and will move onto Protecting the Ball.
Protecting the Ball
As we saw last season, maintaining possession of the ball when under pressure is vital in being able to break through the opponent's press. Against Sevilla (away), Coutinho wasn't able to do this, getting caught in possession four times and had a passing success of just 56% (33% in the second half!). Comparatively, Wijnaldum was excellent in protecting the ball and managed to maintain an 81% pass accuracy and didn't lose possession of the ball even once despite our midfield being under extreme pressure. Indeed, it was this skillset which allowed him to escape the attention of Man City's entire midfield pressuring him to break through the press and initiate the attack that resulted in Salah's goal that effectively killed the tie against them at the Etihad.
Likewise, as a side that will dominate possession in the majority of our games, it is important that we have players who are extremely adept at retaining possession in the final third whilst trying to destabilize the opposition's defensive block.
So let's see how well those on our list protect the ball in possession.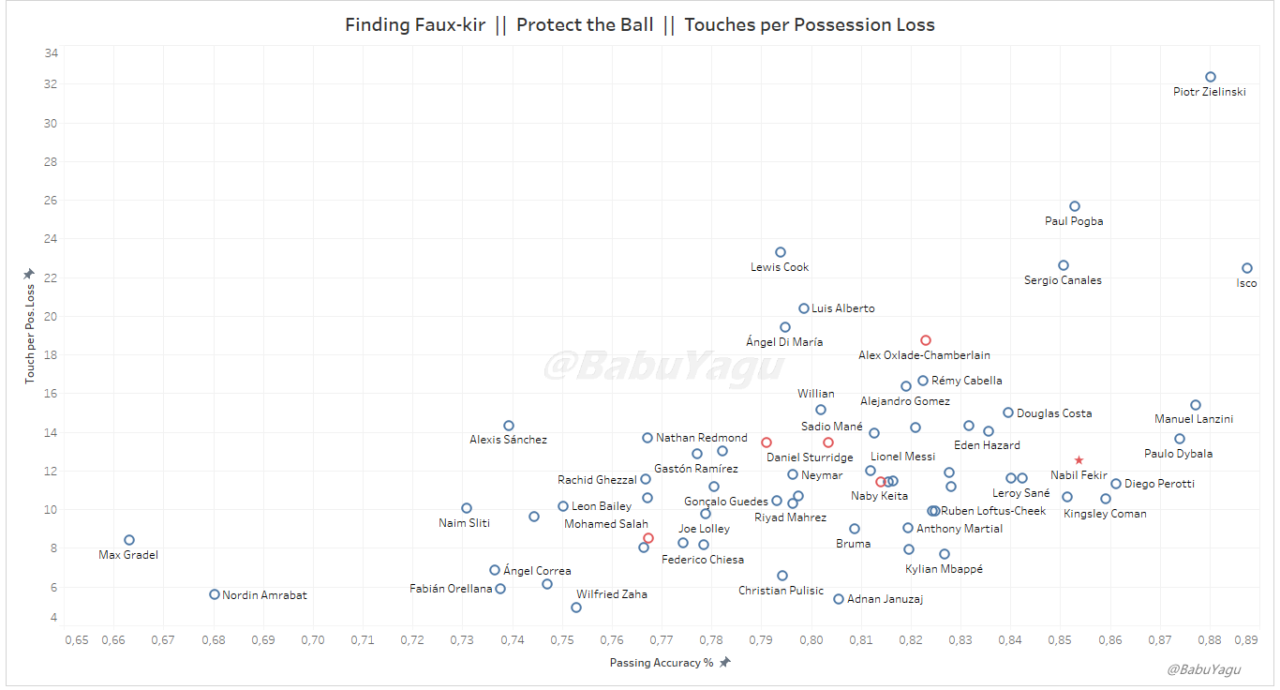 Firstly, I had to exclude Kovacic & Draxler to produce this as they were both big outliers that were skewing the dataset and rendering the plot meaningless. There was always the possibility that by including them in our dataset, in blatant disregard to our earlier cut-off points and methodology, that such problems could potentially arise and that, as they were already profiling as a different type of player to Faux-kir, their metrics could exhibit as outliers elsewhere.
Draxler's 92,8% passing accuracy is some distance from the next player in the list (Isco) whilst Kovacic 93,7% accuracy and 45,16 touches per possession loss are even more extreme, possibly indicating that these players play most of their passes in an area outside of the oppositions' defensive block relative to what we are currently scouting for.
It's interesting to note that Salah is quite near the bottom of the group here. This is likely a consequence of his role leading our line and him focusing much of his play in and around the box. For example, the average midfielder's passing accuracy is around 80%, but the accuracy drops to 72,7% for the average forward as they tend to focus their play in the most well-defended zone of the pitch. Therefore players who attempt a high proportion of their passes and dribbling in and around the box will be affected here. The question then becomes if the drop in accuracy and sacrifice of possession is paying off in terms of output – which in Salah's case, it clearly is.
Oxlade-Chamberlain, on the other hand, is showing as one of the top players in the group here. Fekir has amazing precision with his passing considering the extremely high penetration and creative numbers he is putting up. For context, his accuracy is better than Henderson who usually operates deep outside of the opposition shape. That isn't a criticism of Henderson – merely just some context to how exceptional Fekir is with the ball.
Keita, Sturridge & Mané also score pretty well in the middle part of the group.
Filtered Out:- All players with less than 6,27 Touches per Possession Loss (50% of Fekir's 12,54). I assume they don't protect the ball well enough for what we require and therefore would not be a suitable Faux-kir.
Notable Players cut:- Zaha, Januzaj, Amrabat, Orellana & Bebou. I also removed Max Gradel as his numbers are generally low and his 66% passing accuracy is extremely low compared to the rest of the group.
We have now narrowed down the list to sixty-one players as we move onto our final category.
Build-Up Play
Another key feature of Fekir's play is his involvement in the Build-Up phase where he helps Lyon link play and move the ball into the final third into the Penetration phase. We saw Coutinho do this a lot in the past as well as both Mané & Oxlade-Chamberlain last season. Therefore, it is likely the Faux-kir will also offer good numbers here.
I will be looking at xGBuildup & Final Third Entry numbers here. The former being the score of their involvement in the buildup play to goals in which they are not either the goalscorer or creator. The latter being the number of times the player moves the ball into the final third with a pass or dribble.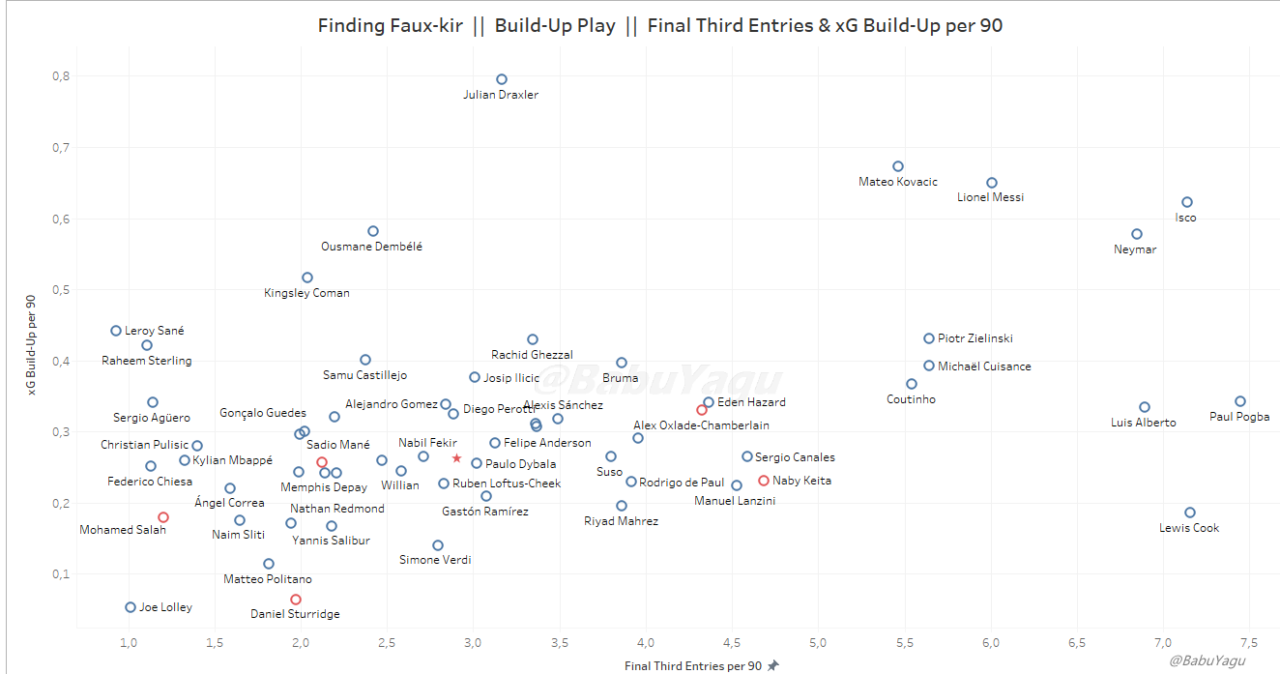 Here we start to see some tactical separation. To the left, you will have players who tend to be staying high up the pitch as a focal point or to stretch sides vertically with their pace by running in behind (Salah, Sterling, Mbappe). Fekir isn't really this type of player though and this isn't what we are scouting for here. Fekir is more of a second line attacker aiming to bridge the gap between midfield and attack.
To the right will be players for whom almost all their side's attacks run through. Lynchpin players if you will. It also isn't a surprise to see Kovacic with the highest xGBuildup score given we previously excluded him due to a feeling he was more traditional CM on the periphery rather than someone who will attack the box. Therefore somewhat logically, he is in the buildup of many moves in which he isn't the creator or scorer himself.
The only player I am excluding here is Joe Lolley simply because his numbers are both very low, plus it is a very small sample size at Huddersfield and he has subsequently been sold to Forest. Maybe a name to look out for in the Championship next season though.
So we have a final list of sixty players. Once I filter out those who already play for Liverpool, don't fit our twenty-seven and under profile, unattainable playing for rivals, recently transferred, currently injured (Lanzini) or those who are being unwilling to move, we are left with twenty-eight names. Here they are.

Note that 'Club' information is based on the club their data relates to last season and may not be accurate for players on loan (e.g. Loftus-Cheek).
Now for the final stage of the process – actually watching the players. Data and analytics should never replace scouting the players, merely compliment it or provide a bigger pool of information to assess whether the scouts viewing of the players is consistent over a larger sample of games.
I will revisit this topic myself to profile any players who Liverpool are linked within the media from my list. However, feel free to build up your knowledge base on those names who aren't familiar to you. It is very possible one of them may very well be the next surprise transfer the club springs on us.
Conclusion
One interesting conclusion I have drawn from this process perhaps, Fekir seems to have been specifically targeted once the club received confirmation that Oxlade-Chamberlain would be out for a season. He is within 91% of all Fekir's numbers except in the finishing category. Therefore knowing we would be without an elite player who offers a high amount to all phases of play, we immediately went out to find another.
Unless someone has changed Klopp's mind with their performances in pre-season, this type of player is likely seen as a crucial element to be added to the squad for the coming season. With Oxlade-Chamberlain or Fekir unavailable to fill that void, I suspect we are still in the market for our Faux-kir.