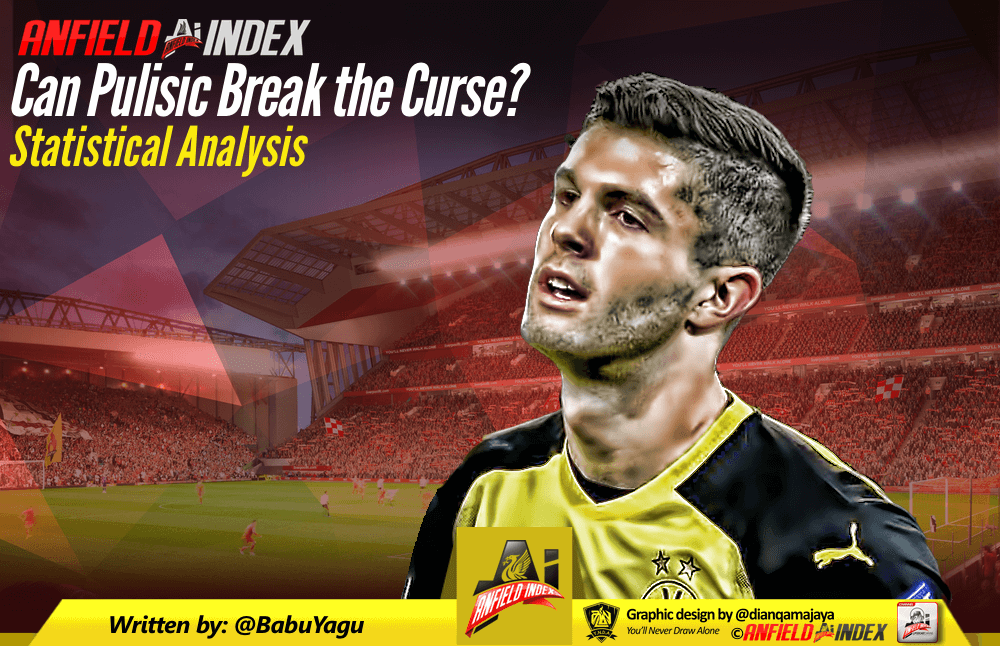 Can Pulisic Break the Curse?
All major signings come with an element of risk. Will they settle in a new country? Adapt well to the pace of the game here? Or to their new clubs tactical framework? For some players, the risk is an even greater one. Their name is Christian.
Liverpool's problem with the name 'Christian' began back in 2000 when they illegally approached Christian Ziege and signed him by meeting the exact amount of a clause in his contract, which I assume was £5,500,001. Both club and player were fined, then he spent an injury riddled season struggling to displace Carragher as starting left back and was sold to Spurs less than 12 months after joining the club.

Then in 2010, Roy Hodgson made two mistakes in signing Poulson from Juventus. The first in not realizing the potential problem with his name. The second in not realizing he was unmistakably shite. He was packed off to the first club who had zero scouting reports on the player and signed for Evian, France after one season at the club.
Rodgers probably hoped that 3rd time would be a charm when he went all in for Benteke in the summer of 2015. After ignoring the advice of every person at the club specifically paid to look at players and decide how suitable they were for the team, as well as the "Stop Signing Players Called Christian" memo, Benteke arrived for £32.5m. He was also quickly moved on after just one season at the club in the following summer.
Yet despite all the warning signs surrounding anybody called Christian, Liverpool are once again considering Christian Pulisic as a potential replacement to Fekir. Could this be 4th time lucky? Or should we just auto-delete those named Christian from our databases for all eternity?
As you will remember from my previous article when looking for a Faux-kir (for those who missed this, click here), Pulisic was someone we included on the shortlist at the end due to a number of statistical similarities between the two. Let us now look at some of those similarities and differences to see how suitable Pulisic would be to Liverpool as a Faux-kir.
As you can see, Pulisic profiles as a dribble-monster, although his dribbling accuracy leaves a lot to be desired at face value (more on that later). Most interestingly though from the above, he profiles as more of a striker than Fekir. He is less involved in the defensive phase as well as build-up play in the possession phase than Fekir but has a higher involvement in the box with his touches in the box (TiB) putting him in the top 5% of all midfielders across the top 5 leagues in Europe.
This would all suggest to me Pulisic was being deployed similarly to Salah was for us last season – staying high up the pitch to stretch teams with his pace vertically and therefore having minimal involvement in the defensive phase & early possession phase as he rarely got behind or level with the ball. This change of role may somewhat explain the decline compared to 2016/17 where he profiled more similar to Mané as a player who came off the line in the early possession phase to link play by carrying the ball. Pulisic's very low Final 3rd Entries numbers suggest that his dribbling is occurring in the final 3rd to offer penetration and to make space by committing defenders causing destabilization of their block.
Penetration

As you can see, he scores fairly well in both categories in terms of volume but not so much in terms of accuracy. However, I find this is quite common with young players with accuracy improving as they gain experience and confidence as a first-team player. They make better decisions with the ball and play less erratic. In addition, and as already mentioned, Pulisic's dribbling accuracy numbers in Europe in 2017/18 as well as in the Bundesliga in 2016/17 were both in the high 50's which suggests that he is capable of a lot better here and we are simply looking at a very small sample of data.
Therefore in terms of his penetration numbers, I suspect there is enough there to make the club look favourably on him as an option.
Protecting Possession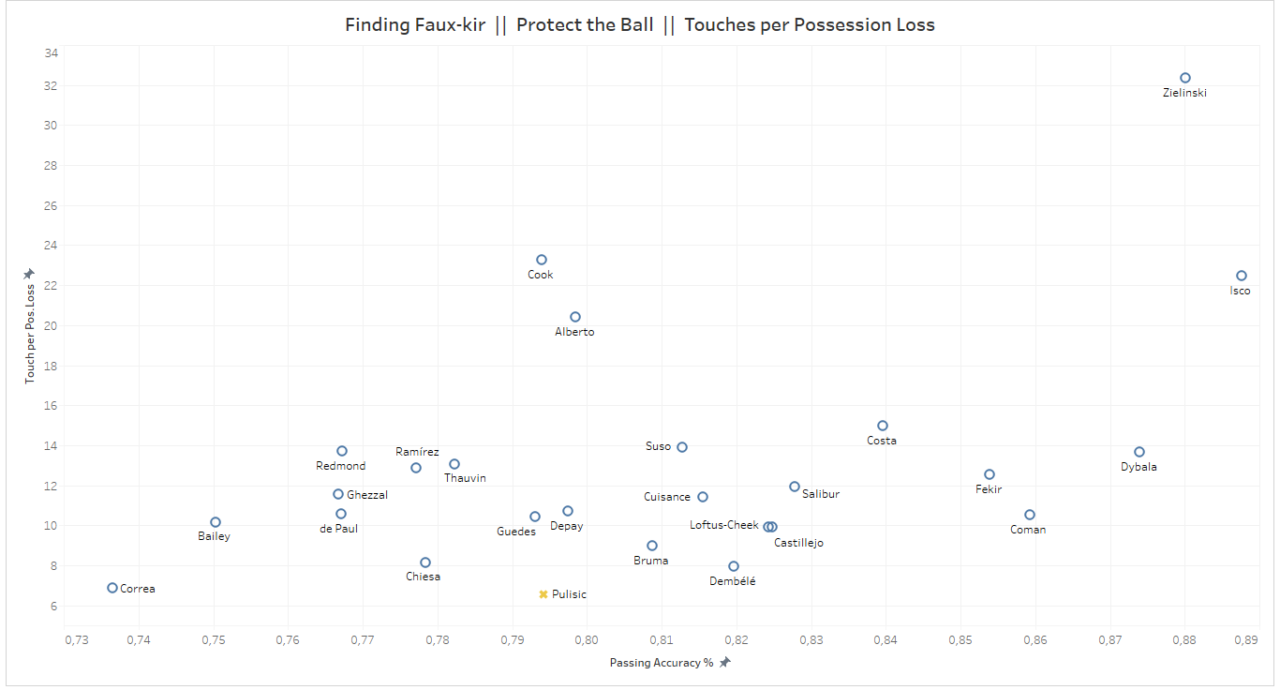 As a side who will dominate the ball against a low-block at certain times next season, a degree of patience is possession and an ability to protect the ball will be required. Therefore Pulisic's ability to protect the ball when he is in possession and keep the ball in circulation while we wait for the right moment to strike may be vital to his success in a system such as ours.
His passing accuracy in general play is around par for a player who is mostly on the ball in the final 3rd trying to create chances in and around the box. However, the number of touches he is taking per loss of possession is at the low end of the spectrum. This is likely linked to his lower than usual dribbling success rate which we have previously discussed as a possible anomaly to what we could typically expect of him.
Vision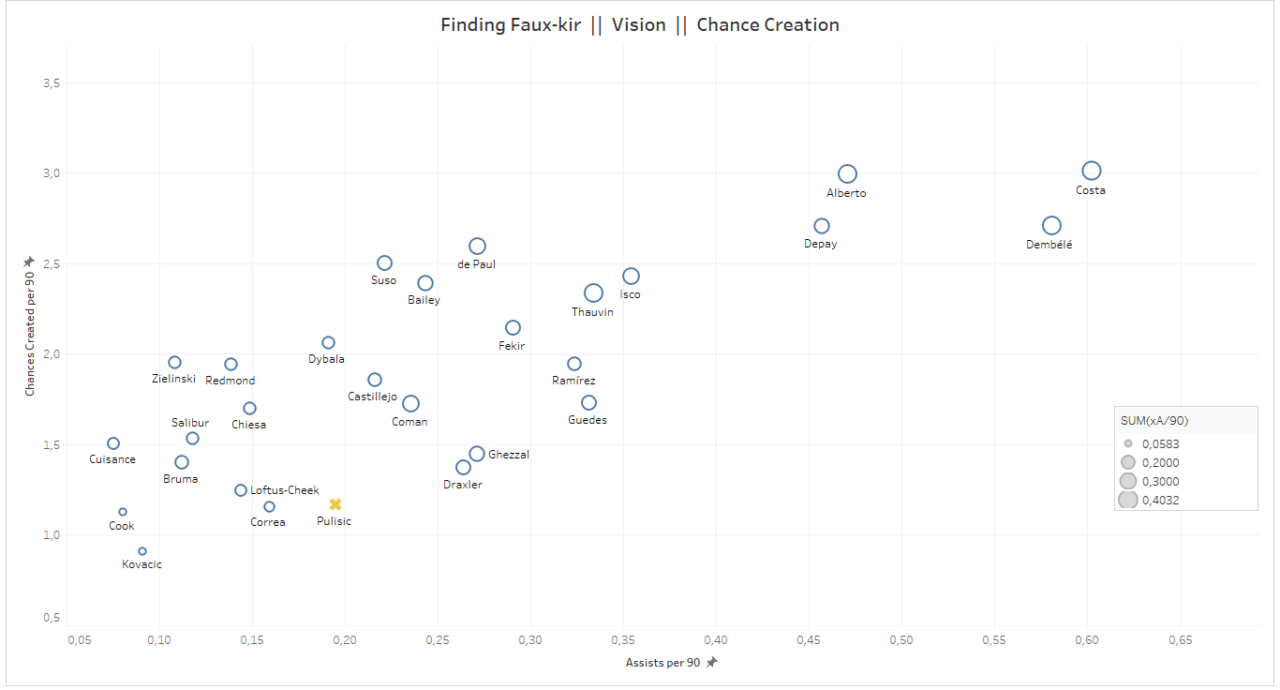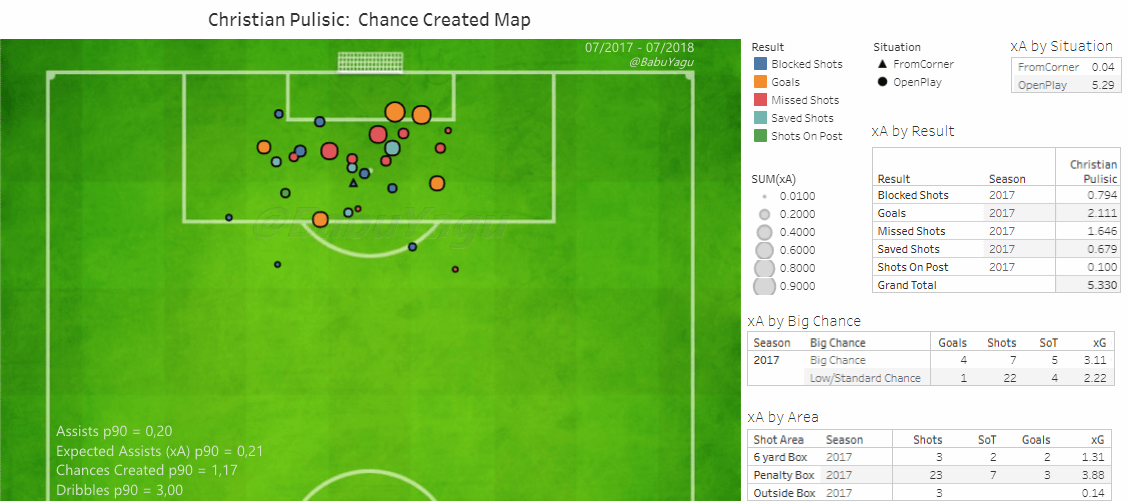 As you can see, he is considerably below Fekir both in terms of the number of chances created and assists per 90. However, the "xA by Situation" section of the Chance Created Map shows us that 99,9% of his numbers are from open play as he isn't boosting his numbers as a set piece taker. Almost all the chances he creates are resulting from getting the ball into the box rather than handing it off to a long-range shooter to hammer away from 40 yards out, therefore a high ratio (around 1 in 4) of his chances created are what Opta deem "big chances" or what we would call clear-cut chances. This suggests someone who is constantly looking to create good scoring chances: this is vital when looking for a player in a side who will dominate possession as trying to force an opening when there isn't the space or numbers in attack to do so tends to result in a lot of squandered attacking opportunities.
The @cpulisic_10 Hype – His numbers at age 18 (up to June 2017)

You can see from the below why people were (and still are) excited about Pulisic. For an 18 year old to be putting up these numbers in terms of penetration and creation is a big deal. pic.twitter.com/EVXXBAHQlC

— BabuYagu ✍️⚽ (@babuyagu) August 1, 2018
As I mentioned in this tweet last week, his numbers have somewhat regressed. However, his numbers were and still are outrageous for a teenager and progression for young players is almost never linear.
Finishing

There is a LOT I really like here. Firstly, I like how most of his shots are in the central band of the pitch, with a few dotted around the half-spaces and a solitary one on the flank. This is not typical of a winger and similar to the shot maps I saw of both Mané & Salah when they arrived at Liverpool. Also, very few shots are from outside the box (1 every 2,5 games). As a result, he already has a very high SoT ratio for his age. His conversion rate of just 25% is the thing he needs to work on.
However, the fact his numbers are already this good and his shot choices already look very refined while still a teen bodes pretty well for him given that most kids see an upturn in production until their early twenties as they gain that vital experience and with it, composure in the box.
Conclusion
There are enough statistical similarities here in terms of his build-up play, creativity and, in particular, his penetration numbers to suggest he would be a target for Liverpool. He needs to be more precise with his actions in future and his finishing needs to improve too. However, those are pretty much standard for young attacking players like Pulisic. McManaman, for example, didn't have his first highly productive season until he was 22 when he bagged a combined 17 goals and assists in the league (94/95). He was averaging 3 per season up to that point. Likewise, we signed John Barnes on the back of his breakout season aged 23.
I'm sure I am not alone in hoping this mazy dribbler could have a similar impact that either of those legends did at Liverpool!
Radar Terminology Used
Aerial Ability
A.Duels/90 = Number of times the player contested for and won the ball in the air per 90 minutes played.
A.Duel Succ. % = Percentage of balls contested for in the air which the player won.
Pressing
2nd Balls = The number of times the player won a loose ball and recovered possession for his team of clearing it away from his goal per 90 minutes played.
Blocking S,C&P = Number of times the player blocked a shot, cross or pass per 90 minutes played.
Succ. Tack+Int/90 = Number of times the player tackled and won the ball or intercepted a pass per 90 minutes played.

Build-Up Play
Pass Qual = The average amount the player contributed in the goal scoring situations of his team with each pass.
Pass Acc. = Percentage of the players passes which were completed.
xGBuildup/90 = Literally means Expected Goals (xG) contribution to the Buildup. The total xG value (see below) which the player contributes in the build-up play for his team. Excludes shots & chances created.
Fin 3rd Ent = Number of times the player passed/carried/dribbled the ball into the opponents 3rd (or the final 3rd) of the pitch per 90 minutes played.
Throughballs/90 = Number of through-balls the player makes per 90 minutes played.
Penetration
Dribbles/90 = Number of dribbles the player completes per 90 minutes played.
Dribbling Acc. = Percentage of dribbles attempted which the player successfully completes.
Dispossessed/90 = Number of times the player loses the ball without attempting a dribble per 90 minutes played.
Passes into Box/90 = Also referred to as PiB. This is the number of passes the player completes into opponent's box per 90 minutes played.
PiB Acc. = Percentage of the players PiB attempted which were actually completed.
Creation
Chances Created/90 = This is the number of key passes + assists the player makes per 90 minutes played.
Assists/90 = This is the number of assists the player makes per 90 minutes played.
xA/90 = Also referred to as Expected Assists. This is the approximate number of goals to be expected based on the chances the player creates per 90 minutes played. e.g. Creating a tap-in could have an xA of 0,95. Laying off the ball for a 45-yard piledriver could have an xA of 0,01. Which means you reasonably expect 1 of those 45-yard screamers to go in out of every 100 attempted. Likewise, you would expect that tap-in to result in a goal 95 times out of 100.
Finishing (Note, penalty events are excluded for the following)
Touches in Box/90 = Also referred to as TiB. This is the number of times player is in possession of the ball in the opponent's box per 90 minutes played.
Shot Volume/90 = This is the number of shot the player attempts per 90 minutes played.
xG/shot = Also referred to as Expected Goals per shot. Indicates the xG (see below) quality of the average shot a player takes. Higher typical means more big chances and fewer speculative shots and vice versa.
SoT Ratio = Percentage of the players attempted shots which are on target.
xG/90 = Also referred to as Expected Goals. Similar to xA, this is the approximate number of goals to be expected based on the shooting chances he takes per 90 minutes played.
Goals/90 = Number of goals scored per 90 minutes played.