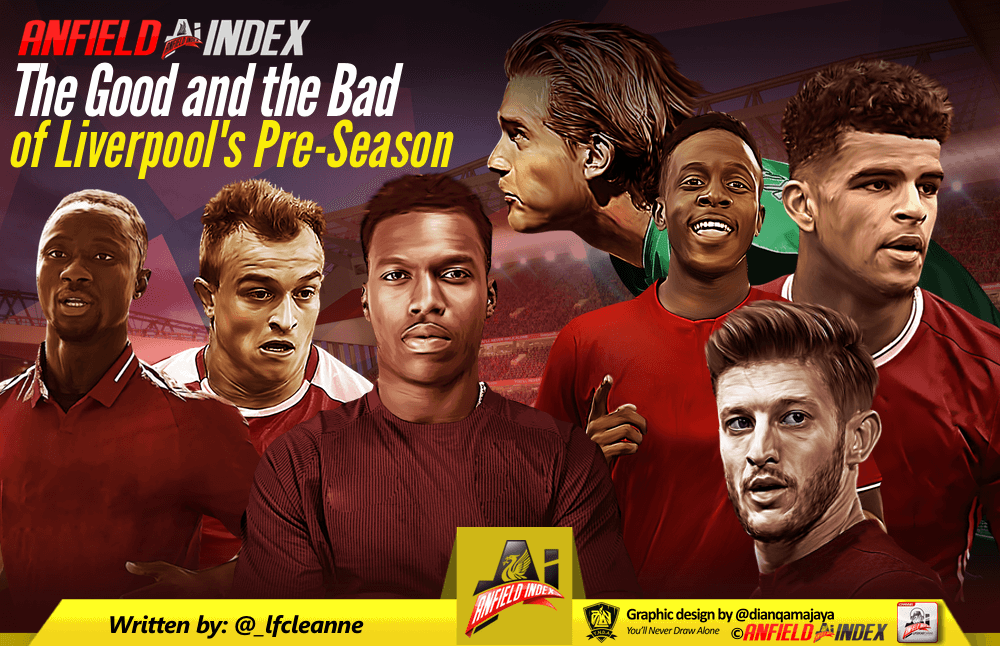 The Good and the Bad of Liverpool's Pre-Season

This summer was an important one for many Liverpool players vying for their futures at the club; Divock Origi had returned from a sub-par loan at Wolfsburg while Dominic Solanke's tally of one goal left him in a precarious position. Then there's the perennially injured Adam Lallana whose gone from guaranteed starter to a player left in the lurch with Liverpool progressing immensely in an attacking sense via a scintillating trio of Mohamed Salah, Sadio Mane and Roberto Firmino.
With just two games left of pre-season before the start of the new Premier League season, some players have taken the opportunity to impress Jurgen Klopp and stake a claim for a place in the first-team setup while others have failed to make their mark, raising the possibility of further outgoings before the close of the window.
So just who are the winners and losers of the summer so far?
Winners
Daniel Sturridge
There's no better place to start than Sturridge. A player tipped by many to leave the club after enduring a tough loan spell with West Brom, placed very much on the outside of Klopp's plans, he's wriggled his way back into contention with very bright pre-season form.
While Solanke and Origi have struggled to take their opportunities, Sturridge has looked sharper, fitter and back to his old self, putting the ball in the back of the net while dropping deep to play a bigger hand in the build-up. Combination play with Naby Keita and Xherdan Shaqiri are testament to that, with the striker now set to play an important role – fitness permitting of course.
Curtis Jones
Quietly emerging from under the radar, Curtis Jones has been one of the standout performers during pre-season. The 17-year-old has shown real confidence in possession, expressing himself with strong technical skills alongside fierce creativity.
What's most impressive though, is his ability to recycle and retain possession despite his youthful age; often, young players can be far too quick to offload the ball, scared to make a mistake and surrender possession. However, Jones has taken on the responsibility and looks a real prospect under Klopp.
Rafa Camacho
Based on his performances, you'd have absolutely no idea Camacho is naturally a winger rather than a right-back. Driving forward from deep, the youngster has shown the attacking traits we've come to see from Trent Alexander-Arnold, culminating in his first senior goal against Tranmere.
Representing a strong threat, he's displayed the raw ability to suggest he can make the grade at Liverpool, bagging an assist after a pin-point cross found Salah to score against City.
Showing no signs of nerves having been thrown into the first-team in an unfamiliar position, his confidence and versatility will be two big ticks in the box for the manager.
Xherdan Shaqiri
Try telling Shaqiri it's only pre-season I dare you.
He's enjoyed the absolute dream start to his Liverpool career, marking his debut with a goal against Manchester United. It wasn't just any goal either, rising acrobatically after great play by Ben Woodburn to produce a stunning bicycle kick as the Reds romped to a 4-1 win.
The type of goal we've seen from Shaqiri time and time again, it was indicative of what he's capable of offering this Liverpool team. Able to cut inside and produce pinpoint deliveries into the box, he's also got the ability to find the perfect pass for his teammates – another trait we've seen during the course of pre-season.
Combining well with Daniel Sturridge during the US tour, there are real signs he can be a great coup for the Reds.
Naby Keita
While I'm eager not to get ahead of myself given it's only pre-season, Naby Keita has already shown exactly why Jurgen Klopp made such a big deal of acquiring his services. Appearing one or two steps ahead of his opposite number, the midfielder has broken through the lines with incisive passing – just ask Daniel Sturridge who has benefited hugely from his quality on the ball.
Dynamic and energetic in the middle of the park, Keita looks a real talent at the heart of Liverpool's midfield and his pre-season performances have merely increased the hype around him.
Losers
Loris Karius
Having suffered heartbreak in Kiev after a series of high-profile errors against Real Madrid, this was always going to be a tough summer for Karius. Facing pressure from his own fans let alone away supporters, the 25-year-old endured a turbulent reception – a situation made worse by further blunders against Chester and Tranmere.
A warm-up video saw Karius fumble the ball, allowing it to slip through his grasp and into the back of the net. While the cries of 'does he have another concussion?' were distasteful to say the least, his struggles highlight a big problem for Jurgen Klopp ahead of a season in which he'll be vying for his first silverware as Reds boss.
The friendly against Tranmere Rovers was equally poor after the German 'keeper fumbled Ollie Norburn's free-kick despite it being struck straight at him. Jonny Smith was on hand to convert from the rebound while further errors in Charlotte against Borussia Dortmund gave Klopp further food for thought.
Sadly for Karius, his pre-season was doomed after Liverpool confirmed the capture of AS Roma's Alisson Becker for £65million and the Brazilian is now set to take the No.1 spot at Anfield for the foreseeable future.
It's hard to see what the future holds for Karius but with plenty of interested parties, he may well be moving on in what remains of the window.
Divock Origi
One of the players tipped for a defining summer, Origi certainly didn't make good of the chance to be understudy to Firmino for the new season. The Belgium international naturally looked bereft of confidence after a poor loan spell in the Bundesliga, falling into the shadows while Daniel Sturridge shone.
The US tour arguably saw the worst of him; making just 12 touches in the opening forty-five against Dortmund, Origi was on the periphery before failing to feature in New Jersey and Michigan.
A player who caught everyone's eye when he first arrived, he was powerful and pacey in equal measure. The 23-year-old started and scored in both legs of Liverpool's Europa League quarter-final against Dortmund with all the traits to thrive in the top flight. Yet, things haven't panned out as the 2015/16 campaign suggested, leaving the player firmly in the dark ahead of the new season.
From the pre-season viewing, it's hard to see Origi staying at Liverpool much longer. Klopp's decision to insert a clause allowing him to recall the forward in January of last season suggested his future laid on Merseyside, but the club's attacking talent has since moved on, leaving Origi trailing behind.
Adam Lallana
While many supporters have called for curtains to be draw on Lallana's time at the club, I remain a huge fan of his. The 30-year-old has clearly fallen down the pecking order having suffered a string of injuries last season, but his ability to read the play and find a pass in between the lines is a valuable trait.
Pre-season hasn't brought the best out of him though, with the Englishman still appearing a yard off the pace. Given how many midfield options Klopp has at his disposal, Lallana will face a real fight to get sustained game time. Thus, there remains work to be done.
Dominic Solanke
Like Origi, this was a huge summer for Solanke but sparks haven't exactly flown for him either. Such is Sturridge's form that Solanke has struggled to showcase his talents enough to mount a challenge as Liverpool's second-choice striker.
Last season he worked hard, fulfilling the pressing duties carried out by Firmino but the lack of ruthlessness in front of goal has raised doubts Solanke is capable of being Klopp's go-to striker amid a title challenge. Pre-season was the opportunity to quash those fears but having failed to do so, the Englishman is set for another bit-part role.
Joel Matip
The Cameroon international was very much second fiddle to Dejan Lovren last season despite being tipped to partner Virgil van Dijk at the heart of the defence. Thus, pre-season offered a huge opportunity with the Croatian set to be late back to club action after his World Cup involvement. Sadly things didn't go to plan with Matip suffering a tear in his quad, therefore ruling him out of action.
It's hard to think of a better opportunity for Matip to impress and while it's not his fault he sustained an injury, it's led to a disappointing summer.