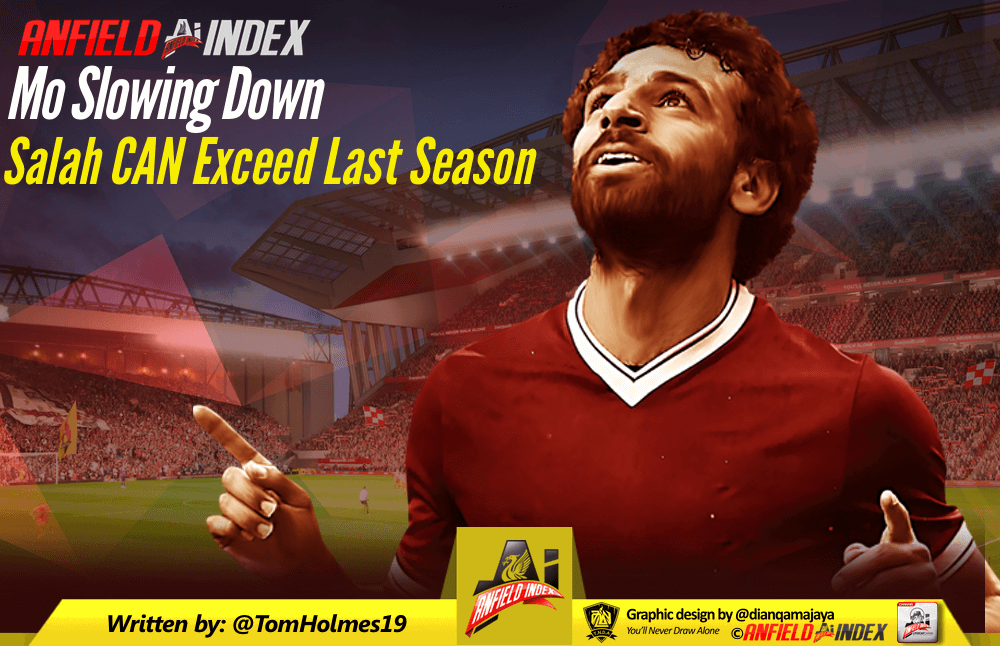 Mo Slowing Down - Salah Can Exceed Last Season

Mo Salah scored 32 Premier League goals and 10 Champions League goals in 2017/18, the record for a 38 game Premier League season. He picked up the Players, Writers and Premier League's Player of the Year/Season award, three Premier League Player of the Month awards, African Player of the Year and more. On top of his 32 league goals, he clocked 10 assists, the joint fifth highest in the PL, and the joint highest of anyone not playing for Manchester City.
In other words, Mo Salah was not only the best player in the Premier League last season and probably the third best player in the whole of Europe, if not better, but he also produced one of the single standout seasons of any player in Premier League history.
On top of that, he produced in what one might call the big games. He scored twice against Arsenal, three times against Spurs, he scored against Chelsea, he scored in the league against Man City and he scored in both legs against them in the Champions League quarter-finals, as well as against Porto in the Last 16.
And that's not including the Roma first leg, which is not only Salah's best performance of the season but also one of the single greatest individual performances in both Liverpool's and the Champions League's history – scoring two goals and creating two more in a game against his former team in a Champions League semi-final to all but drag his team into the final. It's impossible to understate the sheer quality of Salah's performance in this game, scoring two breath-taking goals and giving his teammates two tap-ins to put the game to bed (ish).
Whilst a season of this calibre could not have necessarily been predicted, there were plenty who were sure that Salah would be a top-class signing for Liverpool. I myself said that he was Liverpool's best signing in years, a statement that is easy for me to stand by in hindsight.
So the purpose of this article? To argue that he's going to do it all over again.
The consensus seems to be that Salah is going to drop off slightly. And that's not necessarily something that I disagree with. But a slight drop off from Salah could still end up being an absolutely sensational season by anyone's standards, and I would argue that even if he scores 30 goals in all competitions, which I will argue he can, is still an absolutely elite performance for a winger.
So why don't I think Salah will drop off? The first thing to note is his skillset. Salah is not easy to defend against for a multitude of reasons. Of all the teams we've seen play against him, the only ways that people have found to stop him are to foul him out of the game – as Man United and Stoke did to some success by somehow not getting multiple penalties given against them – or by literally injuring him; and fair play to Sergio Ramos for realising that.
Salah is fast. This is a commonly known fact about him, and also a huge understatement but it simply has to be said. He's absolutely lightning and that makes him very difficult to defend against right away. It's one thing to know you can get outstripped by a forward, it's entirely another to stop him doing it. If you combine that pace with Salah's extremely intelligent positioning and movement (not to mention the ability to generate space for others of Bobby Firmino and Sadio Mané), then it's no wonder that defenders were falling over trying to stop him.
Another hugely important aspect of Salah's game is that not only is he quicker than defenders, but his trickiness and close control make him a nightmare to stop with the ball at his feet. There are countless examples last season where his ability to beat a man in and around the box has directly lead to a Liverpool goal and that goes beyond him outstripping them for pace.
One of the key elements of Salah's overall contribution to this team is his creativity. At 1.89 key passes and 0.25xA per 90, Salah is one of Liverpool's most creative influences. Nobody in the Liverpool squad who has played 1500 PL minutes has more than that, with Oxlade-Chamberlain's 0.27 xA/90 and Phil Coutinho's 0.39 (!!!) the only higher ones of those who started more than five games and played over 600 minutes – Coutinho is obviously gone now and Ox injured.
And then there are his goals. Salah's expected goals is awesome – his xG of 0.77 per 90 is not only the best in this Liverpool team but only bettered by Aguero, Jesus, Kane and Aubameyang of anyone who has played at least 90 minutes. At 25.14, his xG is the second highest in the league behind Kane.
In terms of finishing, Salah is pretty elite. He's scored 32 league goals from 25.14 xG, a ratio of 1.27 goals per expected goal. He takes 4.5 shots per goal in the PL, 22.2% of his shots resulting in a goal. In comparison, Kane takes 6.17 shots per goal, 16.2% of his shots ending up in the net, with a goal per expected goal ratio of 1.12. And Sergio Aguero has a ratio of 1.13 goals per xG, and he takes 4.52 shots per goal, with a 22.1% conversion – almost identical to Salah.
Whether or not these numbers are sustainable is the big question then. To begin with, Salah's xG numbers then. In terms of team creativity, Liverpool will still have Sadio Mané and Bobby Firmino loading bullets for Mo. Despite losing their two most creative midfielders in Ox and Phil, we've invested in creativity, with Naby Keita a huge addition and Xherdan Shaqiri a useful option too. So there's no reason to think that if Liverpool's style of play doesn't change and Salah himself keeps getting in the right place, Mo can end up with a similar xG next season.
And is a ratio of 1.27 goal per expected goal sustainable? Well over Mo's last three seasons, his record-breaking season at LFC and his two previous, excellent seasons at Roma, his goals per expected goal ratio is 1.27. So if it's not sustainable, he's doing a remarkable job of sustaining it. Three seasons is not a purple patch.
And even if Mo does regress slightly to the mean, with a similar xG of 25 next season, it's difficult to imagine Mo not scoring at least 20, which is still elite numbers for a Premier League winger. But to be blunt, for a player of his quality, there's no reason to think he's going to regress at all, especially when he has demonstrated consistently over the last few years his hunger, ability, and mental strength.
One factor Liverpool can be glad of too is that Salah's injury was to his shoulder, which shouldn't have a major impact on his key strengths – his pace, movement and footballing intelligence. Some players lose a yard of pace when they get injured and struggle to come back the same player, but Mo having only been affected in his shoulder, and not for a lengthy period, should be fit and firing.
The key point for me is this – Mo Salah is an elite player. He demonstrated before he came to Liverpool that he was a player near the top of the pile in his position, and Klopp has been able to hone his talents into something truly special. But all Klopp has done is unleashed Salah and got the most out of him; Salah's talent has always been there.
And elite players tend to do elite things. Mo is about to hit the prime of his career and is playing some absolutely special football in a vibrant, exciting attacking team. And there's absolutely no reason to think that Mo Salah won't continue to be an elite player because that's not one season, that's who he is.
In other words, I'm not even remotely worried about Mo Salah not being able to live up to last season. If I'm being honest, I think he could even play better. The evidence suggests that he's about to peak, and who knows how good he could be, especially when you consider the special calibre of players around him.
Mo goes again. As do Liverpool. YNWA.