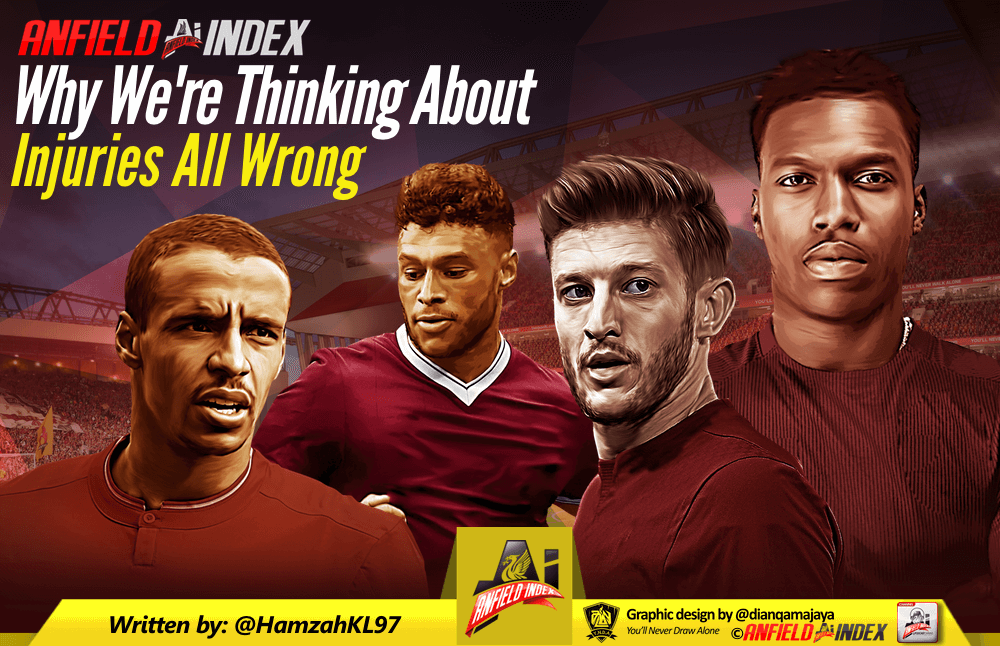 Why We're Thinking About Injuries All Wrong
The season is yet to kick off, but the bodies are already piling up in Liverpool's treatment room.
Joel Matip, having just returned from an injury which required surgery, is back on the sidelines, whilst Adam Lallana, who started a single league fixture in 2017/18, is also injured, after making his way through the first few weeks of pre-season. Ragnar Klavan, with a hamstring issue, joins the injury roster and Oxlade-Chamberlain – a player who struggled with injuries during his time at Arsenal – will be fortunate to get any minutes this season.
Liverpool could well line up for their first game of the season with Joe Gomez partnering Virgil Van Dijk at centreback, or, Dejan Lovren may be rushed back into first team action – at the expense of his own fitness work, which may well increase the likelihood of him picking up an injury later on in the season.

With injuries though, a great deal of the problems are psychological. Watching muscles waste away and shrink is hard for any person. But for athletes, there could be very little more disheartening than seeing months and years of physical pain and work slip away in a matter of days and weeks. Suddenly the struggle is not improving their skill set as a player but instead reaching a level which they were previously at. Playing catch-up, when they should instead be breaking new ground is tough to take. Even when a player is back on the pitch though, the battle against the injury is far from over.
First, the player is tentative, after working on rebuilding the muscle strength around the injured area. It doesn't quite feel right, and definitely doesn't feel the same. But it takes time to simply regain fitness, let alone get into that elusive run of form, and comfortable groove which seemingly almost every player is in when injury strikes. A few sessions on the training pitch and you start to feel alright, you were initially wary about the injured area, but now you're a bit more comfortable.
Then there's a moment. A player might feel it themselves on the training pitch, or fans might see it on the field. A hesitancy, or a tightness. The player goes to do something they previously could, and suddenly realises they can't. Or a player beats a man, and instead of accelerating away as they used to do, they do all the same motions, but just can't seem to break away.
The psychological monkey is hard to shake, almost like a tug back on the reins everytime the player tries to push themselves. It's extremely disheartening for players when they realise they're essentially restrained. Unable to reach the heights they once could. These injuries aren't easy to cope with, and quite often as fans, we forget that.
Daniel Sturridge has far too often been on the end of online stick for injuries that are out of his control. Now Adam Lallana is finding himself as the new target for fans fed up with injured players. In some ways, media commentators, such as ex-professionals are in some way to blame for this. Indeed, pundits with little to no appreciation of injuries and the severity of them are happy to criticise and state that players should "man up", or brave the pain.
The treatment of Loris Karius is perhaps the most obvious example of all. Having been diagnosed with a concussion following the Champions League final, some pundits voiced their scepticism of professional medical advice or made joking references to the concussion itself.
There is a complete lack of appreciation for the severity of injuries and the impact of them. Far too often we are caught up with the wages players are paid. But for a person to be physically incapable of doing their day job is something anyone and everyone may find relatable and challenging to cope with. Not being able to walk when your job is to play football is a problem which requires support and empathy from the people around the player. Yet fans are far too eager to malign a player for their injury record.
At the end of the day, for all the money they are paid, and for the immense privilege it is to play football as a profession, the players are still people. They still have those raw and fragile emotions like the rest of us. We see it when players score goals – take Daniel Sturridge's celebration after he scored against Villareal in the Europa League semi-finals, after two tough seasons of injury problems. He was absolutely ecstatic, pumping his arms, sprinting to the corner flag and his eyes wide open and glistening. When an injury takes those moments away from you, and for Lallana, Chamberlain and Sturridge in particular – the ability to represent your country at a World Cup semi-final – it's extremely hard to take.
It makes no sense at all to be angry or frustrated with a player when they're injured because I can guarantee that they are far more frustrated at an injury than any other fan could be. If anything, when the squad looks thin, it's the manager who should take responsibility for assembling a squad unable to cope with the natural strains of injuries.
Indeed, when players come back from an injury too, the expectations upon them are burdens to bear. Instead of getting an opportunity to ease themselves back into form, fans place all their hopes and expectations on players who we should be more patient with. If we cast our minds back to the January of 2016, it's frankly ridiculous how much expectation and hope we vested into Sadio Mané once he came back from the AFCON. And this expectation is the same for any injured player with a sizeable influence on the side.
It is immensely frustrating to see such good players unable to contribute, especially when it's plain to see the club needs their skills and abilities. However, maybe it's time we cut these players a bit more slack. As mentioned earlier, injuries have considerable psychological baggage, and perhaps focussing in a critical manner less on those players who are unavailable for selection would be conducive to a better experience for both fans and players alike.