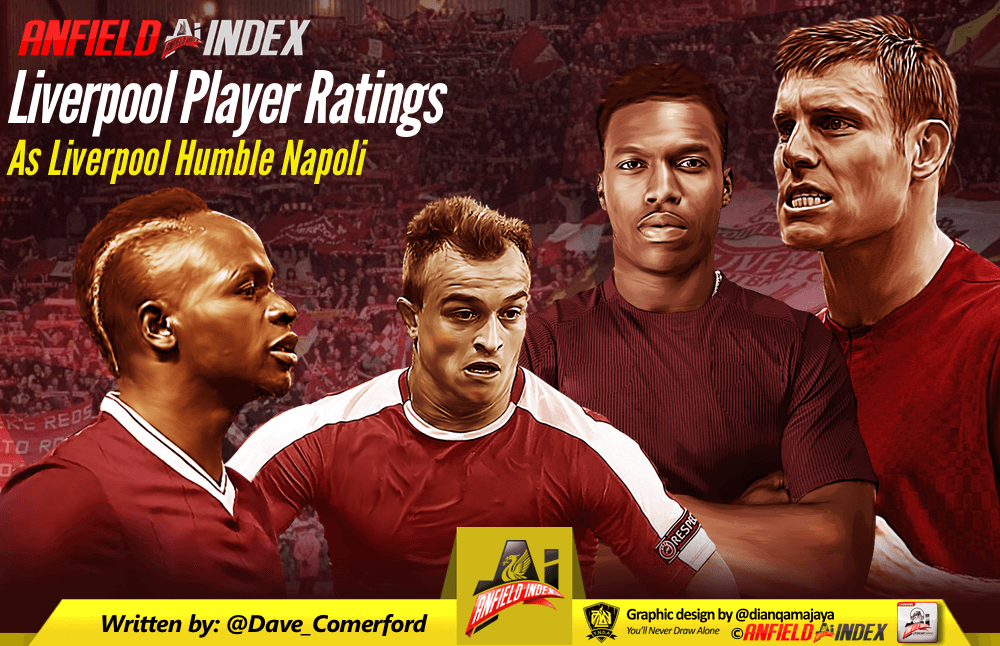 Liverpool 5-0 Napoli: Player Ratings as Liverpool humble Napoli
Liverpool laid down a marker with the new season on the immediate horizon as they thrashed Napoli 5-0 at the Aviva Stadium.
James Milner, Georginio Wijnaldum, Mohamed Salah, Daniel Sturridge and Alberto Moreno were all on target for the rampant Reds in their penultimate pre-season friendly.
Jurgen Klopp's side flew out of the blocks and built a lead which was never threatened, dictating the tempo throughout.

Here's a look at how the 21 players fielded by Klopp fared in Dublin.
Alisson Becker – 6
It was a solid enough debut for the world's most expensive goalkeeper, the highlight coming in the early stages when he found Mohamed Salah with a quite magnificent 70-yard pass in the lead-up to the opening goal.
If we choose to nitpick, though, we could pick out a few unconvincing moments. Alisson wasn't shy to sprint out of his goal and nearly got caught out by Lorenzo Insigne, who lobbed the ball over him but couldn't quite latch onto it. Later, he mishit a clearance and Napoli very nearly capitalised, with Arkadiusz Milik firing just wide.
There was then a slight misjudgement as he went to deal with Insigne's powerful strike from distance, which he rather bundled past the post. In general, he dealt well with crosses, which was refreshing, but he did miss a delivery which found Jose Callejon prior to his disallowed goal.
Nonetheless, he was composed when called upon from set-pieces and never really looked like relinquishing his clean-sheet. More to come when the initial nerves settle.
Nathaniel Clyne – 6
It was good to see Clyne aggressively getting up the pitch in the early stages, and his high pressing was crucial in the build-up to the opener as he snatched possession. He wants his starting role back, and if he can offer more in that final third, he will really push Alexander-Arnold. Clyne was characteristically efficient at the other end prior to his 75th-minute withdrawal.
Virgil van Dijk – 7
Van Dijk seems to hoover up the sevens in the player ratings pieces and this was a textbook display from the Dutchman. If anything, he looked even more composed than he did last season as he operated at a leisurely tempo. Assured.
Joe Gomez – 6
Gomez wasn't quite as solid as his partner, but that is perhaps to be expected. For the most part, he impressed in his preferred central role, avoiding the lapses in concentration which were a bit too common last term. He looks a nailed-on starter until Lovren returns.
Andrew Robertson – 7
Robertson was very attack-minded in this one and his approach bore fruit. The Scot, enjoying the benefits of a full pre-season, produced a number of incisive long balls and linked-up very nicely with his team-mates on the flanks. The one cause for concern was the amount of space he allowed the dangerous Callejon – he could be punished for such carelessness in future.
Georginio Wijnaldum – 7
This was an important game for Gini after his limited pre-season minutes and he managed to get himself on the scoresheet. He didn't find the back of the net enough in 17/18 so hopefully, his header was a sign of what's to come, though if Klopp intends to use him in the deeper role he occupied from the start, his contributions may be more understated.
James Milner – 8
Judging by this fantastic performance, Milner honestly seems to be improving with age. He took his goal brilliantly and created another moment later with what was genuinely an inch-perfect cross. His substitution following the clash of heads with Mario Rui looked precautionary, and he appears to have fought off the increased competition to nail down his spot in the first eleven.
Naby Keita – 6
There are 'loud' Keita performances, and there are quiet ones. This was the latter. Typically, the Guinean was absolutely everywhere in his 70 minutes on the pitch, defending in the rare instances when Liverpool came under pressure and linking up nicely with the front three when they attacked. He will be an invaluable asset.
Mohamed Salah – 7
This wasn't Salah at his very best, but his electric pace still proved an absolute nightmare for the Napoli defence. Already, he has recovered full fitness, and that in itself is a frightening prospect. There was slight frustration in the first-half when he lingered in possession and wasted a great opening, but he more than made amends with a perfect strike for his customary goal (never mind the foul in the build-up).
Roberto Firmino – 7
Firmino was phenomenally sharp for a man who has had only a week of training and slotted in seamlessly. There was plenty of his trademark pressing, some nice link-up play and there would have been a goal if he wasn't wrongly flagged offside. Hopefully, he can get some more minutes under his belt against Torino and progress even further.
Sadio Mané – 8
Mané was really up for this one in front of a crowd of more than 50,000 and looked lively throughout his hour on the field. His assist for Milner was so measured and so well-executed and he could have had one himself shortly after as he found plenty of space in the box, only for his shot to be blocked. His movement was top-notch, and it made him an almighty handful for defenders. Any full-backs watching would be quaking in their boots.
Substitutes:
Xherdan Shaqiri – 8
Shaqiri did not appear out of place at all on only his second appearance for the club. He absolutely flew out of the blocks in the second half, demonstrating his signature attributes – blinding pace and stunning strength – to the horror of the ragged Napoli defence. His diagonal ball to Divock Origi in the lead-up to the fourth was perfectly-weighted and every time he had the ball he was trying to make something happen. Klopp will be absolutely delighted by his lightning-start.
Fabinho – 6
We're quickly beginning to understand what Fabinho will bring to the team. He's not a man who grabs the headlines – far from it – and unless you're paying close attention, you might miss him, but he works so very hard in the middle of the park. This was a characteristically under-the-radar cameo.
Trent Alexander-Arnold – 5
It was no surprise to see the returning Trent a touch off the pace. He couldn't offer his usual threat going forward and very nearly cost his side their clean-sheet when he clumsily conceded possession in the dying minutes. Fear not, though, because it's early days yet in his particular case.
Alberto Moreno – 7
Moreno did very little before or after his goal but merits a 7 for the venom in the strike and the initiative he showed in charging forward into space. Some reckon he's better utilised as an auxiliary winger than a reserve full-back. One to keep an eye on.
Daniel Sturridge – 9
Sturridge has us waxing lyrical once again. Two early chances to add to his pre-season tally went begging, the first effort proving insufficient to test the goalkeeper and the second, a delightful dink, very nearly humiliating him. However, the third time was a charm for the resurgent Englishman, who calmly stroked home the rebound from Origi's strike. He wasn't done there, though, and assisted Moreno with a phenomenal long ball after fashioning some space with a bit of neat skill before nearly creating another when he threaded through Solanke late-on. He could have headed a second under-pressure, but his performance as a whole represents yet more cause for optimism. We saw Sturridge the finisher and Sturridge the creator. Very exciting.
Curtis Jones – 6
A slightly harsh six for Jones, maybe, given that he once again oozed confidence and set Sturridge through on goal with a well-weighted pass, but the amount of space handed to Sturridge by the Napoli defence was quite criminal. Nonetheless, it looks increasingly likely that the learning youngster has a part to play in the first-team this season.
Dominic Solanke – 6
This six, by contrast, is a little kind. Solanke used his strength well at times, and his pressure led to one of Sturridge's 1-on-1 chances. However, he really ought to have scored his side's sixth when he was played through but he fired it too close to Karnezis. It's a shame Solanke hasn't found the net more this summer, as it would have done a lot for his confidence.
Divock Origi – 6
Origi was playing to put himself in the shop window and he looked OK after coming on. It was his relatively tame shot which was palmed into Sturridge's path.
Nat Phillips – 7
Phillips has quietly had a very good pre-season and made a difference from the bench, producing an excellent block to deny Simone Verdi after Trent's aforementioned error. The 21-year-old has earned the right this summer to be given a chance in the cup competitions.