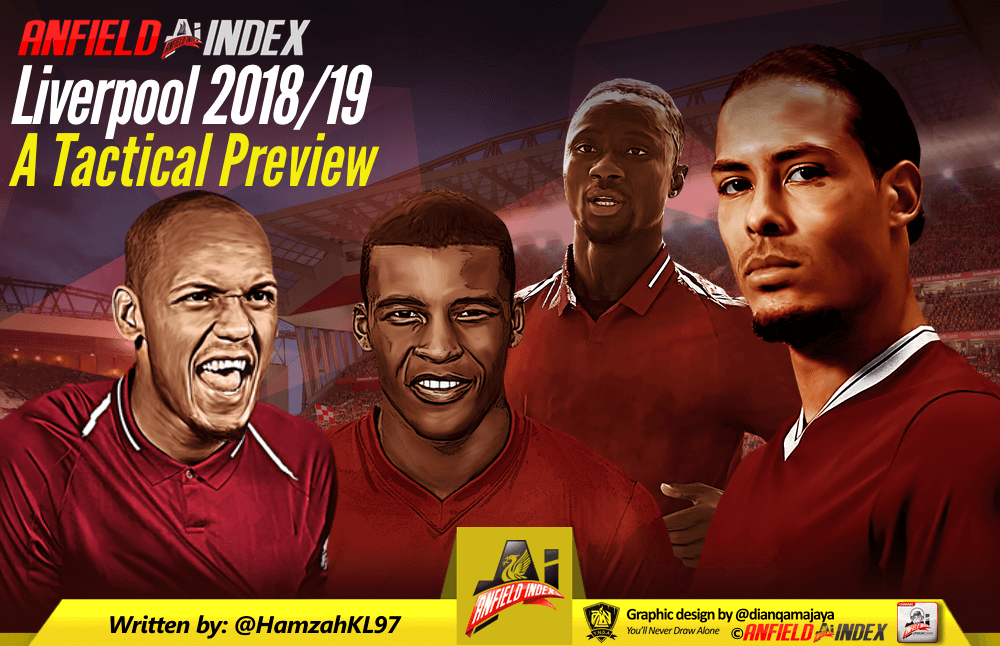 Liverpool 2018/19: A Tactical Preview
How do Liverpool play? It's a simple question, but with the arrival of both Naby Keïta, Fabinho and Alisson, as well as the progression of Liverpool's tactics under Jürgen Klopp since he joined in 2016, the answer requires a more detailed response than the question initially indicates.
There are three main tactical phases in football: on-ball, off-ball and the transition. With Liverpool's signings and their skillsets, the on-ball phase may be the one most different this season. Hence, we'll start with that one.
On the Ball
Liverpool's transfer strategy over the past three seasons has been a strong indicator of how Liverpool wish to play. The signing of Van Dijk illustrates this best – a player with considerable on-ball intelligence, but also an individual with the physical and technical qualities to be able to defend large spaces and if need be, when exposed in one-on-one situations. The signing of Van Dijk (and nobody else when the deal hit a wall in the summer of 2017) illustrates a commitment to an attacking style of football which demands a team positioned high up the field, and a propensity to be caught out when overcommitting, but also a requirement for the centre-back to contribute to the build-up and be an active contributor in all phases.
Liverpool's interest in Nabil Fekir, whilst ultimately fruitless, belies Klopp's own blueprint for the midfield and how he wants them to play. Fekir, as a flexible attacking midfielder who contributes not only through goals and assists but also through his pressing clearly marks out the qualities Klopp wants to see within his midfield, specifically from the most attacking midfielder.
The most recent pre-season match, against Torino, saw Wijnaldum and Keïta used alongside one another. Over the past season, we've usually seen a midfield composed of a sitting midfielder (Henderson), a "bridge" centre-midfielder (often Wijnaldum), and then an attacking midfielder (Oxlade-Chamberlain) as part of a staggered midfield three. What we saw against Torino though was a more fluid approach with respect to the two midfielders ahead of the six. They either sat back and supported build-up or drove forward depending on the context of the game. Wijnaldum scored with a driving run, akin to those Oxlade-Chamberlain would make, whilst Keïta hung in and around the box for the opening 20 minutes of the first half. Both players were attacking and floated around the half-space, between the Torino CBs and FBs. What this indicates is that, unlike last season, where Oxlade-Chamberlain functioned as an offensive link between the midfield three and the front three, both Keïta and Wijnaldum will look to actively contribute in an offensive manner, and position themselves higher up, but also drop deeper when the other moves forward (and vice-versa).
The more aggressive positioning of the no.8s means that Liverpool are looking to press and turn the ball over in positions even closer to the opposition's goal, i.e. the most dangerous areas on the pitch. The high positioning of the FBs (noted below) will aid this, as pressing usually closes options off by shepherding the ball towards a touchline.
Fabinho's role in instigating attacks is very much linked to the positions of the two number eights ahead of him. His quick release into the CMs is extremely important when trying to move an opposition defence side-to-side in order to create gaps to exploit. One feature which distinguishes him a little from Henderson is his positioning relative to the CBs. Henderson would very much like to drop in deep, and take the ball from the feet of the CBs – perhaps something he picked up when playing under Brendan Rodgers – whereas Klopp has instructed Fabinho to not do so, and instead allow the CBs – who have considerable passing range – to play their own game. Having centre-backs who contribute to buildup, and can bring the ball forward can take opposition players out of the game and also gives Liverpool an extra passing lane and line with which to position themselves between the opponent's midfield block.
Fabinho's signing will be useful for Liverpool's initial build-up, and the ability to move into an offensive position quickly through bypassing the opposition AMs or CMs. The positioning of Keïta and Wijnaldum, and even Mané and Firmino (who both like to roam deeper) will be key here.
One issue that is yet to be addressed though, is that of width. Mané likes to roam infield, and Salah often takes up a central position. The issue of width is contextual – it's clear Liverpool's preferred channel to attack through is the centre, and the addition of Naby Keïta, in particular, should aid that; in most instances, Liverpool will be fine simply focussing on the central channel. However, on the occasion that the opponent's central block is too tough to break through, or go over, Liverpool (in the spirit of We're Going on a Bear Hunt) will have to go round it (the opposition defence).
The following screenshots are from Liverpool's draw with Manchester United in 2017/18, with Manchester United one of the best examples of blocking out the central channel, and defending tightly, meaning the only viable offensive channels are out wide – areas which Liverpool struggled to exploit back in October 2017.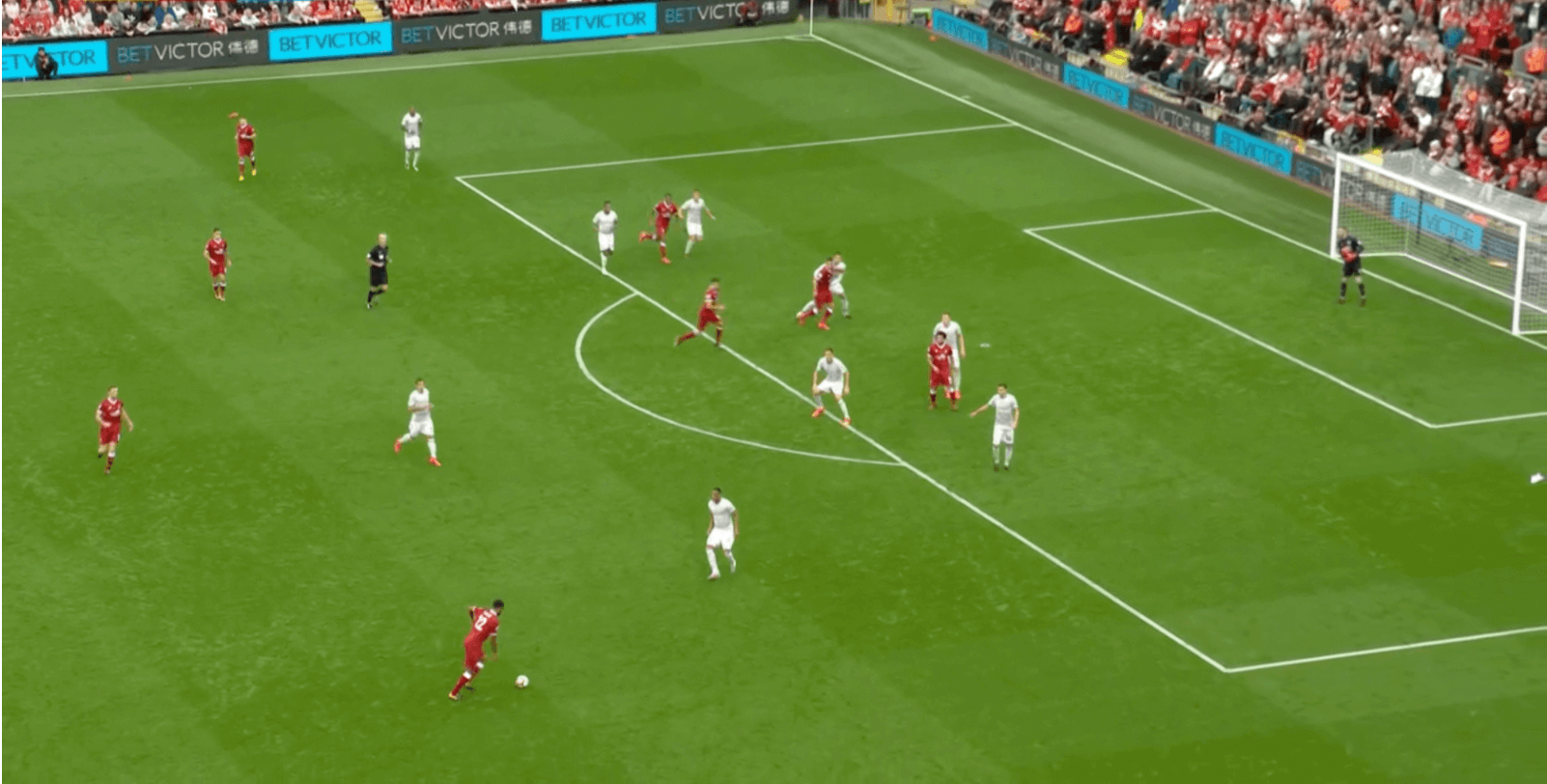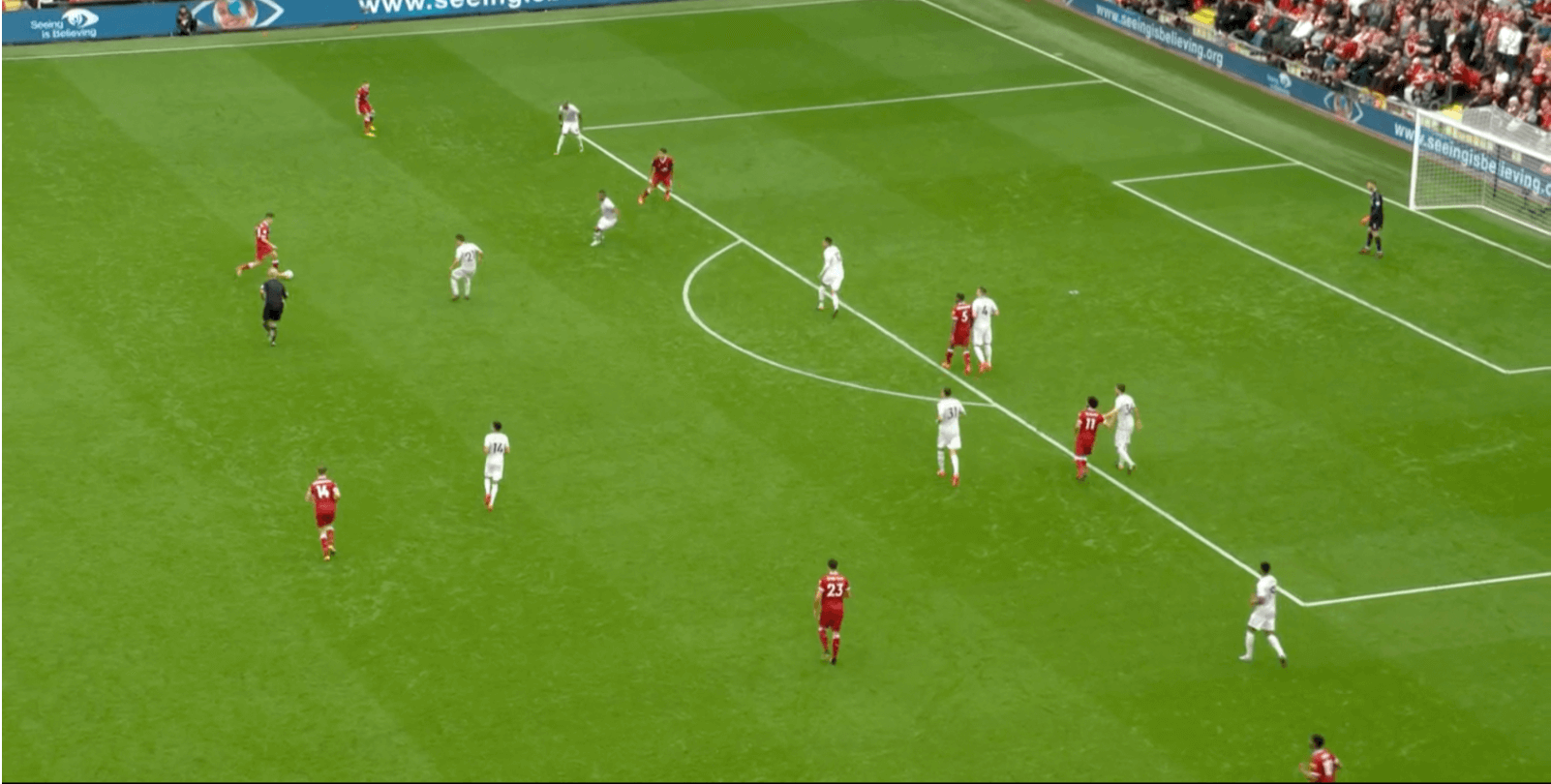 The consequence of this width issue means that Liverpool's FBs will have to push exceptionally high up the pitch to stretch opposition defences, and in order to take up positions where they can cross to good effect. Fortunately, this need not come at the expense of defensive strength, as one of the number 8s can drop alongside Fabinho, Van Dijk and Lovren to cover on the counter-attacks.
Up top, we should be seeing more of the same from Liverpool. Salah in an inside-right position, Mané floating from the left side, into the 10 position, and Firmino as a striker-cum-attacking midfielder. The support and link up between the no.8s and the forwards may increase though, especially as they attempt to run in behind, and support counter-attacks.
Alisson's on-ball ability has been much discussed, but his kicking and throwing accuracy should be able to instigate counter-attacks far more frequently, and also support build-up from the back. The cumulative effect of all of this though is that when on the ball Liverpool should be more potent with respect to their slower-buildup, which pairs nicely with the extremely effective pressing and fast build-up game. Instead of relying on the forwards a great deal, the central midfielders will likely be more involved in chance-creation and breaking defensive lines.
Off the Ball
Usually, when Liverpool lose the ball, they immediately attempt to regain the ball with an aggressive counter-press, as the opposition attempts to transition into an offensive formation. The addition of Keïta, an incessant, supremely talented interceptor and tackler, will no doubt help this. However, this is largely to do with the transition, as will be discussed later.
What usually characterises Liverpool's off-ball structure is a 4-5-1, in which Salah goes up top, and Firmino fills in as the right midfielder. This midfield five is not flat though, as the six (Henderson or Fabinho), will sit slightly deeper to stop a central space appearing in which opposition no.8s can pick the ball up and run onto the CBs – as happened against Chelsea in the Community Shield.
The work of Mané and Firmino in supporting the FBs is extremely important especially against top sides such as City in the PL, or any top European side in the CL.
What we saw in the later stages of last season though was a defensive rigidity and stability, with Alexander-Arnold, Lovren, Van Dijk and Robertson working well as a unit, with the efficiency of their offside traps testament to this, alongside the obvious statistical improvement with respect to clean sheets.
We should hope to see more of the same with regard to Liverpool's off-ball positioning, but be prepared to see Liverpool press higher, knowing they can with the athletic abilities of Van Dijk to cover behind, the tackling abilities of Fabinho, and the pressing intent from Keïta.
Transition
As noted earlier, Keïta is particularly adept and aggressive when it comes to pressing, and through playing him as a no.8, he will be able to spring counter-attacks from dangerous positions. As when he is likely to win possession, the opposition forwards will be isolated from the game, and at least one CM will be too, and perhaps even offensive full-backs as well. He will be functioning in the same vein as Oxlade-Chamberlain did, and his dribbling ability means on the transition he can draw out opposition players and then numerically overwhelm the opposition with the supporting work of the LFC forwards.
The transition is the most important aspect of Liverpool's game as a pressing side, and what we should see when we win possession from deep is that a CM gets ahead of the ball, the FBs immediately push forwards, and the Liverpool wingers keep a wide line and run forward too. In doing so, Liverpool, from a previously compact position will make the pitch as large as possible. By expanding the size of the pitch, there is more space to exploit, and one of Liverpool's strengths in transition is committing with numbers. There are already 3 forwards, the FBs and at least one CM too who will contribute to progressing into an attacking formation, and this allows Liverpool to overwhelm opposition sides as they track back, often short of numbers, and constantly sequestering space.
Transitioning from attack into a press will greatly be aided through the arrival of Keïta and Fabinho too, who are adept at tackling. What Fabinho and Wijnaldum in the same starting XI give is a greater degree of flexibility when it comes to counter-pressing. Fabinho, will be aware Wijnaldum can fill in as a no.6, and thus can step up and attempt to win the ball: if he's successful, Liverpool can attack, if not, Wijnaldum's temporary cover and experience as a no.6 will mean the risk is managed. When we incorporate Henderson into this too, someone with exceptional energy levels, Liverpool will be able to press more consistently across the 90 minutes, and higher up – and with the ball further away from Liverpool's goal, the less chance there is of Liverpool conceding.
The transition is also about taking up positions where a player can immediately affect the game. With a direct player, such as Naby Keïta, who likes to receive the ball in the half-space, but also likes to dribble at speed onto opposition defences, and through midfield, Liverpool's transition play can be far more effective, especially with respect to getting the ball forward as quickly as possible, into the forwards, instead of winning the ball and allowing the opposition defence and midfield a chance to organise back into an off-ball structure.
This is a brief, general and introductory look into Liverpool's tactical setup this season, and like last season, as Liverpool encounter issues it may well be subject to change. For a more detailed tactical look at specific games, check out my post-match tactical breakdown pieces which will include screencaps and a more flexible,  closer, and tailored analysis.
This season promises to be a memorable one, but tactics only form part of the story. The first match of the league season, against West Ham, may well be insightful as to whether Liverpool still have tactical work to do in order to get where they want to be.