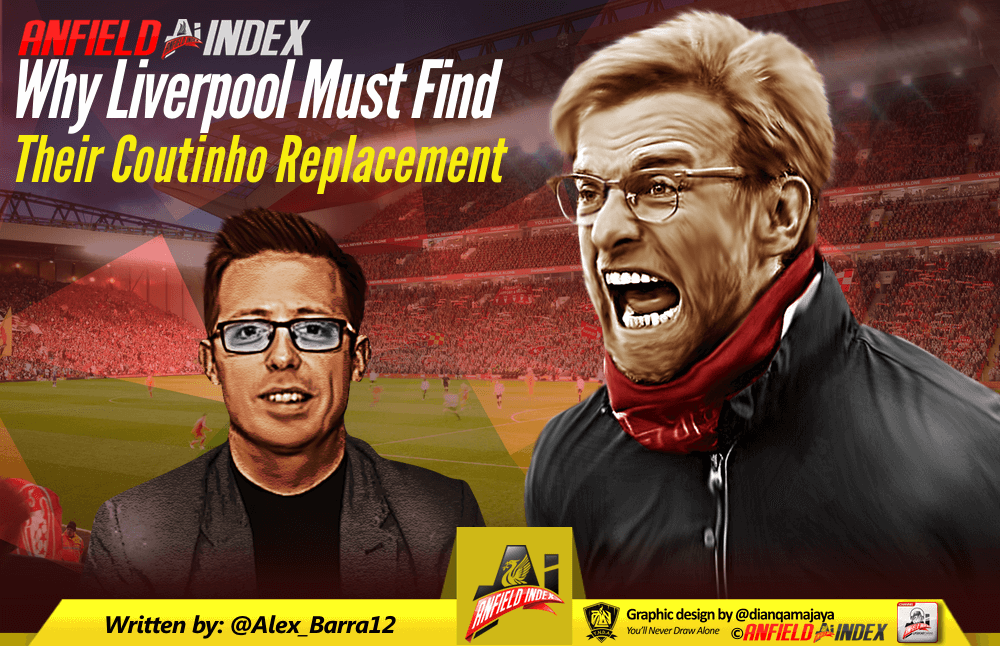 Why Liverpool Must Find Their Coutinho Replacement
Liverpool's pursuit of Nabil Fekir looks to be over (for the time being), and with it has come another question: do Liverpool currently have their optimal squad? Or should they return to the market once more, with the intent of finally replacing the man who formerly practised his magic at Anfield?
Well, quite simply, yes. It might not be Fekir, nor might it be someone who will fit what Coutinho did immediately, but the Reds aren't a complete team: at least not yet. If they want to have a hope of catching Manchester City in the seasons to come, a Coutinho replacement is imperative.
As of right now, Liverpool have 21 goals unaccounted for in the losses of Coutinho, Emre Can and Alex-Oxlade Chamberlain. Say Naby Keita gets to Emre's 5 goal haul; Liverpool would be relying on new signing Xherdan Shaqiri and an unreliable, if not potentially revitalised Daniel Sturridge to compensate for the remaining 16 between them. Not impossible, but not enough, especially given Mohamed Salah's season last year was an extremity of the most incredulous sort, and he shouldn't be asked to break records again. Liverpool still need goals.

Fekir clearly wasn't simply a fanciful idea that was ditched at the last second, either. The troubles with the transfer were due to medical issues, and whether the right deal could be structured. It's also known that Klopp is willing to wait for the right signing (his pursuits of Virgil van Dijk and Naby Keita are testament to that, as well as the fact he didn't replace Coutinho in January following the Brazilian's departure.)
But being simply happy with the squad as it is now would be foolhardy, especially given what could potentially be a title-winning side in the hands of the big friendly German that FSG had been courting for years. There should be no excuses: now is the time for Liverpool to build the squad they believe can lead to a title.
The appetite for Fekir to happen really is bewildering. Would it be such a bad thing if a little bit of patience and nurturing was shown with the outstandingly talented Curtis Jones instead?

— Simon Hughes (@Simon_Hughes__) July 26, 2018
While Jürgen Klopp possesses many enviable managerial traits, turning a seventeen-year-old Curtis Jones into the proto-Fekir is simply not going to happen.
Not least because in Klopp's entire manager career, he's played seventeen-year-old players for a combined total of 47 minutes (per Anfield Index's Simon Brundish.)
The sentiment, obviously, isn't that Curtis Jones is the ready-made Coutinho replacement that many are seeking. It is, rather, that Klopp should be allowed to bring through a young player if he feels his first option, Nabil Fekir, is not a viable signing – thanks to Lyon's alternative ACL repairs. But the fact is, Liverpool are too close to the final product now to be taking such risks.
Klopp's track record is good in this field too, these people say. Why, just look at Mario Götze, and you'll see how Klopp is the kind of manager who doesn't need to buy his stars!
There are a few problems with this approach: Mario Götze was a once in a generation talent – the kind that wins you World Cups – and showcased his abilities in the first team while Dortmund were rebuilding. He was given ten league appearances in the 2009/10 season after being promoted from the Yellow and Black's Under-19's. The following season, Götze's 33 appearances propelled his side to the first of two title wins under Jürgen Klopp.
Could Klopp recreate that with one of Liverpool's youngsters? Perhaps. Should he? With a side that was just in a Champions League final? With a side that plays some of the most dazzlingly effective attacking football in Europe? No, he shouldn't. Nor should we believe that this squad is as capable as it could be, not when Nabil Fekir was all but confirmed as a Liverpool signing until a dodgy knee got in the way.
That's not to say, however, that the intersection of "Apt Coutinho replacement" and "Fekir alternative" in the Venn diagram will be attainable this summer. Perhaps Liverpool will have to wait for their man: it could be Christian Pulisic – a signing that would reflect Klopp's interest in developing younger players who've already proved their worth on a big stage (see the capture of Marco Reus from Borussia Monchengladbach in 2012 as evidence of that.)
That signing will have to become part of a multi-faceted midfield, or maybe become the number ten in a changed system. They will have to be fluid in attack, capable of playing in multiple positions and be the link between Liverpool's midfield and attack.
That player might not arrive at Anfield in the last three days of the transfer window, but with Klopp's project so close to its peak, it would be foolish not to make that capture in the coming months. For a side that many are perceiving to be Manchester City's closest rivals this season, it could be the final puzzle piece.