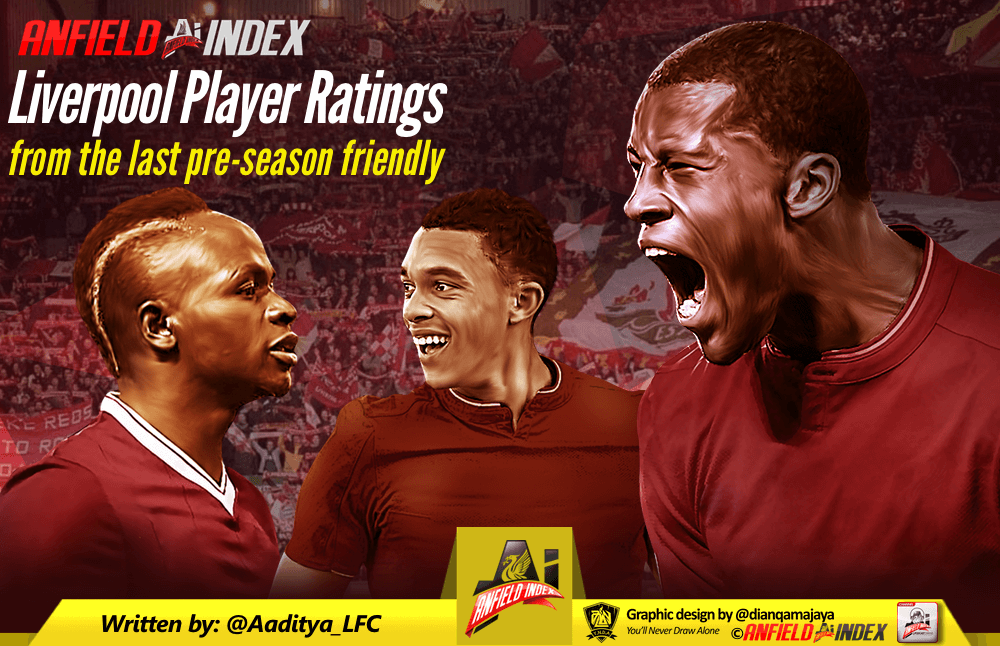 Liverpool 3-1 Torino - Player Ratings from the last pre-season friendly
Liverpool beat Torino 3-1 at Anfield in the last game of their pre-season calendar, as Jurgen Klopp's men found it a little harder than it was against another Italian side at Dublin in the weekend.
Fabinho missed an early penalty, but first-half goals from Roberto Firmino and Georginio Wijnaldum put the Reds in command before Andrea Belotti's header put the Italian side back in the game. Daniel Sturridge then scored late in the second half to seal the win for Liverpool.
Here's how each player fared as pre-season action returned to Anfield after four years.

Alisson Becker – 6/10
He had precious little to do all game. Once again, his distribution was very tidy. He could do little about Torino's goal when he was let down by Nat Phillips and Alberto Moreno. He made one neat catch from a Simone Edera shot in the second half.
Trent Alexander-Arnold – 7/10
He put in some superb crosses all evening and linked up reasonably well with Salah and Wijnaldum in the first half. He was also very good in covering up at full-back as the Torino wingers threatened to run in behind him. His corners were poor though.
Nat Phillips – 6/10
He shouldn't be losing sight of Belotti's run for the goal that Torino scored. But that aside, he looked calm, strong in the air and very assured with the ball at his feet.
Virgil van Dijk – 6/10
Won almost all his headers, played cross-field pings with arrogance, and let nothing get past him. Just another day at the office for the big Dutchman, who looks well-primed for his first full season at Liverpool.
Alberto Moreno – 6/10
In his fifth year at Liverpool, Moreno still hasn't gotten rid of the disease of standing with his hand behind the back when facing a winger about to cross the ball. He did that again, as De Silvestri crossed to Belotti for Torino to score. He looked good going forward and linked up really well with Mane.
Fabinho – 6/10
Missed a penalty, had a sloppy pass or two in the first half, but there are encouraging signs for sure. He's always on the move looking to set off the front players and played some nice cross-field pings as well.
Naby Keita – 6/10
Solid, if unspectacular from Keita. He had several attempted link-ups with the front three, but none of the moves really seemed to stick. His defensive positioning was good, as he made a decent number of interceptions in the first half. Klopp was annoyed with him for not providing more cover to Moreno when Torino scored their goal.
Gini Wijnaldum – 8/10
Liverpool's best player on the night. His running from midfield beyond Roberto Firmino gave Torino plenty of problems, and it showed with his goal on the night. As soon as Salah brought down Phillips's pass, Wijnaldum was on the move, and Firmino laid it on a plate for him to slot past Sirigu. He had another similar chance later in the half when Salah put him through, but Sirigu saved well.
Mo Salah – 6/10
He looked sharp, Torino looked terrified of his pace, but a loose touch at different crucial moments let him down. Maybe, he's getting the loose ones out of the way before the real stuff begins on Sunday.
Sadio Mane – 7/10
Once again, he looked a threat every time he got on the ball. He was the one from the front three that didn't look at all sloppy at any point in time. The final ball was a bit lacking after beating his man on plenty of occasions, but that will come as the season develops.
Roberto Firmino – 8/10
He looked to be playing at half his usual level, and yet how can you knock someone who ended the night with a goal and an assist? Fantastic feet in the box to set up his deflected shot for his goal, and played a peach of a ball through to Wijnaldum to double Liverpool's lead. In only his second outing of pre-season, he understandably was a little sloppy on the ball though.
Substitutes:
Danny Ings – 6/10
Had two excellent chances to score soon after coming on at half-time, but fluffed his lines on both occasions. He pressed well and never stopped moving throughout.
Xherdan Shaqiri – 7/10
The little fella with the big calves is a bit good, isn't he? His ability to see a pass, with his movement and the pace of it, is going to be a nightmare for a lot of Premier League defenders this season. He rounded off a neat evening's work with the pass of the match to set up an easy headed goal for Sturridge.
Daniel Sturridge – 7/10
He looks sharp, he's playing with a little bit of swagger, he seems to love being back on the field for Liverpool, and he's scoring goals again. Sturridge ended pre-season as Liverpool's top-scorer. What's not to love?
Marko Grujic – 6/10
Unspectacular, but no mistakes, nothing to knock him down for. Also showed he could play at centre-back as well, after being pushed there for Henderson to come on.
Adam Lallana – 6/10
A couple of neat Cruyff turns aside, Lallana contributed very little.
Andrew Robertson – 6/10
He was his usual self, bombing up and down the left flank, while always being solid in defence and letting very little get past him.
Curtis Jones – 6/10
His first involvement of the day was a shot at the Kop End, from 25 yards out, which he scuffed wide. As has been the case all pre-season, his confidence and ability has been a breath of fresh air.
Nathaniel Clyne – 6/10
He got caught out once when he played Niang onside late in the game. Was eager to join the attack as well, but as Clyne so often does, he had zero end-product.
Jordan Henderson, Loris Karius, George Johnston, Rafael Camacho – N/A
Nice for the skipper to get his first run-out of the season. Nice for Karius to receive a warm welcome back to Anfield. Nice for Johnston and Camacho to have a senior run-out at Anfield.