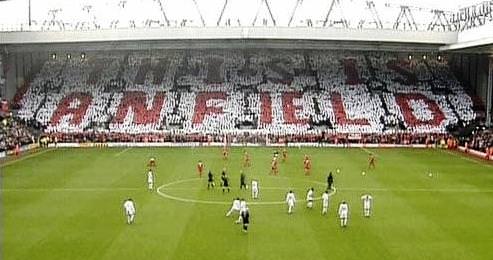 The Saturday Showdown | Liverpool Vs United

What is undoubtedly the biggest game in England, and one of the biggest in world football returns this Saturday and Liverpool will be looking to ensure that United's recent Anfield hell continues. Its still early doors this season but this game is a definite 6 pointer, should Liverpool win they would close the gap on their rivals to 3 points, lose and United will extend the gap to 9 points. Given United's flying start to the season, for Liverpool to be within 3 points of the pace setters after 8 games would be a significant improvement on the same period last season, but its safe to say that the fans and the club would rather be the ones extending the gap not trying to close it down. So before we crack on lets have a look at both clubs stats for the season so far.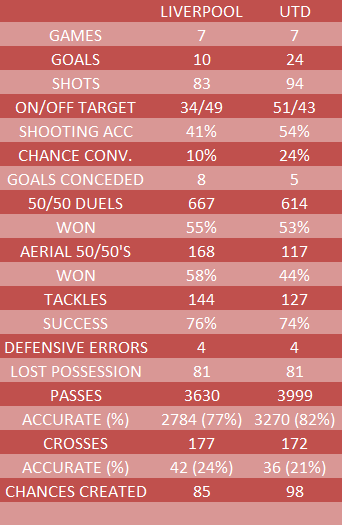 In terms of knocking the ball about, creating chances and fighting for possession both clubs are fairly evenly matched, the big difference though is that United have been far less wasteful in front of goal, converting almost a quarter of their chances into goals compared to Liverpools 10% chance conversion. This is a game though, where form goes right out the window and the winner is usually the team that wants it most on the day – unless Fergie tells the ref otherwise.
So far this season there has been a lot of talk about this amazing young squad that Fergie has assembled, and a lot of talk about the amount of money that Liverpool spent over the summer. Firstly Liverpool, who over the summer spent around £52m ans managed to strengthen the squad in goal, defence, midfield and upfront – bringing in Adam, Enrique, Henderson, Downing, Coates, Doni and Bellamy – whilst Utd brought in Young, De Gea and Jones for around £50m. Now straight away many will point to Liverpool signing Suarez and Carroll in January, but the important thing to point out is that if you take into account the money Liverpool have made since the January transfer window, all of which was reinvested into the transfer budget, Liverpool actually spent LESS than United. Some might think this section to be a bit pointless but if the issue of how much Liverpool have spent this year doesn't come up either before, during or even after the game on Saturday I will be completely amazed, so it was best to set the record straight on that matter as soon as possible.
Secondly, Fergies youthful team. It is true that Utd now have a lot of fairly young players in their squad and again a lot will be made of this before the game, probably during it and regardless of the result….after the game – its becoming a bit of a media fascination. Now if you count out players aged 24 or younger then as far as I can see Utd have 12 players in this category – Jones, Evans, Anderson, De Gea, Smalling, Hernandez, Nani, Welbeck, the two Da Silva things, Cleverley and Gibson. Now there is definitely a lot of youth there, but there is almost as much youth in the Liverpool team – Suarez, Carroll, Henderson, Coates, Spearing, Lucas, Wilson, Kelly, Flanagan and Robinson are all aged 24 or younger – again I wouldn't expect too much to made of the young squad that Kenny is assembling. But if they played for United…….
Anyways, the reason for bringing youth up is that on Saturday some of those players could play key roles in defence, midfield and upfront on both sides so we'll now take a look at how some of the youngsters compare.
First up, in defence we have Martin Kelly and Chris Smalling, both young, both can play at right back or centre back and this is how their stats look: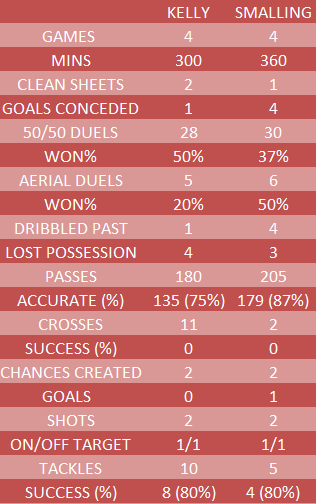 A quick glance down the columns tells you that both are evenly matched, Smalling knocks the ball around a bit better and is better in the air, but Kelly has shown more strength battling for the ball on the ground and is less reluctant to let a player pass him with the ball, managing to rack up more tackles from a wider position than Smalling who has played mainly in a central role. For me it is safe to say that United will be hard pressed to get any joy trying to play down Liverpools right hand side with Kelly in the team. In fact the way Kelly plays always trying the overlap with the right winger, Liverpool will probably get more joy attacking United's left back.
In midfield we have two comparisons to take in, first – Henderson and Cleverley.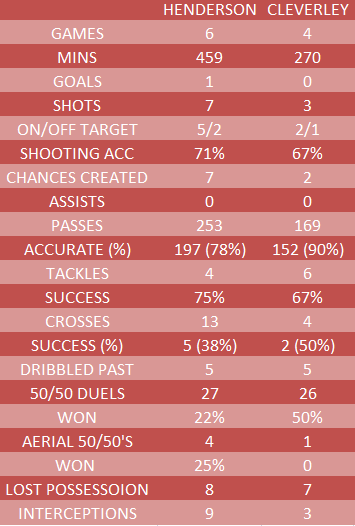 Again two youngsters, and whilst I'm not too sure about Cleverley, Hederson is definitely not playing in his more familiar central role and this is something that he has struggled with so far during his time at Liverpool. Henderson compared to Cleverley is statistically the more attacking of the two but the United man is seemingly better with the ball at his feet. Now I know a lot of Liverpool fans have taken issue with Henderson recently, so before the comments start, I'm not proclaiming him as a starter nor do I think he should start – but – there is a chance he will, same goes for every player in the squad, and whilst I understand where the criticism is coming from, I think he isn't being used in a way that will help him or the team develop, especially given his age and experience – he is obviously not suited to a wider role but he is getting game time there because there is no way at the moment that he could challenge any of the central players for a starting role. (Ed: Actually think those stats aren't too bad in comparison to Cleverley, quite surprised).
Next up in midfield we have Downing and Young. A lot was made of these two over the summer and there was a lot of talk about which club got the best of the two and even before the stats its safe to say that both have had very good starts at their respective clubs – so lets have a look at what the stats say…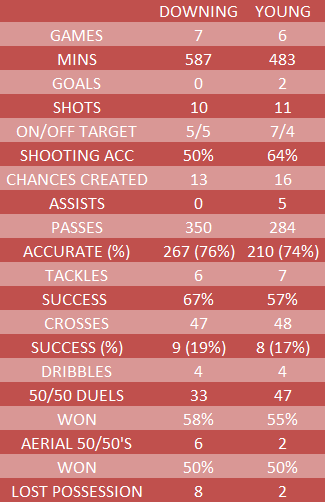 Like I said, both have had good starts but without any bias at all I have to say that Downing comes out on top here. He wasn't signed by Liverpool to score goals he was signed to create them, and I suspect to provide a good service to Andy Carroll although the two haven't played enough to click into place yet, in fact most the Liverpool team is still learning to play with the big man up front, so I'm not too worried that Downing hasn't benefited from any deflections in front of goal like Young. Still to rack up an assist but in fairness too him he has created 13 goalscoring opportunities, not his fault his team mates couldn't finish them off. Both players are doing pretty much what they where signed to do and both sets of fans will be quite content with that they have but I suspect that you could probably swap the two and there wouldn't be much difference to either team – although on Saturday either player could provide the ball that makes all the difference in deciding the outcome – and both are quite capable of doing so.
Up front there is only really one comparison that people will be looking at and that is Suarez v Rooney. Ones a big name player who thrives in the big games and the others just big. This will be the 18th time that Rooney will line up against Liverpool and to be honest I'm not worried about him at all. His record against Liverpool is poor to say the least, and that's hardly surprising given his phobia of big games, I'm sure everyone remembers his erm…stellar performances in both of the cup finals v Barcelona? No? Me neither and to be honest I cant think of any game against Liverpool that he's actually played well in. The United defence on the other hand is still recovering from the mauling that Suarez gave them back in March, and I'm sure he can't wait for round two.
Before anyone says or thinks that Shrek is 'in form' at the moment, he's been in form going into this fixture numerous times, it's meant nothing before and it means nothing now – like I said – big game phobia.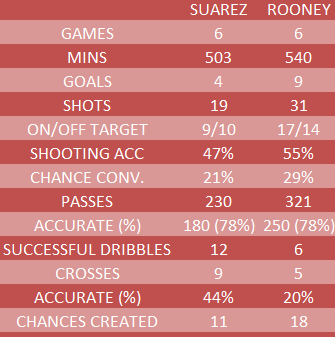 Suarez guilty of being a little wasteful in front of goal but out of the two he is definitely the most technically gifted and he does so much more with the ball. I fully expect Suarez to prove to be the difference up front on Saturday. As for who the better striker is, that really depends on your point of view.
Suarez is 24, Rooney 25, Suarez has scored 147 career goals from 252 appearances, Rooney 173 career goals from 407 appearances, Suarez has scored 22 international goals from 50 appearances, whilst Rooney has scored 28 international goals from 73 appearances. And Suarez has done something that Rooney is yet to do in several attempts, he has shined at the World Cup, and at the Copa America, the Americas answer to the European Championships. There's only one winner here.
For anyone interested here are Rooney's stats against Liverpool.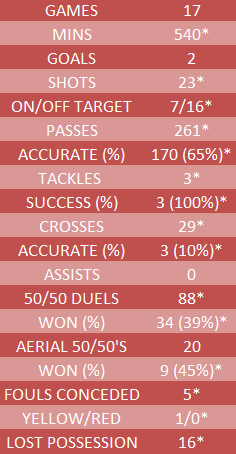 *stats only available from 2008/2009 season via http://www.eplindex.com
There is also Andy Carroll to take into account for Liverpool and possibly Welbeck for United. Welbeck is one of those United youngsters who seem to have gotten perpetual praise recently, whilst Andy Carroll seems to get slated more often than not, and most of the criticism has nothing to do with football. With respect to Carroll though, if Rooney is the bench mark for an English forward as the media would have us believe, then Carroll isn't really doing as bad as people say he is – 110 career appearances with 38 goals, after 120 appearances Rooney had scored 34 goals – different type of player but you could make a case that Carroll is moving in the right direction.
Like I said, form means nothing in this fixture and there isn't one area on the pitch where I think the game will be won or lost.
But I am sure that Suarez is looking forward to showing what could be a relatively young and inexperienced United back line – keeper and all – his little bag of tricks again.
Hopefully be smiles all round.
Make your own minds up about the stats, they tell only half the story.
Leave your comments and you can always give us a follow on twitter, always ready to talk football! – Twitter ID – @real_ash_23