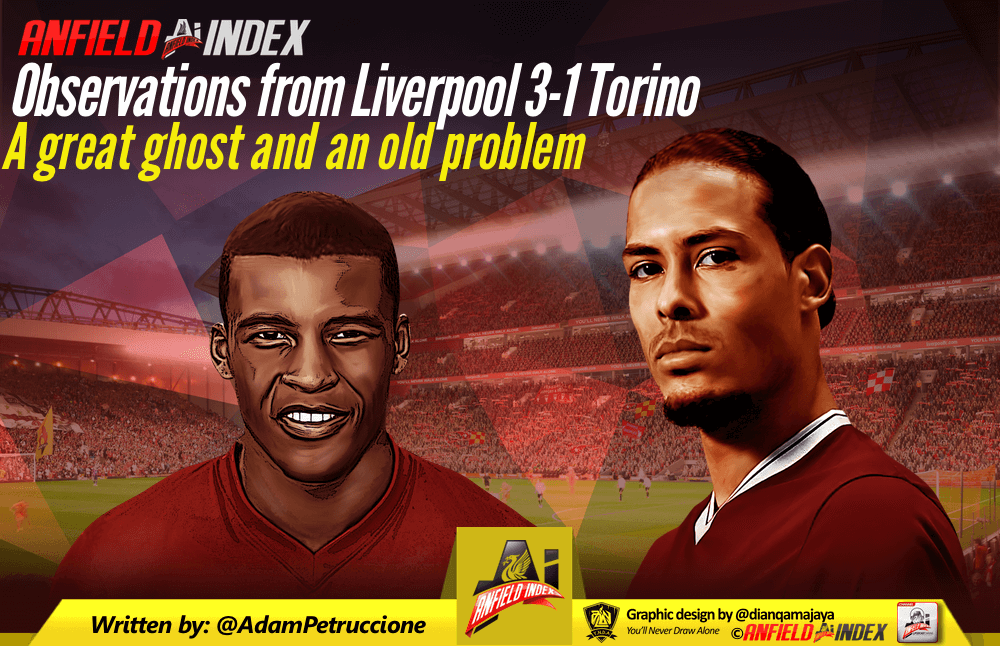 Observations from Liverpool 3-1 Torino: A great ghost and an old problem
Liverpool wrapped up their preseason slate in a match marking the Anfield debut for Alisson, Fabinho, Keita and Shaqiri.
Alisson allowed his first goal while Fabinho made a surprise appearance at centre-back. Keita had a largely unremarkable evening, while Shaqiri came on at the break and helped put the punctuation mark on the night with his beautifully lofted cross for Sturridge's header to make it 3-1.
Despite another convincing performance five sleeps before the season opener there were some intriguing developments and even some areas of concern.

NEW CENTRE-BACK CRISIS
According to James Pearce, the deliverer of all bad news, Joe Gomez was held out of action against Torino due to "a minor issue." That makes three, yes three centre-backs who are unavailable on this night due to some kind of ailment. Dejan Lovren has just returned from Croatia's second-place performance in the World Cup and was not expected back until the leaves start to turn.
What is the issue with Joe Gomez? Liverpool has never been forthcoming with injury issues, and that isn't about to change. What we do know though is that all of the Reds' centre-backs, aside from Virgil van Dijk are injury prone. Strange for the most physically imposing players in the squad, but it is what it is.
Where will Klopp now turn for answers? In the second half against Torino, it was Fabinho lining up at the back. Even for Jurgen Klopp, a manager that pushes the boundaries more than most, trialling one of his headline signings at an unfamiliar position turns the stomach.
Other possible solutions offer a minuscule amount of added comfort. Bringing Lovren back early, himself injury prone in the past would be a scary proposition. The captain, Jordan Henderson had a quick run out tonight and would be needed for more than a cameo if Fabinho were to be moved to the back line.
Liverpool addressed so many areas that had been long-term problems with big money signings, but centre-back was left untouched. Five should be enough for two positions, but we are a club that always finds a crisis and here it is. Young Nat Phillips has looked strong for an academy player this preseason, but struggled against Belotti, owning at least a share of the blame for Torino's goal.
The easy answer is another dip into the transfer market, but good luck finding a centre-back ready to step into a fast paced, high pressing, high wire act a couple of days before the season kicks off. If a long-term target is out there that can be made ready over time, Liverpool should pull the trigger on a deal like that, but for now, some kind of makeshift solution will have to be patched together while Gomez, Klavan and Matip mend and Lovren works his way back to full fitness.
Just sign a centre back who isn't made of glass @LFC

— Josh (@Josh_Laff_) August 7, 2018
A GHOST NO MORE
Speaking of position changes and covering for injuries and transfer window mishaps, Gini Wijnaldum popped up with a goal for the second time in four days. Gini made it 2-0 in the 23rd minute and nearly scored again before the half.
The former Newcastle support striker played all over the midfield and even as centre-back for the Reds last year. As the season matured he settled into a box-to-box role, one of the best in the squad at maintaining possession under pressure.
In the preseason Wijnaldum has looked like he's ready to take another step forward. With a deal for Nabil Fekir seemingly dead, Adam Lallana looking a shell of his former self and James Milner is sporting 15 stitches on his head, there is a midfield spot open. Gini couldn't have picked a better time to step forward.
Goal! Gini Wijnaldum scores after good work from Bobby Firmino
Liverpool 2 – 0 Torino#YNWA #LFC #LFCPreSeason pic.twitter.com/T3v5IouMJl

— Roar Of The Kop (@_RoarOfTheKop_) August 7, 2018