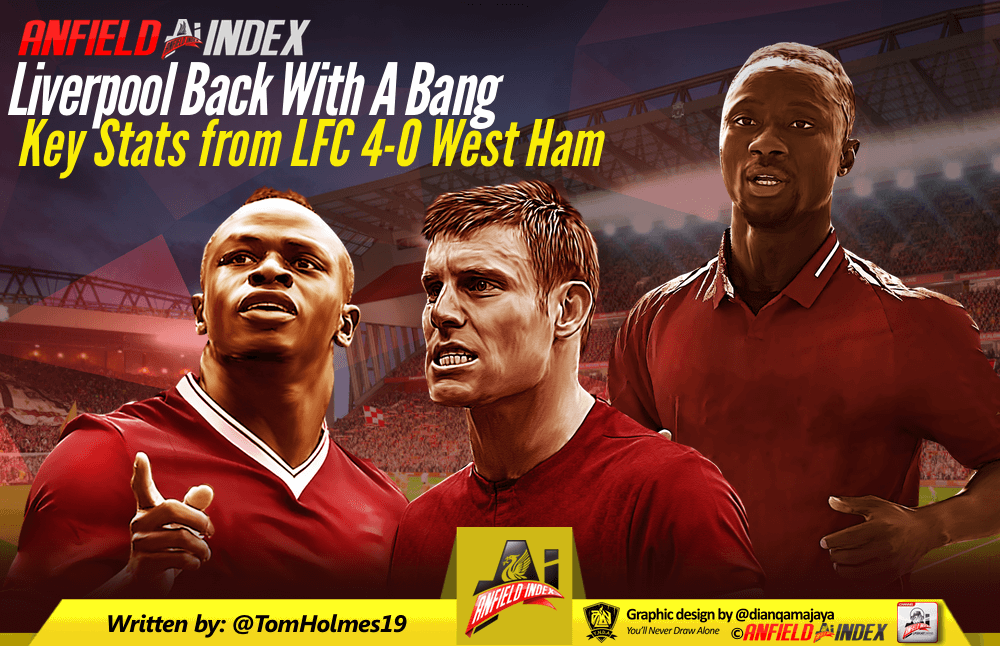 Liverpool Back With A Bang - Key Stats from LFC 4-0 West Ham
Liverpool's 2018-19 Premier League got off to a flying start as the Reds dismantled an average West Ham side, rolling out 4-0 winners. But what were the key stats from an absolutely emphatic game at Anfield?
Déjà vu For Hammered Hammers
West Ham fans might feel as though they've seen this game before. Liverpool have now scored four goals in each of their last four games against West Ham, winning both of their games against this opposition 4-1 last season, following their 4-0 evisceration late in the 16-17 season. Across those four games, Liverpool have created 3.49 xG per game, and impressively despatched the Hammers. This result today was probably the Reds' most complete performance, with an xG of 3.88 and an xGA of 0.40. West ham never had a sniff.
Attacking Flair Ominous For Reds' Rivals
Liverpool of course are already renowned for their positive, attacking football, but even by their standards this was an impressive display. Their xG of 3.88 was bettered only once last season – 3.92 in last season's 4-1 Anfield win against, you guessed it – West Ham. Moreover, they created four big chances with an xG of over 0.60, with three of those ending in goals for Salah, Mané and Sturridge.
In terms of standout creative individuals, Milner, Firmino and Robertson all created one big chance and all notched an assist – with Milner and Robbo's both coming from their big chances whilst Bobby set up Salah for his big miss. Salah's xG was 1.55, as he scored one and missed one of his two big chances – 0.77 for the one he scored and 0.64 for the one he missed.
Middle Men Shine As Milner And Keita Boss The Midfield
A lot of the post-match talk from an impressive performance will justifiably be about Naby Keita, who ran the show in Liverpool's midfield. His xG Build Up was an unbelievable 1.81, which along with his xG Chain of 1.95 the highest in the team. We also got a taste of his dribbling, as his two successful dribbles were the joint-highest in the side.
But if Keita ran the show, then James Milner was the star of the show. His xA of 0.92 included a big chance for Mané's first goal, and was the Reds' highest, along with having the most key passes (3), the most touches (122), the most passes (102) and the most successful crosses (3). He was unlucky not to get an assist for Sturridge's goal, but the defender got a flick on it before it dropped to his England teammate.
Main Mané Keeps The Records Going 
Another game, another record. This time for Sadio Mané, who became the first Liverpool player in the Premier League era to score on the opening day of the season three seasons running. The last man to do so was John Barnes in 89-91. Mané is now the Premier League's joint-top scorer with two goals, adding his 12th and 13th Liverpool goals in his last 17 appearances. He's quickly becoming a Liverpool legend.