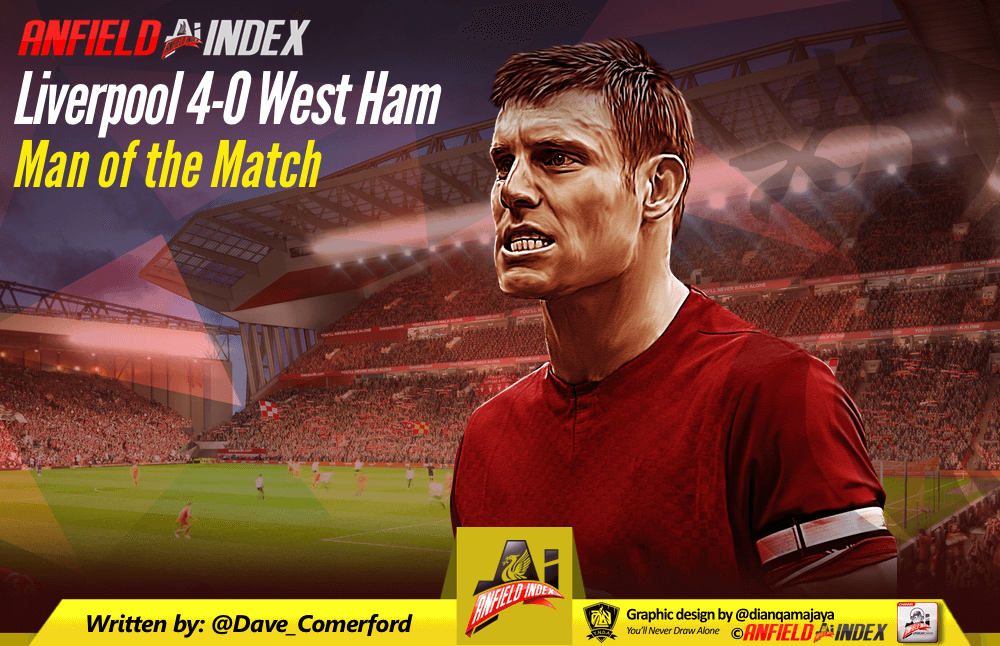 Liverpool 4-0 West Ham: Man of the Match
After showing some fantastic ambition in the transfer market, Liverpool have at last assembled the tools for a fully-fledged title fight. Optimism levels at Anfield are at their highest in recent history, but in their season opener against West Ham, the Reds did not look like they were bearing the burden of expectation. Instead, they lived up to the hype.
On paper, Sadio Mane was the star of the show. Last year belonged to Mohamed Salah, but today the man on the opposite flank grabbed the limelight with a neat brace, positioning himself atop the early goalscoring charts.
Mane did what Mane does best, proving an irrepressible handful for defenders from kick-off until his 81st-minute withdrawal.

Salah, of course, got in on the act himself to kick-off his bid for a second consecutive golden boot. The Egyptian wasn't at this absolute best on an opening day but starts the campaign with an aura of majesty which strikes evident fear into his opponents.
Encouragingly, the early signs are that Liverpool will not be overly reliant on the magnificent trio of Salah, Mane and Firmino this time around.
Dynamic debutant Naby Keita was excellent in midfield, linking-up seriously well with the attack and covering almost every blade of grass. Above all, he looked right at home.
Moreover, Georginio Wijnaldum, too often peripheral or anonymous last season, excelled in his deeper role with a battling display and managed to get himself into scoring positions to boot. He strikes me like a man about to prove his worth.
Further back, Joe Gomez, replacing an injured and disciplined Dejan Lovren, looked impressively comfortable alongside the ever-solid Virgil van Dijk.
Man of the match, though, goes to the bandaged warrior, James Milner.
If ever you want proof that age is just a number, look no further the 32-year-old midfielder. During what many consider a phase of decline, Milner has found another level and is only growing in stature with each commanding performance.
He has developed an impeccable understanding of the game and yet remains one of its keenest students, underlined by his unrivalled running statistics. Milner, who missed the club's final pre-season game after a nasty head injury, covered more than 12.5 kilometres over the course of the 90 minutes – more than anyone else on the pitch.
He is so much more than his phenomenal work-rate, though. Having played in so many positions over the course of his career, he can do a faultless job in every department, helping the defence when required, involving himself in the heart of the midfield scrap and consistently providing support for those on the wings.
Plenty of players work their socks off in this division, but very few can say their yardage is so decisive.
Milner was also better than the rest regarding chances created. He showed great determination to connect with an overhit Robertson cross and managed to divert it back across goal to give Mane a tap-in. A prime example, really, of how that dedication produces tangible results.
When Fabinho and Jordan Henderson reach full fitness, competition for places in the middle of the park will be intense. Milner may have to be content with a role on the bench at times, but when called upon Jurgen Klopp be entirely confident he will deliver, and in many ways, that's the highest praise you can accord Milner – he guarantees solidity, and often his performances are a great deal more than that.
Even with four new arrivals injecting fresh quality into the squad, Milner remains one of the club's most important assets. And, as many will remind you over the next nine months, he didn't cost a single penny.