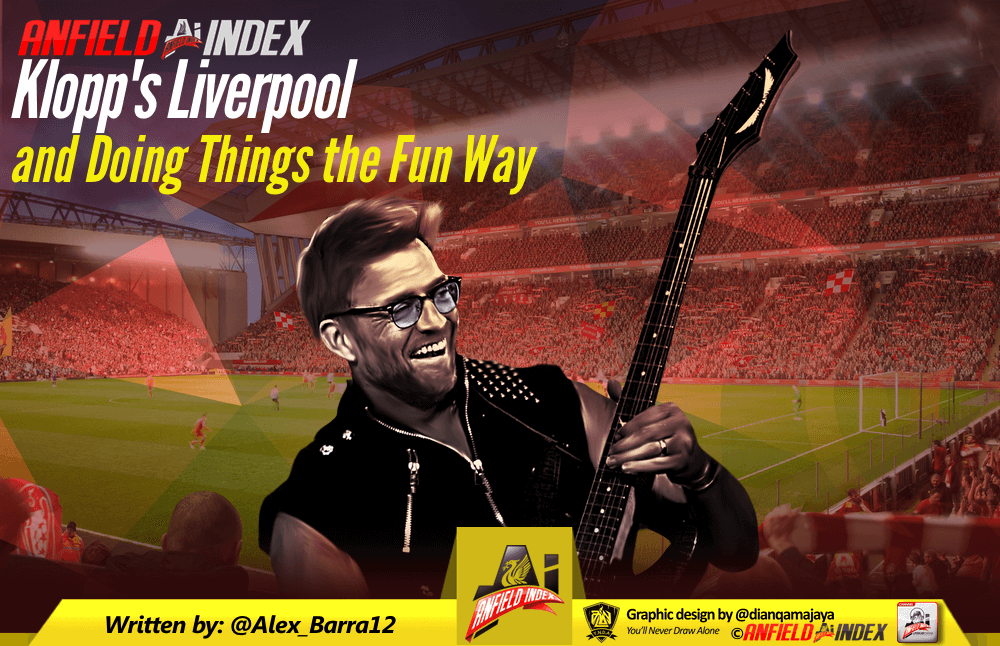 Klopp's Liverpool and Doing Things the Fun Way
Playing the Liverpool way.
It's a fairly common trope, perhaps an oxymoron when every football club seems to have a "way" these days – there's even a "Norwich way", apparently. For Liverpool fans, however, identity is everything. Football is bound together by its unique fan culture, the interconnectedness of the football landscape means stories are perpetuated, and Liverpool's story is one of decorated trophy cabinets and an envied atmosphere.
Perhaps Anfield's atmosphere hasn't lived up to its hype recently.

But it certainly is the home of one of Europe's most exciting, enjoyable teams now. It's the home of a side with the Premier League's Player of the Season, of a side that broke records for fun on their way to a Champions League final. A team with a manager whose celebrations are often more enjoyable than the goals themselves.
They're also a team with a new number eight who's poised to light up the Premier League. They're a side with a new goalkeeper that does Cruyff turns and a winger that scores overhead kicks on debut against Manchester United.
In the late months of 2015, when Brendan Rodgers' tenure at Anfield was coming to a calamitous end, all Liverpool fans could yearn for what the promise of Jurgen Klopp, and what he brought to Dortmund. Naturally, they wanted it immediately. They didn't want the two-year crafting job that took place to get Dortmund to the pinnacle of German football. They didn't want the development of Mario Götze, they just wanted the finished product. They didn't want to add to the atmosphere, they wanted to be entertained.
"I felt pretty alone at this moment."
Those were Klopp's words to the Liverpool faithful following their side's 2-1 defeat to Crystal Palace in November 2015 – the kind of result that defined the previous incumbent of the Anfield dugout. Six months later, in a Europa League quarter-final, things would flip around for the German.
"The atmosphere was the best I've ever experienced"
Klopp said of Liverpool's incredulous 4-3 win over Dortmund at Anfield. It was a night that symbolised a common trope of Liverpool Football Club: things never happen as smoothly as they should. Whether it's somehow contriving to be nervous after putting five past Roma in a Champions League semi-final, a distinct lack of comfort when facing a corner (no matter how many statistics pop up regarding the improved defence) or a leaving it until the last day of the season to confirm Champions League football when, a week later, the team would be playing in the competition's final in Kiev. Liverpool fans never lack for entertainment.
And yet, the first day of the Premier League season rolled around, and West Ham were dispatched. Like so many who came to Anfield last season, the goals reigned down and the front three were all in action.
Even something as seemingly routine as a 4-0 win contained a microcosm of Klopp's Liverpool: doing things with as much ludicrous fun as they can possibly fit in.
Whether it be Naby Keita rendering defenders' knees wobbly as he charges towards them, Mohamed Salah scoring for fun, Daniel Sturridge scoring within four and a half seconds of being in active play or Klopp's rather exuberant double-fisted celebration, the first game back was a microcosm of what Jürgen Klopp has built at Liverpool:
Fun.
It is not new to Liverpool: this is a club built of the mythology of famous European nights, of incredible goalscorers and an undying chorus. To return to that isn't simply done by winning that elusive Premier League title, nor would it be as simple as ensuring Liverpool's place as a Champions League team. However, compare the setting now to the one in January 2011 – when Liverpool drew 2-2 with Everton under the returning Kenny Dalglish. They sat four points above the relegation zone following a match which included Jay Spearing and Martin Kelly in the Reds' starting XI and required a Dirk Kuyt penalty to secure a point.
Seven and a half years later, 22 of Liverpool's last 34 wins have been by a margin of at least three goals.
Even the football: devastating counter-attacks, filled with speed and tenacity and a constant harassment anytime the opposition tries to launch an attack of their own; that's maniacal fun. The additions of Naby Keita, Fabinho, Alisson and Xherdan Shaqiri only add to that structural excitement, all signed with a distinct purpose:
To continue playing football the Liverpool way.
Liverpool have been anointed as the ones to challenge Manchester City and their rampancy: and they've done it with more fun than anyone else. If they are indeed going to push Guardiola's men to their limits, then they'll do it the only way their manager knows how: with a flourish of loud noise and unabashed excitement.