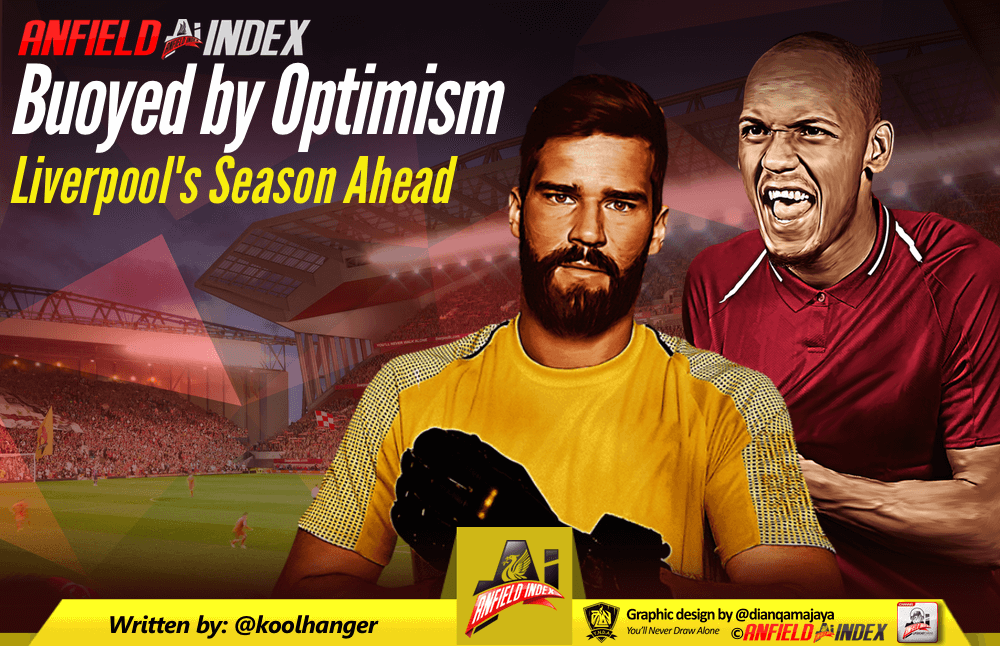 Buoyed by Optimism - Liverpool's Season Ahead

It's a weird feeling not really knowing how to manage your expectations as a Liverpool fan. I'm 38 – a seasoned pro at this. However, never in my experience of supporting The Reds can I remember a feeling of such enthusiasm surrounding the club.
Not Then, Not Ever
Even after Rafa's fantastic 08/09 team came within touching distance of the title there was still the unmissable grey Hicks & Gillett cloud hanging over Anfield. We knew Benitez had almost achieved the impossible in such a futile situation. People say us Reds' fans are naive but we were wise enough to know that Rafa was not going to be equipped with the tools necessary to reach the heights he could have at this club – a position Rafa is all too familiar with as he faces his own struggles again in the present day up in Newcastle.
When Brendan Rodgers took us on a journey in the 13/14 season we then had to accept the long-feared departure of our Uruguayan frontman, Luis Suarez, to Barcelona. Once he sunk his teeth into Giorgio Chiellini at the World Cup in Brazil, we pretty much knew that Suarez's time in the red jersey had come to an end.
Rodgers would never again reach such heights at the club. The disconnect between his own view and that of the transfer committee with regards to potential transfer targets was much of the reason for his downfall. The fact that we ended up "replacing" probably the world's best striker at the time with names like Rickie Lambert and Mario Balotelli says enough about the behind-the-scenes problems the club was still dealing with that summer.
Changing Times
In those days, maybe I would've offered an FSG-Out enthusiast my ear as the owners were still headstrong about their Moneyball approach. In the last twelve months, however, John Henry and co have shown that they just wanted a manager they could put their trust in. Why provide Rodgers with millions to spurn if that's exactly what you thought he would do with it? I have no problem with our club being run by smart business people. Yes, it's not my money etc. I know the arguments. I've heard them for years. I still don't want our owners wasting cash, though. Don't just throw money at problems so you're down on budget when a real issue occurs. FSG now have a strong belief in Jurgen Klopp and Michael Edwards and what they are building here. These are very different times than the summer of 2014.
Brain… Just Let Me Enjoy Him
Like the archetypal pessimist, I'm already dreading the day that Klopp leaves Anfield. He was a character I always felt would be perfect for Liverpool, as far back as 2012. The charisma he has always shown, along with his need for that human connection with the fans, have always made Klopp stand out. Also, I don't know why but I always had a sense he would manage Liverpool at some stage of his career. The suitability between this club and that man just seemed so obvious to me, all the time. Yes, he can still improve – game management is a fault I hear oft-quoted when it comes to our German meister. I tend to agree. Yet who am I to question the man's principles? Klopp believes in entertaining the people and going at it gung-ho. Until the day he decides to choose the more orthodox approach in a final, we need to get comfortable with that. That's his X-factor, though. We're happy to accept it when we steamroll any team in front of us – we need to be prepared for the bad times, too. Having said that, Liverpool's approach in Kiev back in May had us on top for the first quarter of the game. Then Mohamed Salah got injured and we had Adam Lallana to replace him. Klopp could have achieved the miracle with his preferred first eleven. It was only when our bench was called upon to play such a vital role that The Reds' challenge faltered. But would you change a single thing about that journey, last season?
Ticking the Boxes
Squad depth has seriously improved this season. We were still nursing our epic Champions League final hangovers when it was announced we had signed Fabinho from AS Monaco. What? An actual defensive midfielder? Are you serious? It was done. We knew that insanely good midfield dynamo, Naby Keita, would also be arriving soon. It was the perfect hangover cure, mentally, at least. The physical ramifications of that previous Saturday night would stick with us for a few days yet. But now we knew we were not going to be resting on our laurels. I mean, holy shit, we were adding to and improving a squad which had just reached the Champions League final.
That night in Kiev renewed the calls for a new goalkeeper to be signed. We all know what happened. I don't need to take you down that road again. But what's this? We just broke the bank and spent a then-world-record fee on a goalkeeper by bringing in Alisson Becker from AS Roma? Again, I have to ask, are you serious? In the Anfield Index WhatsApp group, I commented that this was how it must feel to support someone else, like one of those clubs that actually goes out and addresses their glaring problems on the pitch with activity in the transfer market. This was strange. This was unknown territory for us.
Now, it's all coming together in the most perfect of storms. FSG are spending on targets identified by a more-than-capable backroom team consisting of scouts, analysts and Jurgen Klopp. It's money well spent. Our current players are improving through spending time with a top-class manager who puts as much, if not more, belief in developing those players that he has. Klopp himself has now been here almost three years (three years in October) and it's normally around this stage that the results of his tactical, physical and technical training regimes start to come to fruition.
Belief and Experience
Read every interview. Listen to every podcast you can. Liverpool players are loving life at Melwood and Anfield these days. You can see it in their faces when they take to the field. We've got a nice mix of youth and experience. One of the youngest squads in the Premier League is complemented by older, valiant men such as James Milner. We've even got a wealth of experienced players who are still under 30 – Jordan Henderson, Daniel Sturridge, Virgil van Dijk, Dejan Lovren, Alisson, Fabinho, Salah, Roberto Firmino and Mane spring to mind. For the younger guys like Andy Robertson, Trent Alexander-Arnold and Naby Keita, they just seem to have old heads on young shoulders. Robertson and TAA also, of course, have the experience of a Champions League final appearance under their belts.
Is it Enough?
Like you, I can't answer that question but all I can say is that there is a real conviction about my feelings on what this Reds team can achieve. Yes, any trophy would be great – a sixth European Cup/Champions League? Fantastic. However, maybe it's my age, but a 19th league title would mean the world. I've pondered the potential celebrations for many years – would I need a room for myself to gather my thoughts if we won England's top trophy? I think I would. There would be tears – just as there was after that final in Istanbul in 2005. As it was so wisely put many years ago, it's the hope that kills you. An apt thought for Liverpool fans everywhere as we look to each new season with not-so-convincing beliefs and false-optimism. Yet, this time it's different. There are valid reasons underpinning our confidence and fervour. Long may it continue and long may we have Jurgen Klopp at the helm.