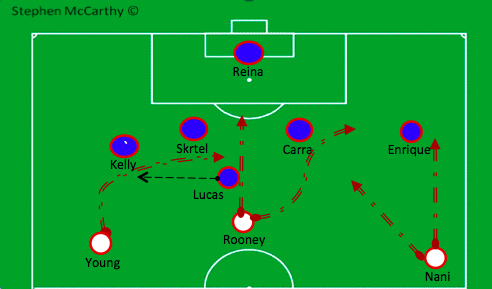 A Tale Of Two Cities | Liverpool V Manchester
To borrow a well known opening to a classic book; "It was the best of times, it was the worst of times, it was the age of wisdom, it was the age of foolishness, it was the epoch of belief, it was the epoch of incredulity, it was the season of Light, it was the season of Darkness, it was the spring of hope, it was the winter of despair". One year on there cannot be a bigger contrast in Liverpool Football Clubs fortunes. This period last year was our worst of times, our age of foolishness in our season of darkness. Now, with Kenny in charge, and about to face our fiercest rivals at Anfield, it has become our age of wisdom, our spring of hope in our season of light. United come to town. And what a clash we have to look forward to.
At the moment we are trailing United by six points in the table. Win the game and we reduce that to 3. Lose and it increases to 9. If we are to have any chance to stay in the hunt for first or second this is a must win game for us. A six pointer if there ever was one. With the form both City and United are in at the moment you have to say it is going to be incredibly difficult to stay in touch with them. It may be unrealistic to aim that high this season, but Liverpool supporters should never aim for anything less. United go into the game with an impressive last 5 that reads WDWWW. The only blotch on that record, being a 1-1 away draw at Stoke.
They have scored in every game in the league this season. Liverpool go into the game on the back of a morale boosting victory over Everton at Goodison, albeit in apparently controversial circumstances. Our last 5 reads WWLLW – with the 2 defeats comprising an undeserved loss at Stoke, and an extremely poor performance at White Hart Lane. However, we have an excellent record in this fixture over the last 3 years, winning the last three at Anfield. Players and management will stick to the old adage that form doesn't come into play in these types of games, but our recent record has to give the Liverpool players great belief going into the game. In my last article on the derby game I was of the opinion that if we got a win it would give us the impetus to go on a long undefeated run and give us massive confidence in what we may achieve this season. I see no reason to change that opinion and am quietly confident of a positive result on Saturday. So how may we achieve this?

United Defensive/Offensive Formation
First off, let us take a look at United's probable formation, and then next we may take a look at some of their key players and how we may go about stopping them. It is not rocket science to figure out how United might play on Saturday. This season they have only played one way. And that is to get on the front foot and attack the opposition. I'm not convinced Fergie will go all out attacking as in their previous games, especially away at Anfield. But there is no way United will be defensive. They should play their favoured 4-4-1-1 formation with both their wingers playing high up the pitch. Fergie has played with 2 strikers in all of their Premier League games to date. They started off the season with Hernandez as the furthest forward striker but due to his injury have changed it since.
Both Berbatov and Wellbeck have filled that role as Hernandez's replacement, with the omni-present Rooney playing just off the central striker. With Hernandez back from injury I expect him to start up top with Rooney. I also expect Young will be playing high up the pitch as an inside left winger, which is role he's filled throughout the season. Surprisingly, I say that because in my mind he seems to go missing in the big games, Nani has started a lot on the right wing this season for United. Expect him to fill that role and provide width to balance out Young's 'cutting inside' tendencies on the opposite flank. Fletcher should start, as he provides some valuable assistance patrolling in front of the back four, alongside Anderson who should fill the role of central midfielder supporting the forward players.
Vidic is also back from injury, and Jones seems to be the preferred option to Ferdinand, so I expect Vidic and Jones will make up the central defensive partnership. Probably the position that is most vulnerable is right back. Both Jones and Smalling have filled in there but neither of them can say it's their favourite position. Smalling has started more games there so I think that's how Fergie will play it. Evra should fill the left-back role so expect him to get forward into the space that Young will vacate from his runs inside. Expect the whole United team to be on the front foot, they certainly won't play too deep as it's not their style. With both teams pushing up expect the midfield to be quite congested and there may well be some serious tackles flying in. Another red card anyone?
Threats to our defence (stop United scoring)
Easier said than done. It's obvious that United have been on fire going forward this season. For me their danger men are Rooney, Young and Nani. You really need to take a look at the table of this season's stats below to get a good idea of just how much a contribution these 3 have made to United's start. United have scored 24 goals in 7 games so far. Rooney has scored 9 of those, Nani 3 and Ashley Young 2. That's a total of 14, which equates to 61% of all the goals United have scored this season. Furthermore, they have 10 assists between the 3 of them which is 53% of United's total for the season. The 3's average chance conversion ratio is 22%, considering the Premier League average chance conversion ratio this season is 12% then you begin to see how much above average their performances have been. Nani with 23 dribbles, 32% of United's total for the season, is a real danger when taking on players.
Some incredible stats above! What the stats don't tell you is the movement of all 3 will be extremely dangerous for us on Saturday. Take a look at Rooney's heatmap versus Chelsea below from the Guardian Chalkboards. It gives us an indication of some the difficulty we will face trying to stop him. He likes to drift all over the front of the back four which is a nightmare for defenders to pick up. Does the defender step out and mark him, or does he let his midfield player pick him up. A wrong decision here could be fatal.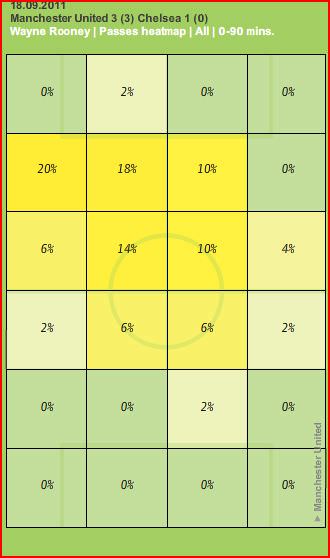 You can also see from the graphic below from the Stats Zone app the variety of Rooney's shots and how he likes to shoot from right to left. He is extremely dangerous around the penalty area. With a chance conversion ratio of 29% and a shooting accuracy at 55% it's obvious he's pivotal to United's good start this season. When you compare it to our Andy Carroll (see table above) with a shooting accuracy of 36% and chance conversion ratio of 7% then you begin to see what I mean.
So how do we stop these dangerous 3? With great difficulty I think. For a start our defensive midfielder Lucas will be pivotal in closing down the space in front of the back four that Rooney, Young, & Nani will operate in. See my illustration below to get an overall picture.
As you can see Rooney will play all across that zone, so Lucas will be absolutely vital in shielding the back four. He is definitely going to need to be on top of his game. Young will look to cut inside and shoot on his right foot so Kelly will have to try and show him down the outside onto his weaker foot by tucking in closer to Skrtel. If Young does manage to cut inside he will either face Skrtel or Lucas so both of them will be vital in closing down the space and not allowing him to get any shots off. With Nani operating on the right side and playing more of a winger's role then Jose Enrique and Stewart Downing will have to double up on him at times. As the above stats table shows, Nani loves to dribble, so our left side will have to be on their guard for his tricks and flicks. If we manage to do our jobs in these positions reasonably well then I believe it will go a long way to stopping United scoring. Granted these are not the only players capable of scoring, but the stats above indicate they pose a serious threat to us keeping a clean sheet.
My colleagues at Anfield Index have all ready brilliantly covered in articles, (well worth a read) the difference between ourselves and United's chance conversion ratio's, and on how we need to improve, so there is not much more I can add to that. We will just need to try to limit United's chances, as so far this season they are operating on a different level. You can see from the table below the amount of clear cut chances United have had compared to ourselves. 10% more than us can easily make the difference betweenwinning and losing a game.
Liverpool Defensive/Offensive Formation
I believe we will adhere to our tried and trusted formation of 4-4-2 for this game. See my teamsheet graphic below. Considering we played that formation away against Everton at Goodison then I can't see us changing much against United at Anfield. With Kenny Dalglish declaring no major injury worries ahead of the game then there might well be a selection dilemma for the King in a couple of positions. I expect all the players that started against Everton, bar 1, will keep their places. With Steven Gerrard fit and chomping at the bit I feel Kenny just can't hold him back anymore. Coupled with the fact that he's had 2 further weeks to train without international football to contend with, then I think that will sway Kenny's thinking into putting Gerrard in from the start. The player I might expect to drop to the bench would be Charlie Adam. Not that Adam has done much wrong, more the fact that he has played 2 tough international fixtures in the past 8 days. One of those, an energy-sapping, never-ending, chasing of shadows, against the mighty Spain on Tuesday night. Adam has played a lot of football all ready this season, so I think with Gerrard coming back it would be a good time to rest him. The other position that may be up for grabs is right back. With Glen Johnson now back from injury then Kenny has a choice to make between him and Martin Kelly. I believe that this game is one game too early for Johnson to make his comeback so I'd expect Kelly to start at right back.
So how do we approach the game? We won't keep too high a line as Carra and Skrtel are not the quickest central defensive pairing and they won't want to be caught out with balls over the top, especially with the pace of Hernandez, Rooney, Young and Nani. I don't expect them to play too deep because then we are just inviting pressure onto us. However, we should find a happy medium and keep a relatively high line, compressing the play and pushing the game towards a midfield war of attrition. It's absolutely vital we start the game well, put in some strong tackles, and make sure the crowd has something to shout about. Our 12th man could make all the difference in spurring our players on towards a win.
United Weaknesses (how do we score)
I think when you look at United's back four then the 2 areas that we may well look to exploit will be the full back positions. Chris Smalling looks to have a great future in the game, however, right back is not his position. When you take a look at the stats table below you can see that he has a relatively poor percentage of ground 50/50's won, coming in at only 37%. Compare that to Carragher and Jones stats at 79% and 70% respectively and you see where there might be a weakness. Both Smalling and Jones have also been dribbled past 4 times each this season compared to Carragher and Skrtel who have not been dribbled past once. I believe this is an area that Suarez and Stewart Downing should look to exploit on Saturday. See my positional graphic below.
When looking at the stats for the Chelsea v United game I was quite surprised to see that Smalling had only entered the final third twice and only completed four attacking half passes in the entire game. See the below Guardian chalkboard to see the comparison with Enrique in the Everton game.
Very surprising considering United were at home, and also won the game 3-1. I think we can say that when you look at the Guardian chalkboards heatmap for both Boswinga and Sturridge then it was an area Andre Villas Boas instructed his players to exploit. Both Sturridge and Boswinga pinned Smalling back in his own half. I believe that Downing, Enrique and maybe even Suarez could drift to that side to try to cause Smalling some problems.
When we take a look at Patrice Evra's stats then it's clear he likes to attack. He has completed 233 passes, 112 of those accurate passes have been in the attacking half, that's a total of 48% of his completed passes in the opposition half. Add these stats to a 90% pass completion then you have a very dangerous player going forward. However, with such an attack-minded full back comes space in behind him. See my positional graphic below.
This is where I believe Luis Suarez should base a lot of his runs. If you take a look at my LFC team sheet graphic above you will notice I have Suarez playing slightly to the right of Andy Carroll. This is so we can take advantage of any quick counter-attacks from Reina's excellent distribution, and it may be an area we can get some joy from, in an attacking sense. I would also like to see Gerrard try to exploit that space by attempting some of his trademark 'hollywood' passes and try to quickly convert defence into attack and catch United on the break.
Lastly, I believe that the centre midfield area is United's overwhelming weak point. They have terrific forward and wing players but when it comes to the centre I am of the opinion that it is an area we can dominate. I came across an extremely surprising stat from the United v Norwich game at Old Trafford. Neither Anderson or Fletcher made one tackle throughout the time they were on the pitch. For such a vital area on the pitch, that more often and not is where the game is won or lost, it's quite strange that no tackles were made by the two. Surprising as well, because Fletcher is a player that is known to like a tackle. So far this season Lucas (45) has made twice the amount of tackles as Anderson (20). So if Gerrard and Lucas can get some rhythm I believe they can dominate the midfield battle and ultimately we can go on and win the game from there.
Defensive Summary:
1. Lucas to drop in front of the back four and pick up Rooney.
2. Martin Kelly should try to push Ashley Young down the outside onto his weaker foot.
3. Skrtel & Lucas to be aware of Young cutting inside and shooting on his right foot.
4. Downing and Enrique to double up on Nani and be aware of his tricks and flicks and his tendency to go ground too easily.
5. Watch for Hernandez poaching abilities in around the penalty area.
Offensive Summary:
1. Downing, Enrique and Suarez to attempt to dribble by United's back four when they get the chance.
2. Smalling playing out of position. Downing and Enrique should look to exploit his defensive frailties. Suarez to drift out wide into his position as well.
3. Evra likes to attack. Exploit the space he vacates with quick counter attacks and long passes from Gerrard to Suarez into the space.
4. United's lack of bite in centre midfield. Dominate the possession. Put in tackles. Look for though balls to Suarez.
If we can exploit the area's I have pointed out and we can limit United's front players to very few chances then I believe it will go a long way to winning the game. Control of the midfield area will be essential. If our defensive line is too deep then I believe will be in for a long afternoon. Here's to 3 points and win.