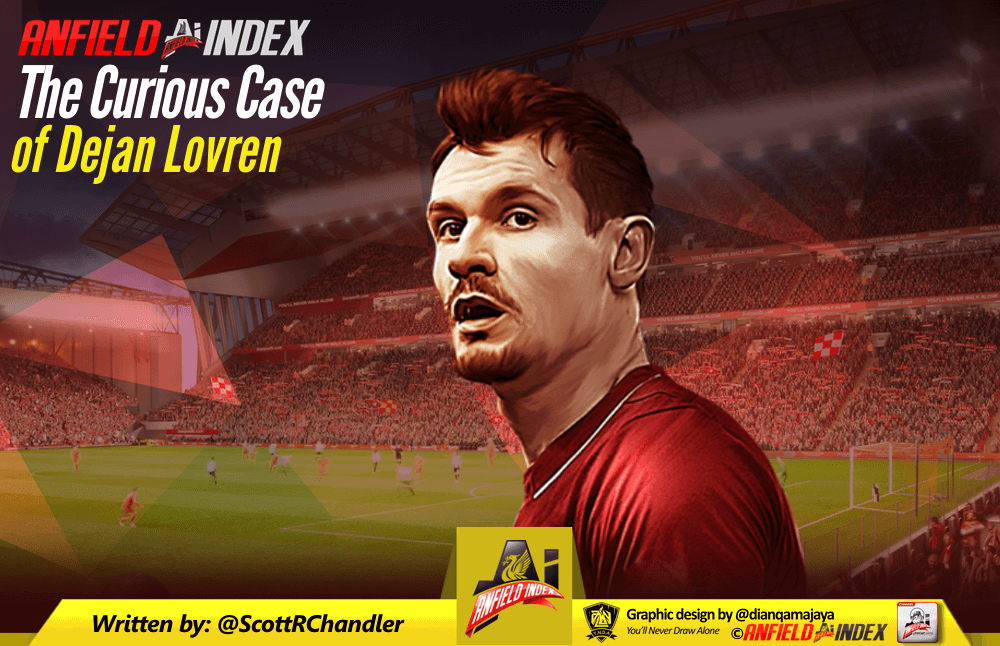 The Curious Case of Dejan Lovren
It's good to be a Liverpool supporter right now. The team is top of the table after the first matchweek, and the opener could not have gone any better. The additions in the summer appear to be spot on, and the team looks truly up for it this season. But it's not 100% sunshine and rainbows for Liverpool at the moment as the club seems unable to go too long with some drama. While Salah's multi-tasking driving skills may be generating headlines off the pitch, it's the absence of Dejan Lovren that poses the biggest concern on it at the moment. After Alisson was signed, the biggest gaps in the starting XI appeared to be an attacking midfielder to truly replace Coutinho or a top-shelf RCB to pair with Virgil van Dijk. Liverpool chose not to bring in any CB cover, likely due to its belief that Lovren, Gomez, and Matip could do the job without having to spend another £30-60 million on a new central defender. Yet, while Lovren was bound to miss some matches due to returning late from the World Cup, the latest news about his multi-week injury and speculations on what the club knew and when about his injury spotlight a potential iceberg in otherwise calm seas in this early part of the season. In order to figure out what's gone on with the self-proclaimed greatest defender in the world the past month, it's important to look at the facts:
July 15th – Dejan Lovren walks off the pitch at the Luzhniki Stadium as a World Cup runner-up. Out of Croatia's 7 matches in Russa, Dejan played every minute except the first 70 minutes of Croatia's third group stage match when he came on as a sub. Dejan was an iron man for the Vatreni after playing every single minute in all 3 of Croatia's extra time matches.
August 6th – Lovren returns to training at Melwood after a brief holiday. LFCTV releases a puff piece video of Lovren training that just so happens to show him doing squats and some abdominal stretching. Lovren is also quoted by LFCTV as saying that he "could even play half an hour now!" However, absolutely no one expects him to make the matchday squad for Liverpool's opening match against West Ham having returned to Liverpool so recently.

August 11th – On the eve of Liverpool's season opener, news breaks that Lovren is not only going to miss the first match but that he has lingering injury concerns from the World Cup that will keep him out for an extended period. Lovren even admitted to Croatian news outlet Sportske Novosti that he "cannot train at all because of stomach muscle issues" that started during the World Cup and that he played through it during Croatia's run to the final. Dejan also stated that he couldn't sit in his car, swim, or even rest without feeling pain from the injury. To compound the problem, Dejan acknowledged that Liverpool "weren't happy" about his injury. It should strike everyone as rather odd for the club to previously release video of Lovren doing abdominal workouts when the player was allegedly in so much pain.
August 12th – James Pearce states on the Liverpool Echo's Blood Red podcast that Liverpool apparently knew about Lovren's injury issue prior to the transfer window closing and were not concerned about Lovren being out long-term.
August 12th – Liverpool releases an official statement explaining that Lovren will be out for the near future with a pelvic injury but that the injury should take "one, two, or three weeks" to settle and that it might take longer for Lovren to return to full training. This timeframe would have Lovren missing Liverpool's upcoming matches at Palace, home to Brighton, and away to Leicester with Liverpool's matches at Spurs on September 15th and home to Southampton on September 22nd in potential jeopardy as well.
When you look at the timeline of events, the information given out by the club and Lovren simply does not match up. Most reasonable people would understand and accept Lovren putting his body on the line for his country in hopes of winning the World Cup. The problem isn't that Dejan injured himself in Russia and then exacerbated the injury by playing massive minutes in numerous matches. The issue is that when he returned to Melwood on August 6th, Liverpool put out a media blast hailing Lovren as ready to step once more back into the breach. The videos, photos, and statements from Lovren's return to training do not reflect a player who cannot train, let alone accomplish simple tasks like sitting or sleeping without being in constant pain.
Based on what transpired, either Liverpool was unaware of the true extent of Lovren's injury or they directly released misinformation. It's hard to believe that Dejan purposely misled the club – either to prevent Liverpool from bringing in CB cover to replace Lovren in the lineup or because he didn't want to upset them – but the puff piece from LFCTV was completely unnecessary if Dejan had told the club he had serious injury concerns. So, it seemed fairly apparent that the club was covering up what was going on. Liverpool also hid the extent of Alex Oxlade-Chamberlain's injury for several months when it knew all along that he would miss most or all of the upcoming season. No one expects a sports team to tell the truth or give accurate information all the time for a litany of reasons (leverage in transfer negotiations, giving vital scouting details to rival clubs, etc.) But it is becoming rather apparent that the club's statements about injuries and fitness cannot be relied upon. This is especially true when Liverpool are trying to cover for themselves, such as with an injury situation right before the end of the transfer window where they had no intention of signing any new CBs and wanted to avoid panic and furore amongst the supporters.
Truthfully, it probably would have taken a multi-month injury for Liverpool to consider bringing in cover at CB. Klopp obviously rates Salah's best mate, and it's not without some justification as Lovren stood up to be counted in the Champions League Final and rebounded well after an utter disaster at Wembley against Spurs last year. However, an injury absence for Lovren – no matter how long the duration – creates significant problems for Liverpool as their first team lacks a true partner for Van Dijk and consists mostly of third and fourth CBs even when healthy. Joe Gomez appears to have some potential but has also put some shaky displays on tape. The Joel Matip stans out there are still hanging on to performances from 2016/17 and are too quick to forget a 2017/18 campaign riddled with injuries and comical defending (with performances at Newcastle and also home to West Brom in the FA Cup standing out in particular). City has shown that you can win a title without dominant or elite central defenders, but Liverpool would be hard pressed to accomplish the same feat with a side lacking the same depth in quality at other positions.
So, it seems rather risky for a team like Liverpool – who spent this summer finally moving its chips to the middle of the table spending big on quality additions to the starting XI – to leave such a glaring hole in the team. It's akin to the Death Star conveniently having a giant weakness that can take down the whole space station. Why even construct things like that? Liverpool think Lovren will be fine and back in the lineup soon, but far too many "minor" injury incidents with players like Sturridge, Lallana, Gomez, and Matip have turned into lengthy and prolonged absences.
Ultimately, could Liverpool be fine rolling the dice that one or both of Lovren and Matip will get back to full fitness and give the team options at CB with Gomez? Sure. Liverpool's defensive record has improved mightily since last fall, and Klopp came out well last January when he gambled that the side would be okay losing Coutinho but not bringing in any replacements. However, it appears Liverpool can't help playing with fire, whether it's refusing to sign CB cover or moving on to secondary or tertiary options when the primary transfer target is unavailable. Only time will tell if the Croatian sensation will be in the lineup when the big matches start or whether Liverpool will regret not being more proactive in finding a true RCB to play next to Big Virgil.