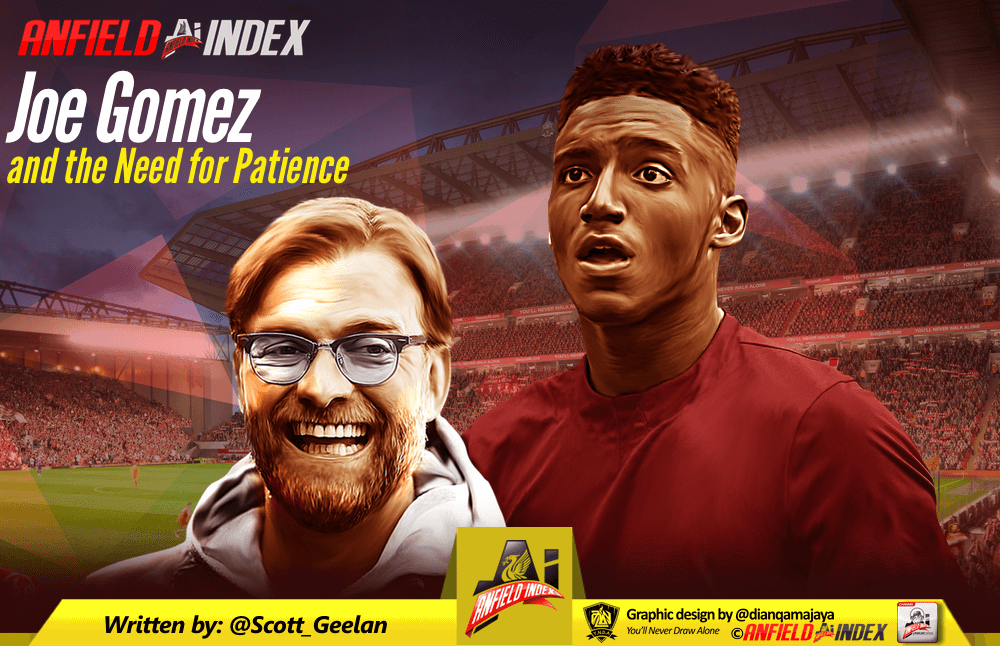 Joe Gomez and the Need for Patience
On Sunday, Joe Gomez made his long-awaited Premier League debut at centre back for Liverpool. Signed from Charlton back in 2015 with an eye to a future as a Liverpool centre-back, Gomez has so far followed the well-trodden path for youthful centre back prospects at Anfield – playing at fullback.
This path has often been a problematic one, with Jamie Carragher the only player I can think of who has successfully carved out a first-team spot at centre back after spending his formative first team years at fullback, at least since the turn of the millennium. Throughout the past eighteen years, Liverpool's record developing young defenders has been extremely poor, at least in terms of developing players who have been able to hold down a first-team role at Liverpool. Martin Kelly and Andre Wisdom are two players who showed promise, but now find themselves seemingly miscast as fullbacks in the modern game, having already moved on in their careers, whilst Tiago Ilori and Sebastián Coates are two other notable young centre-backs who were signed with an eye to the future yet failed to make a mark at Anfield. 
My colleague at AI, @Stephen_B_A, wrote a fantastic piece discussing why Gomez needs to be moved to centre back sooner rather than later, allowing him to focus on that one role rather than being used in multiple roles and/or being played nominally 'out of position' like Wisdom, Kelly and Carragher were during their formative years. It seems fairly obvious that a young player would be well served by getting some time in competitive games at the position he is likely to spend much of his career at, but this has seemingly been neglected by multiple Liverpool managers in order to play it safe and not risk a young player making defensive errors at the seemingly more crucial position of centre back.
The hope is that Gomez is henceforth utilised far more at centre back than fullback, something Klopp seems open to pursuing given his reported willingness to allow Ragnar Klavan's departure. Nevertheless, both fans and coaches must accept some growing pains and be willing to remain patient with his development – Gomez has only played in 15 competitive senior club games at centre back including last Sunday. Mistakes are ultimately the best form of learning, and whilst we may all hope that the majority of those are confined to the training ground, the reality is that Gomez is likely to make a few mistakes, of differing levels of severity and impact, during competitive games. That being said, it is clear he has a number of qualities that give him a chance to excel at the centre back position in Liverpool's system.
Firstly, Gomez has proven himself to be very capable on the ball, recording a pass completion percentage of 84.5% at fullback last season. This was a little way off Liverpool's centre-backs (all of whom cleared 88%) but was certainly a number that indicated Gomez had the ball playing ability to perform well in the middle of the defence. Early signs are good – he completed 91.5% of his passes against West Ham on Sunday. His ability to receive and play the ball out from the back, as well as carry it forward if necessary, can be a useful part of Liverpool's offensive toolbox this season.
Furthermore, Gomez is an impressive athlete, possessing the kind of speed that enabled him to defend at fullback and lends itself positively to playing in Liverpool's high defensive line. His athleticism does not translate into aerial prowess, however, potentially an issue given Liverpool's aforementioned high line and their pressing which can force teams into long balls. Gomez was just above average amongst charted* fullbacks last season with 51.6% of his aerial duals won, though he was more slightly active than most of his fellow fullbacks aerially. This is an area he will undoubtedly need to improve in at centre back – centre backs charted had an average of 2 more aerial duels per 90 than fullbacks charted. It is nevertheless worth considering that he can be helped by having Fabinho replacing Henderson in the '6' role, with the Brazilian better in the air than the Liverpool captain, as well as having Virgil van Dijk alongside him who is a dominant aerial player. On Sunday, Gomez did not win a single aerial duel, so this is an area certainly worth keeping an eye on.
That being said, Gomez stands out as an exceptional ball winner when the ball is on the ground, and this continued in his first game at centre back. Last season, he was both extremely active, and extremely successful in ground duels, with the third most ground duels per 90 minutes of 6.63 and the second highest percentage of ground duels won with 65%. The graph below shows how effective Gomez was in comparison to his peers, with Alberto Moreno also standing out.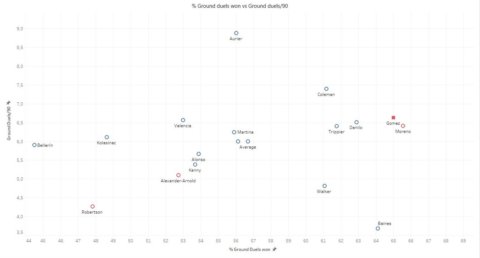 High volume coupled with high success rate is often an indicator of a player being extremely strong in a particular area, and Gomez's ability to win duels with the ball on the ground stands him in excellent stead for his move into the centre of defence. He is, however, likely to face far fewer ground duels – charted centre backs averaged 2.41 fewer ground duels per 90 than charted fullbacks. Notwithstanding, Gomez's success rate is extremely high, even amongst charted centre-backs, suggesting he will not see a drop off in performance, just a reduction in the number of occasions he is asked to perform this particular strength of his. On Sunday, Gomez won all three of his tackles attempted, a performance one could have predicted when looking at the data.
Given the available data and the eye test, it is not a stretch to suggest that Gomez has the ability to grow into an extremely capable, Liverpool standard, centre back. There is no doubt that he will have lapses, though playing alongside perhaps the steadiest centre-back in the Premier League, if not world football, should be of immense benefit to Gomez in this regard. Furthermore, the consistency of Klopp's demands of his centre-backs should provide similar stability for Gomez. He will have to improve aerially to cope with the increased threat he is likely to see in his new position, but there is significant reason to be hopeful about his future in the central defence. Now, we must all be patient with him, accept the inevitable growing pains and trust that he has the work ethic and the support around him to reach his lofty potential.
*Charted players played for Liverpool, Chelsea, Arsenal, Manchester United, Manchester City, Tottenham and Everton, and played for a minimum of 900 minutes last season.