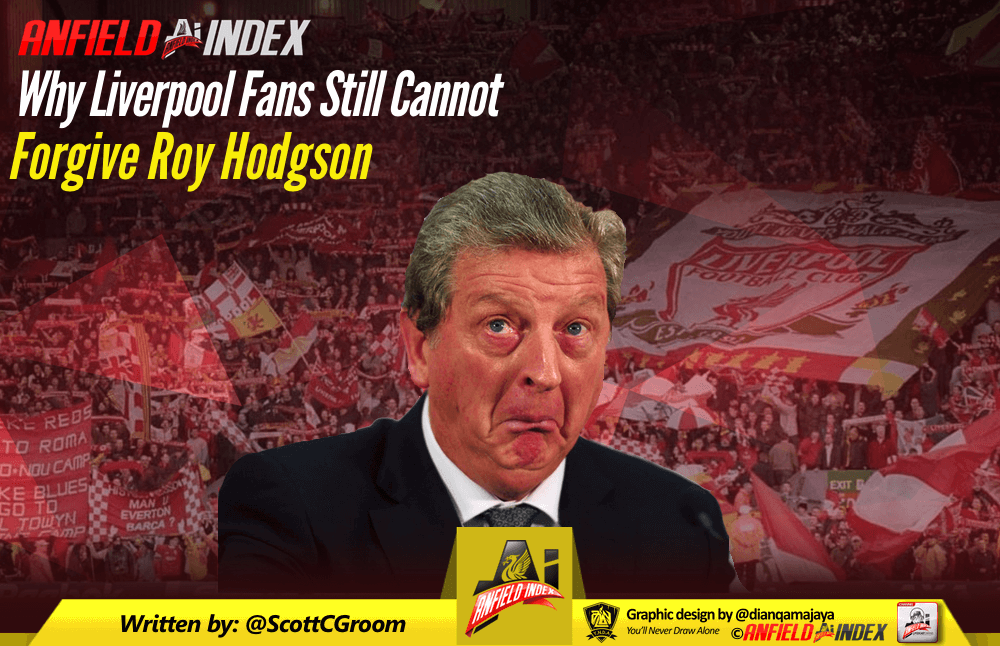 Why Liverpool Fans Still Cannot Forgive Roy Hodgson
With Jürgen Klopp's confident Liverpool side coming up against Crystal Palace in their first Monday night fixture of the new season, they also come face-to-face with perhaps one of the worst previous managers the club has seen in modern times.
So bad was Hodgson's six-month spell in charge that most have almost eradicated it from their memories, as well as some of those spine-shuddering signings.
I'm going to take a look at how this dour spell has forever tainted Hodgson's reputation on Merseyside, and the impacts that three key areas had on Liverpool Football Club as a whole.
The signings
Remember Milan Jovanovic? Danny Wilson? Joe Cole? Christian Poulsen? Paul Konchesky? I'd rather not either…
The bad signings need not have made or broken Hodgson's time at Liverpool and they could've turned out to be shrewd pieces of business, but they didn't. This combined with the dour style of football he had Liverpool playing, with the cherry on the top coming in his defiance to step down despite incredible pressure from fans has left his stint in charge with a very bad taste in the mouth of Kopites.
The one decent signing Hodgson made was that of Raul Meireles from FC Porto for £11.5 million, and even he turned out to be hit and miss.
I know that not every signing that a manager will make in his career will turn out to be a perfect one, but nearly all of Hodgson's signings were almost doomed to fail.
In what world was Milan Jovanovic ever going to forge a successful career at Anfield? The signings made the club become a laughing stock – and what on Earth must senior players such as Steven Gerrard, Jamie Carragher and Pepe Reina thought of it all?
Fernando Torres certainly wasn't impressed and he set sail for Chelsea shortly after Hodgson's departure, and you can't help but think it's because of what happened in Hodgson's reign. In fact, Torres himself even cited the lack of quality arrivals during the latter stages of his Liverpool career as one of the reasons he left, as the club wasn't showing any ambition.
Jürgen Klopp is constantly speaking about and putting into action his plans for Liverpool to cease being a selling club, but that's what we were back in 2011 with very little keeping elite players like Torres at Anfield.
The results & performances
With the lack of quality signings and frankly poor management and tactics, Liverpool were struggling in lower echelons of the Premier League.
Without sounding too pompous, Kopites are not used to seeing their team struggle so much. They're not used to seeing their beloved Redmen languishing in the relegation zone as they were at times under Hodgson.
The worst thing about it was, there never once looked like a time when the lads could turn it around. The team was lost, meandering to mediocracy and didn't have an identity.
Thankfully for us all, John W. Henry saw sense and got rid of him and brought in King Kenny who resurrected Liverpool's season and even won us the League Cup – which to this day is the club's last piece of silverware.
The atmosphere
Poor signings delivered poor performances which resulted in a poor league position and a toxic atmosphere around the club like nothing I have ever seen before – and that is even after the tenure of Hicks and Gillett. This was up there.
What made it all the more difficult to accept was that those two dastardly Americans had just upped sticks and left, with John W. Henry's FSG coming in with an eye to changing Liverpool's fortunes both on and off the field.
After a period in our history where the threat of administration and potential liquidation became a very real nightmare, I didn't quite know how it could get much worse – then there was Hodgson.
It's almost impossible to think things were as bad as they were just seven years ago in comparison to how things are now under Klopp.
Hodgson has somewhat salvaged some reputation in his most recent spell as Crystal Palace boss, but after ill-fated posts at Liverpool and then even more regrettably, England, haven't endeared him to my heart in the slightest.