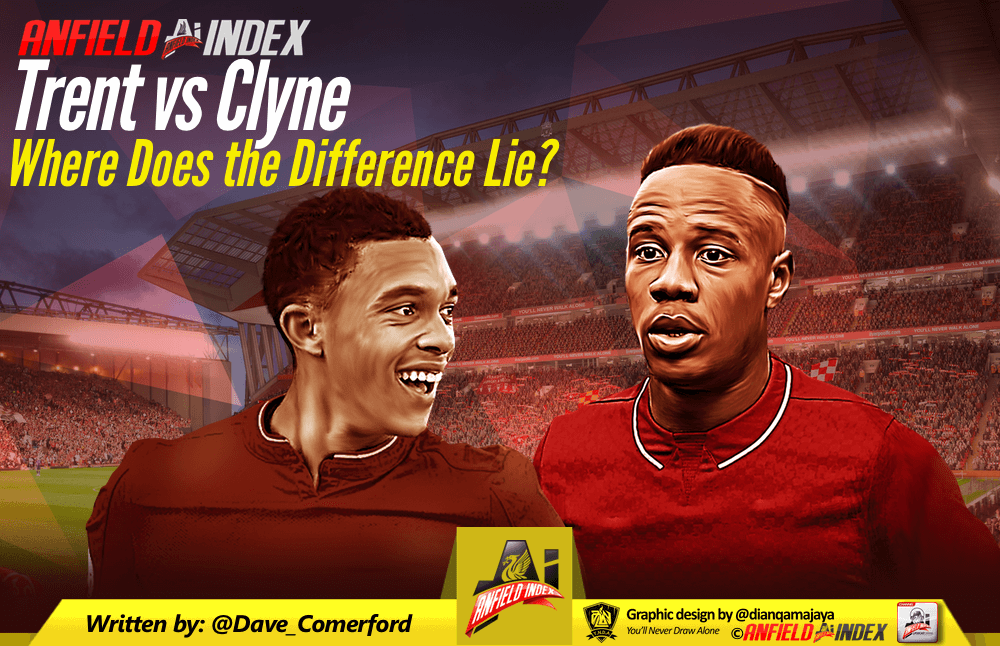 Trent vs Clyne: Where Does the Difference Lie?
It was, to my mind, a surprise to see Trent Alexander-Arnold start over Nathaniel Clyne at right-back for Liverpool's season-opener against West Ham on Sunday.
Alexander-Arnold had only returned to the fold at the beginning of the Evian training camp, and when he came on in the penultimate friendly against Napoli just eight days before the clash with the Hammers, he was very much off the pace.
A more convincing 65 minutes followed against Torino, but still Clyne, characteristically solid throughout the summer, seemed likely to start as his young team-mate built his fitness.

But Klopp, deciding between Alexander-Arnold and a fully-fit Clyne for perhaps the first time, went with 19-year-old. That struck me as significant, even if it confirmed the widely-held suspicion that Clyne's long-term lay-off saw him leapfrogged in the pecking order.
Why, though, does Klopp have a clear preference for Trent, beyond his evident promise? I've been using the excellent Comparison Matrix provided by Squawka to see where the strengths of each player lie.
We'll be using Trent's Premier League statistics from the 2017/18 season, and Clyne's numbers from the year before when he was virtually ever-present.
This means we miss out some of Trent's superb, and feisty, Champions League displays, and neglect the more recent information for Clyne, but in a unique set of circumstances, it seems the best mode of comparison.
Defending
Pre-Virgil van Dijk, in those dark days, the Liverpool defence was erratic. Only Clyne, virtually an automatic pick during Klopp's first season in charge, served as a model of stability.
Ever-reliable, he averaged just 0.03 defensive errors per game that year. Trent, to his credit, makes only a fraction more (0.05) in spite of his tender years, and that's part of the reason why he's seen, and judged, no longer as a prospect but as an established member of the first team.
Indeed, Trent comfortably edges Clyne in terms of clearances and makes nearly four times as many blocks on each outing.
When it comes to battling with attackers, though, it's the experienced hand who has the advantage. Clyne (just about) wins a greater proportion of duels and makes more successful tackles (1.65 per game relative to 1.42). That suggests he's a more physically-imposing presence and boasts better judgement than Trent, who loses out more often when he puts his foot in.
In terms of defending overall, then, it is nip-and-tuck.
On the ball
Klopp likes his full-backs to be ambitious, offering Alexander-Arnold and Andrew Robertson a licence to bomb down the flanks and repeatedly whip the ball into the box.
The passing statistics help to shed some light on which of the two possesses more of that ambition, that reluctance to play it safe.
While Trent's passes are about four and a half metres longer on average, it is Clyne who plays the ball forward with a greater frequency, making just shy of 30 forward passes a game (around 4.5 more than his competition). Clyne's passes are also more accurate, again hinting that his judgement may be slightly better than that of the up-and-coming Trent.
Going forward
Liverpool's full-backs, like many in the modern Premier League, often serve as auxiliary wingers, constantly providing an overlapping option for Sadio Mane and Mohamed Salah. Simply being able to neutralise the threat on the opposition's flanks is no longer enough.
Alexander-Arnold looks better-suited to th0se evolving demands placed on the right-back. Clyne goes for goal more often, but it's Trent who is much more willing to try and beat his man (he can boast nearly twice as many successful take-ons) and creates marginally more chances.
The numbers for assists don't tell us all that much – Trent managed one in the league, while Clyne registered two, having conveniently played twice the number of games. What is noteworthy, though, is Trent's greater number of key passes on average – 1.26 to 1.19.
In a more general sense, the local lad appears a much greater threat in the final third. He's capable of magic from free-kicks, as he proved against the Hammers when he forced Lukasz Fabianski to tip his delightful swerving effort wide and can whip-in some excellent crosses, while Clyne's deliveries seem to have a frustrating habit of hitting the first man.
Overall
As you can clearly see, the margins are very fine indeed. I would suggest that, on the whole, Clyne is ever-so-slightly more trustworthy as a defender, particularly when you consider Trent's costly lapses on trips to Selhurst Park and Old Trafford last term (lapses which will be ironed out of his game). Nonetheless, neither player has a tendency to make rash decisions, meaning they are both impressively dependable.
The difference between the pair going forward isn't massive, but it helps to mould the impression that Trent, with his relentless attacking runs and developing a penchant for the spectacular, is simply better-suited to Jurgen Klopp's unique football team.
Our focus has been statistical but, admittedly, the answer may lie in perceptions rather than numbers. Trent is a player who excites – already, he is beginning to emerge as one of the best in his position in Europe, and his World Cup call-up suggests he has a bright future on the international scene as part of the Three Lions' next generation. Added to that, his lineage has seen him embraced by the Kopites and dubbed the club's next great scouser.
Clyne has hardly put a foot wrong at Anfield. Criticism is very rare, but so is genuine praise. He almost always brings solidity, but that can be mistaken for anonymity. He operates with efficiency in the defensive third but fails to really fuel his side's firepower at the other end.
Liverpool are blessed to have two top-drawer right-backs and there really isn't much between them. But, even though rotation is an inevitability, it's clear who Klopp will select for the very biggest games and who he sees as his no.1 in the position.
Before Clyne's injury, Trent was seen a star of the future who could begin to exert some pressure on his senior before eventually taking his place. The former Saint's injury has hugely accelerated that process, and now Trent is locked-in for the long-term.