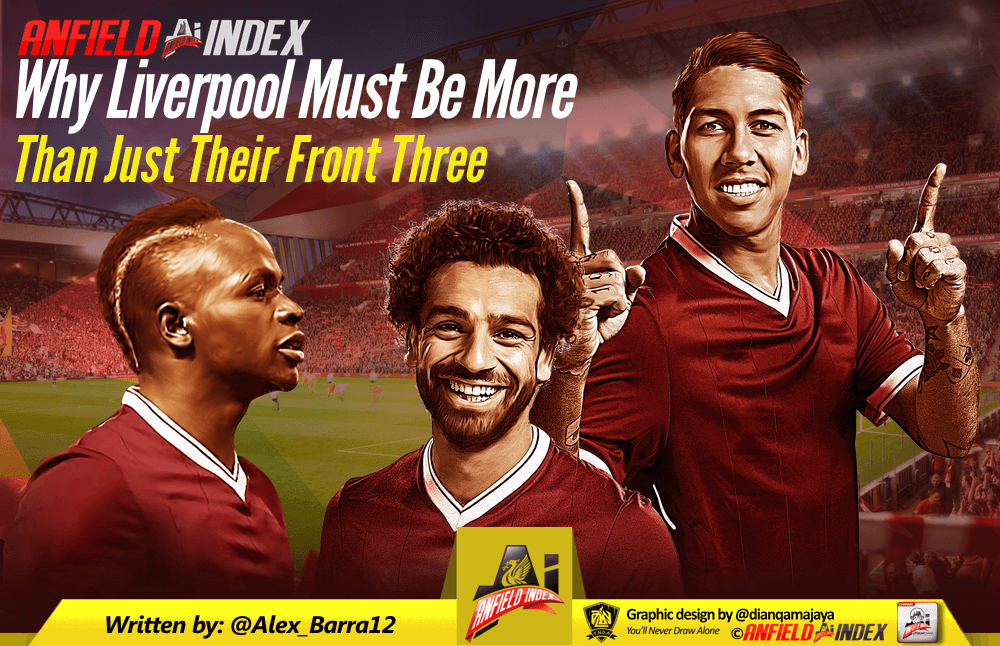 Why Liverpool Must Be More Than Just Their Front Three
"I'm worried about Liverpool's front three."
What Pep Guardiola said was correct. Words that were shared far and wide amid social media following the release of Amazon's Manchester City documentary: "All or Nothing", the sentiment of the manager whose ideals defined a generation should well be shared among every manager who comes up against Jürgen Klopp's side if it isn't already.
For evidence, see the remnants of Roma once Liverpool had put five past them in a single leg of the Champions League semi-final. See the host of Premier League teams that Liverpool put more than three goals past – seventeen times it occurred last season. Or see the lengths Sergio Ramos was willing to go to in order to break up Liverpool's fiery triumvirate.

However, if Liverpool are to become an even greater force, they need to become more than simply three incredible forwards working in tandem.
They are, of course: their defence improved immeasurably with the arrival of Virgil van Dijk; so much that there has scantily been a goal conceded at Anfield since the Dutchman's insertion into the back four, and Livepool's counter-attack system relies on the workhorses in midfield doing their best to harass the opposition and win the ball back.
But they should be so much more.
Gini Wijnaldum, Jordan Henderson and James Milner contributed three goals to Liverpool's Premier League and Champions League aspirations last season. That's, pretty blatantly, not great when it comes to an attacking side. Emre Can only added a further four.
Klopp's Dortmund had sixteen goals come from outside their front four in season 10/11 when they lifted the Bundesliga crown, though their top scorer was Lucas Barrios with 16 – half of Mohamed Salah's Premier League tally.
Indeed, Klopp chose to engineer his tactics almost entirely to getting his front three firing last season. Mohamed Salah would collect the ball between the full-back and centre-back, behind the opposition's midfielders, to get him in the best positions to turn and run at players. He was never too far advanced unless Firmino departed from his more traditional striker's role and became the false #9 we saw against West Ham. Sadio Mané, meanwhile, became the side's chief creator, carving out opportunities from the left-hand side. When Phillipe Coutinho departed, Liverpool lost an important facet to keeping things unpredictable.
Enter Naby Keita.
The arrival of the Guinean is colossal in its magnitude, and not simply because he's quite good at football.
In Keita, Klopp now has someone to link the midfield to the attack. No longer is the middle of the park simply there to do the grunt work, now they possess their own threat in and around the box,
The ability to drive from deep and beat defenders was exemplary when Alex Oxlade-Chamberlain adapted to his role as a third midfielder during the middle of last season; see his goals against Manchester City for evidence there. It's a role that Adam Lallana simply doesn't possess the pace or creativity for, yet Oxlade-Chamberlain's final pass was inconsistent too. When he returns from his injury, the partnership he could create alongside Liverpool's new number eight is fearsome.
Indeed, Fabinho's arrival, too, allows for Gini Wijnaldum to re-embrace the more attacking role fans saw in pre-season, while the game against West Ham also saw Liverpool's proficiency from set-pieces look threatening with Trent Alexander-Arnold on free kick duties.
And perhaps most importantly, Xherdan Shaqiri now offers a wildcard: the ability to not simply pull off the ridiculous and sublime, but enter Liverpool's front three and provide enough fluidity and danger to offset the departure of one of Mané, Salah or Firmino. In fact, he could even co-exist with them all and provide a blistering storm of utter lunacy.
But it's Naby Keita – the man to reform the "Fab Four" with a different casting – whose presence will be most felt by Liverpool's attack.
Liverpool's remarkable front three will continue its reign of dominance – whether other Premier League teams like it or not – but the burden of carrying Liverpool's threat cannot be one-shouldered by that trio alone. When Liverpool struggled last season, it was because the flow encountered a blockage, with only three pipes to flow through.
Now, however, the flow has more paths to follow. The dynamism of this side can truly be put on display, as Klopp applies more strings to his bow.
It's something already exhibited against West Ham – Klopp deployed his troops in a tweaked diamond system as discussed on This Is Anfield – showcasing that there are indeed more ways to skin a cat now that he has the tools at his disposal.
It's true, Liverpool were devastating at times last season. Now, they have the wherewithal to maintain that, in just as exciting a fashion.