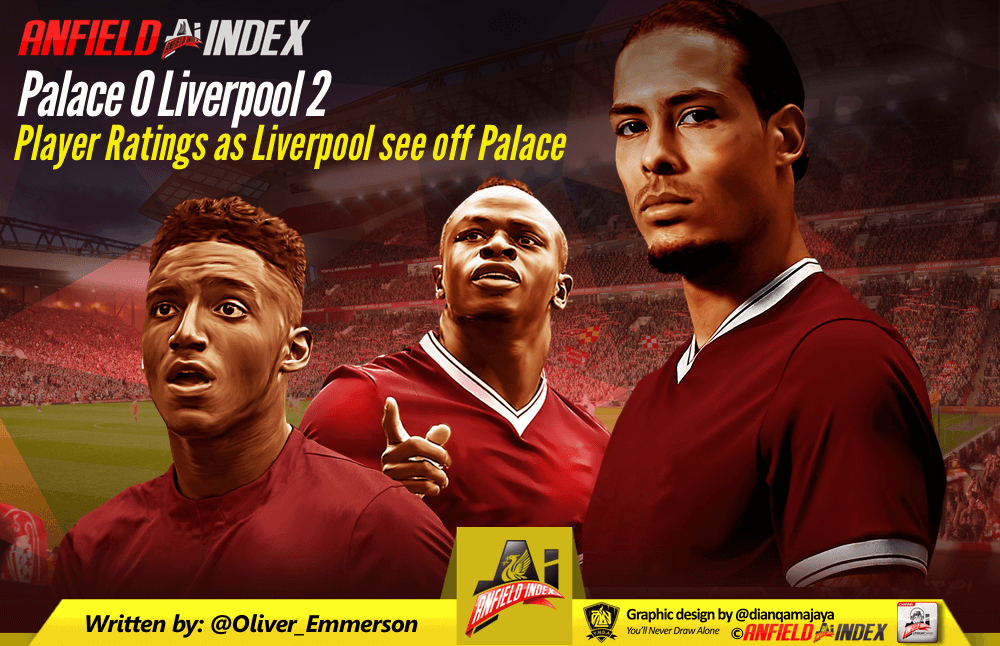 Player ratings as Liverpool see off Crystal Palace 2-0
I'M BACK ON RATINGS! THE REDS ARE BACK AT UPSETTING PALACE FANS! REJOICE!
Great win, lovely team to play against, Palace are. Never a moment's doubt.
Let's get into it.

Oh Virgil…
Alisson (7): Didn't have anything to do for an hour in respect to goalkeeping so instead he made a case for best passer on the pitch. Commanded his area well late on and made a couple of smart saves.
Trent Alexander-Arnold (6): Good at the back which is the main thing, some good passes too and his crossing got there eventually.
Joe Gomez (7): A couple of sloppy positional errors but he made up for them with his pace, one tackle on Zaha the standout. Swept up well from Alexander-Arnold.
Virgil van Dijk (9): An absolute colossus. Won header after header against Benteke, which is no easy feat regardless of the Belgian's form. Best centre-back in the league, in footballing ability as well as looks. He makes me feel safe at night.
Andrew Robertson (7): Another 7/10 from everyone's favourite 7/10 man. Seems to have a good understanding with Naby Keita which is nice.
Keita's clouds
James Milner (6): Ropey in the first half but steps up and scores the penalty which is 10% of what he's there for. Smashed Zaha and didn't concede a foul before getting Van-Aanholt for much the same. Genius.
Georginio Wijnaldum (6): His away performances are like your mum's favourite film. You've seen it loads, you think it's abit meh and you're still not really sure what happens in it.
Naby Keita (7): Absolute dreamboat, floats around the pitch like he's on a cloud when in possession but then snarls at the opposition like a rabid dog when the Reds are out of it. Get that spin, run and pass to Salah in the first half on a loop until the next game.
Mané on the Money
Mohamed Salah (6): People are petrified of him. He wasn't actually that good today and still won a penalty, should have had an assist and forced the red card. Last season is having an effect this season, defenders are panicked around him and will make mistakes regardless of what he's doing.
Roberto Firmino (6): Quiet. Unsure what else to say really? Do a goal next week m8.
Sadio Mané (8): Really good. Is he going to outscore Salah this season? Ask him and he'll smile and turn away, but he means business this season. Lovely finish to cap off a top night.
Substitutes
Jordan Henderson (6): Played some okay passes and then kicked the ball out of play.
Adam Lallana (0): The hair, the hair alone. Change that and you can get a 'N/A', Adam.
Daniel Sturridge (N/A): Doesn't have a bizarre haircut.