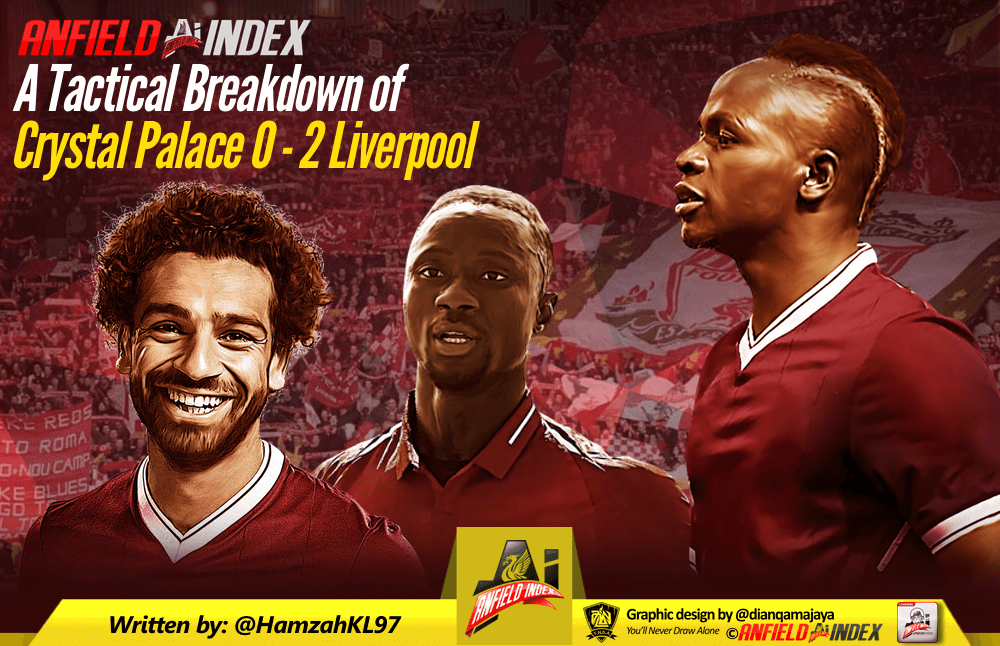 Crystal Palace 0 - 2 Liverpool: A Tactical Breakdown
Liverpool's 2-0 victory at Selhurst Park was a perfect result. The performance itself though was a great deal detached from perfect. LFC's attacking brilliance is regularly lauded and rightfully praised, however, the response to the victory against Palace does not accurately reflect the performance itself, nor the underwhelming work of the forwards and midfield against a low block, again. Andrew Beasley wrote an excellent piece praising Liverpool, particularly the defence, and whilst his analysis of the defence is largely agreeable, we did differ with respect to our views on LFC's offensive performance.
Perhaps. We did create the three non-penalty big chances though, they didn't come about through rebounds, deflections, opposition errors etc.

— Andrew Beasley (@BassTunedToRed) August 21, 2018

According to Statszone, Liverpool had four big chances.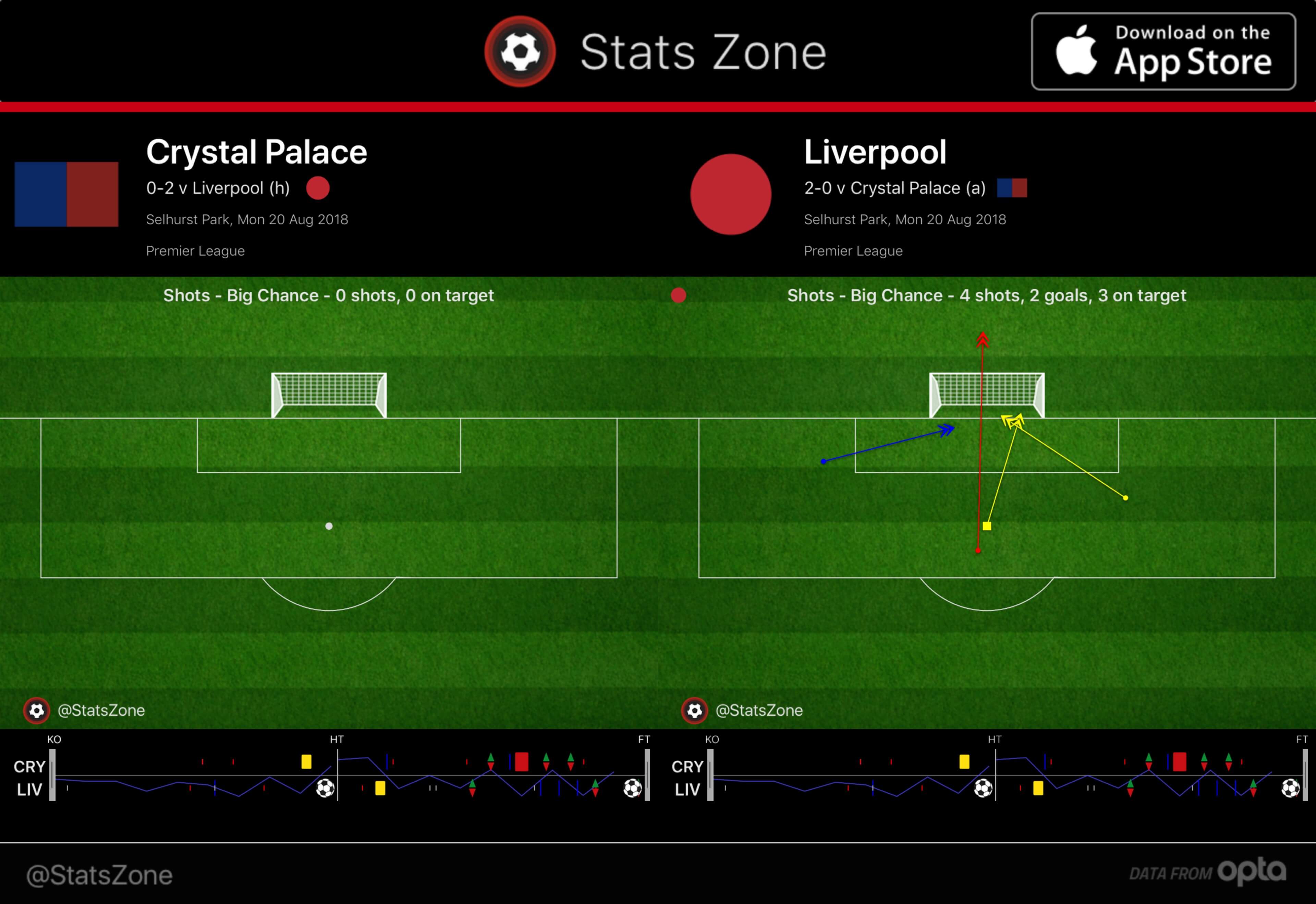 Of those four chances, one was the penalty, one was the product of a long pass from Keïta into Salah, another the counter-attack in extra-time which Mané scored, and the remaining chance was a Keïta shot, courtesy of sustained possession buildup in the final third. In of itself, this doesn't appear concerning, however, considering LFC had 63.2pc possession, 151 passes in the final third and 22 passes within the penalty area, why did Liverpool only create one major chance from positions in and around the penalty area?
Simply put, Crystal Palace defended space exceptionally well. Roy Hodgson decided to employ a 4-4-2 formation, with an extremely tight and disciplined back four. Unlike WHU though, the CPFC midfield four left very little space between them and the back four, vastly reducing the space Liverpool's forwards had to operate in, and for the CMs to run/pass into.
The two images below are typical examples of CPFC's defensive structure and organisation during the first-half: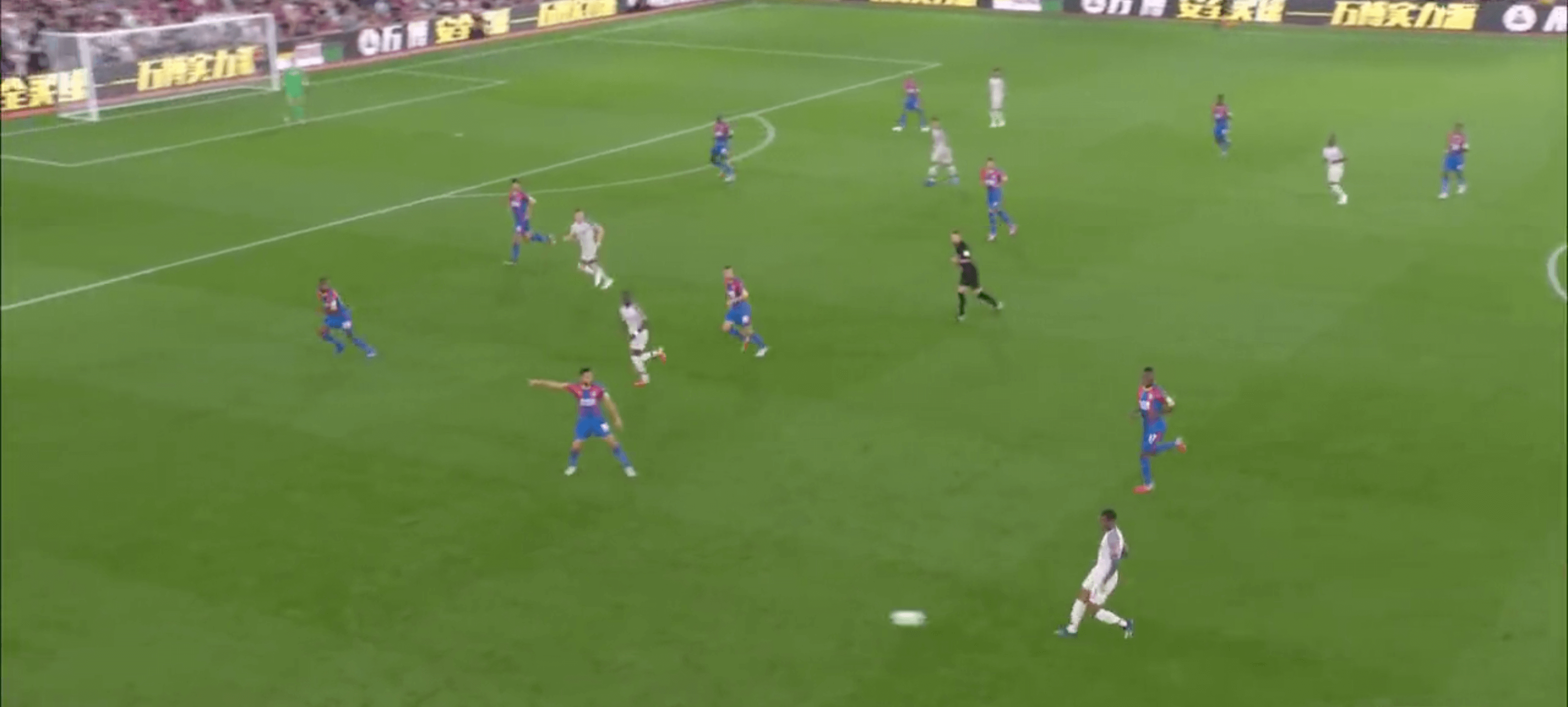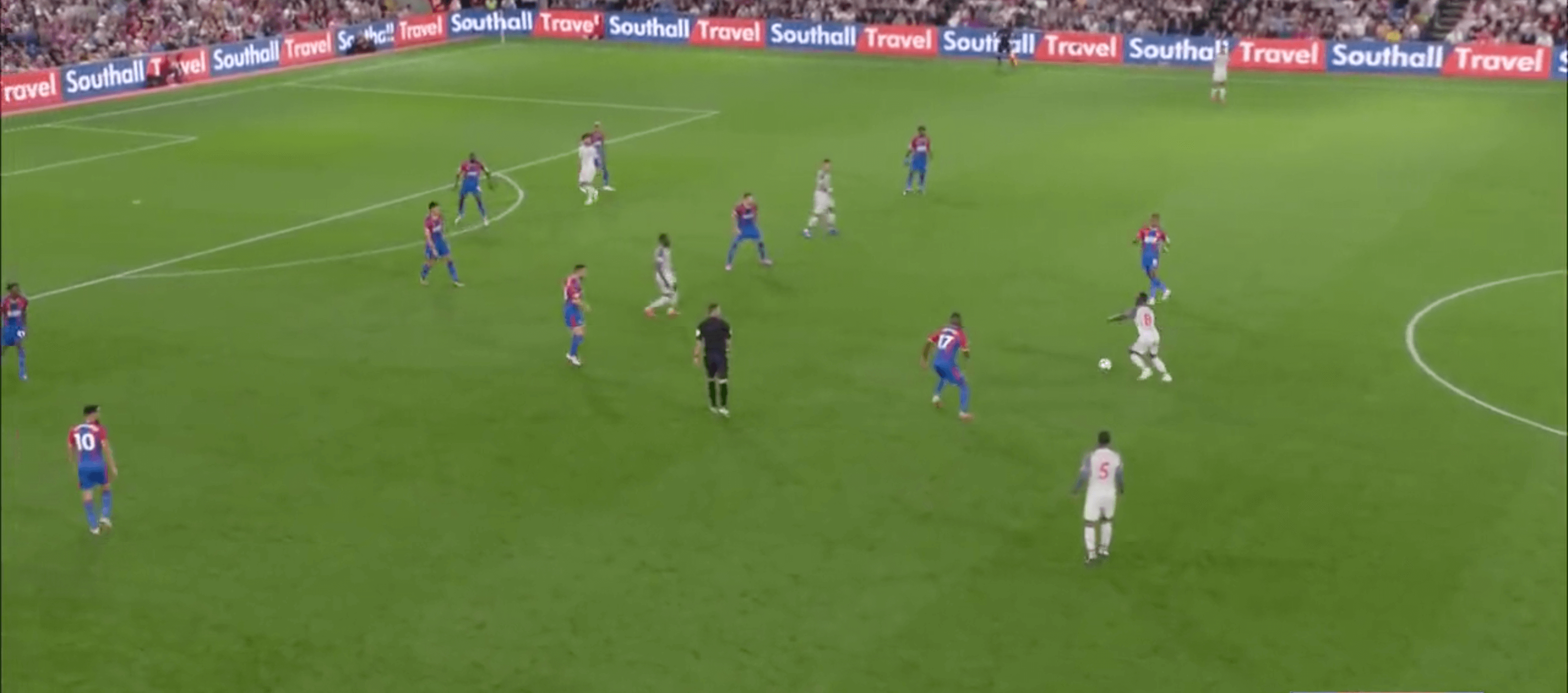 When holding the ball in advanced areas, Liverpool struggled to involve Firmino or Salah in attacks. Usually, Firmino and Salah, or Mané and Salah sit between the LB-LCB and the RB-RCB and pin the defenders back. However, the CPFC defenders were unconcerned about being pinned back, as they were looking to defend first and foremost, and break infrequently.
Whereas against WHU, LFC's midfielders and forwards had space to run into and pass into, CPFC did not afford them this opportunity when organised and sitting back. There were a few breaks from deep inside LFC's half, when the CPFC players had pushed up, which allowed for a couple of counter-attacks, notably one falling to Salah in the first half, and another pass is overhit by Firmino too. But apart from these two chances and the long pass from Keïta into Salah, Liverpool really struggled to get beyond the CPFC defence.
Against a low central block, the wide areas are essential channels which can be utilised to either run around the block or drag defenders across in order to create spaces centrally to attack. However, CPFC's 4-4-2 setup made this more challenging.
Ideally, when in possession, LFC's CBs will hold the ball and have central options ahead of them, and a FB occupying an advanced position on the wing, thus stretching the opposition defence with their presence or being positioned to run into a vacant channel. What CPFC's two up top did though, was prevent the CBs from passing into the CM, as Wijnaldum was marked by Benteke, and not only this, but in the first-half, Wijnaldum would sit in front of the Palace front two, and often had his back towards the rest of the midfield and forwards. The ball would go into him, then back to the CBs, and LFC lacked a central drive – so much so that Keïta or a FB would drop in deeper to help LFC move the ball forwards.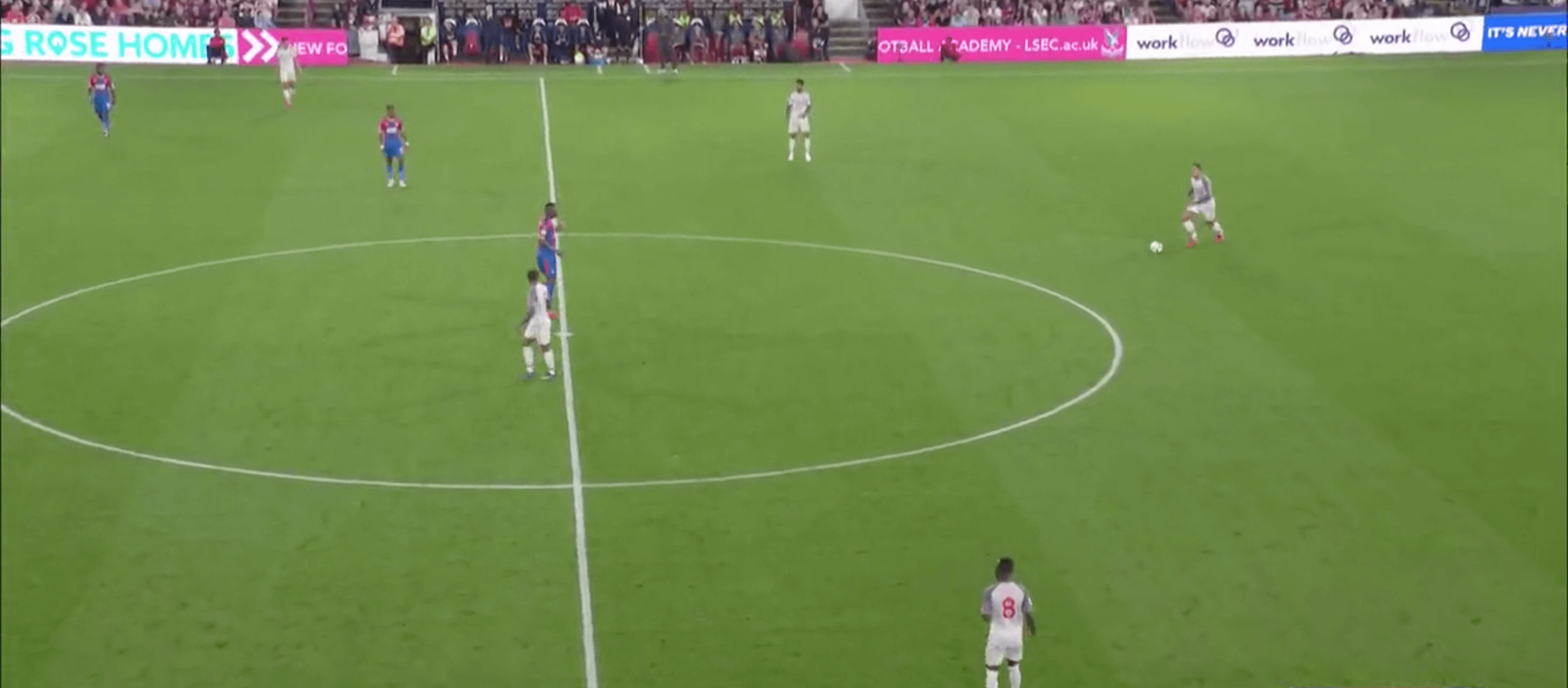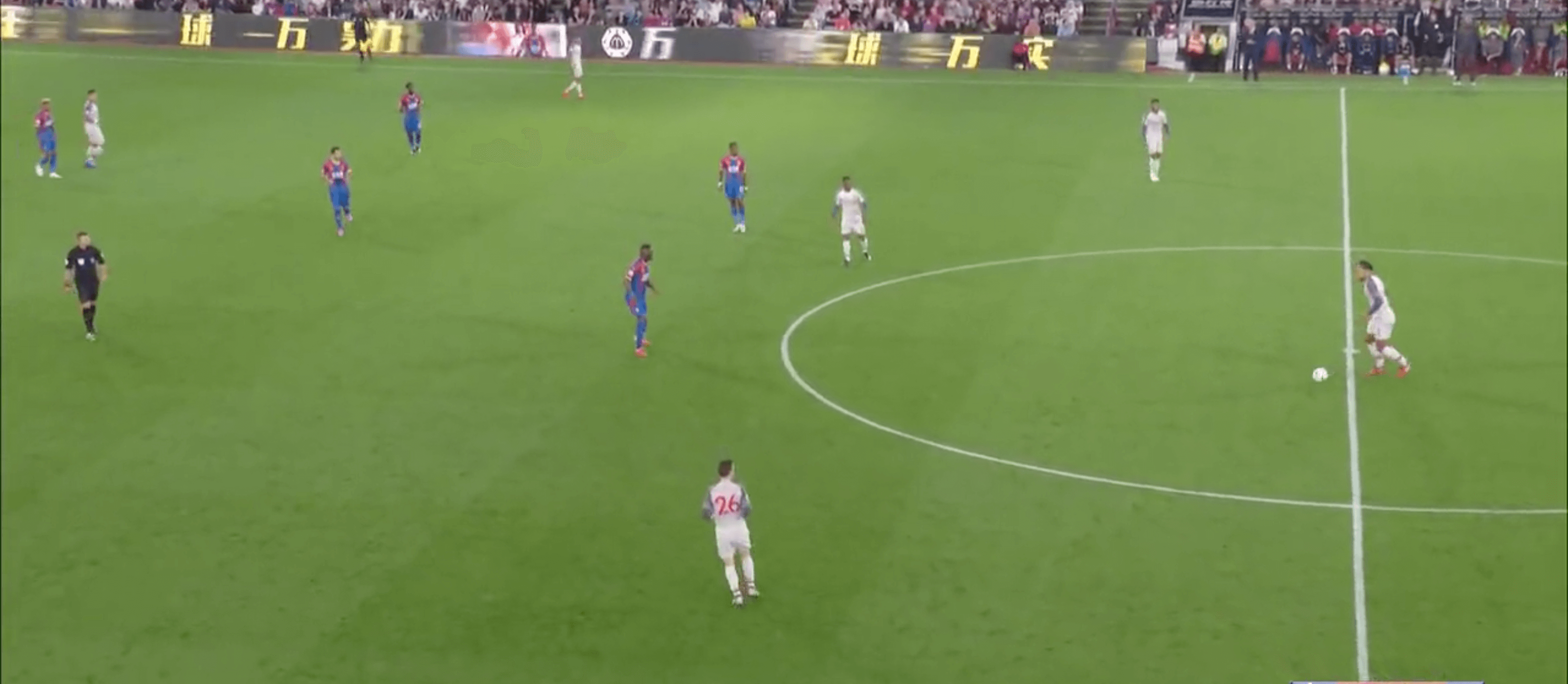 When a FB drops in to help move the ball from the defence into midfield though, that means the team is losing an offensive wide option, or if a CM drops in, as Keïta does in the first image, it means the team now has one fewer player able to take up an offensive position between the CPFC defensive and midfield line.
When LFC finally did get the ball into the final third though, the passing was too slow to move the CPFC defence across and create spaces to attack,
There are a few ways to bypass a 4-4-2 defensive structure though, and the example below actually displays two methods at the same time: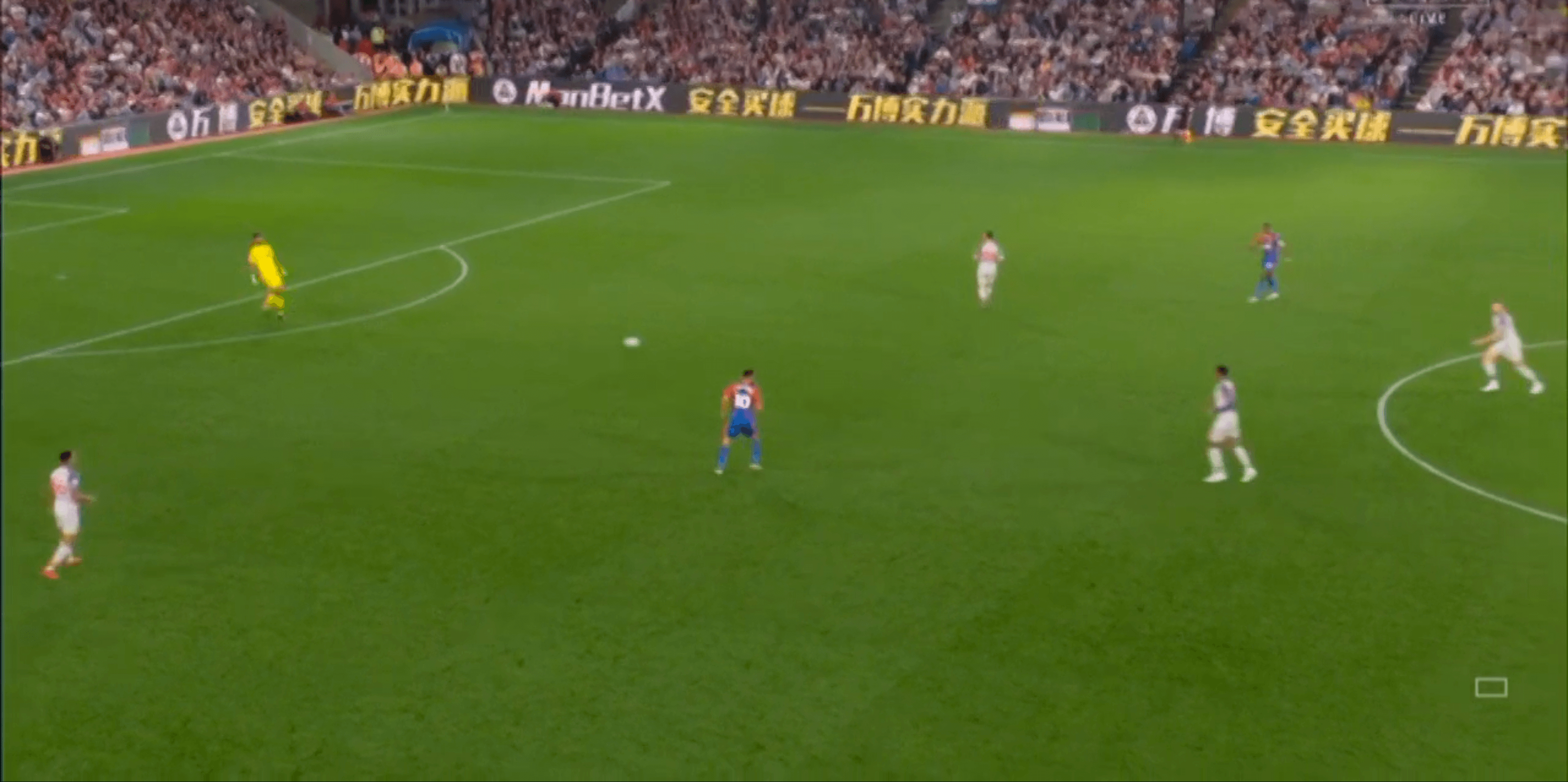 In the image above, Henderson is looking to receive the pass behind the two CPFC players pressing. In doing so, he can take them out of the game, and spring onto the CPFC midfield. Through the ball going back to the goalkeeper though, Liverpool have enticed the CPFC players forwards (albeit, they are also chasing the game at this point), but with Alisson receiving the ball and playing it, he can actually act as an active contributor to buildup, and negates the need for a player to position themselves in a central area to play a pass into midfield.
When Henderson came on, he actively looked to sit between the CPFC forward line and midfield line. As CPFC pushed up, this created more opportunities for Liverpool to attack and break into space, however, this is only because LFC managed to take the lead in the first-half.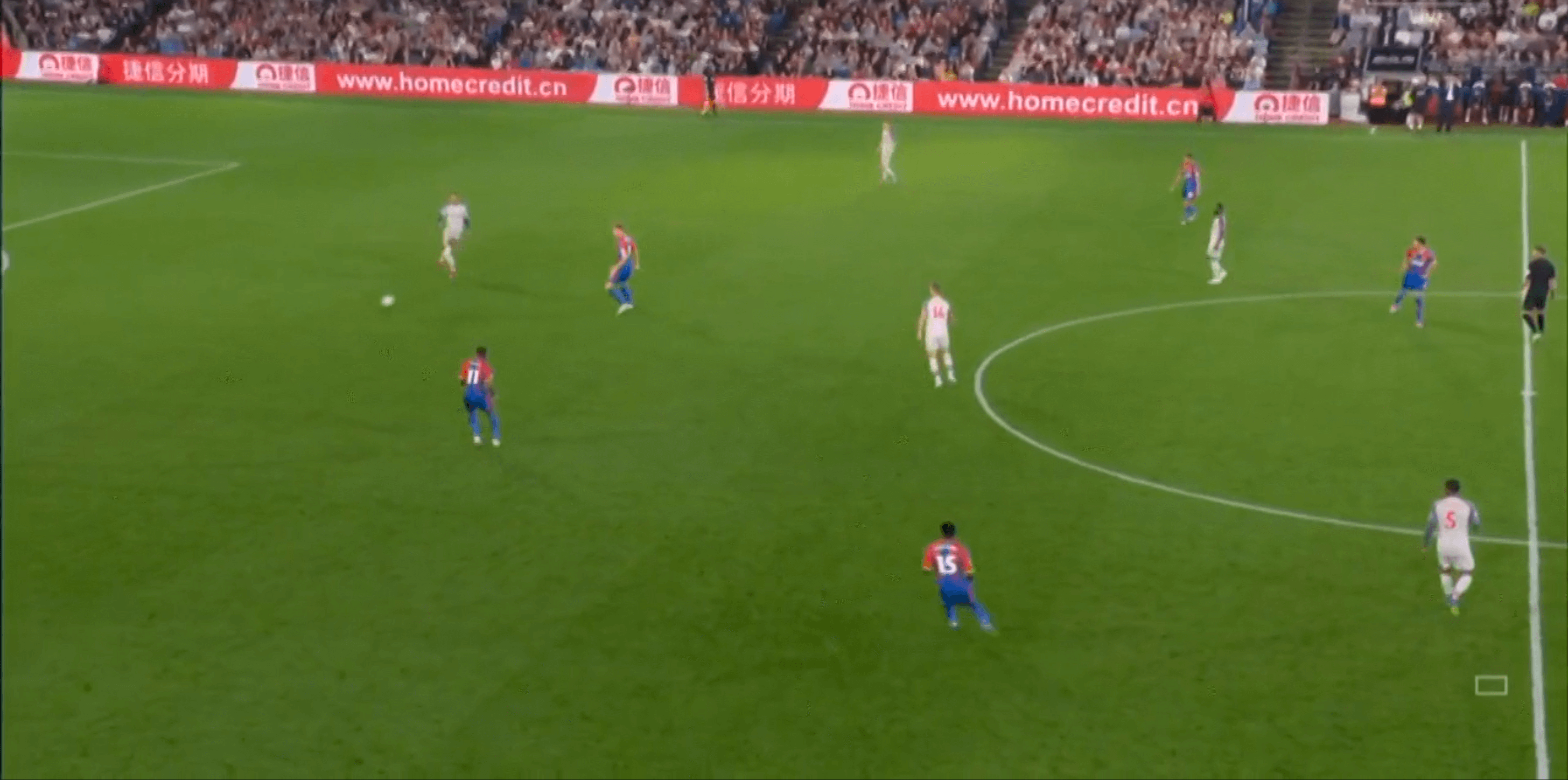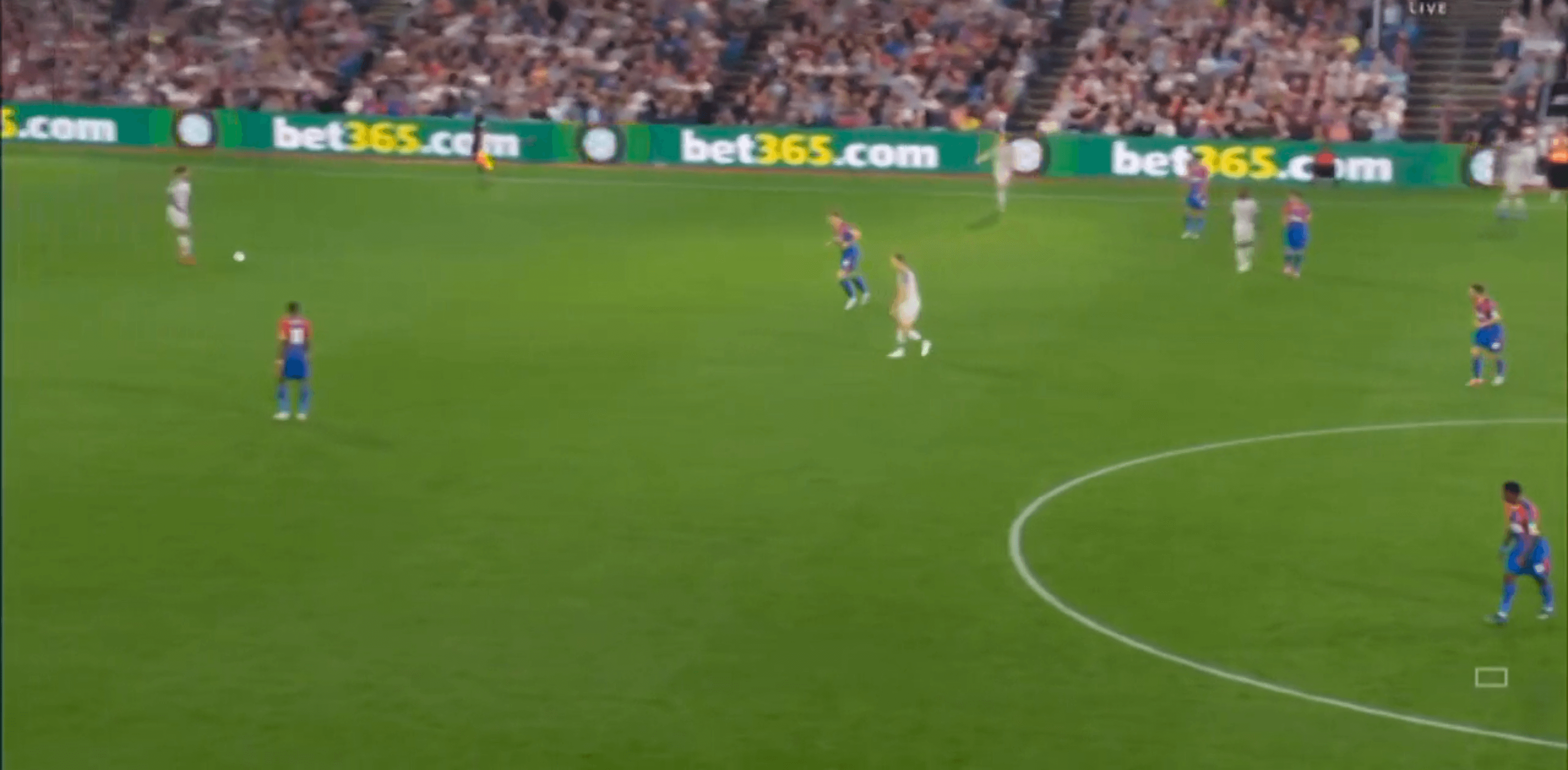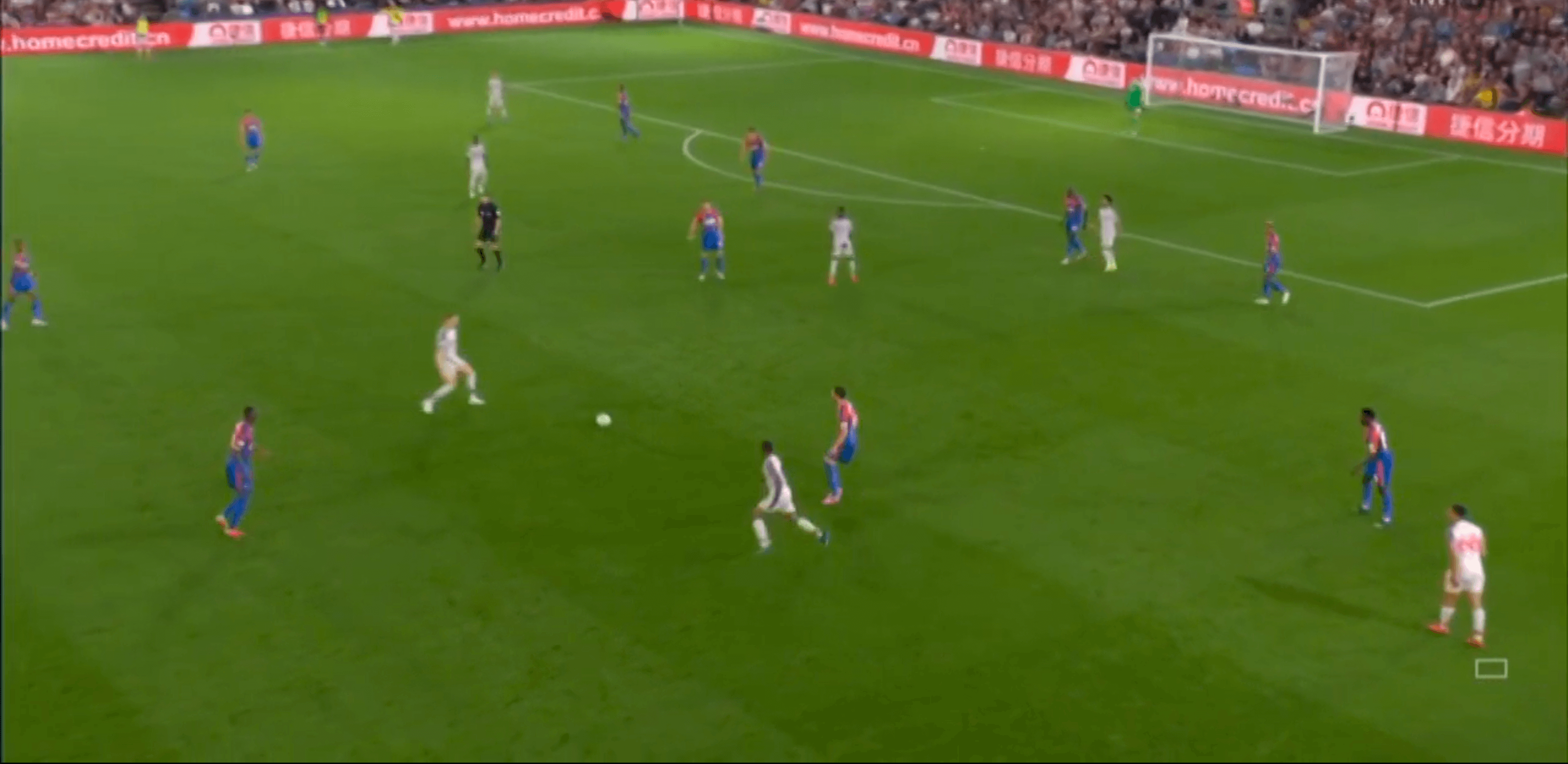 Salah and Mané love coming inside, and it's a real offensive asset, however, for these types of games perhaps one of them needs to maintain the position out wide, instead of attacking the half-space, even if it isn't their natural or best game. Alternatively, the FBs or a CM can occupy the wide areas, as Milner and Keïta did for a while against WHU last week. The only issue here is that the distance they'll need to cover in order to get back into position when LFC lose the ball is greater, and offers the opposition more of a chance when LFC are in transition.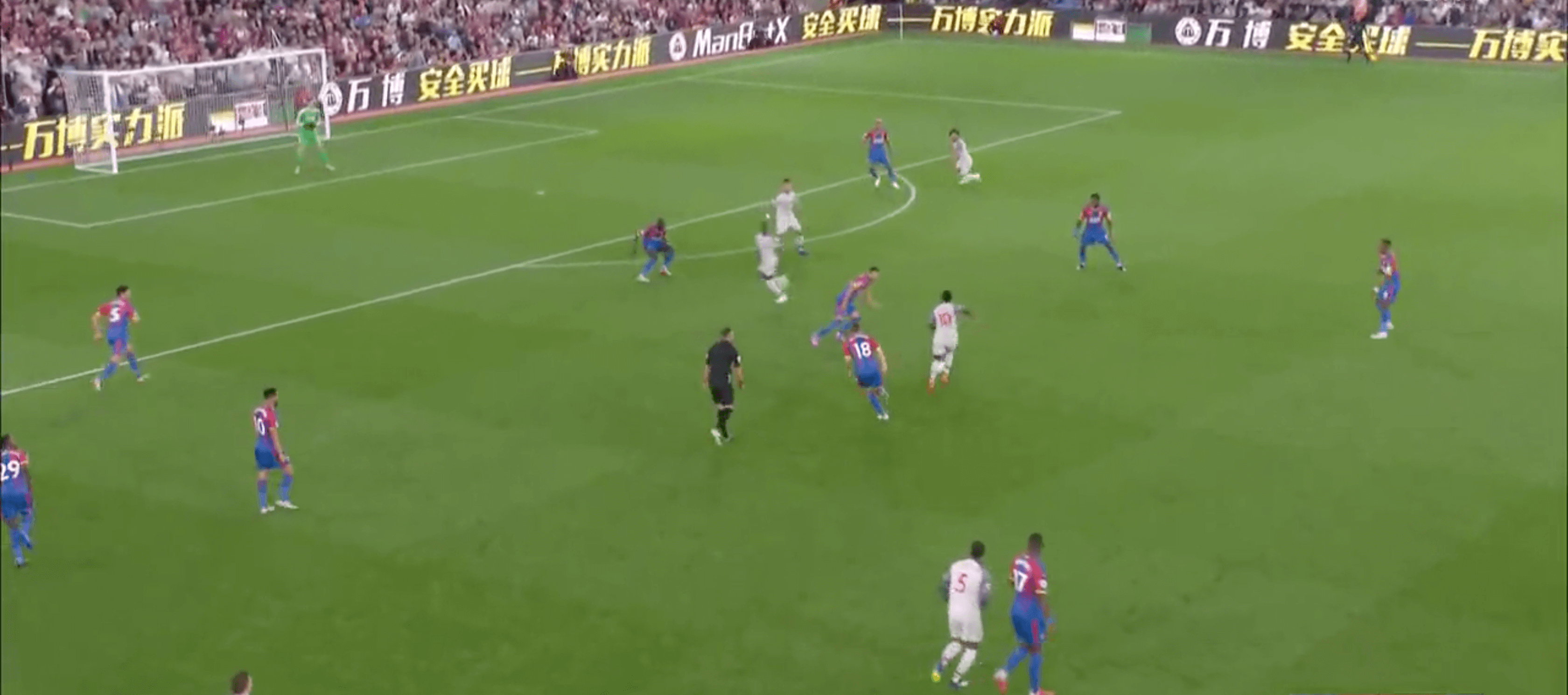 If Liverpool really wish to be title contenders though, they need to be far more inventive when it comes to breaking down a low block. Salah and Firmino's staticity and lack of diagonal movement at times made it easier for CPFC to defend. Liverpool did employ the switch pass rather regularly but failed to capitalise on the space immediately available to the recipient of the switch pass.
If we are fair though, we can credit CPFC with being one of the most defensively stubborn and disciplined teams when it comes to the low block in the league. Individuals such as Sakho excelled in the rare occasions where they were exposed, and very few teams will be as defensively organised and rigid as CPFC, so it's fair to say LFC have passed what could have been a sizeable stumbling block.
The two images below perfectly illustrate CPFC's tactical setup in the first-half and explain in some part why Liverpool found it so hard to break through.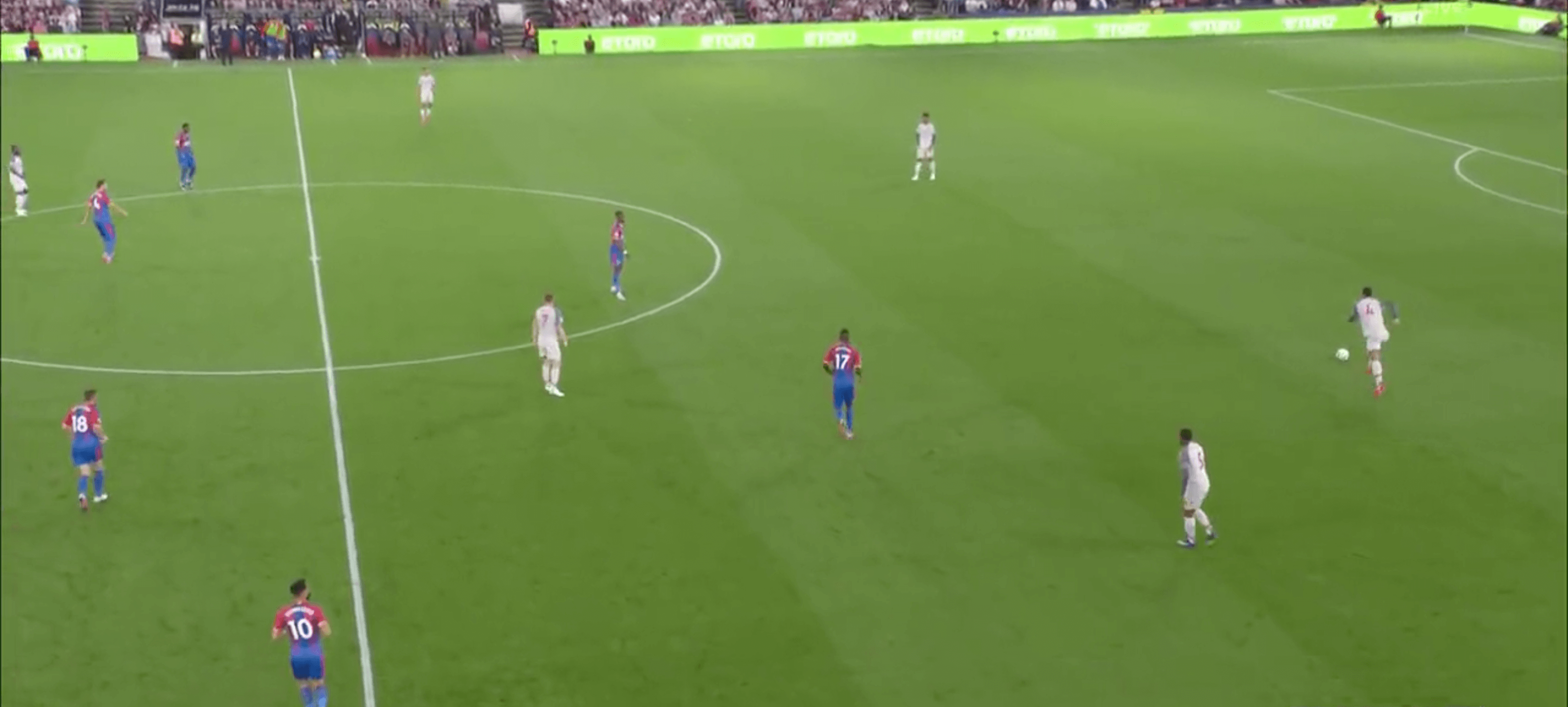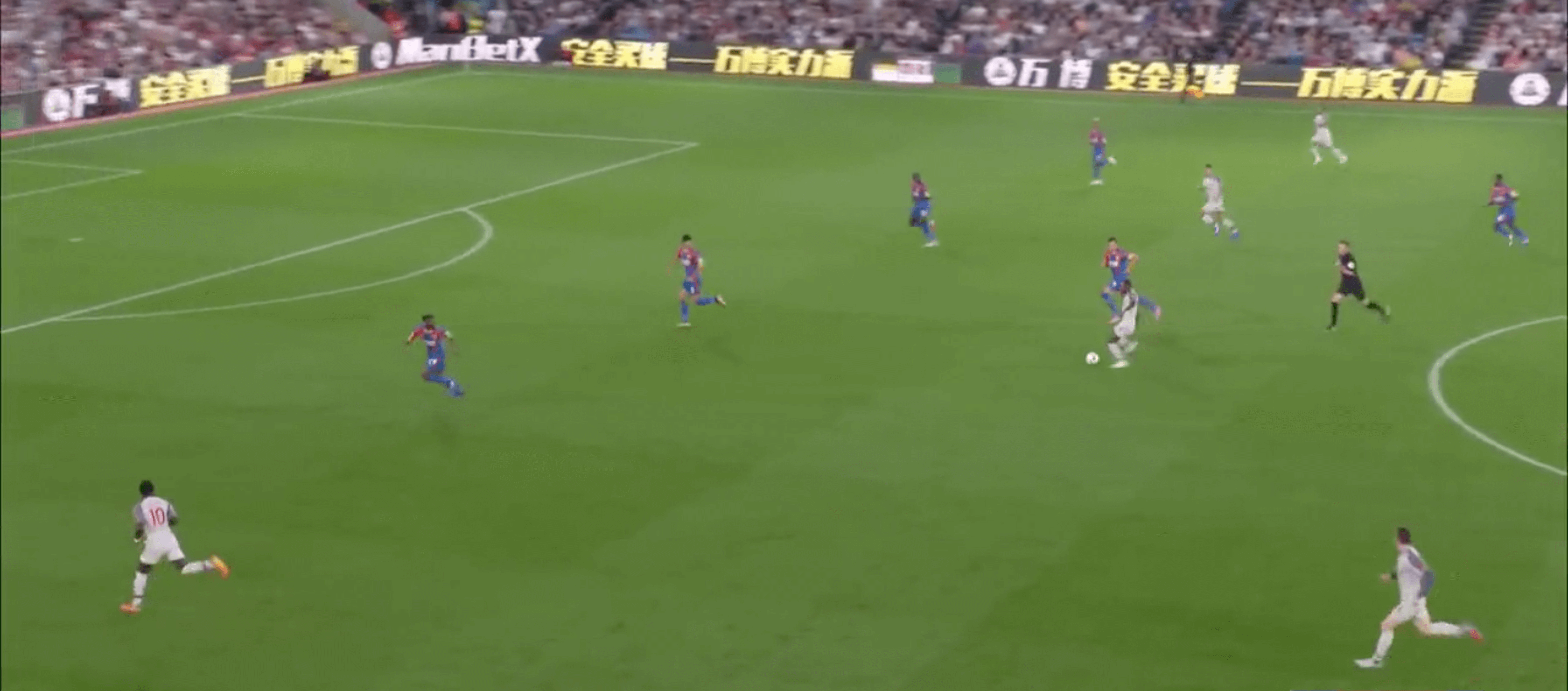 After the penalty though, CPFC were forced to push up and this played right into LFC's hands. Suddenly CPFC couldn't sit back and defend the space, because they were chasing the game, as a result, Liverpool were able to break with more regularity. But Liverpool was conscious of not overcommitting, and managed the second-half sensibly, even holding back from trying to force a goal even after CPFC went a goal down.
The break for Mané's goal came from a corner and was a perfect display of what Liverpool's wingers can do with space in front of them. As long as they have space ahead of them, Liverpool's forwards will thrive; the question of how they can efficiently break down opposition teams when there's very little space in front of them still remains though – albeit it's a question that can be levied at the best of teams and the best of players, for playing against a low block (without the longshot asset previously provided by Coutinho) can be challenging.
As we head into the third game week though, there's plenty for us to keep an eye on when watching Liverpool. There are no glaring holes or flaws in the team at the moment, and generally, the team looks strong and well equipped to deal with the challenges of the Premier League. Brighton, at Anfield, at first glance should be a more straightforward affair, but it'll be very interesting to see whether they're willing to attack and open themselves up, or instead to sit back and try to secure a point.
Until then, if you're looking for some more tactical insight with respect to the match against Palace, have a listen to the AI Pro Tactics Weekly podcast, with Paul Dalglish and myself, as I cover for our regular host, and site editor Daniel Rhodes. Anyway, I'll be back here with the tactical breakdown next week, so hopefully, we'll be looking at another attacking masterclass, as we did so often last season.
https://twitter.com/AnfieldIndex/status/1032319585738006529