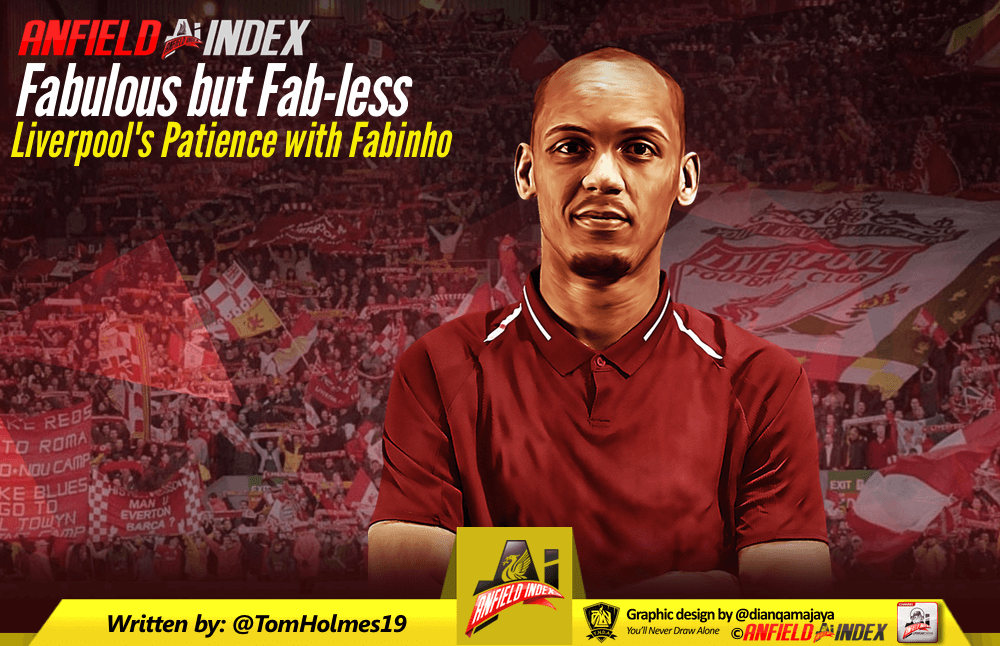 Fabulous but Fab-less: Liverpool's Patience with Fabinho

Patience is a virtue. Sometimes, especially as football fans, we can struggle to see the bigger picture, the longer term, and we can get focused on the here and now. And we can start to question certain decisions. But we need to remember that a little patience never hurt anyone.
Take Fabinho, for example. Liverpool's first summer signing announced just two days after the Champions League final. There was an expectation amongst Liverpool fans that he would come into the side sooner rather than later, and with a full pre-season behind him, most had him lining up on the opening day against West Ham – only for Wijnaldum, Milner and of course, Naby Keita, to get the nod.
Eight days later, with the Reds at Selhurst Park to face Crystal Palace, the expectation remained that Fabinho would slot in. And on this occasion, not only was he not starting, but he didn't even make the bench, with Joël Matip back amongst the subs and Jordan Henderson preferred in the defensive midfield role.
And this makes sense for a lot of reasons. If Fabinho picked up a niggle as reported before the West Ham game, then he cannot expect to walk into a midfield that helped secure a 4-0 win over West Ham, especially as James Milner was named Man of the Match, and Gini Wijnaldum was hardly a slouch either. Dropping players who are in good form has rarely been Klopp's modus operandi, especially when he hasn't had to.
Moreover, if Fabinho isn't starting, as Gini had earned his place in the side, then it would make no sense to put him and Hendo on the same bench. They offer essentially the same role when used as a DM, and with Clyne and Matip both available, there was no use for Fabinho as a utility player. Whilst it can be argued that Fabinho is a better player than Henderson, Hendo remains the club captain, and moreover is more settled in the team. Throwing Fabinho in for a twenty-minute cameo in a decisive game instead of Hendo makes no sense.
So why isn't Fabinho a guaranteed starter, given that he's not only a natural defensive midfielder, and an expensive one brought in this summer, but also a title-winner and certainly a better defensive player than Wijnaldum or Milner?
Well, the short answer is that, as mentioned above, you can't just walk into a team, you need to earn your place. Gini and Milner have thus far done that and Fabinho as of yet hasn't. But the most prominent reason is that some players adjust better to a new system and a new philosophy than others.
Throughout pre-season, both Klopp and Fabinho himself have spoken at length to the press about how Klopp's system is entirely new for Fabinho and he's taking some time to adjust to it. Not only is he used to playing predominantly in a midfield two, but the pressing system that Klopp advocates is entirely different from any other system in Europe for its intensity.
This isn't something new either. Two players that we've seen take a while to adjust and be given time to do so are Andy Robertson and Alex Oxlade-Chamberlain. Neither were regular starters before Christmas, with Robbo having to wait for a Moreno injury to get – and take – his chance, whilst Ox was the prime beneficiary of Phil Coutinho's departure. Now, Robertson is not only a key member of the side, but possibly the best left-back in the table, whilst Oxlade-Chamberlain is considered a big loss for Liverpool's midfield, and for many would have been an automatic starter, but for his injury.
Also, not that this needed to be pointed out, but we're two games into the season. Liverpool captain Jordan Henderson has only made two sub appearances, Adam Lallana has played about five minutes, Lovren and Matip have notched zero minutes between them and Daniel Sturridge has played about thirty seconds (yet somehow managed a goal). It's going to be a long season, and Liverpool will need a multitude of options fresh and available.
On the subject of depth and options, it's incredibly refreshing that Klopp has the option to turn around and leave a player of Fabinho's quality out of his squad early in the season and the team still function not just acceptable, but brilliantly. If Fabinho being left out was the main topic of discussion before the game started, it certainly wasn't when the game ended. Over their opening two games, Liverpool simply haven't needed Fabinho, giving Klopp the luxury to bed him in slowly.
Another player along similar lines is Xherdan Shaqiri. Two of Liverpool's new summer signings have barely played a minute between them, with Shaqiri an unused sub against Palace, having played just six minutes against West Ham. Shaqiri is another player expected to have a big impact this season, but so far there's just been no need for him. He's not going to be in our best XI, so Klopp doesn't need to throw him into the fray early for the sake of it.
In many ways, Naby Keita is the exception, not the rule. You get the impression, speaking to Klopp, that he would have been happy to leave Keita on the bench as well for the first few weeks, something he's hinted at. But, for two reasons, he hasn't. The first is that with Henderson returning late from World Cup duty and Lallana's fitness not quite there, he's been unable to rest both Keita and Fabinho.
The second of course being, that Keita is an absolute monster. A phenomenal player who has surely exceeded even Klopp's early expectations, and essentially made himself undroppable, even before kicking a ball for Liverpool – an assertion further evidenced by his two excellent performances against West Ham and Palace.
The bottom line is this. Fabinho hasn't been used because he hasn't been needed in the early stages of the season, and the fact that he's not been used or needed is a testament to just how much quality Klopp has at his disposal. Liverpool are developing into a really strong outfit, and having Fabinho to come in just underlies how far we've come since Klopp took over.